Enjoy single-serve sugar-free keto Christmas fruit pies with warm winter spices served in a gluten-free almond flour pie crust.
Only 5.5g net carbs per mini-fruit pie and is one of the many keto-friendly delicious recipes that you can enjoy with friends at Christmas.
BONUS: You can download FREE printable gift tags at the end of this post.
Get your FREE keto Thanksgiving and keto Christmas meal plans with over 70 of the best keto holiday recipes, your whole family will love.
Are you ready to create the ultimate 12-month blueprint for reaching your health & weight loss goals this coming year?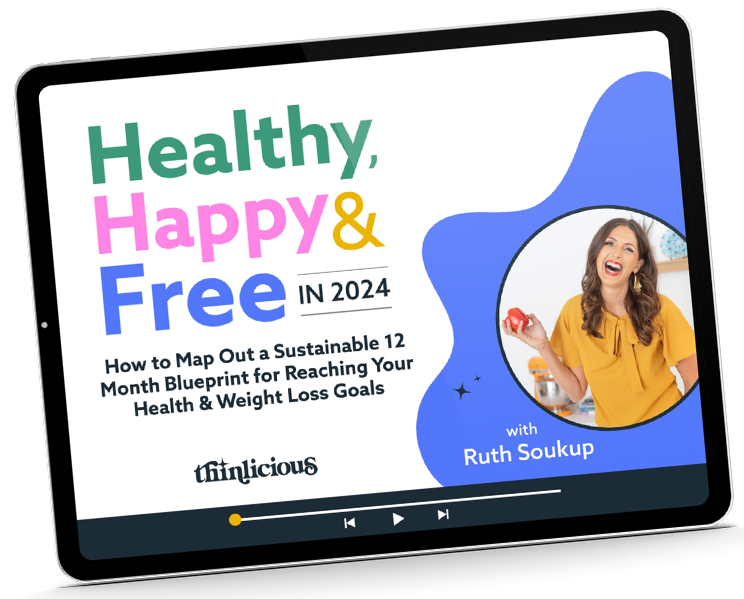 Our free on-demand video training will walk you through how to make 2024 THE year you set health goals…and keep them.
This easy Christmas recipe is gluten-free, grain-free, low-carb, no added sugars, and the whole family will come back for seconds.
These are the best ways to use Christmas leftovers.
What's inside a mince pie (fruit tart)?
Traditional Christmas fruit mince pies are a sweet baked pastry filled with sweet minced dried fruit, brown sugar, glucose syrup, Christmas spices, and often contain brandy, rum, or whiskey.
You can make your own homemade sugar-free Christmas fruit pies by swapping the wheat flour pie crust for an almond flour pie crust and swapping the dried fruit for shredded apple, sugar-free sweetener, and warm winter spices.
By making your own homemade sugar-free Christmas fruit pies, you will avoid all the dried fruit, added sugars, and unnecessary carbs, but you will still enjoy the same delicious Christmas flavors.
How much sugar is in a Christmas fruit pie?
This is the nutrition panel for Coles fruit mince pies, and if you think this is a bad example, the iced (frosted) mince pies or the deep dish mince pie has even more sugar.
Nutrition facts, Coles Fruit Mince Pies (1 fruit pie serving 68g): 36.6 g net carbs, 21.5 g sugar, 2.2 g protein, 8.2 g fat, 235 calories.
Nutrition facts, Low-Carb Christmas Fruit Pies (1 mince pie serving): 5.5 g net carbs, 3.1 g sugar, 6.9 g protein, 20.3 g fat, 231 calories.
Nutritional values from cronometer.com
But be honest, how many of these mini fruit tarts would you eat at a party? How many would you eat in one sitting, at a party, or over an evening, over a week, over the festive season (which seems to start earlier each year)?
So let's make a better, homemade recipe instead – low-carb Christmas mince pies (or mini fruit tarts).
Ingredients to make fruit mince pies
Instead of sugary mincemeat full of dried fruit, brown sugar, raw sugar, or honey, the bulk of the keto mince pies is made up of the following simple ingredients. All the quantities, prep time, and instructions are in the recipe card below.
Christmas Fruit Mince Pie Filling
Apple – 1 small grated apple (shredded apple) goes a long way for very few carbs.
Butter – you can use salted butter or unsalted butter. Adjust the salt in your fruit mince before baking. Salt actually enhances sweet flavours.
Granulated sweetener – use your favourite sugar replacer and add more or less to your taste and sweet tooth. You can also use powdered sweetener for a smoother texture.
Ground mixed spice – the perfect winter warm spice.
Ground cardamon – an exotic spice that is my secret ingredient.
Ground cloves – the classic Christmas spice.
Ground nutmeg – another classic festive spice.
Almond meal – or almond flour helps to add bulk to your fruit mince pie filling.
Brandy – adding any alcohol is purely optional. You can use brandy essence, rum essence, or whiskey extract if you want to serve alcohol-free desserts.
Variations
You may choose which extra ingredients and extra carbs you would like to add to your fruit pie filling. Unfortunately, your mince pies will no longer be sugar-free or low-carb. You need to decide how authentic you want your Christmas mince pies to taste, and how many carbs you want in your final mincemeat.
Orange zest or lemon zest – this will remind you of a Christmas fruit cake.
0.3 g net carbs (0.3 g sugar) per tablespoon of lemon zest.
Dried cranberries – if you really want an authentic taste, you may wish to add dried cranberries.
7.7 g net carbs (7.3 g sugar) per tablespoon of dried cranberries.
How to make almond flour tart cases
You can make the little flourless almond flour pastry cases first. This can be done a day ahead and kept in an airtight container stored in a cool place. if you want a nut-free pie crust you can make a coconut flour pastry instead.
Step 1: Make your almond flour pastry.
Place all the dry ingredients in a large mixing bowl (or food processor) and mix together until it resembles damp bread crumbs. If your almond flour pastry is too damp, add additional almond flour, 1 extra tablespoon at a time. If your pastry has become too dry, add a drop of water at a time.
Ensure the pastry is not too damp because it might collapse. Your pastry should be moist enough to stay in place when baking.
Step 2: Make your pastry cases
Using a rolling pin, wine bottle, or coffee mug, roll your pastry in between 2 sheets of baking parchment paper and cut each circle of pastry slightly larger than the mini muffin case you will be baking them in.
Use a drinking glass, cup, or tumbler to cut a circle slightly larger than your cupcake's case. Press all the leftover pastry back together and keep rolling out to make as many pastry cases as you can.
Line a metal or silicone muffin tray with paper cupcake cases or silicone muffin cases. The reason for baking mini pie crusts in paper cases is that it is easier to peel the paper away from the almond flour tart case than to try and lift them out of a muffin tray. They are likely to snap.
I prefer to use my silicon cases as I can easily fold the cases backward over the cooled cooked pie case and the pastry won't break.
Press each pastry circle into paper cupcake cases or paper muffin cases. Place each paper case into a metal or silicone muffin tray.
Step 3: Bake the empty pastry cases
Preheat oven to 180C/350F and bake your pastry in the paper or silicone cases for 10 minutes. Gently remove the baked pastry from each paper or silicone case and bake for an additional 2 minutes on the baking tray until they turn golden brown.
How to add your pie filling
Once your pastry cases have completely cooled on a wire rack, carefully add 2 tablespoons of filling to your Christmas mince pies. Serve with whipped cream on the top and sprinkle ground nutmeg over the top.
You can add brandy, rum, or whiskey to your whipped heavy cream, or f you want to serve alcohol-free fruit pies, use brandy essence, rum extract, or whisky extract.
How to decorate keto fruit pies
There are 2 easy options to decorate your festive fruit pies (fruit tarts).
1: Whipped cream – Spoon or pipe whipped heavy cream that has been sweetened with a sugar-free sweetener. Sprinkle with a little ground nutmeg or ground cinnamon on top. You can even place a pecan or other favorite nut on top to garnish.
2: Marzipan (almond paste) – make my 3 ingredient sugar-free marzipan in less than 5 minutes then cut circles of marzipan and place on the top of your fruit tart. It looks so festive and really has a lovely festive strong almond flavor too.
BONUS: make little snowmen out of marzipan (almond paste) and place one on the top of each fruit mince pie.
Keto mince pies FAQ
What's inside a mince pie (fruit tart)?
Christmas fruit mince pies are filled with spiced fruit mincemeat which is a mix of dried fruit (sultanas, raisins, and currants), brown sugar, candied peel, and often covered with a pastry lid.
Keto mince pie topping suggestions.
You can add a pastry lid, cover with cream cheese frosting, brandy cream, sweetened cream cheese, or serve with whipped heavy cream. Or simply sprinkle powdered erythritol over the top to look like snowflakes.
Can I freeze mince pies?
Yes, allow them to cool completely then place in an airtight container for up to 3 days in the fridge or up to 3 months in the freezer. To defrost, remove each mince pie from the freezer and they will defrost on your countertop in 2 hours.
Can I serve mince pies hot?
Yes, fruit mince pies can be served hot or cold. To gently warm your pies, heat in a warm oven for 5 minutes or microwave for 10-15 seconds (depending on the power of your microwave).
How can I reduce the carbs?
You can swap out half the apple with shredded zucchini or sliced almonds to reduce the net carbs and natural sugars. You may however need to add additional sweetener.
Do I need an egg wash for the pastry?
Some readers may be used to brushing empty pastry or pie crust with an egg wash to make their pie crusts a little more "waterproof" against the liquid or damp fillings. You don't need an egg wash for this pastry however please feel free to use it if you prefer it.
Can I swap almond flour for coconut flour?
You cannot swap these low-carb flours directly but you can make coconut flour pie crust instead.
Does keto pastry need baking powder?
No, you want to avoid using baking powder as you don;t want the pastry to rise. You want it to stay solid and sturdy, not airy and light.
More sugar-free Christmas recipes
For more low-carb recipes to serve this Christmas, there are plenty of family favorites that are absolutely delicious. These will all help you stay on track with your keto diet over the festive period.
FREE printable gift tags
Download your FREE printable gift tags and make some healthy sugar-free recipes and keto-friendly baking treats as presents. Some sugar-free baking delicious recipes you can give as gifts.
Get ready for Christmas and start planning your healthy low-carb meals. Wonderful sugar-free and low-carb sweet treats are included in this book. So start celebrating now and treat yourself to make the holiday season a little easier.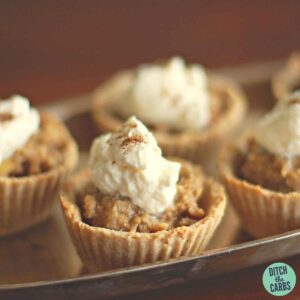 Low-Carb Christmas Fruit Pies Recipe (keto mince pies)
DELICIOUS single-serve mini sweet low-carb Christmas fruit pies (5.5g net carbs) with warm winter spices served in an almond flour pie crust. Served with brandy whipped cream.
Print
Pin
Rate
Want to lose weight and get healthy for life—without dieting, drugs, or making yourself miserable?
We can help! Tell me how!
Equipment
Measuring cups and spoons

Mixing bowls
Ingredients
Almond Flour Pastry Cases
150

g

almond meal/flour

1

eggs – medium

1

tbsp

coconut flour

(see notes)

2

tbsp

granulated sweetener of choice

or more, to your taste

½

tsp

ground cinnamon

½

tsp

ground nutmeg
Christmas Fruit Mince Pie Filling
1

small apple grated/shredded

(approx 150g / 5oz)

55

g

butter

2

tbsp

granulated sweetener of choice

or more, to your taste

¼

tsp

ground mixed spice

¼

tsp

ground cardamom

¼

tsp

ground cloves

¼

tsp

ground nutmeg

75

g

almond meal/flour

Brandy to taste

(optional)
Brandy Whipped Cream (optional)
heavy whipping cream

brandy and sweetener to taste
Instructions
Flourless Pastry Cases
Put all the ingredients in a mixing bowl and mix together with a fork until it resembles soft pastry. If it is too damp, add some more almond meal/flour. If it has become too dry, add a drop of water at a time.

Roll out in between 2 sheets of baking paper and cut each circle slightly larger than the case you will be baking them in.

Press the pastry circles into each case and place on a baking tray. Bake in the cases at 180C/350F for 10 minutes, then remove from the pastry from each case and bake for 2 minutes on the baking tray to brown slightly.
Christmas Mince Pie Filling
Melt the butter and the grated apple on low in a saucepan.

Add all the other ingredients (apart from the brandy) and heat through for a minute or two.

Remove from the heat and add brandy to taste (I add 1 or 2 tablespoons).

Once cold, divide the mixture evenly amongst the pie/tart cases.
Brandy Whipped Cream
Whip the cream gently until soft peaks for, then add the sweetener, whip until almost firm, then fold in the brandy to taste.
To Serve
Top each low carb Christmas mince pie with the brandy cream and sprinkle with a ground nutmeg.
Notes
Brandy cream is optional – I haven't given quantities for the brandy whipped cream. It all depends on how much you would like to be served on top and on the side. The sweetness and amount of brandy required will be totally personal to you (personally, I like it quite boozy).
Coconut flour substitute – if you don't like, or cannot tolerate coconut flour ou may substitute this with 2 tablespoons of psyllium husk instead.
Nutrition
Serving:
1
Keto mince pie
Calories:
231.3
kcal
Carbohydrates:
9.4
g
Protein:
6.9
g
Fat:
20.3
g
Sodium:
59.2
mg
Potassium:
31.9
mg
Fiber:
3.9
g
Sugar:
3.1
g
Vitamin A:
212.3
IU
Vitamin C:
0.9
mg
Calcium:
67.2
mg
Iron:
1.2
mg
Wishing you all a very Merry Christmas and a healthy happy new year.
Get our FREE guide to finally fix your metabolism!
Losing weight & getting healthy is never easy, but lately you might feel like it's suddenly become impossible.
Our Flip the Switch guide will help you clearly understand what's been going on, as well as exactly what you can do to get your metabolism working again so that you can look and feel your best—it's easier and more simple than you think!