</p>
Delicious keto sushi recipe made without rice.
Each sushi roll is filled with cream cheese instead of sushi rice and only 1.5 g net carbs per keto sushi roll.
You can even make keto sushi with cream cheese or cauliflower rice.
Are you ready to create the ultimate 12-month blueprint for reaching your health & weight loss goals this coming year?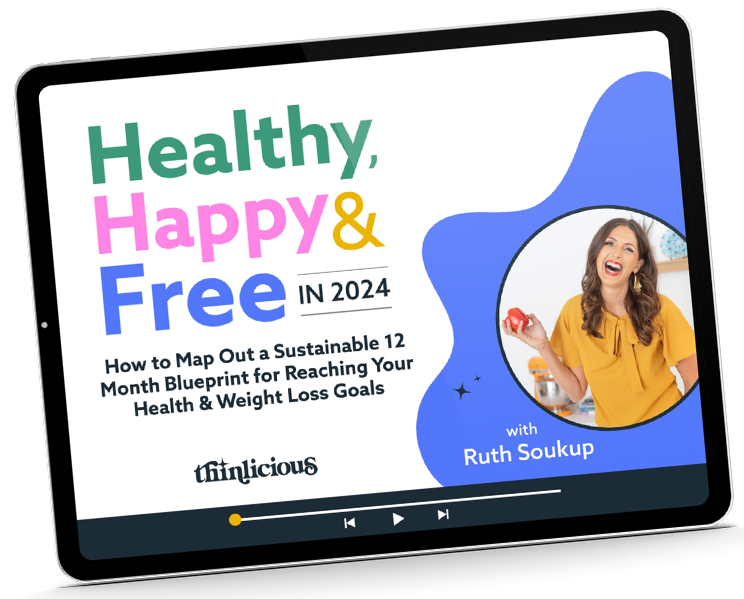 Our free on-demand video training will walk you through how to make 2024 THE year you set health goals…and keep them.
Quick and easy homemade sushi keto recipes made with cream cheese or cauliflower rice. Perfect for your low-carb lifestyle and sushi cravings.
Is sushi keto?
No, regular sushi rolls contain sushi rice and are high carb so are avoided on the low-carb diet, keto diet, and high-protein low-carb diet.
This keto sushi rolls recipe is made with a cream cheese filling or cauliflower rice and wrapped in a nori sheet. It's healthy, filling, low in carbs, and perfect served with soy sauce or coconut aminos.
What's in regular sushi?
This sushi chart will show you the shocking truth of what's really inside sushi.
Is sushi healthy? Keto sushi rolls might be healthy, but a classic spicy tuna roll is full of rice, sweet rice wine vinegar, and a thin layer of raw fish.
A typical sushi lunch of spicy tuna rolls and California rolls are the equivalent of eating 6 slices of whole bread.
But don't despair – I'll show you how to make easy and delicious keto sushi rolls that will satisfy any sushi cravings.
How many carbs are in a sushi roll?
6 pieces of California sushi have 12g net carbs.
2 pieces of 7-Eleven crumbed chicken sushi have 67.3 g net carbs.
Nutritional values from cronometer.com
You probably already know that traditional sushi contains white rice, sushi rice, or brown rice, but did you know that sushi rice may contain added sugar and flour to help the rice become sticky?
That's not the only source of hidden carbs, unfortunately. There is also sugar in the Japanese pickled ginger, added sugars in the sweet teriyaki sticky sauces, and wheat in the crumbed bread or panko coatings.
And did you know a sushi roll is made with shorter grain rice which has a higher starch content than typical rice?
You may decide never to eat traditional rice sushi again. It's just not worth the high blood sugar.
Is there protein in sushi?
Unfortunately, there's not much protein in sushi. Here are the stats for a typical single roll:
California roll (20g) = 1.1g protein, 2g net carbs, 0.9g fat
vegetarian sushi (22g) = 0.4g protein, 3.3g net carbs, 0.3g fat
sushi avocado roll (20g) = 0.3g protein, 4.2g net carbs, 0.8g fat
To eat 30g of protein, you would have to eat one of the following:
27 California rolls
75 vegetarian sushi rolls
100 sushi avocado rolls
1 chicken breast (100g/3.5oz)
What can you put inside sushi instead of rice?
The easiest way to make sushi keto-friendly, you can swap out traditional rice for the cream cheese filling (or a cauliflower rice mixture).
How to make keto rice
Keto rice is easy to make and opens the door to so many keto sushi options. Learn how to make easy cauliflower rice then add your own rice vinegar before rolling tightly in a nori sheet.
Keto sushi roll ingredients
You just need a few simple ingredients to make this delicious keto sushi recipe.
All the ingredients are in the simple recipe card below.
Nori sheets – these are dried seaweed sheets
Salmon – or protein of choice
Avocado – adds flavor and vitamins
Vegetable sticks – celery, carrots, jicama, etc.
Cream cheese – make sure to only purchase the full-fat, plain variety.
Keto sushi options
Any of these can be used to fill your keto sushi and then wrapped and rolled tightly on the seaweed sheets.
Tuna roll – add drained, canned tuna and spicy mayo
Cucumber roll – thin slices or sticks of cucumber
Salmon sushi rolls – add smoked salmon or canned salmon
Avocado rolls – perfect for vegetarian sushi lovers. Add avocado slices or mashed avocado.
Sprinkle some sesame seeds on top and dip your keto sushi rolls in some rice vinegar for a zesty flavor.
How to make keto sushi rolls
This keto-friendly sushi rolls recipe uses a creamy sushi filling, but if you prefer, you can use cauliflower sushi rise instead.
How to make sushi filling – in a small mixing bowl, use a fork and mix up the cream cheese until it's soft.
Next, add the avocado and mix well. Add other flavors such as smoked salmon, sesame seeds and wasabi paste.
How to roll sushi rolls – Place a nori sheet (otherwise known as seaweed sheets) across a bamboo mat.
Wet 1 inch (2cm) edge of the seaweed sheet using your finger dipped in water. This helps makes it sticky so your sushi roll doesn't fall apart!
Spread the keto-friendly sushi filling all over the nori sheet, place the vegetable sticks along the middle, and roll it up tightly using the bamboo roller.
Cut into rolls using a sharp knife and serve with soy sauce, sesame seeds, a tiny smear of wasabi paste, and enjoy!
Storage
Here's how to keep your keto sushi rolls recipe fresh.
You can store any of the low-carb sushi recipes in the fridge for up to 3 days.
If you take the low-carb sushi for a packed lunch, you need to ensure it is packed with a chiller block in an insulated box.
Nori rolls FAQs
If you don't see your question in this list, please leave it in the comments.
How do you order keto sushi at restaurants?
Ask for cauliflower sushi rice or sashimi is a wonderful and healthy sushi option that is keto-friendly. Sashimi is slices of raw fish or meat that are served without rice.
Is sushi nutritious?
Not really. From the sushi chart above, you can see how little protein is in traditional sushi. Often sushi restaurants use fake crab or imitation crab that is made with wheat and starch.
Is sushi low-carb?
Sushi rolls are a high-carb meal. The classic sushi is full of rice, often added sugar and flour, wrapped in a nori sheet. Sushi is low-protein high-carb and is avoided on a keto diet.
What do you call sushi without rice?
You can order sushi without rice, this is called a naruto roll. A naruto roll uses thin slices of cucumber instead of rice.
How can I order low-carb sushi at a restaurant?
The only way to order keto sushi at a restaurant is if the chef can make them with cauliflower sushi rice instead of white rice.
What can I use instead of nori sheets?
You can use cucumber slices instead of nori sheets. Slice a cucumber with a vegetable peeler. Place a few overlapping slices on a sushi mat, place your filling along the middle, and tightly roll.
Do I need a food processor to make sushi?
No, you only need a sushi mat and a sharp knife.
What can I serve with sushi?
Serve with a small dipping bowl or soy sauce, coconut aminos, wasabi paste, and sesame seeds.
What is a California roll?
A California roll is an inside-out roll. It uses rice instead of a sheet of seaweed. It is not true Japanese sushi as it was invented for the convenience of Americans who didn't like to eat seaweed.
What is a Philadelphia roll?
This is very similar to a California roll, but with Philadelphia cheese inside the rice.
More keto lunch ideas
If you want more healthy sushi alternatives, all these keto recipes and low-carb recipes are low-carb and gluten-free.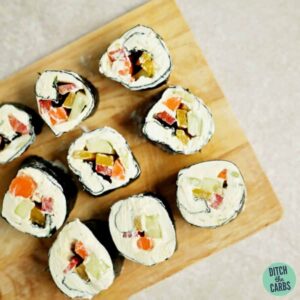 Keto Sushi Rolls Recipe (without rice)
Delicious keto sushi recipe (made without rice). Only 1.5 g net carbs per keto sushi roll. You can even make keto sushi with cream cheese or cauliflower rice.
Print
Pin
Rate
Want to lose weight and get healthy for life—without dieting, drugs, or making yourself miserable?
We can help! Tell me how!
Ingredients
4

large nori sheets

250

g

cream cheese

full fat

1

avocado

100

g

salmon fillet

vegetable sticks

(of choice)

+/- salt and pepper
Instructions
Mix the cream cheese with a fork until soft. Add the avocado and smoked salmon and mix through.

Gently spread the cream cheese mixture along the nori sheet leaving a 1-inch strip at the end. Wet the strip of the nori sheet with a little water to make it sticky.

Place various vegetable sticks along the centre and length of the cream cheese mixture.

Roll tightly and enclose using the nori sticky strip.

Leave the nori roll on the chopping board while you are making the next sheet, then cut them into small sushi rolls.

Refrigerate until ready to serve.
Notes
Cut the sushi into 16 pieces. 1 serving = 4 pieces.
Nutrition values are calculated for the nori sheets, salmon and cream cheese basic roll.
Your choice of vegetables used is additional.
Nutrition
Serving:
1
serve ( serves 4)
Calories:
335.5
kcal
Carbohydrates:
5.9
g
Protein:
10
g
Fat:
30.5
g
Sodium:
212
mg
Potassium:
457.6
mg
Fiber:
4.4
g
Sugar:
2.7
g
Vitamin A:
1052.8
IU
Vitamin C:
6
mg
Calcium:
71.4
mg
Iron:
0.6
mg
There are a lot of ways you can make keto sushi rolls without too many carbs that fit into a keto diet.
Please leave a comment on which is your favorite keto-friendly sushi.
Get our FREE guide to finally fix your metabolism!
Losing weight & getting healthy is never easy, but lately you might feel like it's suddenly become impossible.
Our Flip the Switch guide will help you clearly understand what's been going on, as well as exactly what you can do to get your metabolism working again so that you can look and feel your best—it's easier and more simple than you think!