Can I drink alcohol? Will my cholesterol go up? How many eggs can I eat? Is keto a high protein diet?
These are the most common low-carb questions for beginners.
It's the most comprehensive guide to starting low-carb and keto you will ever find PLUS a short FAQ and diet sheet.
[convertkit form=2922898]
Print the quick low-carb diet sheet and keto meal plan with a handy list of low-carb diet foods to enjoy that will help you lose weight, burn carbs, stabilize blood sugar levels, and discover how much protein, carbs, and fat you should eat in a day.
Ready to lose weight and get healthy for life without dieting, drugs or making yourself miserable?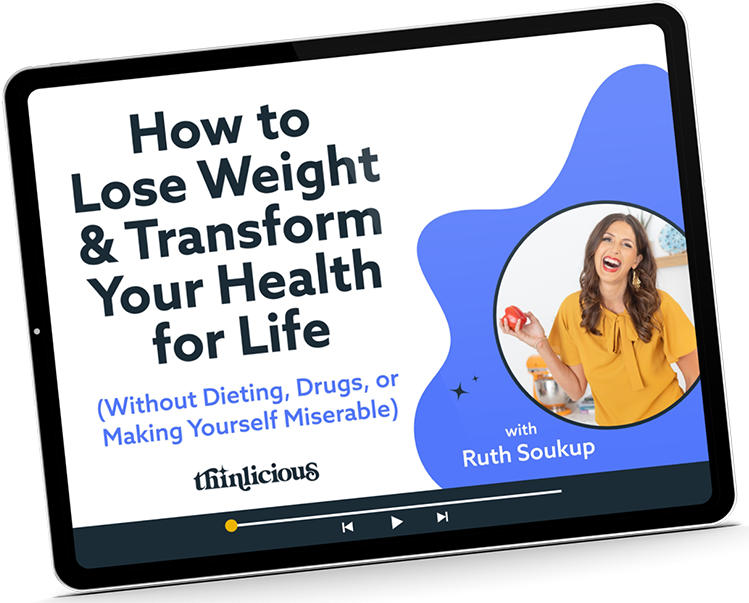 Our free on demand video training will help you understand why it's been so hard and what do to about it.
If you are new here, you may want to read the keto glossary to help you understand keto words, keto acronyms, and keto slang.
Low-carb FAQ and diet sheet
If you want to start a low-carb diet to burn fat and drop body weight but feel confused, then download your copy of the Low-Carb FAQ & Diet Sheet so you can get started today … even if you are a sugar addict.
You'll get a handy list of easy low-carb snack ideas, low-carb meal ideas for breakfast, lunch, and dinner.
How to start low-carb and keto
All the most common questions to starting a low-carb diet or keto diet are answered below, but this is a quick summary of what you will discover.
CALCULATE: Learn how to calculate your daily carbs, protein, and fat.
AVOID: Know which foods you need to avoid to lose weight.
ENJOY: See which delicious low-carb foods you can enjoy.
BENEFITS: Understand the incredible benefits of low-carb nutrition and ketogenic nutrition along with stable blood sugars.
[convertkit form=2922898]
Further resources: Before we begin answering your low-carb FAQ, if you are new here you might like to look at my other pages for low-carb beginners. Learn how to start your keto diet and burn carbs for fat loss.
What is a low-carb diet?
A low-carb diet is where you reduce your carbs to 100g net carbs per day or less. You will base your meals on nutrient-dense carbs (vegetables, dairy, nuts, berries), quality protein (beef, chicken, pork, and fish), and healthy fats (extra virgin olive oil, avocado oil, butter, coconut oil)
What is a keto diet?
A keto diet is stricter and you can only eat 20g net carbs per day. Healthy whole food, moderate to high protein, and healthy fats. Losing weight may initially be faster but you may be tempted to have regular cheat meals if a keto diet is too strict for you.
What food can I eat in a low-carb keto diet?
Most people wonder what can you eat on a low-carb diet or keto diet. You will eat a variety of whole foods on your low-carb or keto diet that will help you achieve stable blood sugar, improved appetite control, and steady weight loss.
Chicken breast, drumsticks, legs, and ground chicken.
Beef casserole, ground beef, sirloin, rib eye, casserole, burgers.
Pork chops, pork rinds, pork loin, schnitzel, pulled pork.
Fish, shrimp, prawns, salmon, mussels, oysters.
Non-starchy vegetables, cauliflower, broccoli, mushrooms, asparagus, cabbage, Brussels sprouts.
Full-fat dairy, cheese, cream cheese, parmesan, heavy cream, butter, and unsweetened yogurt.
Low-sugar fruits, berries, lemons, and limes.
How many carbs can I eat?
How many carbs you consume each day will be dictated by your health goals and carbohydrate tolerance.
Generally, a low-carb diet is considered to be:
<100g/day = moderate low-carb
<50g/day = low-carb
<20g/day = keto
Many readers like to begin by simply reducing their carbs to a level that is sustainable and weight loss still occurs.
To work out your carbs, protein, and fat limits to enjoy each day, use the FREE macro calculator.
What are net carbs? How many carbs should I eat?
Net carbs refer to the number of carbs left after you subtract the amount of dietary fiber from the food. For example, a snack with 9g total carbs and 5g fiber has 4g net carbs.
Is keto a high-fat diet?
A low-carb diet and keto diet both enjoy higher fat intake than a standard American diet, but you should not eat excessive amounts of fat. You want to burn body fat, not the fat from your meal. Eat only enough fat to keep you full and satiated and to help appetite control. It is a myth that you need to drink bulletproof coffee and eat fat bombs to reach a daily fat goal.
Which sweeteners can I eat and are sweeteners safe?
Yes, you can use sweeteners, but which one you choose is up to you. The most common natural sugar replacements are erythritol, monk fruit, and stevia. Find which sweetener is best for you and test to make sure your blood sugar doesn't rise. Especially sugar alcohols.
Is keto a high-protein diet?
Eating moderate-high amounts of protein is recommended. Too many people have been concerned that excessive protein may potentially raise your glucose levels through gluconeogenesis, but to what extent varies with context.

The change in glucose levels and insulin demand that is required to process the protein is raised 70% higher in someone who is living the S.A.D (standard American diet, which is high in carbs, starch, and sugar) compared to only a minimal rise in those who are living a low-carb lifestyle and following the keto food pyramid.

The current dietary guidelines for protein goal is only a minimum requirement to provide sufficient protein to prevent a protein deficiency. Eating a moderate or higher protein is satiating without all high fat which is unnecessary and often the most common cause of why you're not losing weight.
Do I need to count calories?
The most important aspect to focus on is counting carbs. Calories do count, but it's more important where those calories are coming from. Eating fewer carbs, more protein, and healthy fats leave you satiated and you end up eating less, reducing your overall food intake and calorie consumption.

If your weight loss stops, then you may want to count calories for a short period to check whether you are eating the correct ratios of carbs, protein, and fat.
What are the side effects of a low-carb diet?
Some people experience the "keto flu" when cutting their daily carb intake. You may experience transient headaches, dizziness, and lethargy (tiredness). How do you avoid the keto flu? By drinking plenty of fluids and keeping your electrolytes up.
Is a low-carb diet the same as the Atkins diet?
There are similarities and differences between the ketogenic diet, low-carb diets, and Atkins. The ketogenic diet focuses on net carbs and putting your body into a fat-burning mode to reduce body weight.

The Atkins diet has phases and looks at total carbs. It has a very restrictive phase at first and eventually tapers off to allow people to eat more carbs – like starchy vegetables.

They might seem the same, but the Atkins diet and ketogenic diet are not the same. They both might focus on carb intake and have benefits on your blood sugar and weight loss but the Atkins diet relies on processed foods such as keto bars and keto shakes, also known as dirty keto.

Always read the nutrition label because many low-carb and keto bars contain sweeteners that can raise your blood sugar. If they contain maltitol, do not buy them and do not eat them. Maltitol will raise your blood sugar as much as sugar.
How low-carb should my children go?
Some children may need to have their carbs severely restricted depending on their health, weight loss goals, and medical need for a ketogenic diet. For example a ketogenic protocol for epilepsy.

Personally, I do not count carbs for my children and my children eat exactly the same meals as I do. My children are lower carb, not no-carb, and that is where some confusion or myths originate.

My emphasis is on providing whole food that is naturally lower in carbs and avoiding sugar and junk.

When you switch to an unprocessed way of eating, you almost become low-carb by default. My children enjoy more low-sugar fruit than I do. They snack more often than I do, and they enjoy some starchy vegetables whereas I would not.

Children are more carb sensitive (a higher carb tolerance), and so have less of an insulin response to carbs. I allow them to have cake and treats occasionally when out with friends, or at parties as I think it is so important for them not to feel different.

They also don't want to be seen as a fussy child who never gets invited anywhere. As the public perception of sugars and grains is changing, I hope these high-carb parties will become less. But it is not a big part of our diet, so I don't worry.

Our diet at home is low-carb, but with occasional low-carb treats. I just make sure that the treats are in the form of unprocessed, good-quality carbs.

It is important for children to understand whole food nutrition is important because, without our health, we can't do the things we want to do.
[convertkit form=2922898]
Now let's look at the most frequently asked questions about which types of food you can eat on a low-carb diet. Do you need carbs to fuel your body and brain? Can you drink alcohol on a keto diet? And how many eggs can you eat each day?
A ketogenic diet is full of quality protein, healthy fats, and nutrient-dense food with limited net carbs.
[convertkit form=2922898]
Is low-carb a healthy diet?
These are some common low-carb diet questions about how healthy it is to reduce your carb intake and whether is keto safe. Will weight loss start straight away? Will your blood pressure improve? Is a low-carb diet good for blood pressure? How many net carbs per day should you eat? And is burning carbs better than burning fat?
What are the advantages of a ketogenic diet?
There are lots of benefits to eating fewer carbohydrates and increasing your healthy fat intake. Here are the main health advantages of a low-carb diet.

Appetite regulation: Low-carb diets and keto diets increase satiety due to the balanced blood sugar levels they promote.

Weight loss: Researchers have shown time and time again that low-carb diets are the most successful for long-term weight loss.

Blood sugar control: Dietary carbohydrates have the biggest impact on our blood sugar and insulin levels. Restricting carbohydrates in our diet has a direct result in lowering our sugar levels and insulin needs. High sugar levels play a part in almost all chronic diseases such as type 2 diabetes, dementia, cancer, and cardiovascular disease.

Heart health: Low-carb diets have a beneficial impact on reducing your risk factors for a whole host of heart disease risk factors. Reducing sugar and processed carbs often helps people lower blood pressure, reduce triglycerides (a major risk factor for cardiovascular disease) and increase the concentrations of HDL (known as the "good" cholesterol).

Additional benefits: By switching your body to run on fat and produce ketones, you will find several additional benefits. Ketones have been frequently used to help athletes for endurance events. Ketones may also help children control seizures, improve brain clarity, reduce the risk of Alzheimer's, and have been shown to aid cancer recovery as cancer cells have insulin receptors and can only be fuelled by glucose.

Further reading: Advantage Of A Low-Carb Diet, you will soon understand how many health benefits this way of living provides (beyond weight loss).
Do I need carbs to fuel my body and brain?
No, our bodies are brilliant adapters and can run far more efficiently on fat! You do not need carbs to fuel your body and your brain – which is why a low-carb diet can be so healthy and you can feel so incredible.

When your body is fuelled by a low-carb or keto diet, you achieve stable lower blood glucose levels and your body will switch from burning sugar for energy to learning how to burn fat.

When you keep your carb levels low on a high-fat diet, you begin to use your glycogen stores and lower your insulin levels (the energy storage hormone). Your body starts burning fat for fuel (instead of sugar), ketones are created.

This is known as nutritional ketosis.

When you are fuelled by ketones, you experience more stable energy levels, improved mood, decreased hunger, reduced inflammation, and incredible mental clarity. No more afternoon energy slumps!
Will I be deficient in nutrients by avoiding carbs?
There are no essential carbohydrates. There are no essential sugars. There are zero nutrients in sugar, there are no nutrients in whole grains that can't be found in quality meat and non-starchy vegetables.

By eating more healthy fats such as butter, avocados, meat, olive oil, coconut oil, and cheese, we can obtain the fat-soluble vitamins A, D E, and K which may have been lacking in a low-fat diet. Eat real food, with real nutrients rather than processed foods that have to be fortified with artificial vitamins.

Focus on nutrient intake, not calorie intake.
Will my cholesterol go up on a keto diet?
I have written an entire page regarding cholesterol, but the main take-home message is that cholesterol is required by almost every cell of the body, if we don't have enough, our body will manufacture cholesterol, it is that vital.

Cholesterol itself is not the problem, it is how it is transported within the body that can be a problem.

By eating a high processed high-carb diet, our body carries cholesterol as oxidized LDL which can begin the process of inflammation and damage our blood vessels.

Cholesterol is a poor predictor of heart disease. Half of those who have heart disease have normal cholesterol, and half of those with high cholesterol have healthy hearts. Inflammation, triglycerides, HbA1C, insulin resistance, and LDL particle size are more reliable markers of heart health.

Low cholesterol is actually associated with many other symptoms such as memory loss, Alzheimer's, low Vit D, and depression. Watch my interviews "What is cholesterol – is it all bad?" and calcium scanning for determining true heart disease, not the risk of it. Read The Great Cholesterol Myth and Cholesterol Clarity, to really understand this complex subject.
Do I need to eat low-carb if I'm skinny?
Weight is only one reflection of health but it is the most obvious one that we can see. No one can see your blood test results by looking at you and so body weight is what most people will judge you on.

People can be skinny or overweight but still undernourished and have a carb intolerance. Processed carbs are unnecessary and offer no nutrition.

Remember it is our HEALTH that is important, not our SIZE. Skinny people can have high visceral fat (the dangerous fat which surrounds your organs) but not tummy fat.

This is often referred to as TOFI (thin outside fat inside). Size is only one indicator of health, but it is the most visual indicator. For too many decades being skinny at all costs has been touted as the ultimate goal.

By living a low-carb lifestyle, increasing quality meat, non-starchy and high-fiber vegetables, and healthy fats, our nutrition improves, inflammation decreases, insulin is stabilized and our risk of heart disease, Alzheimer's, and all other metabolic diseases is reduced.

Health is the ultimate goal – even more than lower body fat.
Is gluten-free healthy?
There is a subtle but very important point here to remember. Gluten-free (GF) is not grain-free and is not low-carb.

GF products contain high-starch flour such as rice flour, potato starch, tapioca starch, and cornflour. Gluten-free products are often fortified to give them the illusion of a healthy option.

Gluten-free products are ultra-processed and expensive.

A multi-billion dollar industry has evolved around being gluten-free.
By living grain-free, you become gluten-free. Grain-free is a more nutritious way to eat, eating whole foods, real foods and it's cheaper.

Don't be fooled by GF marketing. They are encouraging the GF message by encouraging you to buy their expensive products. Read this post about why gluten-free junk is still junk.
Is ketosis dangerous?
Nutritional ketosis is often confused with ketoacidosis. Whilst they sound the same, they are completely different. Ketosis is a normal response when your body burns fat and ketones are produced. Diabetic ketoacidosis (DKA) is a potentially life-threatening condition that can sometimes occur in Type One diabetics when ketone production is excessive.
[convertkit form=2922898]
Will I lose weight on a low-carb diet?
One of the most popular reasons people eat low-carb is to lose weight. Here are some common questions about weight loss on the keto diet, how to shed body fat, should you count calories, and is weight loss faster on a keto diet than on a low-fat diet. Should you be on a high-fat diet? Do you have a carb intolerance? Do you need to count calories?
Is weight loss calories in vs. calories out?
No, decreasing your body weight involves more than just counting calories. It is the type of food we eat, which has a far greater impact on our hormones, appetite control, and fat storage.

100 calories from carbs, fat, and protein will have a remarkably different effect on your blood sugar and insulin response.

Carbs → Glucose → High Insulin → Fat storage and stop fat burning ⇒ WEIGHT GAIN + INCREASED APPETITE + INSULIN RESISTANCE

Lowering your dietary carbohydrates will:
– improve your nutrition
– help regulate your hunger and satiety hormones
– regulate your insulin requirements
– improve your lipid profile
– improve mental clarity and memory
– reduce the risk of numerous metabolic diseases

Eating a high-carb diet can cause chronic high blood glucose, carb intolerance, hyperinsulinemia, inflammation, and causes weight gain.

Eating a low-carb diet gives us stable blood sugars, reduces fat storage, and increases our fat burning as the fuel of choice.

A fundamental aspect that is never addressed in low-fat or calorie-counting diets is appetite control.

If you cut calories too far, and reduce fat from your diet, the first thing you experience is hunger. Nobody wants to feel hungry for a few hours, days, or weeks, your willpower can only last for so long then your hunger is insatiable, and you will eventually cave to high-carb sugary foods.

So yes you may lose weight when you cut calories, but only in the short term as your metabolism adapts to 'starvation' mode, and eventually, you give in which is why so many people gain the weight they lost (and sometimes more).

The overwhelming argument for living low-carb is the numerous metabolic health benefits it provides, and the simple fact that it works.

Low-carb is not new, it's not a fad, and it has been popular for decades. Just ask your grandparents how they lost weight, and they will generally tell you they cut back on bread and potatoes.
Can I eat carbs again once I lose weight?
You may be able to increase your unprocessed carbs slightly, but it really depends on your health goals and your carb tolerance.

Low-carb, high fat is actually a metabolically healthier way to eat, it improves carb tolerance, helps appetite control, helps to lower inflammation, improved lipid profile, supports healthy hormones, and reduces your risk of all metabolic diseases such as T2 diabetes, heart disease, Alzheimer's, stroke, cancer and so much more.

There is a huge decrease in risk factors for health issues when you eat fewer sugary foods.
Can I eat everything in moderation?
Sure have a treat occasionally, but personally, why would you want your health in moderation?

Why would you want to eat foods that we know are harmful, cause inflammation, and increase our risk of so many avoidable diseases?

The M-word (moderation) is actually meaningless. It is a marketing ploy so you don't feel guilty about having sweet food and junk food on a regular basis. As long as it is varied junk food (ludicrous right?).

Did you know that you are actually healthier by eating a small range of nutritious foods, than everything in moderation?

"Americans with the healthiest diets actually eat a relatively small range of healthy foods," he said. "These results suggest that in modern diets, eating 'everything in moderation' is actually worse than eating a smaller number of healthy foods." -Forbes

Eating a variety of whole unprocessed foods is perfect. Eating a variety of processed food, unhealthy oils, processed carbs, and nutrient-void food, is simply unhealthy.

Whereas our grandparents may have enjoyed a treat on birthdays and holidays, children of the 21st century eat as much sugar by the time they are 8 years old as an adult did in their entire life a century ago.
Can I eat low-fat with keto and lose weight faster?
Reaching a healthy weight is more difficult when you eat low-fat. Most low-fat foods and low-fat diets often have more carbs. When the fat is removed, it is generally replaced with some form of starch to ensure the product is still palatable and the texture is acceptable.

Cutting down on carbs and fat is unsustainable. You need healthy fat to help you feel fuller for longer. You need healthy fat for your fat-soluble vitamins A, D, E, and K. Low-carb eating should always include healthy fats.
Check nutrition labels to check the fat and carb content, for example, low-fat cream cheese can have up to 15% carbs, whereas regular full-fat cream cheese has only 4%.

There are differences in the types of fats, and it is important to understand the difference. Polyunsaturated fats and monounsaturated fats are also called "healthy fats." This includes things like avocados, olive oil, and fish. It is the fear of saturated fat that created the low-fat diet. Saturated fat is however a healthy and stable fat that can be found in numerous healthy foods such as meat, dairy, and eggs.
[convertkit form=2922898]
Carb charts
Now you know exactly how low-carb eating works and are ready for slow and steady weight loss, these carb charts are perfect for beginners.
SaveSave
SaveSave
Get our FREE guide to finally fix your metabolism!
Losing weight & getting healthy is never easy, but lately you might feel like it's suddenly become impossible.
Our Flip the Switch guide will help you clearly understand what's been going on, as well as exactly what you can do to get your metabolism working again so that you can look and feel your best—it's easier and more simple than you think!