This Low-Carb Chocolate Zucchini Cake is an ideal moist keto chocolate cake filled with healthy shredded zucchini. It's a sneaky way for your kids to eat their greens!
And at only 5.2g net carbs per slice, it's the perfect healthy dessert.
Cover it in whipped cream or sugar-free vanilla frosting or sugar-free chocolate buttercream frosting for a delicious creamy keto cake.
Is zucchini low-carb?
Yes, zucchini is a low-carb vegetable that can be enjoyed on a low-carb diet or keto diet. It is a versatile vegetable that can be used in sweet or savory recipes.
Are you ready to create the ultimate 12-month blueprint for reaching your health & weight loss goals this coming year?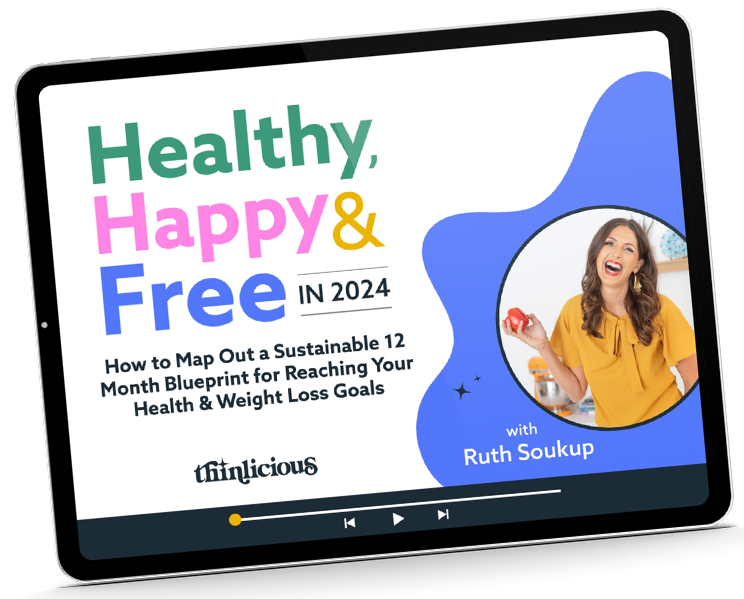 Our free on-demand video training will walk you through how to make 2024 THE year you set health goals…and keep them.
Zucchini nutrition values: 1 cup (149g) raw = 3.1 g net carbs, 1.8 g protein, 0.5 g fat, 25 calories.
Nutritional values from cronometer.com
Is zucchini a courgette?
Yes, zucchini is also called a courgette. It is part of the summer squash family of vegetables. It is grown above the ground and low in starch so is perfect for those watching their blood sugars.
Why is zucchini often used in cakes?
Low-carb cakes tend to be dry so adding fresh zucchini gives this healthy veggie cake that extra moisture we always look for in a deliciously moist chocolate cake.
This layered cake is sandwiched together with freshly whipped cream, making it extra moist and crumbles the way any great chocolate cake should because of the wonderful zucchini.
How to get your kids to eat zucchini
I also just love how this can be another clever way of introducing healthy greens into your family's diet without the possible protest and fuss.
You can't taste any of the zucchini in the cake batter and the final baked cake won't show any signs of having used any vegetables!
For this reason, my Low-Carb Chocolate Zucchini Cake is not only kid-approved but kid-loved.
Read more: How To Raise Low-Carb Kids
How to use up too much zucchini
When it's zucchini season, and your garden is overgrown with zucchinis or fresh zucchinis are cheap in the grocery store, what do you do?
When you have lots of zucchini to use, you can bake, fry it, put it in a salad or freeze it.
There are so many delicious keto recipes to use zucchini (that kids will actually eat). Zucchini bread, chocolate cake, baked bacon egg zucchini casserole, and of course, low-carb spaghetti bolognese with zoodles.
Baked zucchini – I like to use shredded zucchini in this chocolate cake or sneak it into meatloaf, spaghetti bolognese meat sauce, sweet zucchini bread, and even into chicken burgers. No one will notice.
Baked zucchini and bacon quiche (keto egg casserole) is a study healthy low-carb and gluten-free lunch idea. Perfect for packed lunch boxes and summer picnics or BBQ.
Fried zucchini – heat some butter, ghee, coconut oil, or your favorite cooking oil in a frying pan or skillet, and gently fry sliced zucchini until soft. Serve with seasonings such as salt, pepper, lemon pepper, or even bagel seasoning. It makes for a quick, easy, and cheap breakfast, side dish, or lunch. Sprinkle some shredded cheese or parmesan on top for some extra protein.
If you like fritters or patties, courgette fritters with feta cheese and mint are a SUPERB light summer lunch.
How to use raw zucchini – you can spiralize it and make zoodles which can be eaten raw, cooked, or warmed through with a hot sauce. Raw zucchini made into zoodles is a wonderful salad instead of traditional lettuce, mesclun, or coleslaw.
How to freeze zucchini – I like to wash and slice zucchini then place onto a baking tray/ sheet pan that has been lined with nonstick baking parchment. Lay each piece out in a single layer, freeze for 3-4 hours then place all the frozen zucchini into a ziplock bag. Can be frozen for 3-6 months.
Serving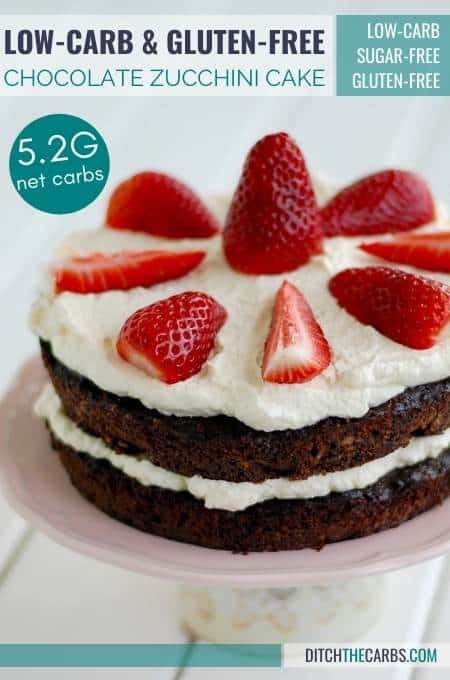 Once you've baked the zucchini (courgette) cake, let it cool and then spread whipped cream to sandwich the two cake layers together.
Spread more whipped cream on the top of the cake and decorate it with low-carb berries of your choice. I just love strawberries which is why I've opted for them but any berries will do.
If your children are super picky eaters, you may wish to sweeten the whipped cream to really give them the flavour of a regular higher sugar cake.
But don't worry. The longer you and your family live low-carb and sugar-free the less sweetener you will require as your sweet tooth slowly fades away.
TOP TIP: As with ALL recipes here, ALWAYS taste your batter BEFORE cooking to ensure you have added enough sweetener to suit YOUR tastebuds. Read the Ultimate Guide To Low-Carb Sweeteners.
How to make keto cream cheese frosting
If you're after a traditional frosting, then you only need 3 ingredients.
Full fat cream cheese
Sweeteener of choice
Vanilla
If you follow this keto cream cheese frosting, there are 6 flavour variations to try.
Baking tips
Although I do provide a step-by-step list of instructions at the bottom of my recipe posts, these additional tips will prove to be helpful when making and storing your chocolate zucchini cake.
Tip # 1: Squeeze Water Out of The Zucchini
This is a great tip as you don't want your cake to be too wet even though your aim is still to bake a moist cake. When preparing your zucchini (courgettes) by shredding it, transfer the shredded pieces to a cheesecloth or clean kitchen towel and squeeze as much water from the zucchini as possible.
Tip #2: Butter Your Cake Tins
Whatever you decide to use as a mold, whether it be a cake tin or a silicone mold, make sure to oil/butter it so that the cake batter doesn't stick to it.
Many prefer baking with silicone molds instead of tins as the cakes seem to be easier to remove but it's up to you. For this recipe, I used two well-oiled and lined cake tins and it worked perfectly.
Tip # 3: How To Test When The Cake Is Done Baking
An easy and well-known way in which to test if any cake is done baking is to insert a toothpick in the middle of the cake, slide it out and see whether there's cake batter stuck to it. If the toothpick comes out clean, the cake is ready. If not, bake it for an additional 5 to 10 minutes.
Every oven is different in make and age, so it's best to go with the recommended baking time and do a toothpick test if you are unsure.
Tip #4: Freezing The Low-Carb Chocolate Zucchini Cake
If you don't manage to eat the entire cake, you can always freeze it by simply wrapping cake pieces in baking parchment once the cake is cool and freeze it for up to a month in an airtight container.
Tip #5: Defrosting The Low-Carb Chocolate Zucchini Cake
Once ready to eat, leave the wrapped pieces out on your kitchen container or in the fridge to thaw. You can also microwave the pieces for about a minute (or less depending on the power of your microwave).
When you're ready to eat them, simply leave them in the fridge or on the counter to thaw or microwave for about a minute.
If you are as obsessed with chocolate cake as I am, then have a look at my other chocolate cake recipes here: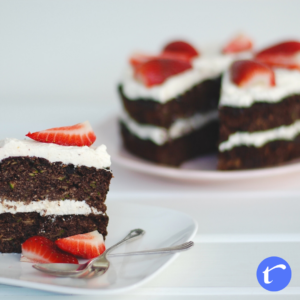 Low-carb chocolate zucchini cake recipe
This Low-Carb Chocolate Zucchini Cake is an ideal moist keto chocolate cake filled with healthy shredded zucchini, and only 5.2g net carbs per double layer slice!
Print
Pin
Rate
Want to lose weight and get healthy for life—without dieting, drugs, or making yourself miserable?
We can help! Tell me how!
Equipment
Measuring cups and spoons

Mixing Bowls

Food Processor
Ingredients
Chocolate Zucchini Cake
220

g

butter

softened

5

tbsp

granulated sweetener of choice

or more, to taste

2

tsp

vanilla extract

5

eggs – medium

medium

200

g

almond meal/flour

2

tsp

baking powder

45

g

cocoa powder (unsweetened)

unsweetened

4

cups

grated/shredded zucchini

measure before squeezing liquid out, loosely packed
Serving suggestion (optional)
125

ml

heavy whipping cream

optional

6

Strawberries

optional
Instructions
Chocolate Zucchini Cake
Place the softened butter, sweetener and vanilla in a mixing bowl and mix until smooth.

Add the eggs one by one, mixing in between each egg.

Add the almond meal/flour, baking powder, and cocoa. Mix until smooth.

Stir in the grated/shredded zucchini/courgette and mix gently until the zucchini is hidden in the yummy chocolate cake mixture.

Divide the mixture between 2 sandwich baking tins which have been oiled/buttered and lined. Sandwich tins are two regular-sized baking tins but quite shallow.

Bake at 180C/350F for 25–30 minutes until completely cooked in the centre but still remains moist.
Serving suggestion (optional)
Whip some double/heavy/whipping cream and use it to sandwich the 2 cake layers together. Add sweetener if you orefer.

Place more whipped cream on top of the double layer cake and decorate with sliced strawberries, or berries of choice.
Notes
Nutrition is for 1 double-layered slice with whipped cream and 1 strawberry as shown. You may reduce the carb value further by omitting the strawberry.
Sandwich baking tins are two regular-sized baking tins but are quite shallow.
Nutrition
Serving:
1
serving (serves 10)
Calories:
407
kcal
Carbohydrates:
9.6
g
Protein:
9.5
g
Fat:
38.6
g
Sodium:
194.2
mg
Potassium:
334.7
mg
Fiber:
4.4
g
Sugar:
3.2
g
Vitamin A:
767.8
IU
Vitamin C:
8.9
mg
Calcium:
116.6
mg
Iron:
2
mg
More Cake Recipes
Get our FREE guide to finally fix your metabolism!
Losing weight & getting healthy is never easy, but lately you might feel like it's suddenly become impossible.
Our Flip the Switch guide will help you clearly understand what's been going on, as well as exactly what you can do to get your metabolism working again so that you can look and feel your best—it's easier and more simple than you think!