If you can boil water, you can make soft, fluffy, delicious, tasty keto mashed cauliflower.
These 4 clever recipes will keep the entire family happy (even your picky eaters). The secret? By flavoring individual portions.
This delicious easy mashed cauliflower recipe is the perfect substitute for mashed potatoes.
Mashed cauliflower is the perfect side dish for chicken, beef, pork, salmon, and any winter casserole. It can even be mixed with cheese and eggs and rolled into balls and fried as cauliflower bites.
Ready to lose weight and get healthy for life without dieting, drugs or making yourself miserable?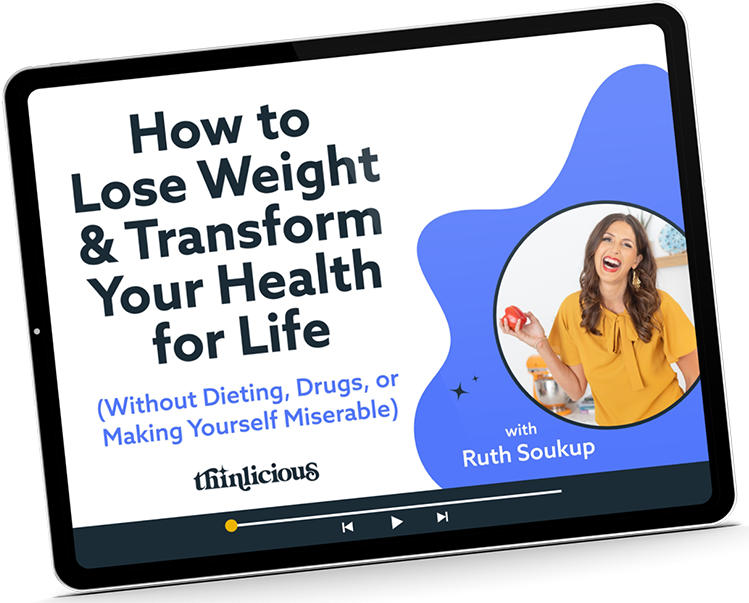 Our free on demand video training will help you understand why it's been so hard and what do to about it.
Cauliflower mashed potatoes are even easier than regular mashed potatoes. You don't need to peel cauliflower and you boil cauliflower florets in half the time.
Is cauliflower keto?
Cauliflower is a commonly used keto vegetable because it is extremely versatile, low carb, high fiber, and can be used in a variety of dishes.
Nutrition of cauliflower per cup (107g): 5.3 g total carbs, 2.1 g fiber, 3.2 g net carbs, 2.1 g protein, 0.3 g fat, 26 calories.
Nutritional values from cronometer.com
What is mashed cauliflower?
If you've been craving mashed potatoes since starting your low-carb diet or keto diet, mashed cauliflower is the perfect alternative. Mashed cauliflower is fluffy and buttery, you just need to learn how to make it the right way.
You make cauliflower mash very similar to how you would make mashed potatoes.
You need fresh cauliflower, cut into small florets then boiled, steamed, or simmered until soft. It's then mashed or pureed until smooth with butter and salt, just like your favorite mashed potatoes.
Equipment
There are three main ways to make mashed cauliflower. The most common way to make a cauliflower mash is to use a stick blender (immersion blender) to mash and puree until smooth.
The second method is to use a food processor but you must ensure you have a heatproof food processor bowl, or you can use your traditional potato masher.
Ingredients
The trick to making delicious fluffy mashed cauliflower is in the flavors you add. Once you get your cooked cauliflower mashed, then the fun really begins!
Buttery mashed cauliflower – this is the most popular flavour and is the basic mashed cauliflower recipe. You can use salted butter or unsalted butter. Adjust the seasoning of salt and pepper to your liking.
Cheesy mashed cauliflower – using the basic buttery mashed cauliflower, you can add you favourite shredded cheese such as shredded mozzarella. Sprinkle even more on top when serving.
Mustard mashed cauliflower – mix in some mustard powder, Dijon mustar, or wholegrain mustard.
Curried mashed cauliflower – add in curry powder or curry paste to really ad a hot spicy tangy taste.
Instructions
Making this easy cauliflower mashed potatoes recipe couldn't be simpler!
Step 1: Roughly chop some cauliflower florets.
Step 2: Add them to a shallow pan with an inch or two of boiling water. The trick to keeping them like mashed potatoes is not to submerge all the way so the cauliflower doesn't get mushy.
Step 3: Once cooked, remove from heat. Drain out ALL the water and ALL the steam. Shake the pan, then drain it once more. This is the secret to making mashed cauliflower that isn't mushy and watery but soft and fluffy.
Add the flavors of your choosing and mash or puree. Enjoy your creamy mashed cauliflower!
Variations
In addition to the 4 mashed cauliflower flavors in the recipe card below, there are so many other ways to make them delicious and individual.
Garlic mashed cauliflower – fresh crushed garlic, minced garlic, garlic salt, or garlic powder for a tasty garlic flavor. Sprinkle chopped green onions (or fresh chives) over the top to garnish.
Cream cheese – use instead of butter
Sour cream – use instead of butter
Nutmeg – this is especially popular over Thanksgiving
Parmesan – add some shredded parmesan cheese into the mashed cauliflower and sprinkle on top when serving
Blue cheese – stir chunks of blue cheese through
Bacon – add cooked bacon bits into and onto your mashed cauliflower
Chives – fresh chopped chives
Parsley – fresh chopped parsley into and onto your mashed cauliflower
Picky eaters
I can guarantee most homes will have at least 1 picky eater – and how do you get your kids to enjoy their veggies? Flavor them (the veggies, not your kids).
I'm not a big fan of hiding vegetables from kids, but it can be a helpful way to help your children to experience new foods. But in the long run, your children need to know that vegetables are part of a healthy range of foods they need to eat to get all the healthy building blocks their amazing growing bodies require.
TOP TIP: The beauty of serving mashed cauliflower is that you can make one big dish of basic mashed cauliflower, then each child can flavor their portion exactly how they like it.
Just pop a single-serve in a small bowl or mug, add and mix your flavors – boom! Delicious and tasty side dishes are sorted for the whole family.
If you are new here you might want to read my 10 Top Ways To Help Your Child Eat Real Food and get a copy of Easy Low-Carb Lunchboxes.
What to serve with mashed cauliflower
There are so many low-carb keto main dish recipes to serve mashed cauliflower with.
The mashed cauliflower recipe is also used to make a topping for low-carb keto shepherd's pie (cottage pie). Keto comfort food at its best.
More cauliflower recipes
Cauliflower is so versatile. You can make cauliflower bread, cheesy cauliflower bread, curried cauliflower rice, cauliflower soup, and cauliflower couscous.
Recipe FAQ
How long do you cook cauliflower?
As a guide, cauliflower takes 5-10 minutes to cook. Do not overcook otherwise you run the risk of having soggy cauliflower.

Cauliflower cooks faster than potatoes so depending on the size of your cauliflower chunks (florets) will dictate the cooking time.
Is mashed cauliflower soggy?
No, the trick to prevent soggy mashed cauliflower is to allow all the water and steam to escape and evaporate before mashing. So leave the lid off your saucepan for a minute or two after draining all the liquid off. So to keep mashed cauliflower from being watery, get rid of as much water and steam as you can.
Can I use frozen cauliflower to make mashed cauliflower?
Yes, but frozen cauliflower tends to store more water and cook faster so remember to allow all the steam to escape before pureeing.
Can I use frozen cauliflower rice to make mashed cauliflower?
Yes, but frozen cauliflower can sometimes store extra water & cook quicker than fresh. To avoid this happening, make sure the cooking water has evaporated before pureeing.
How do I thicken mashed cauliflower?
If your mashed cauliflower has gone soggy, place the saucepan back onto the stove and reheat to help the excess water evaporate. Or you can add some cream cheese to make it creamy and thick.
Does mashed cauliflower really taste like a mashed potato?
No, but it's as close as you can get and it is the perfect keto alternative to mashed potatoes. My favorite thing about mashed cauliflower is that they are so low in carbs. The trick is to flavor them the right way so they don't taste bland. If you give them a healthy makeover with healthy ingredients, you'll be amazed at how delicious they can be!
How do you make mashed cauliflower smooth?
To make super smooth mashed cauliflower, use your food processor, stick blender, or immersion blender. You can use a potato masher but you will still find clumps of cauliflower.
Which is the best flavor for picky eaters?
The most popular flavor is garlic mashed cauliflower because it hides the subtle cauliflower flavor with butter, garlic, and salt. Cauliflower mash with cream cheese, parmesan cheese, or onion powder is another popular flavor to add to pureed cauliflower.
Get our FREE guide to finally fix your metabolism!
Losing weight & getting healthy is never easy, but lately you might feel like it's suddenly become impossible.
Our Flip the Switch guide will help you clearly understand what's been going on, as well as exactly what you can do to get your metabolism working again so that you can look and feel your best—it's easier and more simple than you think!