The ultimate guide to the BEST 50 Keto Snack Ideas – you can make in 5 minutes – some may surprise you.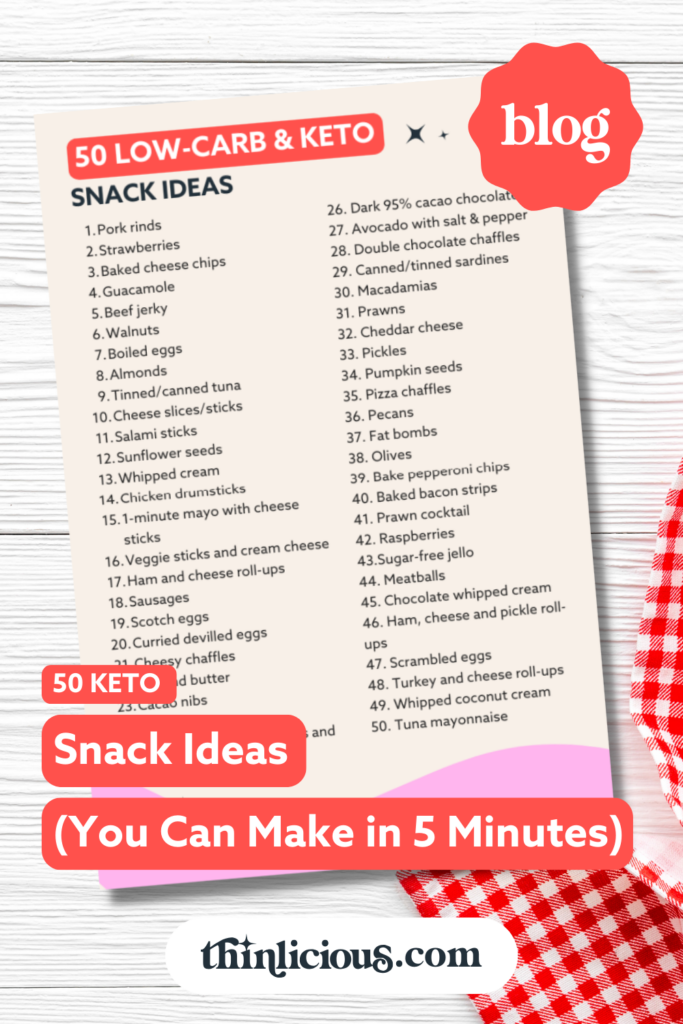 Can I snack on keto?
Snacks are a great way to keep you satiated for longer until your next main meal but they can easily work against your health and weight-loss goals if you aren't too careful with the levels of carbs included.
Take full-fat milk as an example- healthy in small amounts but easy to over-consume by adding to various hot drinks throughout the day and before you know it, you have significantly increased your carb content. For example, if you don't know your carbs in coffee, you can easily drink your daily limit.
Finding the right low-carb snacks and keto snacks at the beginning is the best way to stop snacking on sugar and junk food. But as time passes the need to snack, becomes less often.
Are you ready to create the ultimate 12-month blueprint for reaching your health & weight loss goals this coming year?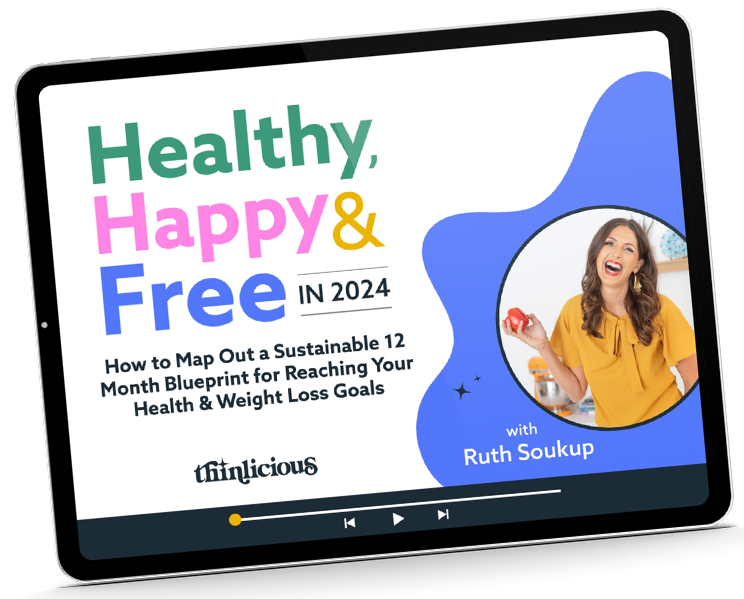 Our free on-demand video training will walk you through how to make 2024 THE year you set health goals…and keep them.
If you are confused about why your weight loss has stopped, snacking can often be the culprit.
In Ditch The Carbs PRO we often do no-snacking challenges, and these are some of the most successful weeks for PRO members.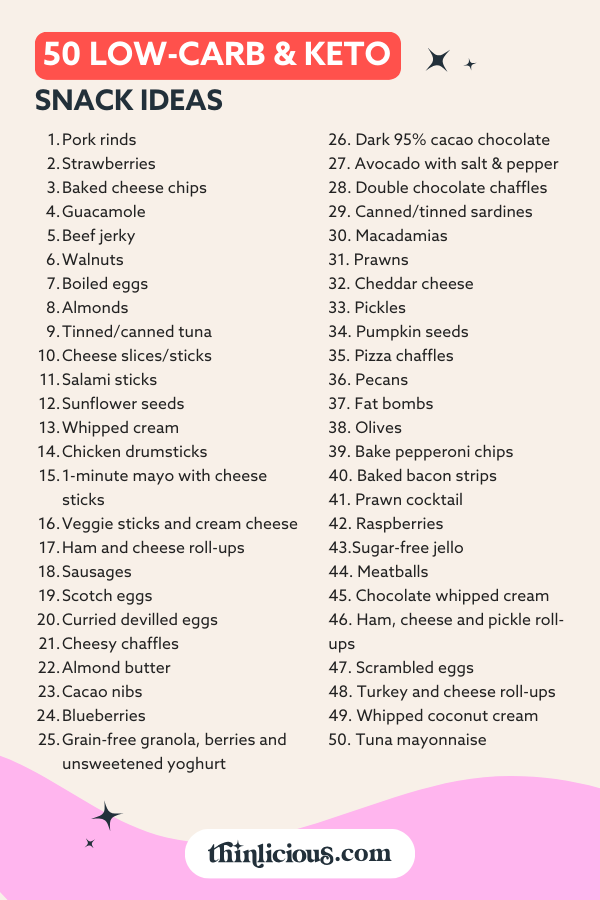 How many carbs per day can I have?
Whenever I refer to a low-carb or keto diet, it's important to understand the different carb levels that will dictate whether you are following a strict keto diet or are in fact following a moderate or low-carb diet.
All three levels of carb restriction have impressive health benefits due to the reduction of carb intake translating to reduced blood glucose levels and the reduced levels and impact of insulin in the body.
But the number of carbs you consume every day will directly impact the goals you set for yourself.
Carb Levels To Aim For
Here's an easy distinction between the three main carb levels that you should aim for:
<100g/day = moderate low-carb
<50g/day = low-carb
<20g/day = keto
50 keto snacks list (printable list)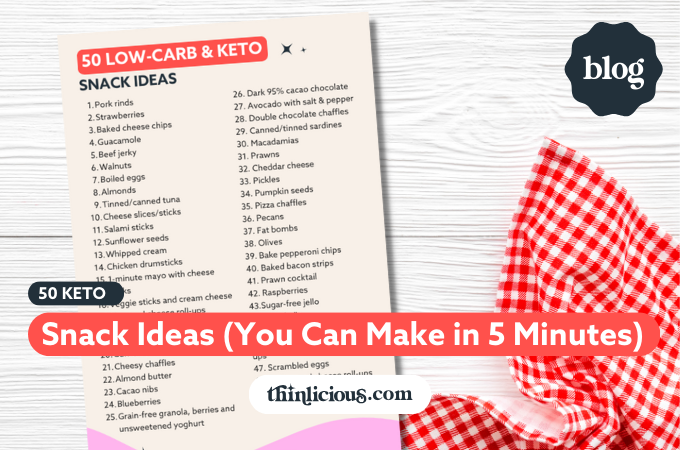 If you aren't sure what snacks you can eat on a keto diet, then follow the simple guide of basing all meals on whole food that is low in carbs, has moderate to high protein, and is moderate to high in healthy fats.
Eggs
Whether you enjoy boiled eggs or scrambled, the great news is that there is no limit to how many you can eat and they make for easy and very quick snacks.
Meat
All types of unprocessed meat can be enjoyed as keto snacks which could include meat you have as leftovers from the evening before such as chicken drumsticks (you get to keep the fat and skin on the chicken!), leftover roast meat, steak, plain rotisserie chicken.
You may also include meat products or home-cooked meat recipes such as meatballs, sausages, casseroles or meat-based snacks purchased from the store such as salami sticks BUT you must keep a close eye on additives and starchy fillers.
TOP TIP: DON'T choose ultra-processed meat with fillers and packers such as wheat, rice starch, potato starch, or sugar (yes, some beef jerky and rotisserie chickens have sugar).
Cheese
When choosing cheese as a keto snack, make sure that you have bought only full-fat options as anything low-fat usually contains higher levels of carbs in order to make the food palatable. Full-fat cheese slices or sticks make a yummy snack.
Nuts And Seeds
Low carb nuts and seeds are super simple snacks that can easily be taken with you on the go but just be careful not to over-consume and watch out for those higher in carbs like cashews. Think of almonds, walnuts, pecans, macadamias, sunflower seeds, and pumpkin seeds.
Nut Butters
Nut butter can be enjoyed on pieces of cucumber or celery. You can also enjoy a teaspoon of nut butter entirely on its own as a delicious healthy fat snack.
Choose wisely as the carb values of nuts and nut butters can vary widely.
Fruit
When opting for fruit as a snack, It's best to choose low-sugar, low-carb fruit such as nutrient-dense berries like blueberries, blackberries, strawberries, and raspberries. They go extremely well with whipped heavy cream, natural unsweetened yoghurt, or coconut cream for a longer period of satiation.
If you desire something a little more salty then olives and pickles (yes, pickles are also classified as fruit) are a great option.
Vegetables
All types of vegetables that are grown above the ground are typically what can be included in the keto diet. This includes your leafy greens, spinach, silverbeet, broccoli, cauliflower, cabbage, avocados, courgettes, aubergines, capsicums, mushrooms, lettuce.
Adding nut butter to celery sticks is a great way of combining veg with healthy fats.
Cream
You'll want to make sure that any cream you eat is full fat, double, or whipping. Try adding some chocolate whipped cream or whipped coconut cream to berries as a sweet keto snack.
Fish
Eat all types of fish especially those high in Omega 3 which is anti-inflammatory. The healthy fats are delicious and healthy. Perfect to keep you full on your low-carb diet and keto diet.
When thinking of quick snacks, reach for tinned or canned tuna and sardines in olive oil or spring water.
TOP TIP: Avoid fish canned in ultra-processed seed oils such as soy or canola. And ALWAYS check nutrition labels for hidden sugar and starches in canned fish sauces.
Easy keto snack ideas (made in 5 minutes)
Apart from the food types listed above, the following list should inspire you when you next plan for keto-friendly snacks.
Lazy keto snacks can be quick and easy AND healthy too.
They are all very easy to make and won't demand more than 5 minutes of your time:
Pork rinds (pork crackling)
Ham And Cheese Roll-ups
Ham, Cheese And Pickle Roll-ups
Turkey And Cheese Roll-ups
1-minute Mayo With Cheese Sticks
Veggie Sticks And Cream Cheese
Grain-free Granola, Berries And Unsweetened Yoghurt
Avocado With Salt & Pepper
Pizza Chaffles + FREE cookbook
Tuna Mayonnaise
Fat Bombs – have a look at my simple 5-minute coconut fat bomb recipe here!
Baked Cheese Chips
Bake Pepperoni Chips
Baked Bacon Strips
Sugar-free Jello
Cacao Nibs – enjoy a small handful to nibble on either alone or added to some full-fat unsweetened yoghurt and grain-free granola!
Dark 95% Cacao Chocolate
Keto snacks in a hurry
These 5-minute keto snack ideas are perfect for those of us in a rush or need to pack something light while on the go, keeping us satiated for longer and any potential cravings at bay till the next main meal.
They are also great snacks, to begin with, if you are new to the keto diet as they are simple with barely any prep work or complicated ingredients required, making the transition into the keto diet that much easier.
Looking if you're looking for additional healthy snacks or meal ideas then visit my LOW-CARB AND KETO RECIPE INDEX. It includes many different recipes including low-sugar and low-carb breakfasts, lunches, dinners, snacks, drinks, sauces, slow-cooker, Instant pot and even keto carnivore recipes.
Get our FREE guide to finally fix your metabolism!
Losing weight & getting healthy is never easy, but lately you might feel like it's suddenly become impossible.
Our Flip the Switch guide will help you clearly understand what's been going on, as well as exactly what you can do to get your metabolism working again so that you can look and feel your best—it's easier and more simple than you think!