Get ready to have your mind blown! This low-carb skillet lasagna with actual keto pasta is so delicious and easy it will leave you speechless!
You really can make this lasagna in 15 minutes! Keep reading to learn how it's done.
Low-Carb Skillet Lasagna
Nothing hits the spot quite like a delicious comforting lasagna. Giving up pasta and bread is often one of the more difficult challenges when starting a low-carb lifestyle.
However, that challenge is a lot less difficult when you find fantastic low-carb pasta and bread substitution recipes. This low-carb skillet lasagna recipe is one of those truly amazing recipes.
Are you ready to create the ultimate 12-month blueprint for reaching your health & weight loss goals this coming year?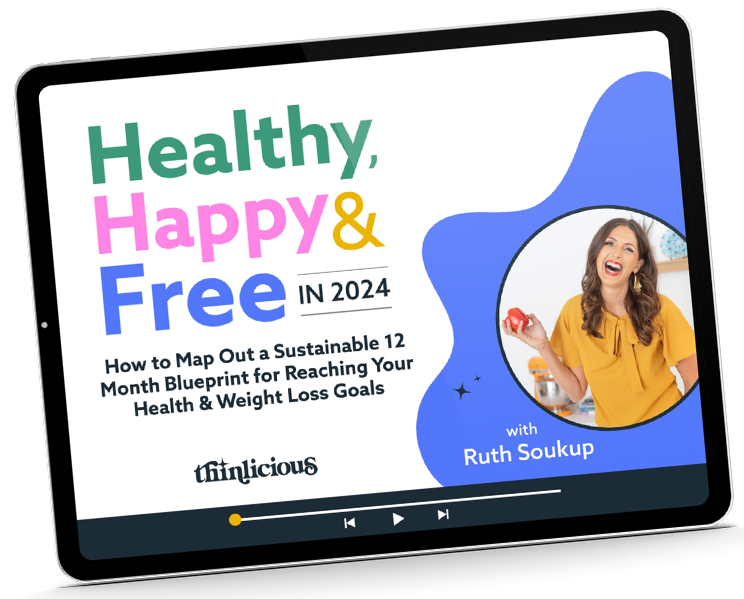 Our free on-demand video training will walk you through how to make 2024 THE year you set health goals…and keep them.
This meal will come together so quickly it will blow your mind. Plus, you get all the satisfaction of eating those tender slippery noodles you've been craving without all the carbs!
Making Keto Noodles
To make your skillet lasagna you will need to make the 3-ingredient low-carb keto pasta first. This pasta only takes a few minutes to make so don't let the idea of making your own noodle intimidate you.
To make the pasta follow the directions in the keto pasta recipe. Remember to move quickly. A warm mozzarella pasta dough is easy to work with, so you want to roll the dough out right away.
When you roll the dough out make sure you roll it out so that the pasta will be kind of thick like lasagna noodles.
Don't worry about the shape of the dough, it is just going to be mixed into a skillet later so it doesn't need to be perfect.
Next, cut the pasta dough into bite-sized squares using a knife or pizza cutter.
More Low-Carb Dinner Recipes …
Cheat's Cheese Sauce
After you are done making the pasta mix you cheese sauce together in a small bowl so that it is ready to go when you assemble your lasagna. The cheese sauce is made of ricotta and parmesan cheese.
Note: No egg is used in this cheese sauce to keep the cooking time at a minimum. I do not recommend adding an egg because the pasta is made out of mozzarella cheese, it would take too long to cook the egg. Additionally, this would compromise the texture of your pasta.
So to keep the recipe simple, and your pasta firm, leave out the egg that is usually found in lasagna cheese sauce.
Lasagna Meat Sauce
Now that your pasta and cheese sauce is ready it is time to make your meat sauce. I used ground beef from my refrigerator that I had cooked previously in the week.
However, if you aren't sure how to brown/fry ground beef to be used in the meat sauce you can find directions in my Ground Beef Meal Prep.
To make the meat sauce, simply mix together the meat, crushed tomatoes, and seasoning in a skillet on the stove. When the sauce is hot and simmering your sauce is done and you are ready to assemble your skillet lasagna.
You will want to make sure you use an oven-safe skillet like a cast-iron skillet to cook your meat sauce. If you don't have an oven-safe skillet you can still make this low carb lasagna. You will just need to assemble your lasagna in an oven-safe baking pan instead.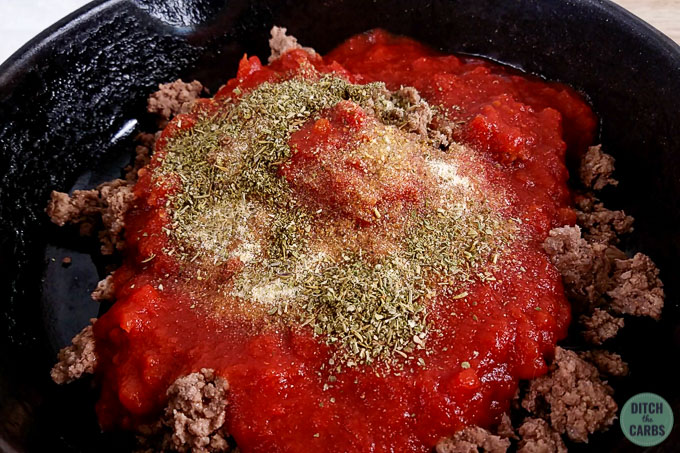 Assembling Skillet Lasagna
Now that your meat sauce is done you can assemble your lasagna. To assemble mix the pasta into the sauce and make sure all the noodles are coated with the sauce.
Next, spoon the cheese sauce over the top of the lasagna and spread it out. When the cheese sauce covers the top of the lasagna place in the oven under the broiler to brown the top of the lasagna and heats the ricotta cheese sauce.
It will only take a few minutes (less than 5 minutes) to brown the top of the lasagna so keep an eye on it.
When the lasagna is done remove it from the oven and serve. It doesn't need to rest like a traditional lasagna, it will be ready to eat right out of the oven!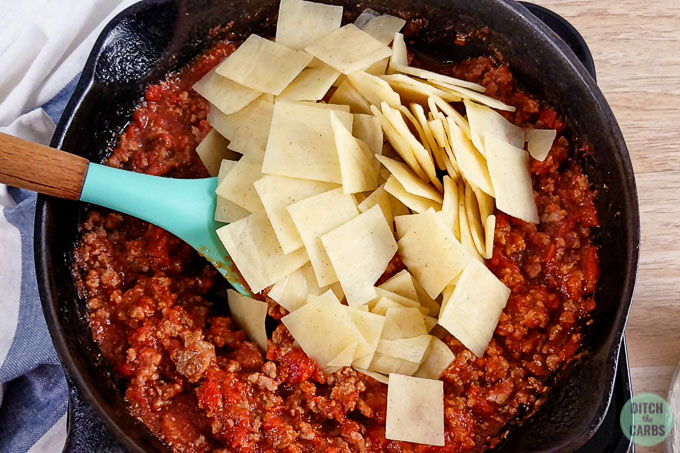 Low-Carb Pasta
Once you experience this lasagna with keto pasta, a whole new world of pasta opportunity will open up to you. There are so many ways to use Keto Pasta, and this skillet lasagna is just one.
This low-carb lasagna is best eaten fresh, but I did store my leftovers in the refrigerator and reheat them the next day. The pasta in the lasagna held well being reheated in the microwave and it didn't absorb all the sauce like regular leftover lasagna.
You are going to love this recipe! Comment below when you have tried it and let us know what you think. Enjoy!
More keto dinner recipes
To plan your meals for next week, take a look at some of the most popular family-friendly keto dinner recipes. Then choose some delicious side dishes to go with beef or the best side dishes to serve with chicken.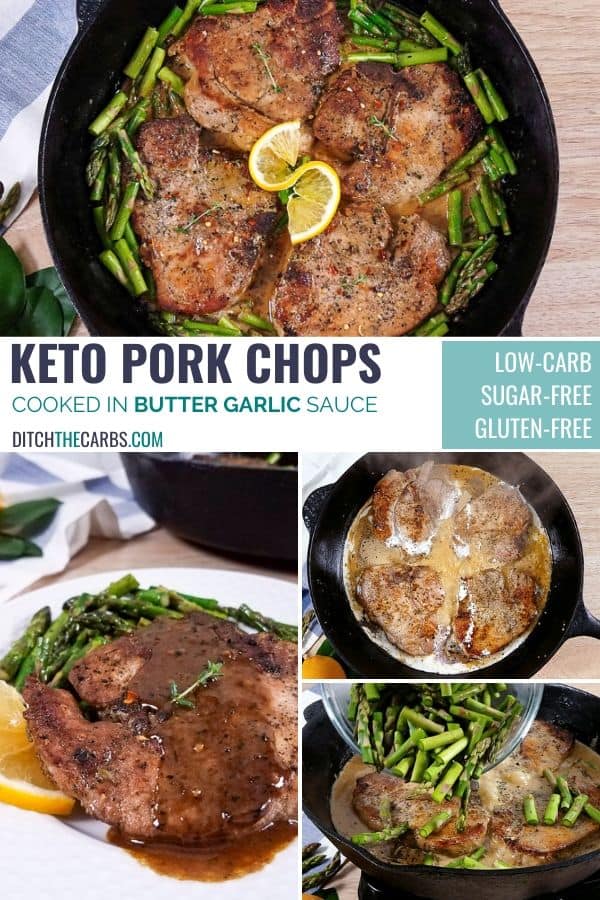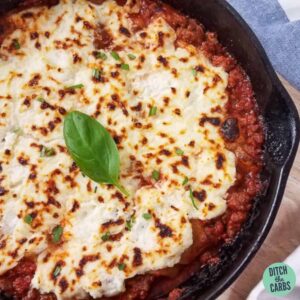 Low-Carb Skillet Lasagna Recipe
A tasty skillet lasagna using keto pasta that is ready to eat in 15 minutes.
Print
Pin
Rate
Want to lose weight and get healthy for life—without dieting, drugs, or making yourself miserable?
We can help! Tell me how!
Equipment
Skillet

Measuring cups and spoons
Ingredients
1

batch keto pasta

cut into bite sized squares
Meat Sauce
2

cups

cooked ground/minced beef

1

cup

crushed tomatoes

1

tsp

onion powder

1

tsp

garlic salt

1

tsp

Italian seasoning

1

tsp

apple cider vinegar
Cheese Sauce
1/2

cup

parmesan cheese

1/2

cup

ricotta cheese
Instructions
Make your homemade keto pasta according to the directions and cut it into bite-sized squares. Set aside.

In a bowl mix together the parmesan cheese and ricotta cheese. Set aside until ready to use.

Using an oven-safe skillet (I used a cast-iron skillet) mix together your sauce on high heat. Let the sauce come to a simmer and then turn off the heat.

Next mix in your keto pasta. The pasta doesn't need to cook so this should only take a few moments to mix in. Then spread the cheese sauce over the top of the lasagna.

Place your skillet lasagna in the oven under the broiler/grill until the top of the cheese crisps and browns. Remove your skillet lasagna from the oven and serve.
Nutrition
Serving:
1
serve (serves 2)
Calories:
449.7
kcal
Carbohydrates:
8.3
g
Protein:
41.6
g
Fat:
27.5
g
Saturated Fat:
11.1
g
Cholesterol:
128.4
mg
Sodium:
1069.5
mg
Potassium:
648.5
mg
Fiber:
2.6
g
Sugar:
3.1
g
Vitamin A:
465
IU
Vitamin C:
5.6
mg
Calcium:
328.7
mg
Iron:
4.4
mg
If you're after some comfort desserts, you have to try keto chocolate lasagna. It's made of 4 distinct layers and is an easy no-bake recipe. Perfect for entertaining during the holidays and summer barbecues.
Then there's chocolate peanut butter cheesecake, another no-bake recipe that the whole family will love.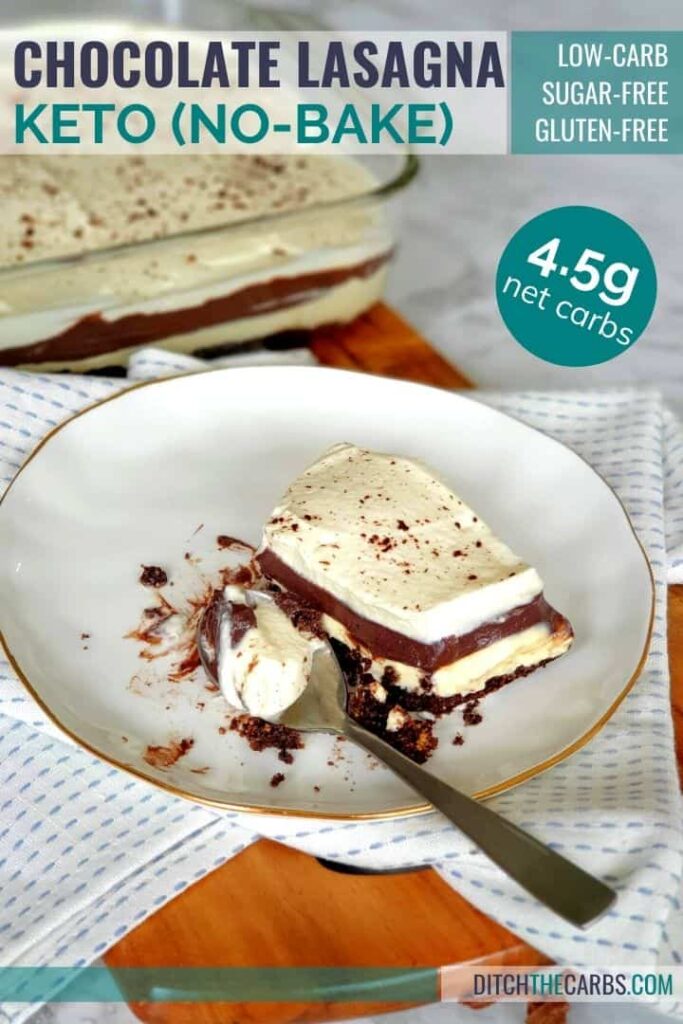 Get our FREE guide to finally fix your metabolism!
Losing weight & getting healthy is never easy, but lately you might feel like it's suddenly become impossible.
Our Flip the Switch guide will help you clearly understand what's been going on, as well as exactly what you can do to get your metabolism working again so that you can look and feel your best—it's easier and more simple than you think!