These are my favourite best low-carb snacks. They are absolutely delicious and fun to make!
The best part? Most are almost ZERO carbs, and all are under 10g net carbs,so are keto-friendly too.
The best low-carb and keto snacks … just got better.
Snacking is the number one downfall I see when weight loss has stopped on a low-carb diet or keto diet.
Ready to lose weight and get healthy for life without dieting, drugs or making yourself miserable?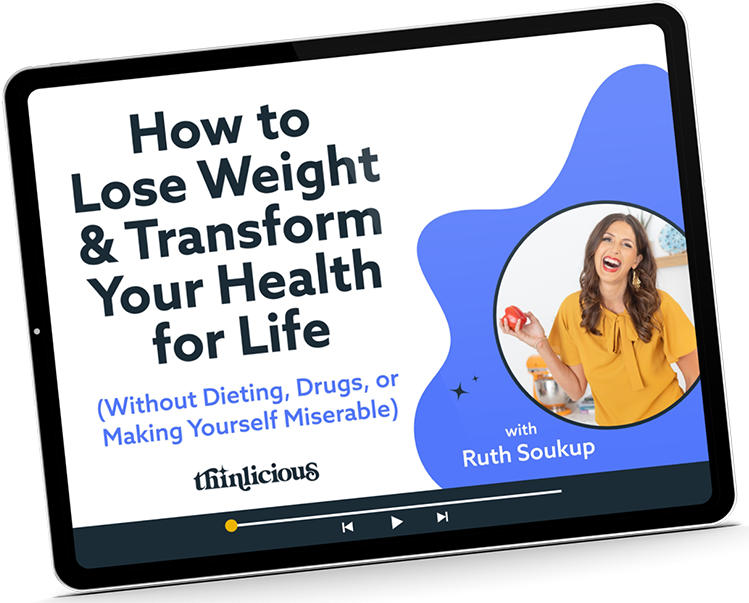 Our free on demand video training will help you understand why it's been so hard and what do to about it.
If you're not counting your macros, or you have not calculated your macros yet, now is the time. You need to be tracking every snack on paper or in an approved app so you can really see where your carbs are coming from.
Luckily the list below are easy healthy snack ideas between 0g net carbs and 10g net carbs.
Do you snack all the time?
Why do we snack? Hunger, boredom, taste, habit?
The majority of people snack too often, and snack on all the wrong foods.
Maybe you're hungry all-the-time? Why?
Because if you are living on the standard high-carb low-fat diet, your hunger is constantly being triggered (from the carbs, sugars and grains) and you are not satiated between meals (because you're not enjoying the higher healthy fats that keen you sustained).
But the good news is, when you learn how to start low-carb you can finally understand what has been sabotaging your appetite.
[convertkit form=2151328]
Learning how to control your appetite is the biggest hurdle for anyone who wants to control their weight.
By eating low-carb and higher fat, you are sustained for longer and no longer have those low sugar crashes after you eat something sweet. Your focus turns to nutrition rather than hunger.
35 Snack ideas
When you want to snack, it is vital to have some healthy snacks at hand.
What makes a good low-carb snack?
Obviously something low in sugar, but also no wheat or grains. Add good quality protein and plenty of healthy fat. Many think it's crazy to snack on fatty foods, but we must get over the fear of fat.
We're not talking about the toxic fats found in burgers, fries and cakes. We want natural healthy fats such as cheese, nuts, meat, fish, and eggs.
Below you will find 35 best low-carb snacks – some are ready-made low-carb snacks that require zero preparation (yay) whilst others need some time but are still super easy to make.
Ready made snacks
These low-carb snacks require ZERO preparation and can be bought ready-made.
They are portable so are great to have in your desk drawer at work, or packed for lunch.
Keep some ready-made low-carb snacks on hand so if you really want a snack, you can make the healthy choice, the easy choice.
EGGS – this has to be my favourite low-carb and keto snack. Eggs are an easy, affordable and portable snack with quality protein and healthy fat to keep your appetite in check. You can buy ready-boiled eggs from the deli counter. Have a bowl of hard-boiled eggs in the fridge or work.
NUTS – are a great combination of protein and healthy fats BUT their carb content can soon add up, so only buy small snack packs OR pre-pack a portion-controlled quantity. Always choose lower-carb nuts such as macadamias, almonds, sunflower and pumpkin seeds. Avoid cashews. Ultimate Guide To Carbs in Nuts & Seeds Chart.
CHEESE – are a great high-fat and protein-filled keto snack. There are so many varieties of cheese to choose from. Snack on slices, cubes, shredded cheese. Watch the carbs in some cheeses. They can sometimes sneak in with hidden dried fruits, nuts and even wheat and starch in pre-shredded/grated cheeses.
DELI MEAT – head to your local deli counter and buy quality cooked chicken, ham, roast beef or another favourite cold cooked meat. Keep the leftovers from last night's dinner or roast and make your own zero carb keto snack. Avoid processed meat and meat that has hidden carbs or sugary sweet sauces.
VEGETABLE SLICES – your local salad bar or deli will have a variety of sliced prepared vegetables you can buy, then add some kind of healthy fat such as cheese, cream cheese, or mayonnaise.
FISH– keep tinned/canned tuna in the pantry or your desk. You can quickly add some mayo to make tuna mayonnaise.
BERRIES – frozen berries are cheaper than fresh and you can always keep some on hand in your freezer. Place some frozen berries in a leak-proof pot, add some full-fat cream or coconut cream. Ultimate Guide To Carbs In Fruit
AVOCADO – are an amazing source of healthy fats, vitamins, and nutrients. Cut in half and sprinkle with salt and pepper. I can even teach you how to freeze avocados.
OLIVES – why not make a Ziploc bag or pot with cheese, olives and nuts.
DARK CHOCOLATE – always choose the lowest sugar and the highest cacao chocolate. If you don't like dark chocolate YET, gradually increase the cacao % each time you buy a block. And because it is slightly bitter, you will only want 1 or 2 squares to satisfy.
Quick snacks
[convertkit form=2151328]
These Best Low-Carb Snacks need a little more preparation. They are especially great for entertaining or are asked to bring nibbles to a party.
1. Pork Crackling / Pork Rinds – 0g net carbs
This pork crackling recipe is the ultimate best low-carb snack! There's no artificial flavouring or preservatives. You'll never go back to store-bought pork rinds again.
2. Wheat-Free Crackers – 1.4g net carbs
Wheat-free crackers are a convenient snack especially if you're looking for something with a bit of crisp. They are gluten-free, low-carb, and full of protein.
3. Curried Devilled Eggs – 0.7g net carbs
Do you remember curried devilled eggs from your childhood?
I absolutely LOVED devilled eggs at parties, neighbourhood get-togethers and even in school lunch boxes. The best part? Devilled eggs are keto and almost zero carbs!
4. Avocados – 2g net carbs
Avocados are packed with vitamins, minerals, fibre, and healthy fats. So it just makes sense that they would be the perfect low-carb snack. Check out these avocado boat recipes.
5. Chocolate Chip Vanilla Chaffles – 6.4g net carbs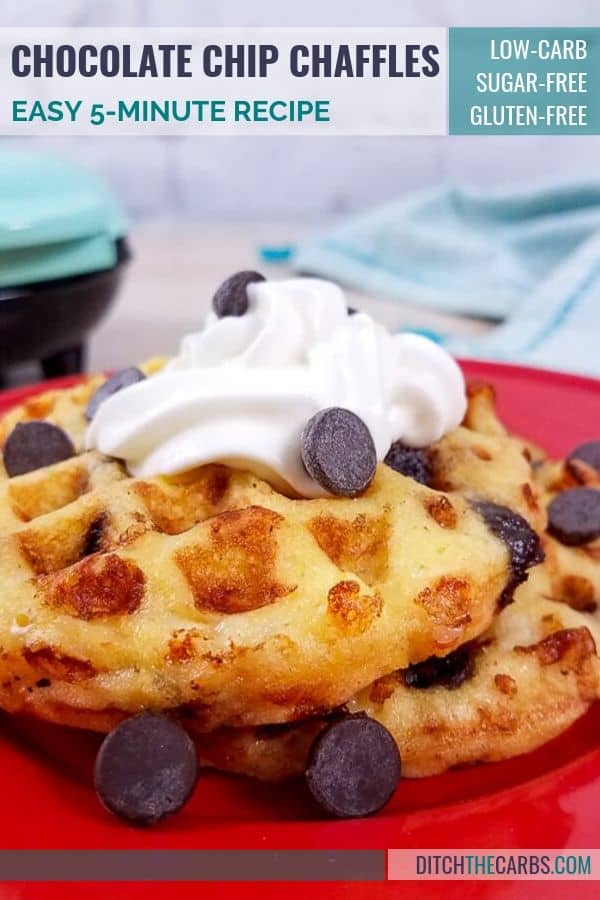 Have you discovered the chaffle craze yet? They are keto, low-carb, gluten-free, sugar-free and I haven't met a single person yet who doesn't love chaffles PLUS claim your copy of my free chaffle cookbook – 23 easy sweet & savoury recipes.
[convertkit form=2151310]
Low-Carb Chocolate Chip Vanilla Chaffles Recipe
Make delicious low-carb chocolate chip vanilla chaffles in less than 5 minutes.
Check out this recipe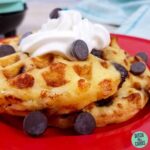 6. Low-Carb & Grain-Free Granola Bars – 2.4g net carbs
Try this BLENDER recipe for SUPER EASY grain-free granola bars. Simply throw everything in the blender. Easy as. There is even an option to make them nut-free too. The perfect low-carb snack for work or school.
7. Mozzarella Dough Keto Pizza Scroll – 1.9g net carbs
Your kids will love these keto pizza scrolls for the perfect after school snack. They can add their favourite toppings and have it done in 15 minutes.
8. Keto Vanilla Berry Mug Cake – 5g net carbs
Need a sweet low-carb and keto snack in a hurry? Make these quick and easy 1-minute coconut flour keto vanilla berry mug cake – even when you don't want to cook!
The best part? It's keto, sugar-free, low-carb and made with coconut flour – this will please even the most ardent cake lover!
9. Low-Carb Cauliflower Sushi – 5g net carbs
This low-carb sushi recipe still uses nori sheets but replaces the rice with cauliflower rice instead. You can still use raw fish options along with vegetable only fillings.
10. Low-Carb Cauliflower Bacon Popcorn – 4g net carbs
Do you love garlic and bacon? This snack will have you smiling! It's a great alternative to traditional popcorn.
11. Paleo Scotch Eggs – 0.5g net carbs
You can serve these paleo scotch eggs by itself as a snack or add them to a salad for a full meal! It's only 0.5g carbs per egg!
12. Chocolate Paleo Seed Bar – 2g net carbs
Looking for a nut-free snack bar? This chocolate paleo seed bar recipe is the perfect quick snack recipe.
[convertkit form=2151328]
13. Super Easy Garlic Pate – 0.3g net carbs
You can either buy a good quality store-bought pate (always check for sneaky hidden carbs and starchy fillers) or you can make your own with my super easy low carb pate and see just how easy it is.
14. Eggplant Parmesan Bites – 2.6g net carbs
Looking for a vegetarian low-carb snack? How do you make a nutritious, low carb, grain-free and clean eating snack? This simple recipe for low carb eggplant parmesan bites will be sure to please.
Serve these eggplant parmesan bites with a garlic yoghurt dip or homemade mayonnaise. Total prep and cook time is under 25 minutes, making this a quick snack when hunger strikes.
Fried Eggplant Parmesan Bites
Low-carb eggplant parmesan bites are perfect as a snack, appetiser or even a full meal depending on how many you choose to serve. Choose your favourite cheese to top them.
Check out this recipe
15. Chocolate Green Smoothie – 7.6g net carbs
The perfect grab'n'go low-carb snack that will keep you going until your next meal. You can even meal prep by placing all the ingredients into Ziplock bags in the freezer.
Sugar-Free Chocolate Smoothie Recipe (Dairy-Free)
The perfect way to amp up your greens and sneak more into your picky children's diet. A quick sugar-free chocolate smoothie will also keep them full for hours.
Check out this recipe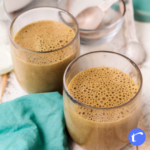 16. Peanut butter fudge – 0.5g net carbs
Get the kids involved in snack time and have them make no-bake peanut butter fudge. Store extras in the freezer for when you want to stop a quick sugar craving.
No-Bake Keto Peanut Butter Fudge Recipe
Keto peanut butter is a delicious creamy no-bake treat that will satisfy your cravings all year long!
Check out this recipe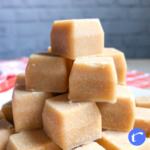 17. Sugar-Free Spiced Almonds – 2.2g net carbs
You could definitely save these for holiday gifts, but the actual almonds are the perfect protein-packed snack. You can flavour them to your own liking, sweet, savoury or spicy!
18. Low-Carb Almond Flour Bread – 1.9g net carbs
Sometimes a slice of toast is the best snack to curb cravings.
My FAMOUS 2-step method for easy low-carb almond flour bread recipe has rapidly become one of the most popular recipes here on Ditch The Carbs.
The perfect healthy homemade bread at only 1.9g net carbs per slice. Gluten-free, low-carb and no sugars.
19. Keto Salmon Bites – 0.1g net carbs
Discover Keto Salmon And Cream Cheese Bites – the perfect KETO snack and the perfect high-protein keto snack PLUS they are a genius idea for parties, picnics and healthy school lunch boxes.
This variation of the mini quiches will boost your brainpower with Omega-3. They are not only delicious but virtually ZERO carbs!
20. Low-Carb Ham and Egg Cups – 0.8g net carbs
Fill these egg cups with vegetables and cheese to make the perfect egg bites! They are so delicious and one batch makes 12 egg cups, which can stay in the refrigerator up to 3 days. Better yet, you can freeze these for quick snacks.
21. Fat Head Sausage Rolls – 3.6g net carbs
Kids love this fat head sausage roll recipe. The pastry is low in carbs, grain-free, wheat-free, AND gluten-free.
22. Fat Head Crackers – 2.4g net carbs
Skip the processed snack crackers from the store. You can use either almond flour or coconut flour to make these fathead crackers. Whip up a batch in 20 minutes and the whole family will be happy.
23. Paleo Prawn Cocktail – 1.8g net carbs
I love the prawn cocktails over crunchy veggie sticks. The combination of textures make this low-carb snack so diverse.
24. Peppermint Fat Bombs – 0.5g net carbs
Sometimes you just want a little sweet treat for a snack. I'm guilty for sure. These peppermint fat bombs do the trick. They are refreshing and delicious.
[convertkit form=2151328]
25. Grain & Sugar-Free Granola – 4.1g net carbs
It's the easy homemade sugar-free pantry recipe everyone's been raving about.
You can make your own homemade granola from ingredients that are probably sitting in your pantry right now. And who doesn't love easy healthy pantry recipes?
Keep a batch of this granola on hand because you can eat it like cereal or use it as a topping on Greek yoghurt.
For even more snack recipes, check out my Top 10 Low-Carb Snacks and printable chart for your pantry or fridge.
And why not take a look at my pantry guide, everything you need to stock your low-carb pantry.
[convertkit form=2151328]
Get our FREE guide to finally fix your metabolism!
Losing weight & getting healthy is never easy, but lately you might feel like it's suddenly become impossible.
Our Flip the Switch guide will help you clearly understand what's been going on, as well as exactly what you can do to get your metabolism working again so that you can look and feel your best—it's easier and more simple than you think!