A single-serve EGG-FREE 1-minute keto blueberry cheesecake in a mug that's sugar-free and keto-friendly.
PLUS there are options to make keto chocolate "Nutella", strawberry, and even pumpkin pie spice.
This cheesecake was inspired by my vanilla berry cheesecake and my popular low-carb mug cakes. The fresh blueberries will add natural pops of color and flavor to the cheesecake.
Egg free mug cheesecakes
At only 5.9g net carb count per cheesecake, you can enjoy this tasty dessert quickly. No more waiting until the next day to satisfy your sweet tooth!
Are you ready to create the ultimate 12-month blueprint for reaching your health & weight loss goals this coming year?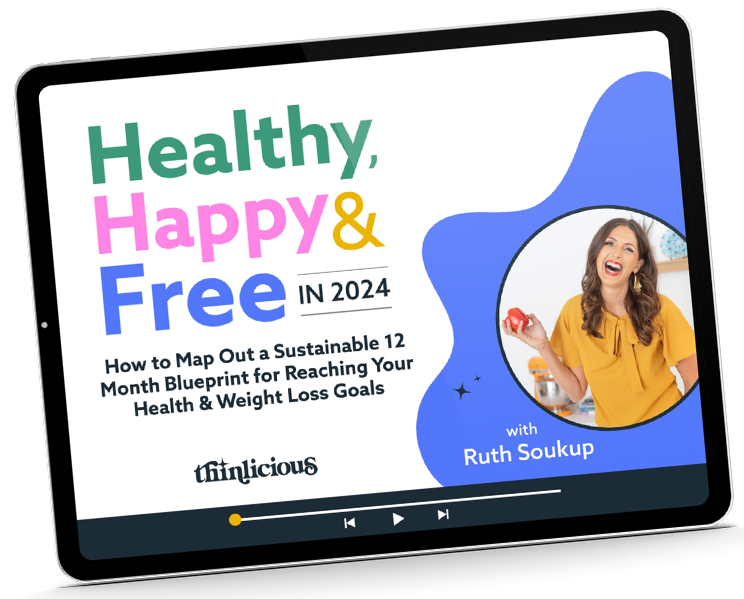 Our free on-demand video training will walk you through how to make 2024 THE year you set health goals…and keep them.
Since the top question about my mugs cakes is if they can be made egg-free I decided to make this cheesecake egg-free from the start.
While you can certainly make this easy blueberry cheesecake any time of year, I find myself making it often during warm months.
Blueberry season is usually during the summer months. So blueberry keto mug cakes are a great summer treat.
This is also a great recipe to make when you have overripe blueberries that you need to use quickly. The softer the blueberry the easier it is to smash.
No fresh blueberries? No problem! As we'll discuss below, frozen blueberries work well in this cheesecake filling too.
Ingredients
Only a few ingredients are needed to make blueberry keto mug cheesecakes. I use fresh blueberries in this recipe, but it will work with frozen berries as well.
cream cheese – make sure to puchase full fat cream cheese with no additives.
Greek yogert – look for the lowest carb count you can find. Again, make sure to buy the full fat version with no added sugars or fruit.
vanilla extract – or vanilla essence.
baking powder – always check the expiry date to ensure it is fresh.
granular or powdered sweetener of choice – powdered sweetener tends to work better than granulated sweetener in my opinion, but either is okay. Powdered monk fruit sweetener is a favourite of mine but there are so many choices available.
blueberries – either fresh or frozen blueberries. If you opt to use frozen, you may want to leave them on the counter to soften for about 10 minutes before adding them.
See the recipe card for quantities.
Instructions
First, start by combining all of the keto blueberry cheesecake ingredients together in a mug or glass jar. Your cream cheese will need to be softened in order to mix your batter.
You can soften your cream cheese on the counter, or you can soften the cream cheese in the microwave at 50% power for 15-30 seconds before mixing in the remaining blueberry cheesecake ingredients.
As you are mixing up the keto blueberry cheesecake, be sure to smash the blueberries with your fork.
This will release both flavor and color into the cheesecake making your cheesecake batter a pretty pastel color. Plus, it makes the blueberry sauce more evenly distributed throughout the blueberry cheesecake.
Next, cook the cheesecake in the microwave on 50% power in 1-minute increments for up to 2 minutes. You will know your cheesecake is done when it looks firm, but still jiggles when you gently shake it.
Let your cheesecake cool on the counter for 10 minutes before placing it in the refrigerator to chill for at least 1 hour. When you are ready to serve tops with a spoonful of sweetened whipped cream and blueberry.
You'll love this blueberry cheesecake recipe!
Hint: gently take your mug/jar on the counter several times before microwaving to level your keto cheesecake and release any large air bubbles that may be trapped within.
Substitutions
Each person has different dietary restrictions they may need to follow. Below are a few substitutions for this keto cheesecake recipe you can make to meet your needs.
Greek yogurt – instead of Greek yogurt, you can use heavy cream, whipping cream, coconut cream, or sour cream for a tangier taste.
Baking powder – use xanthan gum instead of baking powder if needed. You would only need 1/4 tsp xanthan gum.
Vegan – the cream cheese can be replaced with a plant based vegan "cream cheese" or "sour cream" substitute. The yogurt can be replaced with whipped coconut cream.
Keep in mind that if you make any substitutions you may need to recalculate the nutritional facts for this recipe. The nutritional facts listed in the recipe below are only for the ingredients listed in the recipe.
Variations
If you love the idea of a keto blueberry cheesecake but want to add a twist to your keto cheesecakes here are a few ideas to get you started.
Lemon Berry – add lemon zest and/or a splash of lemon juice to your cheesecake before cooking to add a hint of tangy flavor.
Mixed Berry – add a variety of berries to your keto blueberry cheesecake to brighten it up even more.
Add a crust – create an almond flour crust for your blueberry cheesecake. Either sprinkle the almond flour crust on top, or press the crust into the bottom of your mug and pour the mixed batter over it.
Add a blueberry topping – you can even make a little extra mashed blueberries to swirl on top of the ceesecake filling. Just make sure to account for the extra carbs!
Sugar-free strawberry cheesecake in a mug (egg free)
Not a fan of almond flour crust? See these 16 Best Keto Cheesecakes on my website for inspiration of more flavors or crust ideas!
Equipment
Your cheesecake will need to be cooked in a microwave-safe mug or jar that is tall enough that your keto blueberry cheesecake will not overflow while cooking.
I used a half-pint jar because it's easier to see what each cheesecake looks like when cooked. I also like that I can screw the lid on the jar to store the keto blueberry cheesecake.
The keto cheesecake was also cooked in a microwave at 50% power. Each microwave is different so if you are having a hard time finding 50% power on your microwave here are some options.
Use the softening function on your microwave if you have it to cook your easy keto blueberry cheesecakes.
If you cannot change the power on your microwave cook in 30 second increments instead of 1 minute increments.
Make baked cheesecake in the oven instead. Cook at 175C/350F for 15-17 minutes. Be sure to use an oven safe container.
Storage
Frozen cheesecakes can be defrosted on the counter for 1-2 hours or in the refrigerator overnight.
The uneaten or leftover keto blueberry cheesecakes can be stored covered in the fridge for up to 5-7 days.
And yes, you can even freeze this keto blueberry cheesecake! You can also freeze these cheesecakes for up to 30 days.
If you intend to freeze this keto cheesecake, make sure you use a freezer-safe jar. Alternatively, you can remove the cooked blueberry cheesecake from the mug and store them in a freezer-safe container.
There are a lot of options to make this easy keto blueberry cheesecake ahead of time!
Top tip
Opt for a good quality cream cheese when making cheesecake. A good quality cream cheese will make a big difference in texture and flavor.
Always make sure your cream cheese is softened before mixing your ingredients together.
If you find your cream cheese is not soft enough and you've already mixed your ingredient together let it sit on the counter for another 5-10 minutes, then mix again.
Since there are no eggs in this keto blueberry cheesecake you can't over mix it.
FAQs about keto blueberry cheesecake
What could I substitute for blueberry?
Not a blueberry fan? Sub it out for another berry instead. Strawberries, blackberries, and raspberries are all similar or lower in carbs and taste fantastic. Read more about carbs in fruit here.
Can I bake this cheesecake?
Yes, you can bake this cheesecake recipe in the oven if you prefer. First, make sure the cheesecake filling is in an oven-safe glass jar. Then, bake it at 175C/350F for about 15-17 minutes.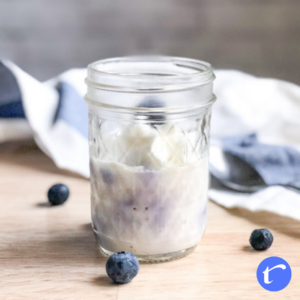 Keto Blueberry Mug Cheesecake Recipe
Delicious egg-free blueberry cheesecake that you can cook in a mug or ramekin using your microwave!
Print
Pin
Rate
Want to lose weight and get healthy for life—without dieting, drugs, or making yourself miserable?
We can help! Tell me how!
Equipment
Measuring cups and spoons

Whisk

Microwave
Ingredients
2

oz

cream cheese

2

tbsp

natural unsweetened yoghurt

plain

5

blueberries fresh or frozen

fresh or frozen

1

tbsp

granulated sweetener of choice

or more to your taste

1

tsp

vanilla extract

½

tsp

baking powder
Toppings
1

tbsp

whipped cream

optional for garnish
Instructions
Place the cream cheese into the bottom of your mug. Microwave for 30 seconds to soften the cream cheese.

Add the rest of the ingredients except the toppings and 1 blueberry to the mug and mix until smooth. Smash the blueberries as you mix the cheesecake to allow the berries to color the cheesecake a bit.

Place the cheesecake in the microwave. Cook the cheesecake in the microwave at 50% power in 1-minute increments for a maximum of 2 minutes. If cooking at normal power cook in 30-second increments for a maximum of 1 minute.

Remove the cheesecake from the microwave and chill it in the refrigerator for 1-2 hours. Top with sugar-free sweetened whipped cream and 1 blueberry. Enjoy!
Nutrition
Serving:
1
mug cake
Calories:
241
kcal
Carbohydrates:
6.1
g
Protein:
6.7
g
Fat:
20.6
g
Sodium:
195.6
mg
Potassium:
343.8
mg
Fiber:
0.2
g
Sugar:
4.3
g
Vitamin A:
797.5
IU
Vitamin C:
0.6
mg
Calcium:
182.4
mg
Iron:
0.4
mg
Get our FREE guide to finally fix your metabolism!
Losing weight & getting healthy is never easy, but lately you might feel like it's suddenly become impossible.
Our Flip the Switch guide will help you clearly understand what's been going on, as well as exactly what you can do to get your metabolism working again so that you can look and feel your best—it's easier and more simple than you think!