Keto butter chicken is the perfect weeknight meal. Not only is it absolutely delicious, but it's quick too. You can easily toss it together in the morning and quickly cook in the evening.
Butter chicken is one of those meals that is even better as leftovers. At only 2.9g net carbs per serving this tasty keto butter chicken meal is perfect for adding to your low-carb meal prep.
If you haven't tried it before, butter chicken is a delicious curry that is filled with bold and rich flavors. This dish comes from Northern India where it is known as murgh makhani.
This butter chicken is the perfect Indian food addition to my other curry recipes on this site. It pairs well with this amazing mini naan bread and cauliflower rice. Yum!
Are you ready to create the ultimate 12-month blueprint for reaching your health & weight loss goals this coming year?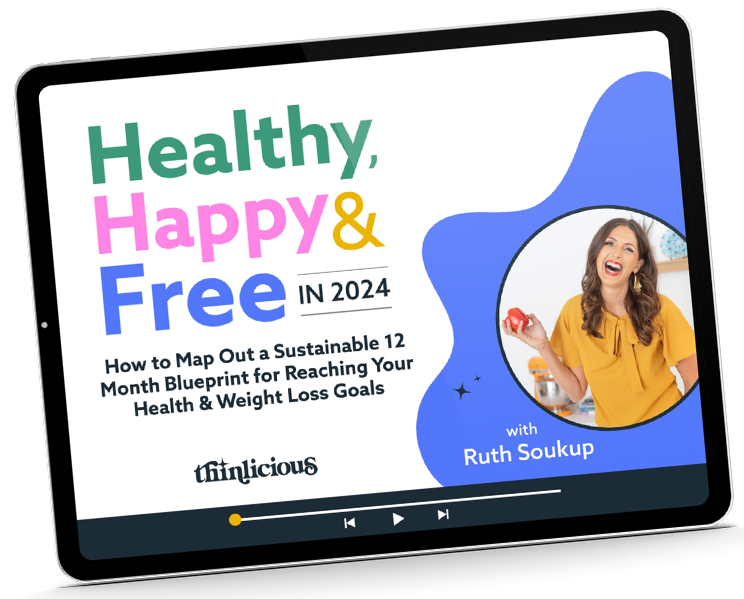 Our free on-demand video training will walk you through how to make 2024 THE year you set health goals…and keep them.
Ingredients you need
If you love making curries at home you will likely have many of the ingredients needed to make butter chicken on hand. You may need to pick up ingredients such as a garam masala spice blend at the store if you are new to making curries at home. But this can be can be found in most grocery stores.
It is mildly spiced, gluten-free, and one of the best recipes and best ways to use chicken.
If you miss your favourite Indian food, you'll love this keto Indian dish. The marinated chicken and butter chicken sauce is a quick and easy recipe that works perfectly into your keto diet.
chicken thighs – while you technically can use other chicken pieces like chicken breast, I think the chicken thighs are the most flavourful.
plain Greek yogurt – make sure to get full-fat Greek yogurt
minced garlic – fresh minced garlic is best but you can use garlic powder
garam masala – you can purchase it from the store or make homemade garam masala if you feel ambitious.
ground ginger – or fresh ginger
chili powder – add more or less chili powder depending on how spicy you liek your Indian cooking.
butter – this is why it's called keto butter chicken…it has actual butter in it.
onion
tomato paste – tomato paste is quite a bit thicker than tomato sauce, so look at the can carefully.
heavy cream (double cream).
cilantro (coriander) – optional, but recommended!
See the butter chicken recipe card for quantities, prep time, and instructions.
Instructions
Now, let's chat about how to put together this keto butter chicken recipe. You will be surprised at just how easy it is to make homemade Indian food!
Hint: For easy meal prep I like to marinate my chicken in the morning and then cook it in the evening if I forget to do it the night before.
Step 1: Marinate your chicken
The first thing you'll need to do is mix together all the marinade ingredients and chicken in a large bowl or zip bag. Let the chicken sit in the yogurt marinade in the refrigerator for at least one hour(preferably overnight) before cooking.
Step 2: Cook your onions
Once your chicken is done marinating, melt the butter in a hot skillet on the stove. Then add your onions and let them cook for 5-10 minutes or until your onions are soft and golden.
Remove the onions from the pan at set them aside for now. Make sure to leave the melted butter in the skillet.
Step 3: Cook your marinated chicken
Add marinated chicken and leftover sauce from the marinade to your skillet to cook on high heat. Let the chicken cook on each side for 5-7 minutes so that the chicken crisps and gets those delicious golden brown spots.
Step 4: Add sauce ingredients and simmer
Next, reduce the heat of your stove to medium and mix the tomato paste and heavy cream into the skillet. Add the onions back to the skillet and let the chicken simmer in the sauce for 12-15 more minutes to allow the chicken to fully cook.
When the chicken is all done cooking remove your pan from the heat and garnish with cilantro.
Best side dishes
There are so many delicious keto side dishes to serve with chicken but the most traditional side dishes for curry and butter chicken have to be a side of cauliflower rice and a piece of keto naan bread. Make sure to scoop lots of that butter sauce onto your rice and keto roti flatbread too…it's fantastic.
Substitutions
Below you will find substitution recommendations for some of the ingredients used to make keto butter chicken.
If you are dairy-free or sensitive to it and need to limit how much dairy this section is for you. You will find everything you need to reduce the dairy used or make it dairy-free.
Butter – ghee (clarified butter) is a great substitute for regular butter especially if you are sensitive to lactose. A dairy-free vegan butter can also be used, just watch the carbs. You may want to use coconut oil but you won't get the beautiful smooth buttery taste that butter or ghee gives to Indian cooking.
Heavy cream – you can make butter chicken recipe dairy-free using coconut cream with great success. It makea the curry sweeter with hints of coconut flavor, but it is still delicious.
Yogurt – try a plain almond based yogurt instead of a dairy based yogurt.
Garam Masala – try not to substitute the garam masala with something else if you can help it, but in a pinch you can use curry powder in place of garam masala. You can also mix 1 part allspice and 4 parts cumin together to make a homemade garam masala substitute. It won't have quite the same flavor but it will work in a pinch.
Variations
Want to change it up a bit? Here's how you can make keto butter chicken suit your needs.
Spicy – add cayenne pepper or chili pepper flakes while cooking to imbue heat into the dish
Dairy-free – use the reccomended substitutions above to make this a dairy-free keto butter chicken recipe
Vegan – make with steamed cauliflower or seared tofu instead of chicken. While tofu isn't keto friendly it is low-carb.
See this Ultimate Guide to Carbs in Vegetables on my website for help choosing vegetable sides or chicken alternatives!
Equipment
This keto butter chicken recipe only requires minimal equipment to make. You will need a container or bag to marinate your chicken.
You'll also need a large skillet to cook it in on the stove.
To cook this butter chicken in a slow cooker mix all the ingredients together in the slow cooker dish and let it cook on low heat for 6-8 hours or high heat for 4-5 hours.
I have made this chicken in the slow cooker both by marinating the chicken first and also skipping the marinating step altogether and just letting the butter chicken flavours meld as they cooked. They both turned out delicious.
Storage
Cooked keto butter chicken will stay good in the refrigerator in an air-tight container for up to 5 days.
This keto butter chicken recipe is also a great option for meal prep! Simply store your butter chicken in smaller containers for grab-and-go meals.
Both uncooked and cooked keto butter chicken can be stored in the freezer for up to 3 months.
Top tip
The longer your chicken marinates the better it tastes. Your chicken only needs to marinate for an hour minimum, but try to marinate it overnight.
If you forget to marinate the night before toss the keto butter chicken together in the morning so that it is ready to go in the evening. Enjoy!
FAQs about keto butter chicken
What is butter chicken?
Chicken that has been marinated in a tomato curry sauce and cooked with butter or ghee. Ghee is clarified butter that has been heated then any milk solids that have floated to the top have been removed.
What does butter chicken taste like?
It is a sweet mild curry so is very popular with people who don't like spicy food. It is a great recipe and a family favorite.
Is butter chicken spicy?
No, butter chicken is a sweet mild curry but you can adjust how spicy it is by adding extra chili powder, more garam masala, or serve with a spicy lime pickle and curried cauliflower rice.
What can I serve butter chicken with?
The most obvious choice is cauliflower rice. However, if you aren't a fan of cauliflower rice or want to try something different while on the keto diet, you have options!

You can enjoy the butter chicken on its own right out of the bowl, or pair it with roasted veggies. Zoodles would also work well.

My favorite way to serve this Indian butter chicken recipe is with this mini keto naan bread. It's so good!
Can I make this with chicken breasts?
Yes, you can. While I recommend chicken thighs because they are the most flavourful part of chicken, you can certainly make this with legs or chicken breast if you prefer.
Can you have an Indian takeaway on keto?
Most curries served at Indian restaurants may be low-carb or keto-friendly depending on how much added sugar they have used to prepare the curry sauce. Try to order a curry with very little sauce such as a dry tandoori or ask them what are the ingredients in their sauce.
Is butter keto friendly?
This keto butter chicken is keto because there are only 2.9 g net carbs per serve, 22.4 g protein, and only 399 calories. It is served with keto cauliflower rice rather than high-carb rice such as basmati rice.
How to store cooked butter chicken?
Store any uneaten cooked curry in an airtight container (preferably glass otherwise the curry flavours may be difficult to wash out of a plastic container). Store in the fridge for up to 3 days or in the freezer for up to 3 months. Do not freeze the raw marinated chicken.

To reheat curry, warm gently on the stove top, in the oven in a heat proof dish, otr on the reheat setting in your microwave.
Can I make vegetarian butter chicken?
Yes, you can swap the chicken for paneer (Indian cheese), tofu, shrimps, chickpeas, cubed cauliflower, or cubed pumpkin. However the curry will no longer be keto.
More keto curry recipes
If you love curries you will also love these low-carb recipes.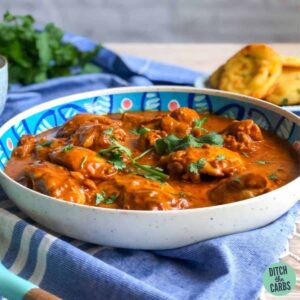 Keto Butter Chicken Recipe
Keto Butter Chicken is a delicious Indian dish with bold and rich flavors. Served over cauliflower rice this easy dish is low-carb, gluten-free, and sugar-free.
Print
Pin
Rate
Want to lose weight and get healthy for life—without dieting, drugs, or making yourself miserable?
We can help! Tell me how!
Ingredients
Marinade
2

lb

boneless chicken thighs

½

cup

natural unsweetened yoghurt

full fat

4

cloves

garlic minced

3

tbsp

garam masala

1

tsp

salt

2

tsp

ground ginger

2

tsp

chilli powder
Curry
¼

cup

butter

½

onion

sliced

2

tbsp

tomato paste

½

cup

heavy whipping cream
Instructions
Mix all the marinade ingredients together in a zip bag or a bowl. Let the chicken marinate covered in the refrigerator for at least 1 hour.

When ready to cook melt the butter in a skillet on high heat on the stove. Add the onions and cook for 10-15 until the onions turn golden brown. Remove the onions and set them aside. Leave the melted butter in the pan.

Add the chicken and marinade to your skillet to cook on high heat. Let the chicken cook on each side for 5-7 minutes so that the chicken crisps and gets those delicious golden brown spots.

Next, reduce the heat of your stove to medium and mix the tomato paste and cream into the skillet. Add the onions back to the skillet and let the chicken simmer in the sauce for 12-15 more minutes to allow the chicken to fully cook.

When the chicken is all done cooking remove your pan from the heat and garnish with cilantro. Serve your butter chicken with a side of cauliflower rice and a piece of keto naan bread.
Nutrition
Serving:
1
serve ( serves 6)
Calories:
399.4
kcal
Carbohydrates:
4.9
g
Protein:
22.4
g
Fat:
32
g
Sodium:
605.3
mg
Potassium:
330.4
mg
Fiber:
2
g
Sugar:
1.7
g
Vitamin A:
986
IU
Vitamin C:
3.9
mg
Calcium:
55.2
mg
Iron:
1.4
mg
Get our FREE guide to finally fix your metabolism!
Losing weight & getting healthy is never easy, but lately you might feel like it's suddenly become impossible.
Our Flip the Switch guide will help you clearly understand what's been going on, as well as exactly what you can do to get your metabolism working again so that you can look and feel your best—it's easier and more simple than you think!