It's the perfect addition to your Indian-inspired cuisine.
Even better? This keto naan bread is absolutely delicious. The bread is rich and has a garlic butter flavor I can't get enough of. Dip it into your curry, or enjoy with some cauliflower rice.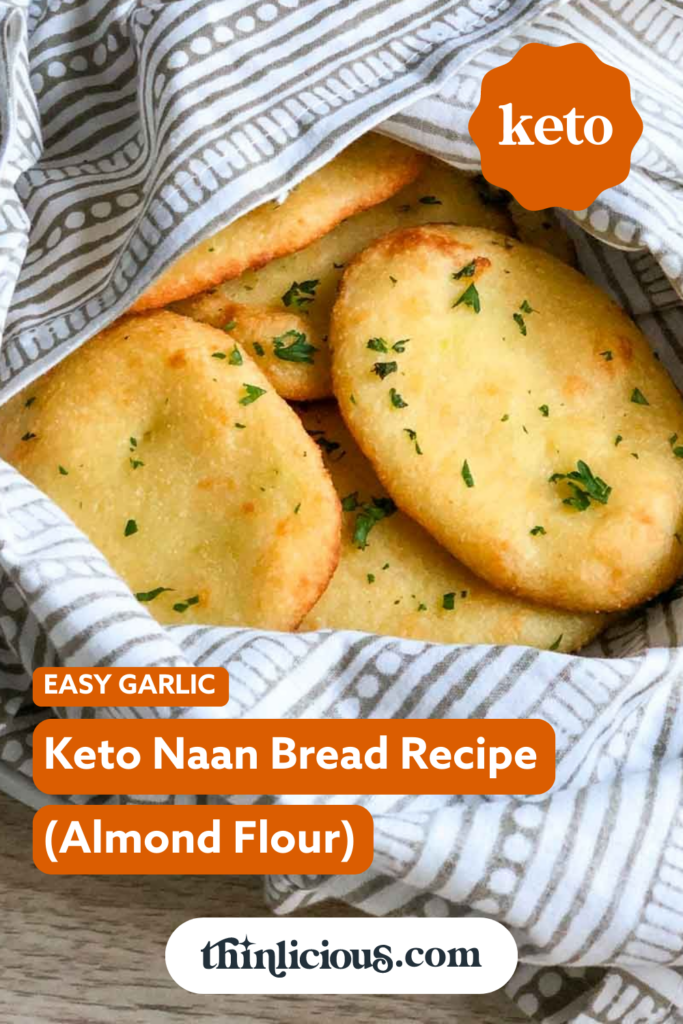 Naan bread is a delicious flatbread that is often paired with food from a variety of cultures such a curry, butter chicken, tandoori, tikka masala, and various dips. It is a soft bread that can be torn and folded to pick up bites of food.
This particular keto naan recipe was inspired by my easy keto roti flatbread, Fat Head dough recipes and my keto garlic bread on this site, and pairs well with this Slow Cooker Beef Rendang and Pumpkin and Coconut Soup.
Are you ready to create the ultimate 12-month blueprint for reaching your health & weight loss goals this coming year?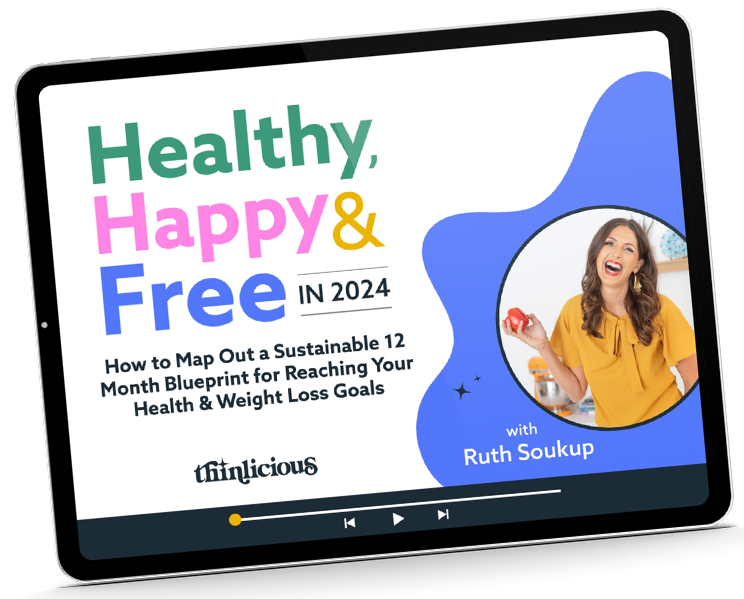 Our free on-demand video training will walk you through how to make 2024 THE year you set health goals…and keep them.
Baking 101 (tips & charts)

Ingredients
Keto naan uses similar ingredients to other Fat Head dough recipes. Keto bread dough is so versatile, you can make keto cheese bread loaf, crusty keto garlic bread, and even keto dinner rolls.
For this naan recipe, you will be using yogurt in your dough instead of cream cheese with the addition of baking powder.
This will help keep your bread soft which is important in gluten-free bread.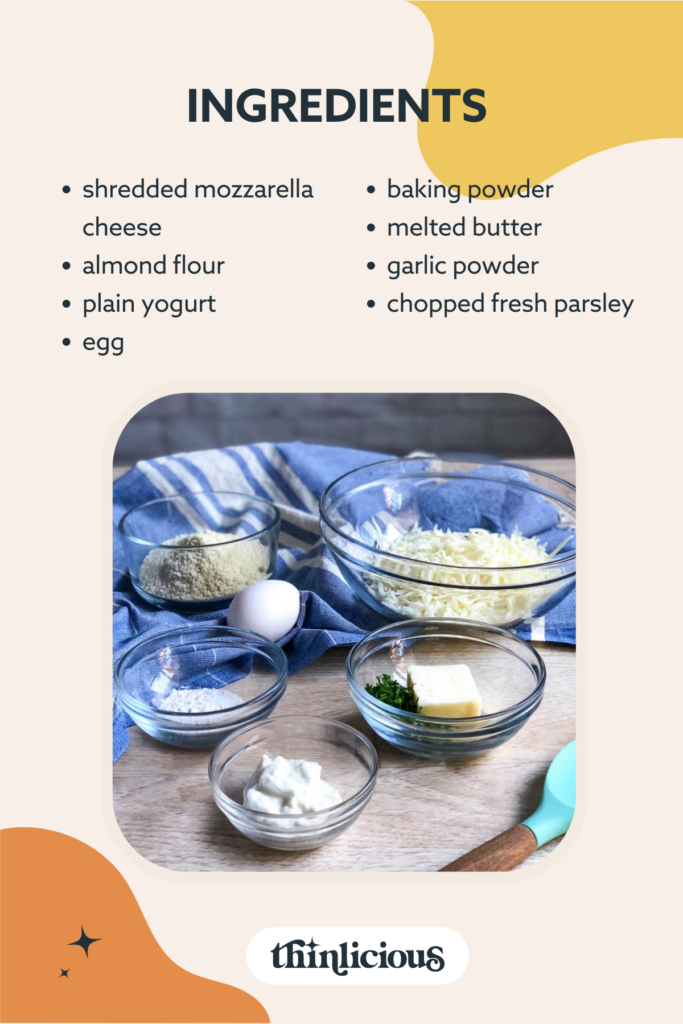 Keto naan bead ingredients include:
shredded mozzarella cheese
almond flour
plain yogurt
egg
baking powder
melted butter
garlic powder
chopped fresh parsley
See the recipe card below for quantities.
Instructions
To make keto naan bread start by preheating your oven to 191C/375F.
Make the Dough
While the oven is preheating start making your dough by mixing together your cheese, almond flour, and yogurt in a bowl.
In a separate bowl whisk your egg and baking powder together. Set the egg mixture aside until ready to use.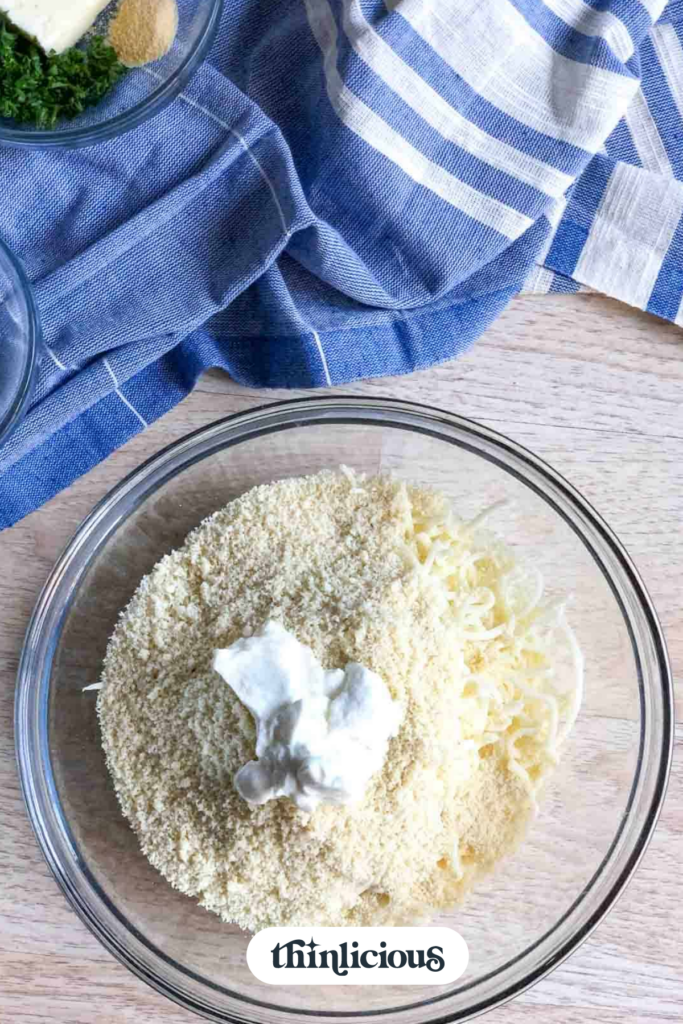 Place your bowl of cheese mixture in the microwave and melt for 1 minute then fold the dough with a spoon or spatula to combine. Place the keto naan bread dough back in the microwave for 30 seconds.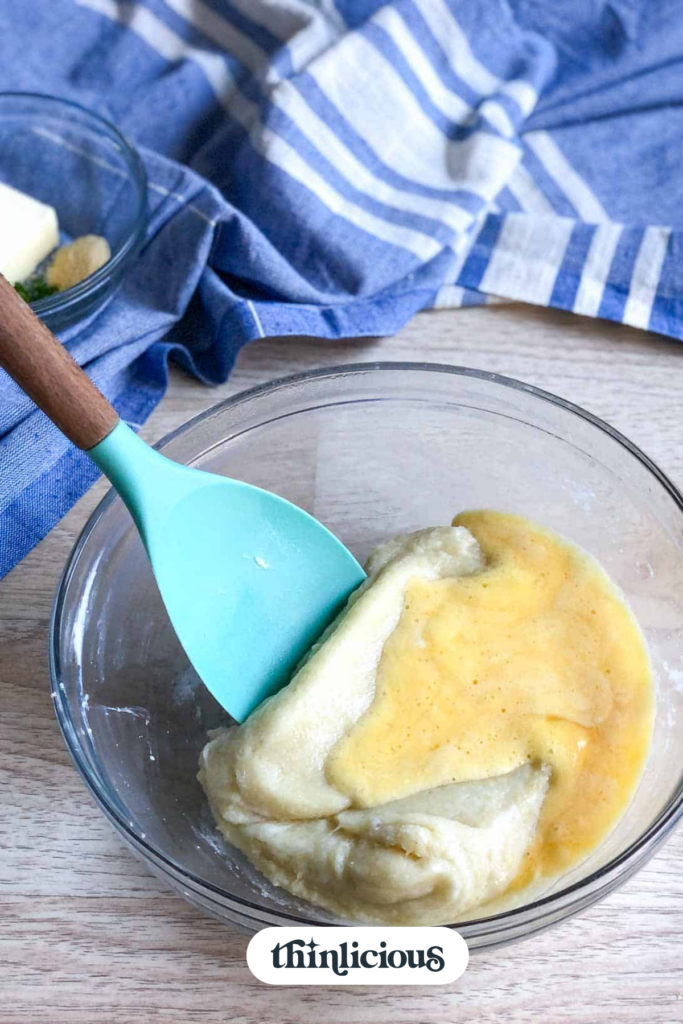 Next, add the egg mixture to your dough while it is still hot. Fold and knead the dough with your spoon or spatula until the egg is absorbed and the dough is only slightly sticky.
Form the Keto Naan
Cut the dough into 10 equal parts and roll each section into a small ball. You can do this on a floured surface (with blanched almond flour) or on parchment paper.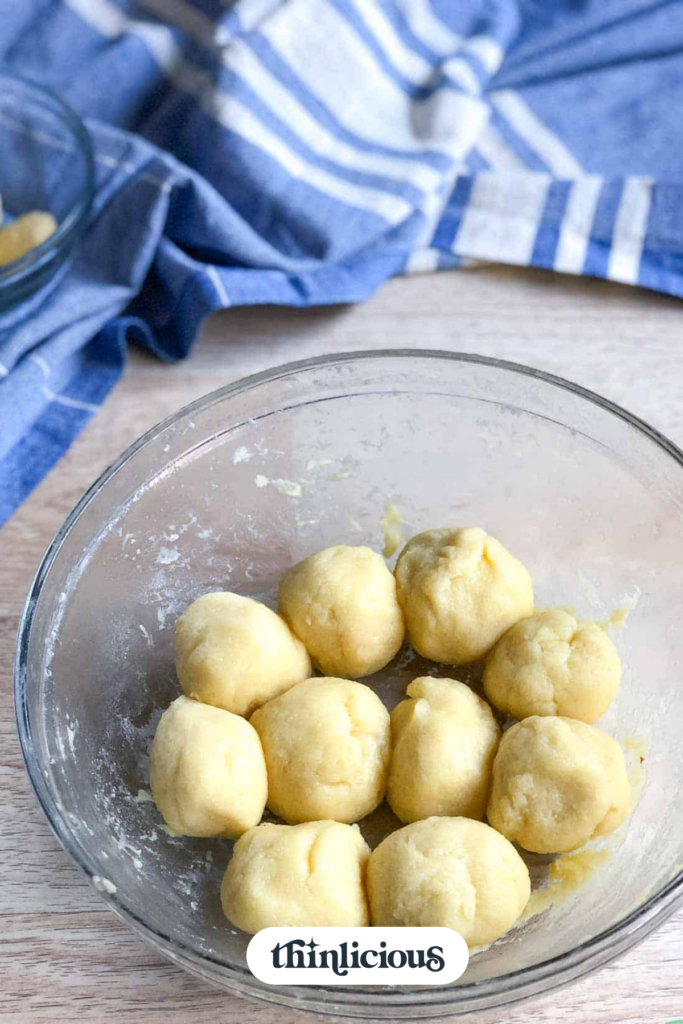 Next, use your hands to flatten each ball of dough and form it into an oval about 8mm thick (1/4 inch).
Bake
Arrange the keto naan bread on a sheet of parchment paper on a baking sheet and place it in the oven. Bake on the top rack for 8-10 minutes until the edges start to become golden.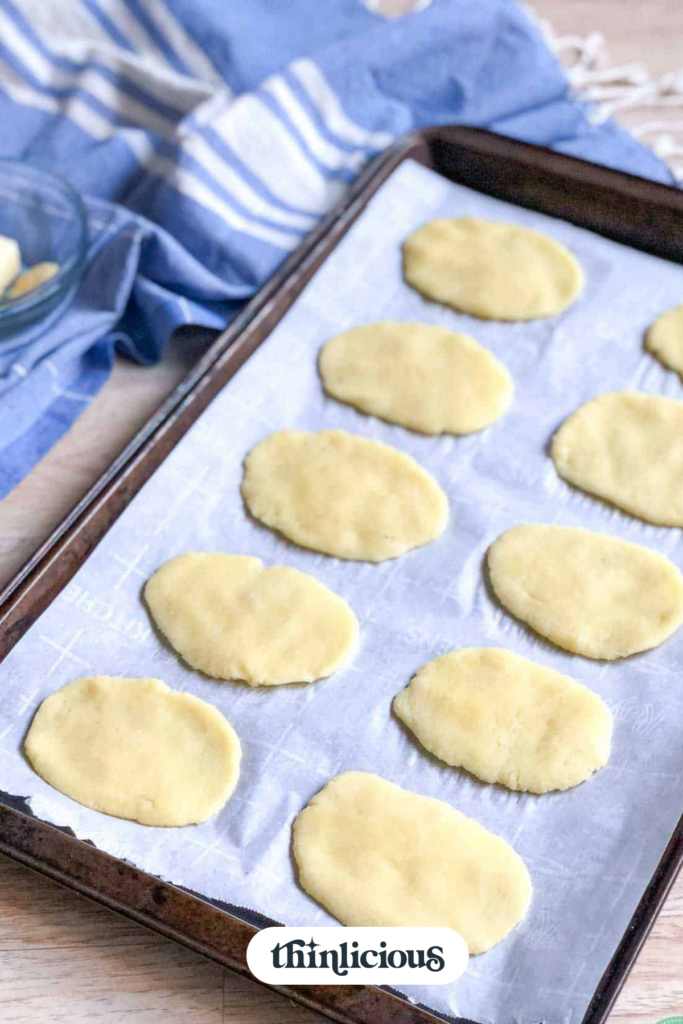 Then, remove your naan bread from the oven, brush with seasoned melted butter and place back in the oven another 1-2 minutes to golden a bit more. Loosely wrap the cooked keto naan in a towel to keep warm until you are ready to serve.
Hint: bubbles may form on your keto naan while it bakes. Pop any bubbles you see with a fork and press it flat. If it seems like your naan is cooking too quickly move the baking sheet to a lower rack in your oven.
Substitutions
Below you will find a few substitution recommendations that you may find helpful to make this keto naan bread recipe meet your dietary needs.
yogurt – cream cheese or coconut cream can be used in place of yogurt if desired. You can also try a full fat sour cream as well.
nut flour – any nut flour can be used in place of almond flour. The exception to this is coconut flour. Coconut flour cannot be used in place of almond flour.
butter – use olive oil or coconut oil instead of butter.
Variations
Make this keto naan bread to meet your needs. Just like traditional naan bread, you can change it up! Maybe you need a large bread, a tasty twist, or a want new use for keto naan.
Check out our recommended naan variations below.
Large– form your naan bread into 4 to 6 pieces for a larger bread.
Parmesan – sprinkle parmesan cheese over your naan after brushing with butter.
Dippers – cut each dough ball in half to make 20 mini maan dippers.
This is one of my all-time favorite keto bread recipes thanks to the versatility. How delicious would this slow cooker buffalo chicken wrap on my website be with naan dippers?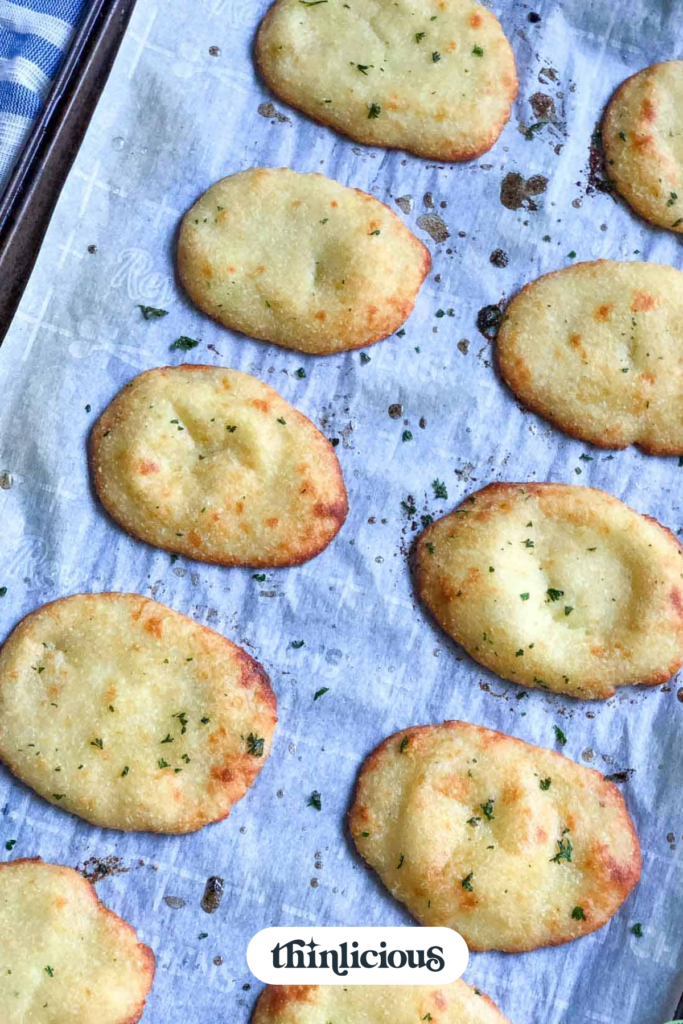 Equipment
I used a microwave to help me quickly melt the mozzarella cheese while making the dough. This is the easiest method for me.
I know some readers don't have a microwave and might still want to make this naan bread. The cheese can be melted using your stove.
Place the mozzarella cheese, yogurt, and almond flour in a saucepan and melt on LOW heat while continuously stirring to prevent burning.
Once the cheese is melted and soft you can remove the pan from the heat and fold in your egg mixture. Then make your keto naan bread following the remaining directions.
Storage
Keep your low-carb naan bread warm until you are ready to serve it by wrapping the bread in a towel to trap the heat.
Leftover naan bread can be stored on the counter in an airtight container for 2-3 days. Keto naan bread can be stored in the refrigerator will remain good for 1-2 weeks.
This garlic naan bread can also be frozen for up to 3 months. Defrost the naan on the counter before toasting the bread to reheat.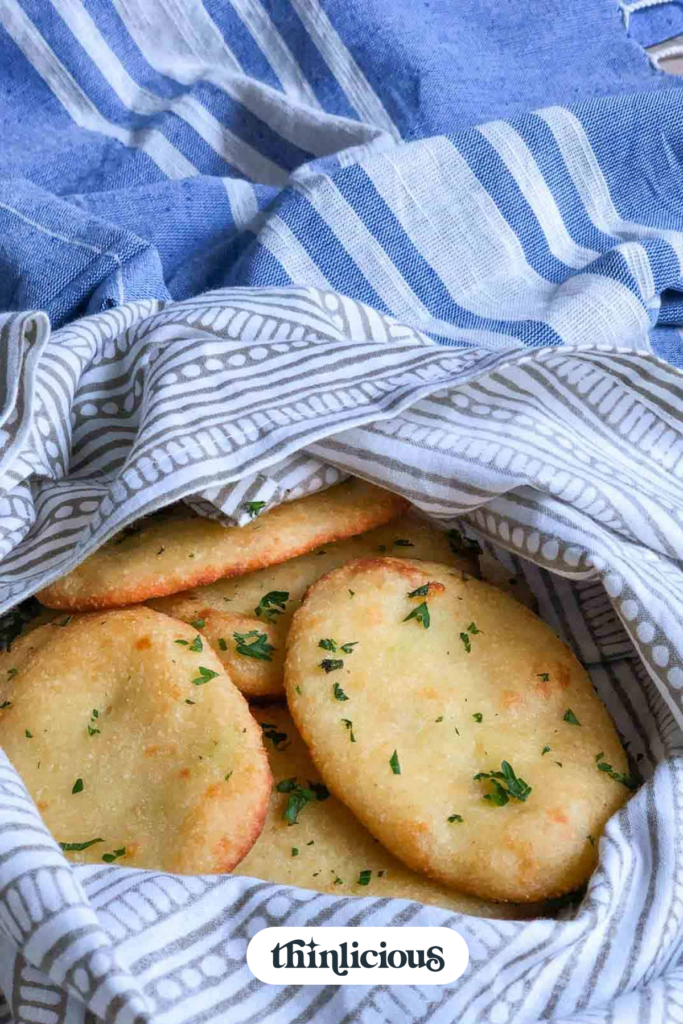 Top tip
You'll be working with a hot dough to make this keto naan bread. I recommend using a silicone spatula to mix and knead the dough until it is cool enough to touch without burning your hands.
Kneading the dough while hot is important to be able to fully mix the egg into the dough, but feel free to use your hands once it has cooled a bit. Enjoy!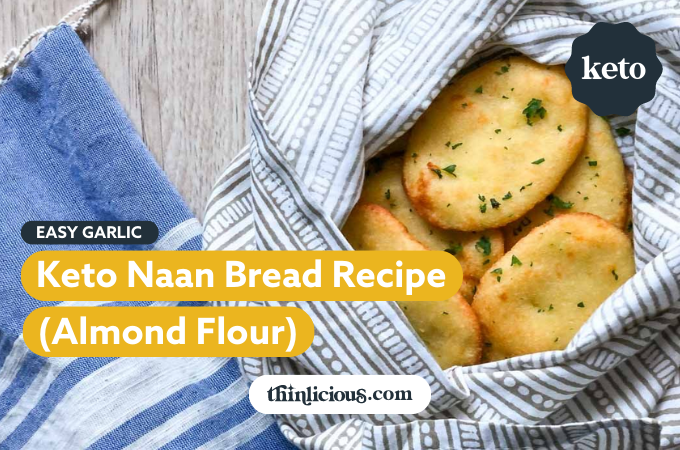 FAQs About Keto Naan
Is naan high in fat?
A piece of this naan has 11.5 grams of fat. I wouldn't necessarily call that high fat, but there is a decent amount thanks to the yogurt and butter. You can up the fat by creating a garlic melted butter dip for your bread.
If however, you want to reduce the fat, then only brush half the garlic butter onto the garlic naan bread.
More keto curry recipes
Perfect for a Friday night curry, are keto curries. Serve with cauliflower rice, naan bread, and a keto samosa, and you have a keto banquet at your table.
Update: New Low Carb Hummus Recipe!
We just published our new low carb hummus recipe that pairs perfectly with this Naan bread.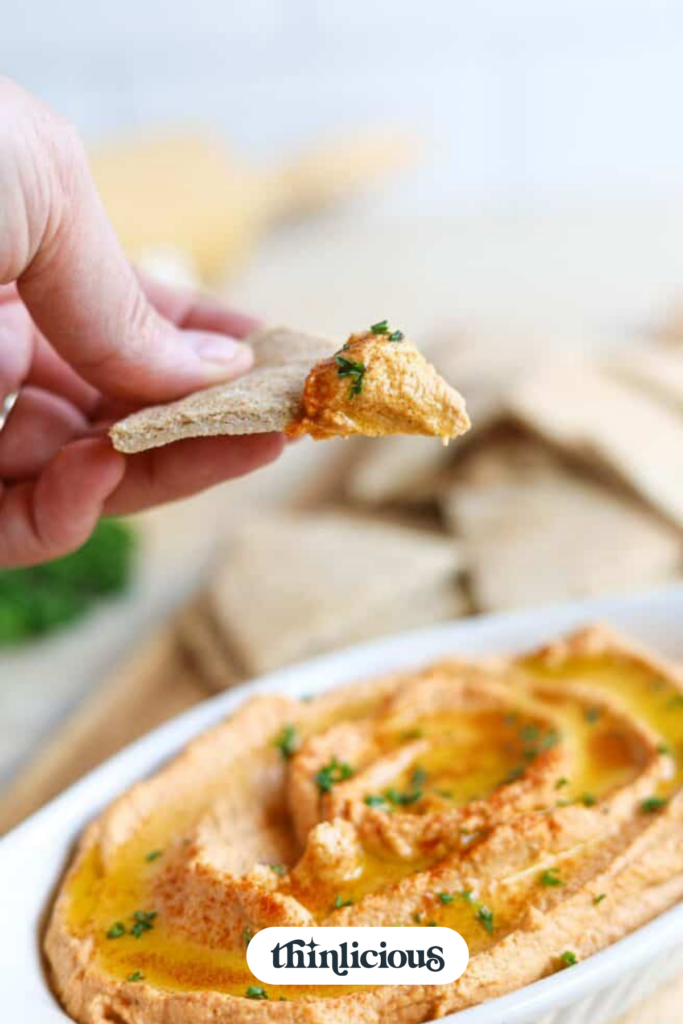 The new recipe uses roasted cauliflower, but you'd never know it! It's only 1.7 grams of net carbs and the perfect healthy appetizer for the summer get-togethers.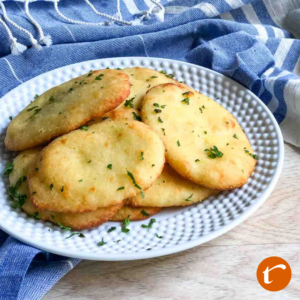 Garlic Keto Naan Bread Recipe
Keto naan bread is a soft and easy to make gluten-free bread that pairs perfectly with curries and other dishes.
Print
Pin
Rate
Want to lose weight and get healthy for life—without dieting, drugs, or making yourself miserable?
We can help! Tell me how!
Equipment
Measuring cups and spoons

Microwave

Large Microwave Safe Bowl
Ingredients
1¾

cups

pre-shredded/grated mozzarella

¾

cup

almond meal/flour

2

tbsp

natural unsweetened yoghurt

1

egg

½

tbsp

baking powder

2

tbsp

butter

melted

½

tsp

garlic powder

1

tbsp

fresh parsley

chopped
Instructions
Preheat your oven to 191°C/375°F.

In a bowl lightly mix together your cheese, almond flour, and yogurt. Place this bowl in the microwave and melt for 1 minute. Stir the cheese mixture and then microwave again for 30 seconds.

Mix together the egg and baking powder in a small bowl separate from your cheese mixture. Then fold the egg into the dough with a silicone spatula or spoon until the egg is thoroughly mixed.

Cut the dough into 10 equal portions and roll each one into a ball. Use your hands to flatten each ball of dough into an oval until it is about 8mm (1/4 inch) thick.

Place each flattened piece onto a baking sheet equally spaced apart.

Bake the naan bread on the top rack in the oven for 8-10 minutes until the edges start to become golden. While the naan is baking mix together the melted butter, garlic powder, and chopped parsley.

Brush each piece of naan with butter and then place back in the oven bake for another 1-2 minutes to golden the top. Serve warm and enjoy!
Nutrition
Serving:
1
serve
Calories:
136.4
kcal
Carbohydrates:
2.9
g
Protein:
6.7
g
Fat:
11.5
g
Sodium:
152.9
mg
Potassium:
88.2
mg
Fiber:
1
g
Sugar:
0.7
g
Vitamin A:
249.2
IU
Vitamin C:
0.6
mg
Calcium:
155.9
mg
Iron:
0.5
mg
Get our FREE guide to finally fix your metabolism!
Losing weight & getting healthy is never easy, but lately you might feel like it's suddenly become impossible.
Our Flip the Switch guide will help you clearly understand what's been going on, as well as exactly what you can do to get your metabolism working again so that you can look and feel your best—it's easier and more simple than you think!