Keto Smoked Salmon Quiche (blender recipe) … only 2.4g net carbs. This is the simplest quiche recipe you will ever find.
While this dish has a yummy crust, you can also simplify it even more! There's even the option to make this super food salmon quiche recipe crustless too.
This savory quiche is the perfect healthy and nutritious brunch, or a delicious lunch. Enjoy it for dinner too! Either way, it's a gluten-free, low-carb and keto-friendly quiche the whole family will love. Hang on to this recipe because it's perfect for holidays, picnics, and celebrations also.
Is smoked salmon keto?
Yes, smoked salmon is keto as long as there are no added sugars. Traditionally, smoked salmon is just salmon that has been hot or cold smoked. Salmon is a great source of healthy fats and omega-3.
Are you ready to create the ultimate 12-month blueprint for reaching your health & weight loss goals this coming year?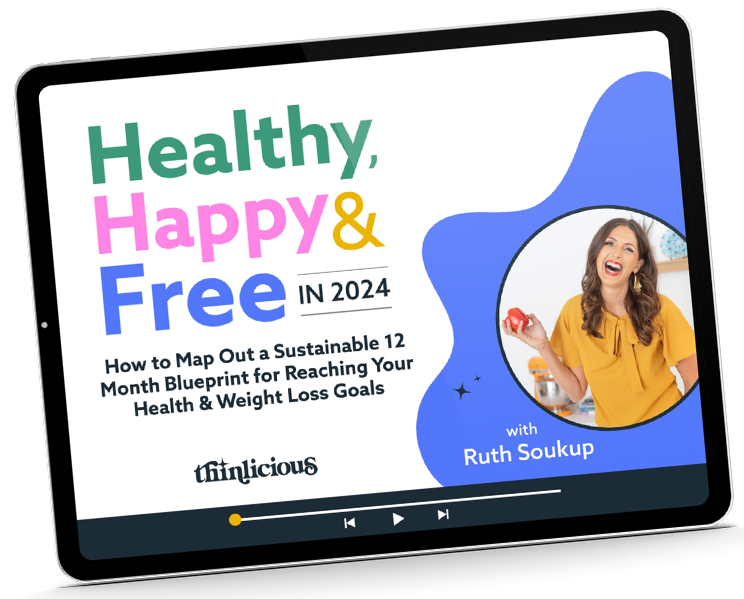 Our free on-demand video training will walk you through how to make 2024 THE year you set health goals…and keep them.
Try to buy the best quality smoked salmon you can find, and read the ingredients and nutritional data. Cured fish tends to have a high salt content due to the brining and curing process.
Is quiche keto?
No, the traditional recipe for your regular quiche is not keto. But with a little help and a few easy substitutions, it can be! I will show you how to make your favourite quiche low-carb and keto-friendly with simple ingredients.
Regular quiche has a base made with wheat flour, all purpose flour or even gluten free flour. But all of the flours are high carb and gluten free flour contains rice flour, tapioca starch or potato starch.
Did you know that these flours all raise your blood sugars as much as sugar? Yes, don't be fooled by the name whole grain, gluten-free or even organic, all grains affect your blood sugar and will knock you out of ketosis.
How to cut the carbs
If you want to convert your regular quiche recipe to become low-carb quiches, all you need to do is know how to make some simple substitutions with easy low carb pantry ingredients.
By learning how to convert your recipes, you will never feel deprived when starting your keto diet. All the recipes in the recipe index are sugar-free, gluten-free, low-carb (or keto) and nutritious.
How to make you quiche crust low carb
To easily make your favorite quiche recipe low-carb or keto, then you can either:
Make a crustless quiche – this is the cheapest and easiest option. This is often called a low carb frittata.
Make a low-carb or keto crust – this makes it taste like an authentic quiche, just without the carbs or the wheat or gluten.
Almond flour pie crust
If making a crustless salmon quiche doesn't appeal to you and you want an authentic quiche, then the most popular recipe would have to be my easy homemade almond flour pie crust.
Coconut flour pie crust
For those of you with an allergy and can't tolerate almond flour, then the low-carb coconut flour pie crust is another great option.
Ingredients
You only need a few simple ingredients for this quiche, whether you opt for a crust or not. All these can be found in your local grocery store, not a specialty store, and there are even substitutions to make this cheaper or easier.
Eggs – there is no substitution for eggs in the egg mixture. Eggs are the basis of a quiche recipe and make this a nutrient-dense high protein dinner for the whole family.
Cream cheese – you may also use ricotta cheese or a mixture of cream cheese, sour cream, and cottage cheese. You can even add some crumbled goat cheese (feta) or parmesan cheese to give your homemade quiche a real punch of fantastic flavour.
Smoked salmon – you may also use fresh skinless salmon (salmon fillet) or tinned salmon. Canned salmon is an economical way to eat salmon AND stay on budget.
Spring onion – green onion, finely diced white onion, or extra thin slices of red onion. Save a little bit of sliced green onion as a garnish.
Instructions
The beauty about this healthy recipe is that the pie crust and the quiche filling are both made in the same blender bowl. There is no need to wash in between.
The best dish to use is a 20cm (8 inch) pie dish. Oil the bottom and sides with butter or oil, then add a circle of baking paper (baking parchment) and press onto the buttered dish.
I make the quiche crust by adding all the ingredients to the blender bowl and mix until crumbs form. Pulse a little longer and it will make a dough ball.
Spread/roll out as shown. I place the dough in the lined baking dish, place another sheet of baking paper on top, then use a mug (or your hands) to spread, roll out the quiche base.
Remove the top piece of baking paper before baking. Bake until golden.
Do not wash the blender bowl, simply throw all the salmon quiche filling ingredients in the empty bowl and blend until smooth. If you want to see pieces of green onion (spring pinion) then add them to the blender at the end and only pulse 2 or 3 times.
Pour the egg and cream cheese quiche filling onto the baked quiche pie crust then carefully place the sliced smoked salmon into the filling. This ensures you get an even distribution of the salmon pieces. Otherwise, they tend to sink to the bottom or end up at one end of the quiche.
Air fryer
To cook a quiche in the air fryer will make your quiche light and fluffy. It cooks at a slightly lower temperature than most recipes that use an air fryer, but this keeps the quiche slowly cooking whilst ensuring it doesn't dry out.
Before you begin, make sure your heatproof quiche dish or pie dish is small enough to fit inside your air fryer. There must be at least 1 inch on all sides to allow the heat to circulate evenly.
You may need to halve this recipe to fit into a smaller dish, or make 2 smaller quiches and cook one at a time.
Preheat to 160C/325F.
Gently lower your baking dish onto the wire rack. Ensure there at least 1 inch space between the pie dish and the side of the basket.
Cook for 15-20 minutes, depending on the size of your air fryer and the size of your quiche.
If you love using your air fryer, I have 101 keto air fryer recipes for you to choose from (chicken, pork, ground beef, salmon, vegetables, and even desserts). Discover how to use your air fryer plus FREE printable air fryer cooking cheat sheets.
Recipe tips
If you like your quiche to be a little lighter or fluffier, you may wish to add up to 1/4 cup of heavy cream / double cream / heavy whipping cream to the egg mixture in the blender.
I like to add black pepper, fresh herbs such as fresh dill or dried dill to the quiche before baking. You can either add some to the egg and cream cheese mix in the blender, or you can sprinkle some on top. I often do this when I forget to add dill at the blender stage.
Sprinkle pre-shredded/grated mozzarella cheese, cheddar cheese and bagel seasoning over the top for a crunchy crust topper.
You can use this recipe to make smoked salmon keto mini quiches. Bake in oiled muffin cases (brush with olive oil) and bake the crust for 5-10 minutes, then bake the filing for 15 minutes. The baking time will vary according to your oven and the size of the chosen muffin tray to make your mini quiches.
Add broccoli and a few halved cherry tomatoes to make a broccoli quiche.
This easy keto quiche recipe is an incredibly versatile dish. It's the perfect healthy snack (if you need to hit your protein goals), a scrumptious recipe for Sunday brunch, a delicious breakfast and a great source of omega-3 (one of the healthy fats).
Equipment
It's easiest to make the quiche pie crust and the egg mixture in the blender (food processor) but you can easily make it using a hand mixer or a hand whisk. It just takes a little longer to prepare in a large bowl rather than using a blender.
You can use a loose bottom quiche pan or a solid bottom pie dish (pie plate). Both work equally well. The real trick is to make sure the prepared pan has been lined.
Side dishes
Quiche can be eaten fresh hot or cold. If you serve it as a hot dinner, I would suggest serving with hot vegetables such as boiled/steamed broccoli, bacon mac & cheese, broccoli cauliflower bake, or even turmeric and coconut cauliflower rice.
If you serve the low carb quiche for an easy summer dinner, serve with salad or coleslaw with a slice of lemon, lemon juice or lemon zest. It makes a light meal and fresh dinner for a summer bbq or family party.
Storage
Fresh quiche is best stored in an airtight container. This keeps the quiche fresh and stops it from absorbing any odors from other food in the fridge. Try to refrain from using plastic wrap, it has a tendency to cause condensation.
It can be stored in the fridge for up to 3 days and stored in the freezer for up to 2 months.
More keto quiche recipes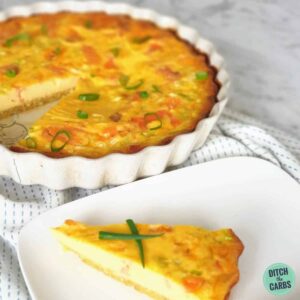 Keto Smoked Salmon Quiche (blender recipe)
Fast and healthy gluten-free keto smoked salmon quiche recipe, made in the blender then baked in the oven in under 40 minutes.
Print
Pin
Rate
Want to lose weight and get healthy for life—without dieting, drugs, or making yourself miserable?
We can help! Tell me how!
Equipment
Measuring cups and spoons

Food processor

Springform tin
Ingredients
Keto Quiche Crust
1

cup

almond meal/flour

1

stick

butter

melted

1

egg

+/- salt and pepper

to taste
Keto Smoked Salmon Quiche Filling
6

egg

8

oz

cream cheese

full fat

+/- salt and pepper

to taste

1

spring onion/scallion

finely sliced

3.5

oz

smoked salmon

torn/cut into pieces
Instructions
Keto Quiche Crust
Oil and line a 10 inch/26cm pie/quiche dish with baking parchment.

Place all the quiche crust ingredients into your food processor with the blade attachment in place.

Pulse until the quiche crust forms a dough ball. If the dough is too wet, add 1 tablespoon of almond meal/flour at a time until the dough forms a ball and can be rolled out.

Roll the quiche crust dough in between two sheets of baking parchment OR place the dough into the lined dish and place another baking parchment on top. Press out the dough until it is the size of the lined dish.

Bake at 180C/400F for 10 minutes (or until golden). Use this time to make the quiche filling.

Remove from the oven and allow to cool only for a few minutes before pouring in the prepared quiche filing.
Keto Smoked Salmon Quiche Filling
There is no need to clean the blender bowl. Add the eggs, cream cheese and salt and pepper into the food processor and blend until smooth and lump-free.

Pour the quiche filling into the baked quiche crust. The best way to evenly distribute the smoked salmon and spring onion/green onion is to sprinkle them into the cream cheese filling.

Bake at 180C/400F for 20-25 minutes (or until golden).

Serve hot or cold. Garnish with the green tips of the spring onions/green onions.
Nutrition
Serving:
1
slice
Calories:
281.5
kcal
Carbohydrates:
3.7
g
Protein:
9.7
g
Fat:
26.1
g
Sodium:
275.2
mg
Potassium:
97.2
mg
Fiber:
1.3
g
Sugar:
1.3
g
Vitamin A:
773.9
IU
Vitamin C:
0.2
mg
Calcium:
69
mg
Iron:
1.2
mg
More low-carb and keto salmon recipes
The most popular ways to serve salmon are with these classic low-carb recipes.
Quick and easy smoked salmon quiche (blender recipe), a beautiful yet easy salmon roulade, salmon and cream cheese bites, and crispy salmon with creamy garlic butter sauce. Each of these delicious keto recipes is perfect for a shared party platter, BBQ or seasonal dinner party.
Best keto side dishes to serve with salmon
There are so many delicious low-carb and keto side dishes to serve with salmon. Salmon is a versatile family-friendly dinner and so you need to choose quick and easy healthy side dishes the whole family will love.
Here are some of my favorite keto side dishes to serve with salmon.
Get our FREE guide to finally fix your metabolism!
Losing weight & getting healthy is never easy, but lately you might feel like it's suddenly become impossible.
Our Flip the Switch guide will help you clearly understand what's been going on, as well as exactly what you can do to get your metabolism working again so that you can look and feel your best—it's easier and more simple than you think!