It's time for you to make cauliflower pizza. It's not what you think and it doesn't taste of cauliflower.
Cauliflower pizza is so versatile and is low carb, grain-free, gluten-free and super healthy.
How many carbs are in cauliflower?
Cauliflower only has 2.8 g net carbs per 100g. It is high in fiber and provides 80% of your daily vitamin C requirements.
It is a wonderfully versatile low carb vegetable that is used in so many low-carb and keto recipes. It's used in appetizers, main meals, and snacks.
Are you ready to create the ultimate 12-month blueprint for reaching your health & weight loss goals this coming year?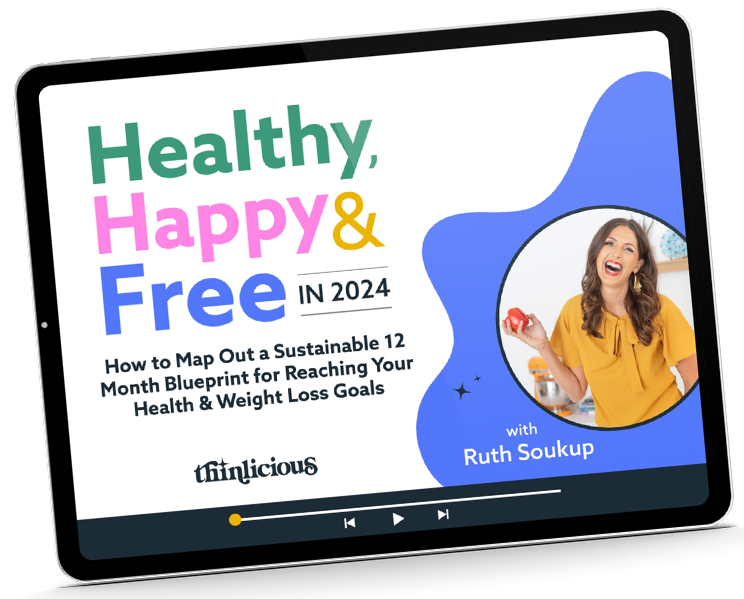 Our free on-demand video training will walk you through how to make 2024 THE year you set health goals…and keep them.
Cauliflower nutrition per 100g: 25 calories, 0.3g fat, 5g total carbohydrate (2.8g net carbs), 2.2g fiber, 1.8g sugar, protein 1.9g, potassium 298mg, 80% of your vitamin C.
Nutritional values from cronometer.com
What is cauli pizza?
Cauliflower pizza is made with cooked and drained cauliflower mixed with shredded mozzarella cheese to make a crispy keto vegetarian pizza crust. It's a wonderful low carb pizza crust recipe when you want to add more vegetables into your diet.
I bet you didn't know just how versatile cauliflower was until you went low carb. This vegetable-powered cauliflower pizza is a fabulous low carb alternative to regular pizza.
Carb values for regular pizzas & sides
Take a look at what a regular pizza meal might look like in terms of carbs. And be truthful, do you have just one or two slices? And don't think vegetarian pizzas are any healthier, in fact, Pizza Hut Vege Supreme and Tropical Veg pizza were amongst the worst (see below).
Pizza Hut – Vege Supreme pizza 38.6g/large slice – Seasoned chips 68.4g/serve – Chocolate mousse 21g/serve (20.2g sugar) – Pepsi 600ml/20 oz 69g sugar. All the above with just 2 slices = 235g carbs
Hell's Pizza – Temptation Pizza 42.3g/slice (12.2g sugar) – Kumara chips 112g/serve (53g sugar) – – Churros with choice dip 126g/serve (60g sugar) – Coke 600ml 64g sugar. All the above with just 2 slices = 386g carbs
Nutritional values from cronometer.com
Keep an eye out for the sides, chips, breaded onion rings, sticky spare ribs (pork spare ribs 43.6g carbs/serve (40.9g sugar) ) soda, ice cream, garlic bread, extra cheese all add up to a carb-fest, and all the wheat, sugars, grains and unhealthy fats that go into them.
Instructions
The quick video shows you how to make cauliflower pizza, step by step, and how to load it up with nutritious toppings.
The taste of cauliflower pizza truly depends on which cheese you use, the addition of any herbs and spices to the base, and which toppings you place on top. If cauliflower pizza isn't for you, try Fat Head Pizza, which is incredibly popular.
Blitz the cauliflower florets using a food processor.
Steam them until soft, or microwave for 5 minutes.
Using a clean tea towel, twist to remove all the liquid.
In a large mixing bowl mix the drained cauliflower, an egg, seasoning, herbs and grated cheese. Mix well until a ball of "dough" forms.
Place the cauliflower 'dough' onto the baking sheet lined with baking parchment and press into a round pizza shape.
Spray the top with some olive oil to help it crisp, then bake at 180C/350F for 15 minutes or until golden.
Add the toppings, cover with more cheese and cook until the cheese is melted and bubbling.
Air fryer
To cook pizza in the air fryer you need to find a small baking dish or pie dish that is small enough to fit inside your air fryer. There must be at least 1 inch on all sides to allow the heat to circulate evenly. The bottom of a loose bottom cake dish works brilliantly (if it is the right size).
Preheat to 190C/375F.
Place your cauliflower pizza in your oiled dish.
Gently lower your baking dish onto the wire rack. Ensure there at least 1 inch space between the pie dish and the side of the basket.
Cook for 10 minutes, depending on the size of your air fryer and the size of your quiche.
Add your toppings. Cook for a further 5 minutes.
If you love using your air fryer, I have 101 keto air fryer recipes for you to choose from (chicken, pork, ground beef, salmon, vegetables, and even desserts). Discover how to use your air fryer plus FREE printable air fryer cooking cheat sheets.
Sides
Serve the cauliflower pizza with a side salad loaded with leafy greens and homemade mayonnaise made with healthy oils and you have a wonderful nutritious meal.
Cauliflower pizza recipe is high in protein and healthy fats, low in carbs, gluten-free and a good source of Vit C, Vit K, folate, magnesium, B6 and potassium, just to name a few.
Tips
This is not like regular pizza dough, think of it as a different approach.
All ovens vary so check frequently and adjust accordingly.
Can also be baked in a cake tin or baking dish.
The base can be flipped to make it more crispy on both sides.
All meat toppings need to be cooked before adding as we just heat the base for a small time to allow the cheese to melt.
Even if the crust falls apart when serving, it tastes darn good and just eat it with a knife and fork.
Toppings
SAUCES – Tomato paste or basil pesto instead of tomato sauce or homemade BBQ sauce (store-bought are incredibly high in sugars)
VEGETABLES – Capsicums/peppers/spring onions/mushrooms/cherry tomatoes/olives
MEATS – Salami/pepperoni/chorizo sausage
GREENS – Kale/spinach/basil
FLAVORS – Garlic/sundried tomatoes/basil/rosemary/thyme/oregano/ and season with salt and pepper.
More low carb cauliflower recipes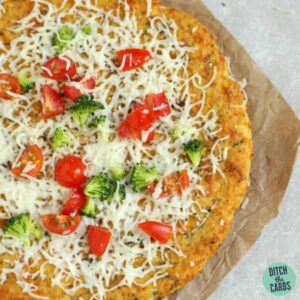 Low Carb Cauliflower Pizza Recipe
Low carb cauliflower pizza is a sneaky way to get more veggies into your children. Remember to add plenty of cheese to make it tasty and mask that 'cauliflower' flavour.
Print
Pin
Rate
Want to lose weight and get healthy for life—without dieting, drugs, or making yourself miserable?
We can help! Tell me how!
Ingredients
1

medium

cauliflower

finely chopped

1

eggs – medium

100

g

shredded/grated cheese

such as mozzarella or edam

salt and pepper

to taste

choice of herbs such as rosemary or oregano to flavour base
Instructions
Cut the cauliflower into smaller florets and blitz the cauliflower using a food processor until quite fine, but do not puree.

Steam them until soft, or microwave for 5 minutes.

Place the cooked, soft cauliflower onto a clean tea towel. Twist to remove all the liquid. If not enough liquid is removed, the pizza base will not crisp.

Place the drained, cooked cauliflower in a large mixing bowl and add the egg, seasoning, herbs and grated cheese. Mix well until a ball forms.

Prepare a baking tray lined with a non stick sheet or baking parchment. Do not use a pizza stone as it will stick and not lift off easily.

Place the ball of cauliflower 'dough' onto the baking sheet and press out into a round pizza shape.

Spray the top with some olive oil to help it crisp, then bake at 180C/350F for 15 minutes or until golden.

Add the toppings, cover with more cheese and cook until the cheese is melted and bubbling..
Nutrition
Serving:
1
slice
Calories:
101.6
kcal
Carbohydrates:
5
g
Protein:
6.9
g
Fat:
6.5
g
Sodium:
142.7
mg
Potassium:
313
mg
Fiber:
1.9
g
Sugar:
1.9
g
Vitamin A:
206.6
IU
Vitamin C:
46.2
mg
Calcium:
145.4
mg
Iron:
0.6
mg
Get our FREE guide to finally fix your metabolism!
Losing weight & getting healthy is never easy, but lately you might feel like it's suddenly become impossible.
Our Flip the Switch guide will help you clearly understand what's been going on, as well as exactly what you can do to get your metabolism working again so that you can look and feel your best—it's easier and more simple than you think!