Add some flavour to your dinner with keto creamy meatballs and a delicious creamy goat cheese sauce. Fried, baked, and even air fryer.
This is the best keto Swedish meatballs recipe for dinner, a party appetizer, and is an easy way to feed a crowd.
With 34.1g protein and 2.2 net carbs per serving you will be impressed with this quick and easy high protein low-carb meal.
Perfect for snacks, lunch, dinner, or bringing to a gathering. There is always an appropriate time for meatballs. These aren't your basic Italian meatballs! The creamy goat cheese sauce gives this dish a unique twist the whole family will love.
Ready to lose weight and get healthy for life without dieting, drugs or making yourself miserable?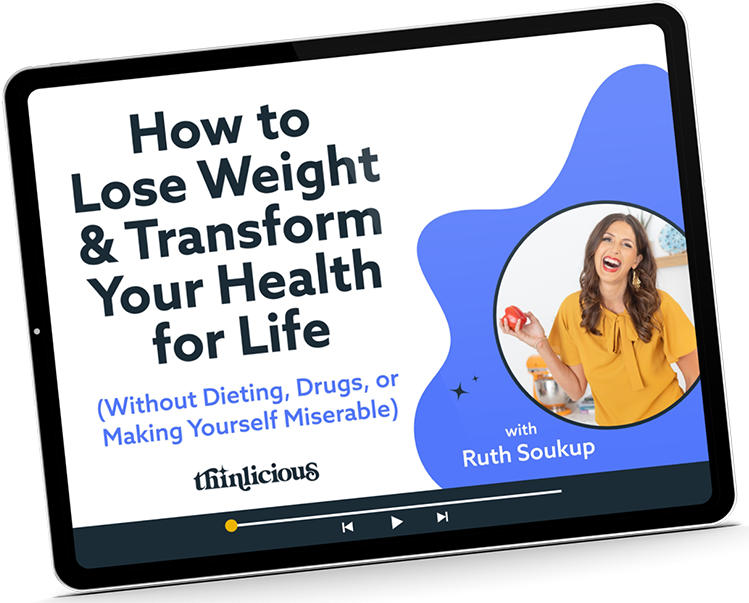 Our free on demand video training will help you understand why it's been so hard and what do to about it.
These goat cheese meatballs are part of my make-ahead keto meatballs series on this site, and pair well with this keto-baked asparagus.
What is a Swedish meatball?
Swedish meatballs are typically smaller than regular American meatballs and are made of a mixture of ground beef and ground pork.
Swedish meatballs can be rather plain or they may have sweet spices. If you have ever had Ikea Swedish meatballs, it's the Swedish meatball sauce that is the hero of that dish.
This easy Swedish meatballs recipe with a creamy sauce is the best Swedish meatballs recipe since Ikea meatballs were invented.
Ingredients
While these may look a bit like Swedish meatballs, this recipe is totally different! And if you love Ikea Swedish meatballs, you're going to love this creamy gravy.
Full of flavour, you only need a few simple ingredients for making these creamy goat cheese meatballs. If there was ever a time to splurge a little on an amazing cheese, this is the time. The goat cheese is the key flavor in this recipe so the better quality the goat cheese, the better your sauce will taste.
I also like to use two types of minces/ground meat when making homemade Swedish meatballs. I find it gives the meatballs more flavor and keeps the meatballs tender and moist.
Swedish meatball ingredients:
minced or ground pork
minced or ground beef
chopped onion – or grated onion
minced garlic – or garlic powder
salt and pepper – add seasoning to taste
Swedish meatball sauce ingredients:
goat cheese – remember, this is the time to splurge on a nice-quality cheese!
chicken stock or broth – chicken will add the best flavour, but you can use vegetable broth if that's what you have on hand. I dont' recommend beef broth for this one.
garlic powder – or frsh chopped galric, minced garlic
xanthan gum – optional for thickening the sauce.
See the recipe card below for exact quantities.
Instructions
How to make keto meatballs
Step 1: Make the Swedish meatballs
Place all the ingredients into a large mixing bowl. Mix the Swedish meatball mixture thoroughly with your hands, or a silicone spatula.
Grab a golf ball size of the meatball mix, squeeze together, then form into a small round meatball shape. Continue until all the meatballs are prepared.
Step 2: Cook the Swedish meatballs
You can cook this keto meatball recipe three ways.
1) Pan-fried gently in oil on all sides until cooked into the centre. If you fry your meatballs in a skillet, remember to keep all the meatballs pieces and pan drippings to make your gravy sauce in the same skillet.
2) Bake in the oven at 180C/350F for 15 minutes (turning once so they brown all over) for 15 minutes, or until cooked into the centre. You can use an oiled casserole dish, an oiled baking tray, or sheet pan.
3) Air fryer – To cook meatballs in the air fryer add the meatballs to the basket of your air fryer and cook at 180C/350F for 10-15 minutes or until browned on all sides. Spray the air fryer basket with olive oil or coconut oil to ensure they don't stick.
How to freeze meatballs
For quick and easy family meal prep, make a large batch of meatballs at one time and freeze them into serval portions. Now you can just grab a portion and bake them as needed. Absolutely delicious and convenient!
How to make creamy goat cheese sauce
To make the goat cheese sauce you will first want to heat a little oil in a skillet or large frying pan on medium-high heat. When the oil is hot, melt the goat cheese in the pan stirring constantly to ensure it doesn't burn.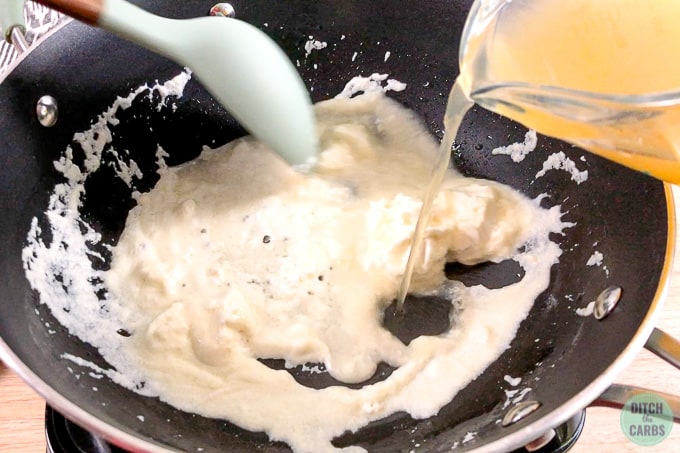 Once the goat cheese is melted mix in your broth and seasoning.
There are two ways to thicken each of the sauces.
1: You can either reduce the heat the low and let the sauce simmer for several minutes, stirring occasionally.
2: You can whisk in a thickening agent (xanthan gum) to thicken the sauce. Be careful to sprinkle the xanthan gum over the top of the sauce and whisk immediately to prevent a lumpy cheese sauce.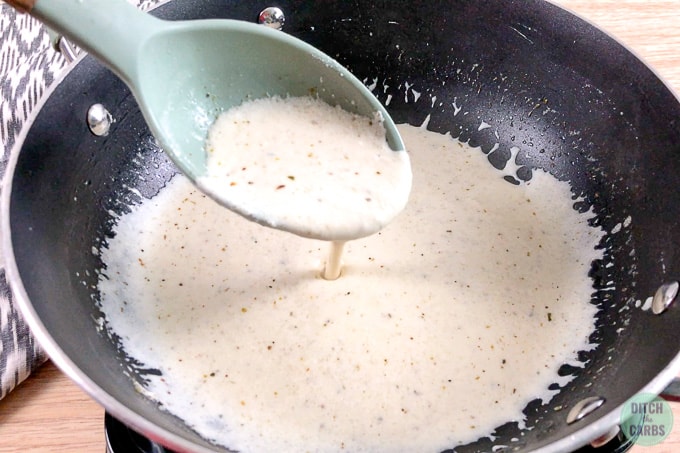 Substitutions
Sometimes for various reasons you may need to replace an ingredient used with something else. This could be dietary restrictions or even the availability of the ingredients at that time. Please see the list below of your recommended substitutions.
Goat Cheese – maybe you just want a creamy cheese sauce for your meatballs, not goat cheese specific. No worries, you can substitute any soft cheeses for this recipe. Cream cheese and feta are both great options. Feel free to use a variety.
Chicken Broth – any broth or stock can be used, it doesn't have to be chicken.
Xanthan Gum – thicken the sauce by reducing the liquid and omit the xanthan gum all together, or substitute if with your favorite thickening agent.
Looking for an ingredient substitution that's not listed above? Did you try something different that you absolutely loved? Comment below to ask a question or share your recommendations.
Variations
Love this juicy meatballs recipe, but want to add a little something extra to really bring it over the top? Check out the recommended variations below to really help you make your dish stand out.
Extra garlic – double the garlic in the meat mixture to make it extra garlicy.
Three Cheese – use a variety of cheese. I reccomend goat cheese, mozzarella, and maybe some parmasean cheese on top.
Stir Fry – add a variety of sliced seasonal vegetables to the sauce for a whole meal. Thing about adding asparagus, green beans, pepper, of zuchinni.
Sour cream – try adding a bit of sour cream into the cheese for tang.
Dijon mustard – adding 1 tsp of Dijon mustard to your gravy sauce.
Worcestershire sauce – add 1 tsp of Worcestershire sauce adds only a few carbs, but a sweet tangy flavour.
See three amazing versions of these meatballs on my website!
Equipment
You don't need much equipment to make this dish!
A large mixing bowl, skillet, sheet pan, measuring spoons, and measuring cup are all you need to make these cheesy keto meatballs.
Storage
If you need to make this dish ahead of time, uncooked meatballs can be kept in an airtight container in the fridge for a day or two.
Cooked meatballs can be stored in the refrigerator for up to 3 days.
You can also freeze cooked meatballs and sauce for up to 90 days in the freezer.
When you are ready to reheat the frozen meatballs just toss it all in a skillet with a spoonful or two of water, cover, and cook on medium heat until the meatballs are defrosted. Be sure to stir occasionally to prevent burning.
Top tip
Save yourself time by making a large batch of meatballs in advance and freezing them.
Then all you have to do is pull out a portion of meatballs, bake them, and toss them in the cheesy creamy gravy sauce for an easy meal or snack!
Best side dishes (for meatballs)
Traditionally, Swedish meatballs are served with mashed potatoes, boiled potatoes, egg noodles, buttered noodles, and lingonberry jam. Most of these are avoided on a low-carb diet, keto diet, or high-protein low-carb diet.
But don't worry. There are so many delicious low-carb and keto side dishes to serve with Swedish meatballs. Meatballs are a family-friendly dinner and so you need to choose easy healthy side dishes that the whole family will love.
Here are some of my favorite keto side dishes.
Meatball FAQs
What should I serve meatballs with?

There are so many ways to enjoy homemade Swedish meatballs that don't include mashed potatoes or egg noodles. Here are a few ideas:

Serve with jam – while you may not get the classic lingonberry jam that pairs with Swedish meatballs, you'd be surprised at how well a bit of sweet pairs with the goat cheese. This sugar-free chia-seed jam works perfectly with the goat cheese cream sauce.

Add a scoop of mashed cauliflower – missing creamy mashed potatoes? You'll hardly be able to tell the difference with these 4 clever mashed cauliflower recipes.

Serve with roasted or steamed veggies – any of your favourite low-carb vegetables will pair perfectly. I like roasted broccoli and cauliflower – they taste amazing when dipped in the cheese sauce too.

Add a side of fresh bread – these easy keto dinner rolls or my gluten free focaccia are ideal.
What ground meats can I use?
You can use whatever you prefer! I highly recommend using 2 ground types of meat for the best flavor. While I typically do a combination of ground pork and ground beef, I also have enjoyed this meatball recipe with ground turkey too.
Are Ikea meatballs keto?
Ikea Swedish meatballs are keto-friendly but they do contain a small amount of potato starch so be sure to add them to your daily carb limit.
Can I make Swedish meatballs recipe ahead of time?
Yes, you can keep the Swedish meatball mixture in the fridge in an airtight container for up to 3 days before cooking.
Can I freeze cooked meatballs?
Yes, cooked meatballs can be frozen in an airtight container for up to 3 months.
How do I reheat meatballs?
Meatballs need to be reheated to reach an internal temperature of 160F/61C (source). Meatballs can be reheated by frying on medium-high heat, baked in a preheated oven, or microwaved using the reheated setting. The times will vary depending on the size of your meatballs.
What is the easiest meatball sauce to make?
If you have zero time to cook, mix sour cream, garlic powder, salt and pepper and pour over cooked meatballs. You can even add a small amount of mushroom soup, beef broth, or Worcestershire sauce too.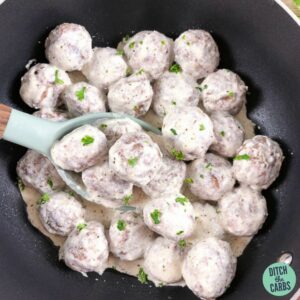 Keto Creamy Meatballs With Creamy Goat Cheese Sauce
Delicious creamy keto meatballs in a creamy goat sauce are the perfect high-protein low-carb recipe for lunch, dinner, snacks, or parties.
Print
Pin
Rate
Want to lose weight and get healthy for life—without dieting, drugs, or making yourself miserable?
We can help! Tell me how!
Equipment
Frying pan

Measuring cups and spoons
Ingredients
Keto Meatballs
500

g

ground/minced pork

500

g

ground/minced beef

1

onion

finely diced

2

cloves

garlic minced

2

eggs – medium

medium

¼

tsp

salt

to taste

pepper

to taste
Creamy Goat Cheese Sauce
110

g

goat cheese

250

ml

chicken stock or broth

½

tsp

garlic powder

½

tsp

Italian seasoning

½

tbsp

extra virgin olive oil

¼

tsp

xanthan gum

or thickener of choice

salt and pepper

to taste
Instructions
Keto Meatballs
Place all the meatball ingredients into a large mixing bowl. Mix thoroughly with your hands, or a spatula.

Grab a golf ball size of the meatball mix, squeeze together, then form into a meatball shape. Continue until all the meatballs are prepared.

You can cook these keto meatballs two ways. 1) Fry gently in oil on all sides until cooked into the centre. 2) Bake in the oven at 180C/350F for 15 minutes (turning once so they brown all over) for 15 minutes, or until cooked into the centre.
Creamy Goat Cheese Sauce
In a skillet heat the oil on medium-high heat. When the oil is hot add the goat cheese to the pan to melt. Be sure to continuously stir the cheese to ensure it doesn't burn.

Next mix in all the remaining ingredients into the sauce except the xanthan gum.

Once the sauce is mixed well whisk in the xanthan gum to thicken the sauce. When the sauce has thickened add the cooked meatballs. Toss the meatballs in the sauce until they are completely coated. Serve and enjoy!
Nutrition
Serving:
1
serve (serv es 6)
Calories:
523.1
kcal
Carbohydrates:
2.7
g
Protein:
34.1
g
Fat:
40.9
g
Sodium:
444.9
mg
Potassium:
544.5
mg
Fiber:
0.5
g
Sugar:
1
g
Vitamin A:
268.6
IU
Vitamin C:
5.2
mg
Calcium:
71.5
mg
Iron:
3.1
mg
More keto meatball recipes
Get our FREE guide to finally fix your metabolism!
Losing weight & getting healthy is never easy, but lately you might feel like it's suddenly become impossible.
Our Flip the Switch guide will help you clearly understand what's been going on, as well as exactly what you can do to get your metabolism working again so that you can look and feel your best—it's easier and more simple than you think!