Nothing can be simpler than making a keto breakfast casserole (keto bacon and egg pie) – 1.6g NET carbs.
It's the perfect high-protein breakfast and freezer-friendly for easy low-carb meal prep and a healthy picnic recipe.
It's filled with traditional flavors of egg, cheese, and bacon.
This is one of those healthy low-carb recipes that's completely customisable for the whole family. You can enjoy egg and bacon pie (no pastry) whether you are on a keto diet or not and is perfect for family meal prep.
Ready to lose weight and get healthy for life without dieting, drugs or making yourself miserable?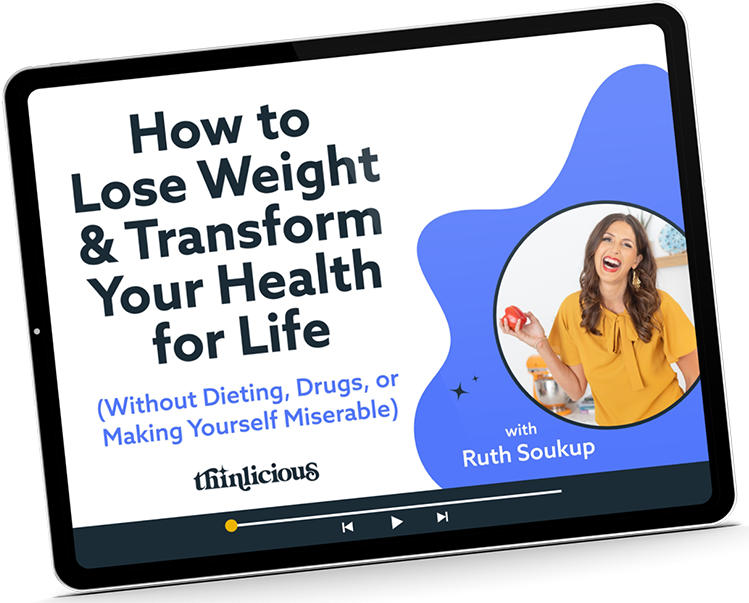 Our free on demand video training will help you understand why it's been so hard and what do to about it.
How many net carbs are in this keto breakfast casserole?
There are only 1.6g net carbs in this low-carb breakfast casserole. Breakfast casseroles tend to be low in carbohydrates as they are primarily made of eggs, cheese, meat, and low-carb vegetables.
Keep in mind, that if you add certain items to this dish, such as extra tomatoes, your carb count may be slightly higher than you want if you are following a low-carb diet or a keto diet.
If you don't mind a few extra carbs and would prefer to have a pie crust, you can make a keto almond flour pie crust or a keto coconut flour pie crust.
Ingredients you need
Part of the fun of this keto breakfast casserole is that you can swap out ingredients to make it perfect for you. You can make so many variations the whole family will love.
That being said, I know it's helpful to have a recipe, so this is what I put in my breakfast casserole. All quantities, instructions, and prep time are in the recipe card below.:
eggs – fresh medium eggs or large eggs.
heavy cream or milk – make sure to choose full fat as it will give this breakfast casserole that extra creamy texture without too many added sugars.
green onion – sliced green onion (spring onion) adds colour and flavour.
bacon – in this basic recipe, I use diced bacon. However, I've also made this with cooked sausage or ham and it's fantastic.
shredded cheese – I usually use shredded cheddar cheese since I almost always have it, but use whatever grated or shredded cheese you have on hand. Shredded mozzarella cheese is also fantastic.
cherry tomatoes – I love the juicy pop these tomatoes add, but you can swap this out for other veggies like broccoli or spinach.
salt and pepper – add to your liking.
🔪 Instructions
Crustless bacon and egg pie is such an easy recipe. Just turn the oven on and by the time it has reached the required temperature, you will have all the ingredients together thrown together.
Turn the oven on and set the temperature.
Throw all the ingredients in a large mixing bowl.
Line a baking tin with baking parchment paper.
Pour the egg and bacon quiche mix into the prepared baking dish. Sprinkle with more shredded cheese for a crispy topping (optional).
Bake until golden.
💭 Variations
This simple, adaptable keto breakfast casserole recipe is a fabulous opportunity to add extra greens such as fresh spinach, baby spinach, zucchini, asparagus, or any leftover vegetables.
You can even add your favourite herbs such as basil, chili, rosemary, or maybe a pinch of curry powder. The fun part of keto breakfast recipes like this is that the egg mixture and bacon go so well with a large variety of flavours.
That being said, I also like this dish with breakfast sausage. It's truly one of my favourite gluten-free low-carb family-friendly recipes!
You can truly change the entire compensation and taste of this dish just by swapping out the seasoning and veg!
You might also like to add your favourite cheese inside AND shredded on top as a quick and easy crunchy quiche crust.
Shredded parmesan
Cubes of brie or camerbert
Shredded mozzarella
Cubed feta
Cubed cooked chorizo sausage
Add an extra cup shredded cheddar cheese to make a cheese casserole
Add spices and flavours such as – cayenne pepper, hot sauce, dry mustard, garlic powder, or onion flakes.
🥗 Serving
When serving a breakfast casserole, it can be served hot or cold. If you're in a hurry you can even eat a cold slice in your morning rush while on the move.
Serve with sour cream, keto BBQ sauce, hot sauce, mustard, cooked breakfast sausage, or mushroom sauce. It really is the easiest healthy low-carb breakfast for a family.
I like to enjoy this warm out of the oven for a weekend brunch. I typically pair it with a side salad that is tossed in a nice vinaigrette or my magic 1-minute mayonnaise. The flavours play very well together with the creamy eggs.
I also have eaten this crustless egg and bacon pie cold at work or sent it with my kids as a healthy packed school lunch. I have even taken this dish with me on a picnic—it's quite lovely.
I love making breakfast casserole (or some may say crustless quiche or frittata) because you can simply throw anything in from your vegetable drawer, or leftover cooked meat, and voila. You have a high-protein breakfast or lunch.
🌡️ Storage
How long can will bacon and egg pie last in the fridge?
If you keep it well covered, or in an airtight container, your pie should last about 2-3 days in the fridge. Since this is a crustless recipe, you don't have to worry about a soggy pastry base.
How to serve leftovers
This keto breakfast casserole makes the perfect leftover! It can be served for any meal. A crustless quiche is sturdy enough to survive the school lunch box and adaptable enough to suit even the pickiest child.
Can you freeze extras?
Yes. Either as a whole or as individual slices with baking parchment in between each slice. Always store in an airtight container to avoid "freezer burn" and to prevent it from absorbing other food odours.
FAQs About Keto Breakfast Casserole
How can I tell when it's done cooking?
Much like a typical baked quiche, you can tell when it's done cooking by inserting a toothpick, or a knife into the center of the casserole. If it comes out clean, it's done baking. If it's still wet, keep it in the oven!
Can I prep a pie and then bake the next day?
Honestly, this recipe is so simple that it takes only 5 minutes to prep. So really it's not worth prepping ahead of time.
How can I reduce the carbs even more?
Yes, you may omit the milk and cherry tomatoes.
Can I make it higher-protein?
It is a high-protein low-carb breakfast casserole already, but to add more protein, add your favourite breakfast meat such as spicy sausage, Italian sausage, ground sausage, or and leftover meat.
Do I need to add the milk?
The milk is in the recipe to make a lighter and fluffy breakfast casserole (quiche). However, it may omited but you will get a smaller breakfast casserole.
Does the bacon need to be cooked or raw?
If your bacon pieces are small, you can add them raw and they will cook at the same time as the raw eggs. If your bacon pieces are large, I would suggest cooking them first just to make sure the bacon is safe and cooked.
Can I freeze keto breakfast casserole?
Yes, allow the breakfast quiche to cool completely in the baking dish then slice and store in an airtight container. Store in the freezer for up to 2 months. Defrost by removing your slices and leaving them covered on your kitchen benchtop for 1-2 hours. Reheat by placing in a warm oven, in a skillet over medium-high heat, or microwave.
Can I make breakfast casserole with sausage muffins?
Yes. Place the sausage meat in the bottom of oiled (with cooking spray) muffin tins and pour the egg mixture over the sausage for an easy breakfast casserole with sausage.
More quiche and pie recipes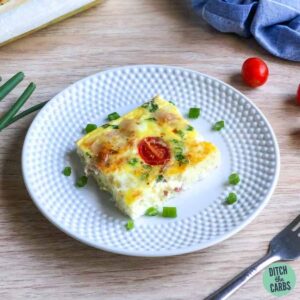 Keto breakfast casserole recipe (egg and bacon pie)
Nothing can be simpler than making a keto breakfast casserole (crustless egg and bacon quiche) – 1.6g NET carbs. It's the perfect high-protein breakfast and freezer-friendly for easy low-carb meal prep.
Print
Pin
Rate
Want to lose weight and get healthy for life—without dieting, drugs, or making yourself miserable?
We can help! Tell me how!
Equipment
Measuring cups and spoons

Mixing bowls

Casserole Dish
Ingredients
8

eggs – medium

125

ml

full fat milk

or cream

1

spring onion/scallion

finely sliced

2

slices

bacon

diced into small pieces

100

g

shredded/grated cheese

+/- salt and pepper

to taste

cherry tomatoes

to garnish (optional)

shredded/grated cheese

to garnish (optional)
Instructions
Whisk the eggs and milk together using a fork.

Add all the ingredients, reserving the tomatoes and extra cheese for the top.

Add any vegetables (optional) and stir gently.

Pour into a 20×30 cm/8×12 inch square baking dish that has been greased and lined with baking parchment paper.

You may need to move the vegetables in the dish with the fork so they are evenly distributed.

Optional: Place the sliced cherry tomatoes and cheese on top.

Bake at 180C/350F for 20-30 minutes.
Notes
The nutritional values, are calculated on the recipe without added vegetables. You will have to calculate the vegetable values depending on what and how much you add to the pie.
The cherry tomatoes and cheese are optional.
To reduce the carbs further, you may omit the milk but you will get a smaller breakfast casserole.
Nutrition
Serving:
1
slice
Calories:
195
kcal
Carbohydrates:
1.9
g
Protein:
13.1
g
Fat:
14.7
g
Sodium:
438.4
mg
Potassium:
144.9
mg
Fiber:
0.3
g
Sugar:
1.4
g
Vitamin A:
540.2
IU
Vitamin C:
0.4
mg
Calcium:
178.5
mg
Iron:
1.2
mg
More low-carb breakfast recipes
If you're looking for more keto breakfast recipes, there are all keto low-carb friendly. They are also easy if you are new to meal prep.
Get our FREE guide to finally fix your metabolism!
Losing weight & getting healthy is never easy, but lately you might feel like it's suddenly become impossible.
Our Flip the Switch guide will help you clearly understand what's been going on, as well as exactly what you can do to get your metabolism working again so that you can look and feel your best—it's easier and more simple than you think!