You only need 4 simple healthy ingredients and 15 minutes to make these delicious keto zucchini fritters (zucchini pancakes) and only 4g net carbs per serving.
Why not add some garlic powder, crushed pork rinds, or chili powder, then serve with sour cream for a delicious healthy dinner, or low-carb snack.
These easy keto zucchini fritters can be served as a snack, as a side dish for chicken, pork side dish, or as a light salmon side. Plus, many keto vegetarians like to serve these with a simple mayonnaise, sour cream, or avocado dressing as the main meal.
If you haven't enjoyed zucchini in the past, this recipe may be just the thing to change your mind! These are the best courgette mint and feta fritters.
Are you ready to create the ultimate 12-month blueprint for reaching your health & weight loss goals this coming year?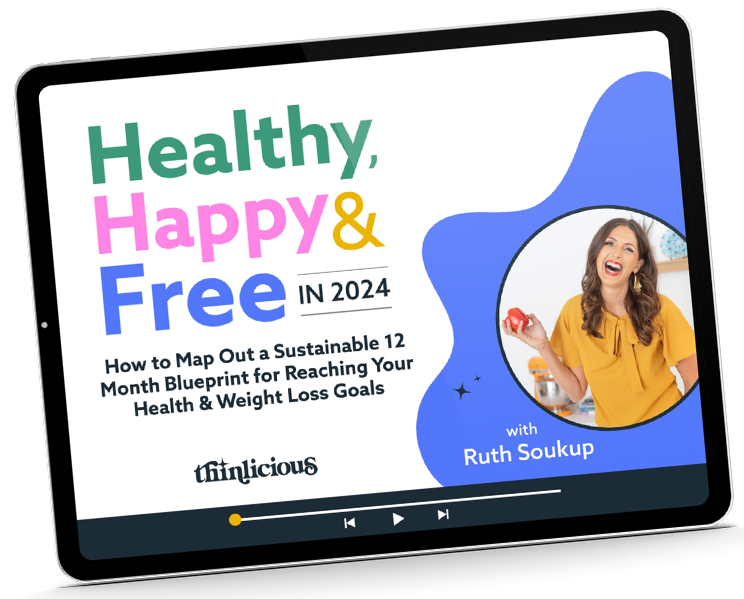 Our free on-demand video training will walk you through how to make 2024 THE year you set health goals…and keep them.
Are zucchinis and courgettes the same?
Yes, zucchinis and courgettes are the same vegetables. They are a green summer squash.
Zucchini is the American name for a courgette.
Perhaps my favorite thing about zucchini is how versatile it is. It can be eaten cooked or raw and can be used in sweet or savory recipes. There are so many keto courgette recipes you can make.
Are courgettes/zucchini low carb?
Courgettes are a wonderful low-carb vegetable that has a mild sweet taste. They are low in carbs, high in fiber, and can be used in so many ways in a variety of low-carb recipes and keto recipes.
Here's a look at the nutrition of this powerhouse vegetable.
Nutrition per 100g raw courgette: 3.1 g total carbs, 1 g fiber, 2.1 g net carbs, 1.2 g protein, 0.3g fat, 17 calories.
Nutritional values from cronometer.com
What to do with extra zucchinis
When courgettes (or zucchini) are in season or growing like crazy in your garden, you can use them up in large amounts and make huge batches of these low-carb zucchini fritters. They are so delicious, colorful, and nutritious.
Zucchini can be boiled, grilled, BBQ, fried, or roasted. Zucchini can be used in savoury recipes such as zoodles, zucchini taco boats, and low-carb zucchini fritters, or in sweet recipes such as sweet zucchini bread and chocolate zucchini cake.
What are zucchini pancakes?
Zucchini pancakes and zucchini fritters are the same things. They are made with a simple fried zucchini fritter batter with grated zucchini, eggs, feta cheese, and herbs.
These are healthy zucchini fritters with no flour. The courgette, mint, and feta fritters are a healthy vegetarian low-carb meal the whole family will love.
If you are wondering, are zucchini fritters keto? Well, typical ones made with wheat flour or breadcrumbs are not keto. Of course, my crispy-fritters recipe is low in carbs, gluten-free, and high in fiber (thanks to the shredded zucchini!). So you can enjoy them guilt-free!
Ingredients you need
Many zucchini fritters have wheat, flour, or other agents to bind them together. You don't need any of those, just 4 healthy ingredients go into these gluten-free zucchini fritters.
In fact, these zucchini pancakes are so delicious that you'll find excuses to eat them. Serve with a crunchy salad and drizzle with oil. Or serve them for lunch, a healthy family dinner, or as a side dish,
Here is what I used to make these keto zucchini fritters.
Grated zucchini – freshly shredded and drained.
Eggs – use medium eggs. If you only have large eggs, reduce the number by one or 2 depending on how large they are.
Feta cheese – cut into small cubes.
Mint – fresh mint is best, however, you can use dried mint when fresh mint is unavailable.
For quantities and complete instructions, see the keto zucchini fritters recipe card at the bottom of this post.
Instructions
It's quick and simple to make easy gluten-free zucchini fritters.
Make the batter then cook.
STEP 1: Make the grated zucchini (shredded zucchini).
Squeeze out as much excess water as you can.
STEP 2: Mix the fresh zucchini together with the mint, feta, and eggs.
STEP 3: Add some avocado oil, butter, or coconut oil to a non-stick frying pan set to medium heat.
Add the zucchini fritter batter to the medium-hot frying pan in small batches and fry in hot oil until they are golden brown. Flip halfway through cooking to ensure they are cooked, browned, and crispy fritters on both sides.
Storage
Keep the extras for lunch the next day at work or school. It's a great recipe for healthy lunchboxes.
Allow your keto zucchini fritters to cool completely before storing. Place them on a wire cooling rack or some kitchen paper to allow any extra steam to escape.
Store your cooked keto zucchini fritters in an airtight container in the refrigerator for up to three days.
They can be frozen for up to 2 months. Defrost then reheat in a hot frying pan for 2 minutes on each side or reheat in an air fryer for 4 minutes.
Variations
This is a versatile recipe the whole family will love. You can make your gluten-free zucchini fritters exactly how you like them.
Grated parmesan cheese – if you want your zucchini fritters to be a bit crispier, sprinkle some grated parmesan cheese into the batter and on the outside.
Garlic powder – add 1 or 2 teaspoons of garlic powder to the batter mixture before cooking.
Onion powder – add 1 or 2 teaspoons of onion powder
Chili – add 1/2 to 1 teaspoon of dried chili powder for spicy zucchini fritters
Cauliflower – you can swap half of the grated zucchini for grated cauliflower to make a simple cauliflower fritters recipe.
Sliced green onions – sliced spring onions for a fresh onion flavor, without too many carbs.
Substitutions
This is such a great recipe with plenty of substitutions if you don't have the right ingredients in your pantry.
If you don't have feta cheese, you can use crumbled goat cheese or some shredded parmesan cheese. You can even use cream cheese or mascarpone cheese if you'd like.
Instead of fresh mint, you can use dried mint.
Serving
Serve your zucchini fritters with ranch dressing, sugar-free BBQ sauce, avocado salsa, or a fresh lime dressing. I also like to dip mine into some sour cream.
Courgette mint and feta fritters also make an excellent after-school snack. Sprinkle with salt before serving to give it that extra punch of flavor.
Recipe tips
If your courgette/zucchini fritters have always turned out soggy, it will be because you haven't squeezed out enough water as you are grating/shredding the courgette/zucchini.
Also, don't add salt to the mixture as that draws out even more water. Instead, have salt at the dinner table and season them then.
Stir the mixture each time before you add another spoon to the frying pan, the egg has a tendency to drain to the bottom.
Recipe FAQs
If you don't see your question in this list, please leave it in the comments.
What type of flour do I use to make zucchini fritters?
You don't need any flour at all to make delicious zucchini fritters! I didn't use almond flour or coconut flour. The egg and cheese is enough to bind them.
Can you make zucchini fritters in the air fryer?
Yes, if you use the air fryer you will get some crispy fritters! I like to pan fry mine, but the air fryer will also remove a lot of the grease too.
What can I use instead of bread crumbs?
This recipe doesn't call for any bread crumbs. However, if you feel like experimenting, crushed pork rinds are an excellent replacement for breadcrumbs in the typical fritter batter.
Why are my zucchini fritters falling apart?
1: You need to remove as much moisture as you can from the grated zucchini before making the batter.
2: You need to make sure you add enough eggs. If you use small eggs you may need to add an additional egg or two using this egg conversion chart.
Can I use coconut flour in keto zucchini fritters?
You don't need any flour to keep these fritter from falling apart, however, if you prefer a sturdy zucchini pancake, you could add a few tablespoons of coconut flour, 1/4 cup of almond flour, or 1/4 cup of grated parmesan cheese.
More keto zucchini recipes
If you enjoyed this keto zucchini fritters recipe, here are some more low-carb recipes you can make with courgettes or zucchini.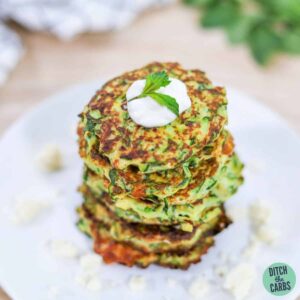 Keto zucchini fritters recipe (zucchini pancakes)
You only need 4 simple healthy ingredients and 15 minutes to make these delicious keto zucchini fritters (zucchini pancakes). Serve with mayonnaise, sour cream, or avocado dressing.
Print
Pin
Rate
Want to lose weight and get healthy for life—without dieting, drugs, or making yourself miserable?
We can help! Tell me how!
Ingredients
5

zucchini/ courgette

grated/shredded

50

g

feta

cut into cubes

1

handful

fresh mint

roughly chopped

2

eggs – medium

see notes below

coconut oil

or butter, for frying
Instructions
Grate the courgette/zucchini and squeeze out all the excess water.

In a large mixing bowl, place the grated zucchini, mint, cubed feta, and eggs. Mix gently.

Heat a frying pan on medium-high and melt some coconut oil or butter.

Spoon the zucchini pancake batter into the hot frying pan and cook until golden brown on both sides.

Continue to fry in small batches. Stir the batter each time to make sure the egg doesn't sink to the bottom.
Notes
You may need to add extra eggs depending on how large your zucchinis are to hold the fritters together.
I use medium 6-7 inch zucchini, which creates about 1.5 – 2 cups shredded each.
Nutrition
Serving:
1
serve ( serves 5)
Calories:
85.5
kcal
Carbohydrates:
6
g
Protein:
6
g
Fat:
4.5
g
Sodium:
154.9
mg
Potassium:
546.6
mg
Fiber:
2
g
Sugar:
5
g
Vitamin A:
563.2
IU
Vitamin C:
35.3
mg
Calcium:
92.5
mg
Iron:
1.1
mg
Get our FREE guide to finally fix your metabolism!
Losing weight & getting healthy is never easy, but lately you might feel like it's suddenly become impossible.
Our Flip the Switch guide will help you clearly understand what's been going on, as well as exactly what you can do to get your metabolism working again so that you can look and feel your best—it's easier and more simple than you think!