You'll fall in love with this quick pork schnitzel recipe – only 4 ingredients and cooked in 10 minutes.
It's the perfect easy mid-week healthy family dinner everyone will love.
Leftovers can be sliced over a salad for the next day, making easy meal prep a breeze.
If you love breaded pork recipes, you'll also fall in love with the easy recipe for keto fried fish. the keto breading can be used on pork, chicken, and even fish fingers.
Ready to lose weight and get healthy for life without dieting, drugs or making yourself miserable?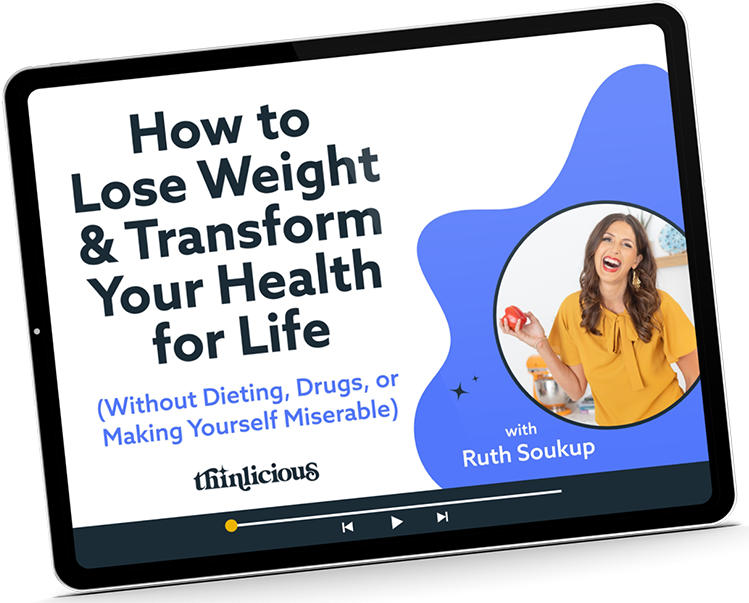 Our free on demand video training will help you understand why it's been so hard and what do to about it.
Pork nutrition
Pork is an incredibly versatile meat for lunch, dinner, or snacks. Pork is high -protein and can be low in fat (depending on the cut you buy).
The amount of protein and fat in pork chops, pork steak, pork ribs, and ground pork will be dictated by which cut of pork you buy. The higher the fat content, the lower the protein.
| | | | | |
| --- | --- | --- | --- | --- |
| Per 100g (3.5oz) | Carbs | Protein | Fat | Calories |
| Pork chops, loin, no fat eaten | 0 | 28.8g | 10.1g | 214 |
| Pork chops, loin, fat eaten | 0 | 27.0g | 15.2g | 252 |
| Pork ribs, back | 0 | 23.1g | 18.9g | 269 |
| Ground pork 5% fat | 0 | 27.0g | 2.6g | 134 |
| Ground pork 20% fat | 0 | 22.5g | 1g | 265 |
| Bacon, centre cut (middle) | 0 | 42.4g | 31.4g | 467 |
Ground beef nutrition per 100g/3.5oz serving
Nutritional values from cronometer.com
What is pork schnitzel?
Traditional schnitzel is a thin-sliced boneless pork chops that are crumbed and fried in fat. It is very similar to escalope, a thin fried crumbed meat dish in Europe. Schnitzel generally refers to a thin breaded slice of cooked meat across the globe.
Pork schnitzel is a popular German dinner that will feed a crowd, often served with mashed potatoes, sour cream, and lemon wedges.
Wiener schnitzel is made from veal (Austria).
German pork schnitzel is made from pork.
Jägerschnitzel ('hunter's schnitzel') is a schnitzel served with mushroom sauce (Germany and Austria).
Skinkeschnitzel is made of pork (Denmark).
Escalope is made from veal or pork and filled with ham and cheese (Spain).
This German pork schnitzel recipe is another delicious way to enjoy pan-fried pork chops. Instead of using breadcrumbs and frying in vegetable oil, this recipe uses almond flour and is fried in olive or avocado oil.
The most common meat is pork, chicken, veal, beef, or turkey. The meat is often pounded with a meat mallet to tenderize before breading and frying.
This easy pork schnitzel recipe is based on the traditional recipe and uses thin pork cutlets that are fried until they are golden brown.
Ingredients
All quantities, ingredients, and instructions are in the recipe card below.
Only 4 simple ingredients are needed for German pork schnitzel (Wiener schnitzel). Season with salt and freshly ground black pepper and pan fried in olive oil or coconut oil.
Pork – you can often buy a special cut of pork called schnitzel, but you can also use tenderised pork steak, pork chops, boneless pork, or loin steak.
Almond flour – for our keto breaded pork, we are using a herbed almond flour mix.
Dried sage – use dried sage or fresh sage for a lovely herbed pork schnitzel.
Eggs – the egg wash mixture helps hold the herbed almond flour to the pork schnitzels.
Season with salt and pepper. You'll love schnitzel served with fresh lemon slices for supper tonight.
Instructions
The best meat I've found for this dish is boneless pork chops, but you can also use pork steak or loin steak. Whichever cut you choose, to make it a true German pork schnitzel, you'll need to use a meat mallet or meat tenderizer to pound it to become thin.
Step 1: Make the egg wash and almond flour coating.
In a shallow dish, beat together two eggs, then set them aside.
In another shallow dish, mix the almond meal or almond flour with dried sage, salt, and freshly ground black pepper.
Step 2: Crumb the pork schnitzel.
Dip each pork schnitzel into the egg wash, making sure to coat both sides. Allow the excess egg to drain.
Dip the egg-washed pork schnitzel into the herbed and seasoned almond meal coating. Turn it over a few times to ensure you have an even coating of breadcrumbs.
Step 3: Fry until golden brown.
To cook, heat olive oil or coconut oil and add the breaded cutlets to a frying pan or cast-iron skillet. Cook over medium heat on both sides until the schnitzel is golden brown (or you may prefer a deep golden brown).
Remove each pork schnitzel onto a paper lined plate, or place on a baking sheet in a warm oven to stay warm while you cook the remaining pork schnitzels. You can even place the cooked pork into a warm slow-cooker to keep your dinner warm until you are ready to serve.
Variations
There are quite a few different ways you change this easy pork schnitzel recipe to make it taste completely different. If you make any changes, please let me know in the comments.
Use any choice of dried or fresh herb e.g. dried rosemary, dried thyme, fresh basil, crushed garlic, or garlic powder.
Swap the meat and try chicken schnitzel, turkey schnitzel, or beef schnitzel.
Use the almond and herb crust for fish nibbles or chikcne nuggets.
Garnish with some lemon wedges to add a lovely acidic flavour.
Make a grain-free gravy with chicken stock and drizzle it on top of the pork cutlets.
Cut your own pork chops out of pork tenderloin.
Serve with your own sour cream mixture seasoned with garlic powder and add a dallop on top.
How to make a low-carb crumb coating
Instead of reaching for seasoned flour or Panko bread crumbs, just use ground almonds or almond flour.
Using almond meal, or ground almonds is a great substitute for bread crumbs, panko crumbs, or wheat flour. It coats easily, fries well is naturally gluten-free, nutritious, absolutely delicious, and is extremely low in carbs.
If you are allergic to almonds, why not try seed flours (such as sunflower or pumpkin) that are becoming available. They are a fantastic replacement for panko breadcrumbs.
For more low-carb hacks, take a look at my Low-Carb Hacks Infographic. It makes the switch to low carb just that little easier.
Leftovers
Any leftover almond flour crusted schnitzel is great for lunch boxes or chopped on a salad.
If you want a quick and easy low-carb or keto lunch idea, serve any leftover almond and herb-crusted schnitzel sliced over a salad with homemade mayonnaise.
There's no need to cheat on a low-carb diet when it comes to lunch, just keep on using those leftovers. Cook once, serve twice.
Best keto side dishes to serve with pork
Almost any side dish will taste delicious with pork. Pork is generally complemented best with a slightly sweet side dish or one with bold flavors.
Here are some of my favorite keto pork side dishes.
You can still make your favorite side dishes with this German pork schnitzel, you just have to use low-carb ingredients.
Serve your pork chops with a selection of low-carb vegetables and instead of mashed potatoes, serve with mashed cauliflower.
Instead of French fries, serve some baked zucchini chips.
You can still make German potato salad, just use turnips or cauliflower instead of potatoes.
How to garnish pork schnitzel
If you want to enjoy authentic German food, as if you are in a German restaurant, then garnish with a slice of lemon (or lemon wedges) and a squeeze of lemon juice all over your pork schnitzel is absolutely delicious. Serve immediately.
Don't forget to top it with some sour cream! It's a low-carb topping that tastes delicious on top of this breaded pork.
FAQs about keto pork schnitzel
What type of pork is best for pork schnitzel?
You can use any type of pork chop that you want in this easy pork schnitzel recipe. If you use boneless pork chops, use a meat mallet to pound them really thin.

You can also use pork steak or loin steak.

Pork cutlets are typically already thin. You won't need a meat tenderizer if you use thin cutlets.
What part of the pig does pork schnitzel come from?
If you use pork chops, then that comes from pork loin. Pork loin is a tender cut of meat that comes from the muscles that run along the pig's spine above the belly and ribs.
What can I serve instead of potato salad?
Broccoli and cauliflower salad with cream cheese is the best substitution. Add a sprinkling of garlic salt over the top of the wonderful recipe. Alternatively, buy a bag of green salad and serve with lemon wedges.
How can I reduce the fat?
You can drain each cooked pork schnitzel on a paper towel-lined plate. This will remove any excess oil.
What sauce can I serve with pork?
Lemon wedges or lemon slices and fresh parsley are the easiest garnish. But if you prefer a creamy sauce, then a creamy keto mushroom sauce (mushroom gravy) is perfect!
Can I cook pork in the oven?
Yes, place the crumbed pork meat onto a lined and oiled baking sheet and cook at 180C/350F for 15 minutes. Flipping mid-way to ensure the pork schnitzel is brown on both sides.
How do I stop the breadcrumbs from falling off?
You can bread your pork chops ahead of time and keep them covered in plastic wrap in the fridge for a few hours. This helps set the breadcrumb coating in place. When you gently fry on medium-high heat, use silicone kitchen tongs rather than a spatula to flip them over.
Which oil is best for frying?
Avoid vegetable oil such as canola oil, sunflower oil, and rice brean oil. Instead, choose natural unprocessed healthy oils such as extra virgin olive oil, coconut oil, or lite flavoured olive oil.
How can I keep my pork chops hot?
Keep cooked pork chops covered in a warm oven for up to 2 hours.Always use a meat thermometer to ensure the internal temperature for pork is 145 F.
More keto pork chop recipes
I love to use my slow cooker (for pulled pork), my skillet for pork chops or pork schnitzel, my oven for a pork roast, and even my Instant Pot.
Get our FREE guide to finally fix your metabolism!
Losing weight & getting healthy is never easy, but lately you might feel like it's suddenly become impossible.
Our Flip the Switch guide will help you clearly understand what's been going on, as well as exactly what you can do to get your metabolism working again so that you can look and feel your best—it's easier and more simple than you think!