With Keto Hamburger Buns (sandwich buns) you can start enjoying your burgers with buns again in under 20 minutes for only 4.5g net carbs.
They look like traditional hamburger buns but without the typical carbs.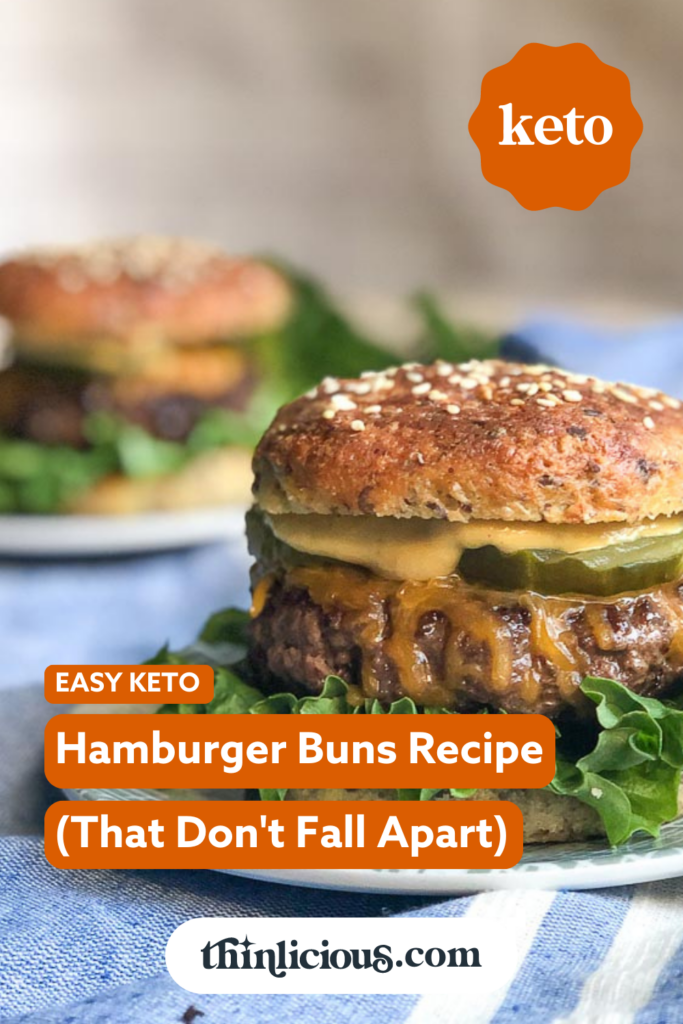 This easy homemade bun recipe can also be made as crusty keto dinner rolls that can be enjoyed on game day, a summer BBQ, or as keto sliders.
Baking 101 (tips & charts)

Are hamburger buns keto?
Usually, hamburger buns are far from being keto-friendly. Even burger buns bought at the store that are labeled as being keto-friendly may not be truly keto due to the type of flour and sweetener listed in the ingredients.
Are you ready to create the ultimate 12-month blueprint for reaching your health & weight loss goals this coming year?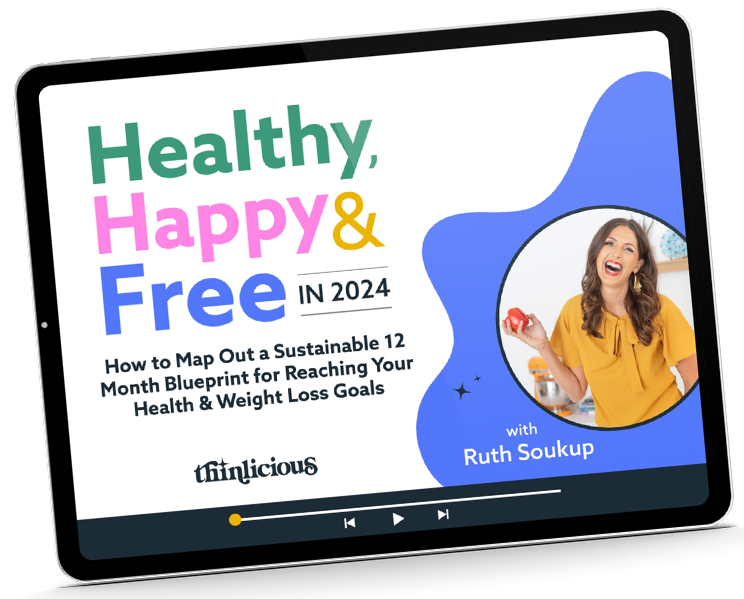 Our free on-demand video training will walk you through how to make 2024 THE year you set health goals…and keep them.
When you make keto hamburger buns at home you have control over your ingredients to ensure your net carbs count is in line with your goals.
Nutrition for keto hamburger bun recipe (1 burger bun): 4.5 g net carbs, 20.1 g protein, 32.1 g fat, 394 calories.
These low carb burger buns only have 4.5 net carbs per bun, and over 20 g protein, making them perfect for your keto diet!
These low carb buns are crunchy on the outside and sturdy enough to hold all your favourite burger fillings.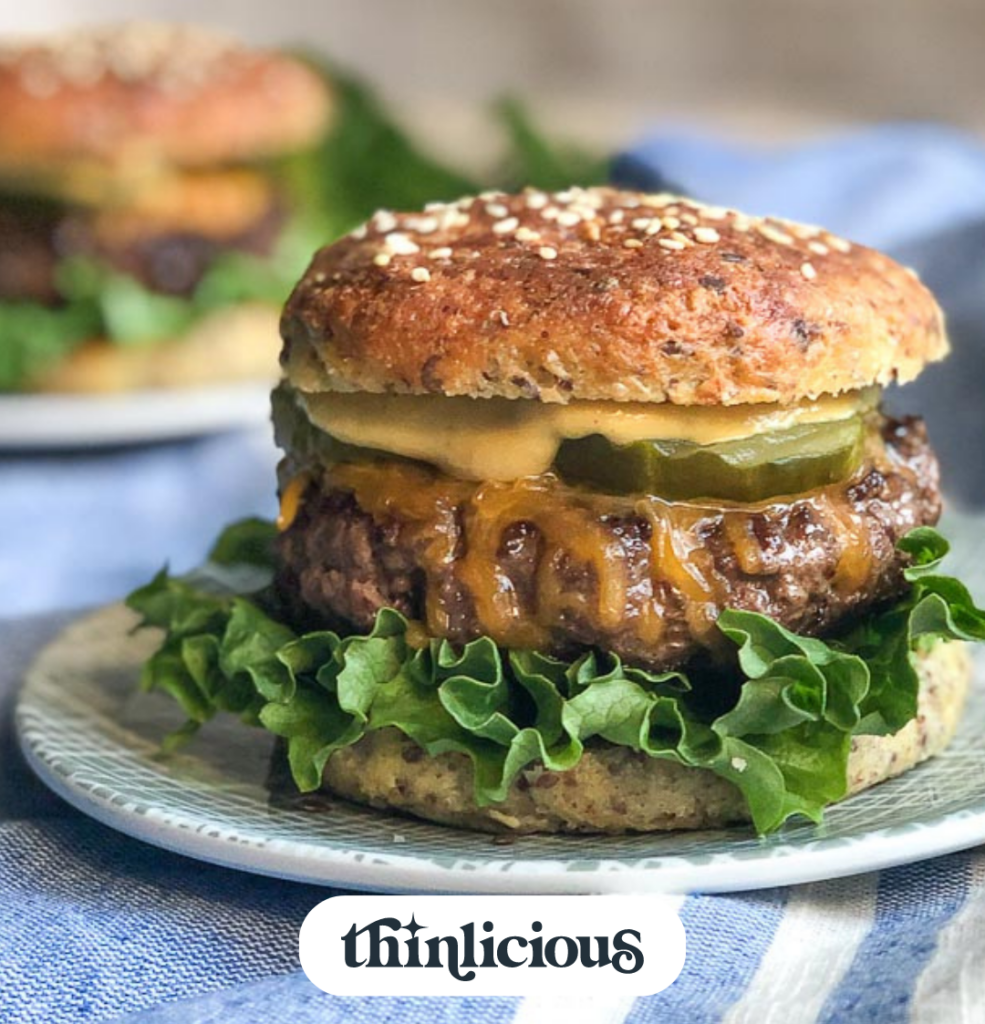 🥘 Ingredients
Seven simple ingredients are all you need to make these buns, and there is a good chance you already have them on hand. To make keto hamburger buns you will need:
pre-shredded high moisture mozzarella cheese
almond flour (or almond meal)
ground flaxseed
cream cheese (full fat)
fresh baking powder (always check expiry dates)
an egg (medium)
a bit of apple cider vinegar
All quantities, instructions, and video are in the recipe card.
If you want to top the low carb buns with sesame seed, just brush olive oil over the top and sprinkle with sesame seeds. Don't like sesame seed? Feel free to leave them off! Either way, these keto hamburger buns are fantastic.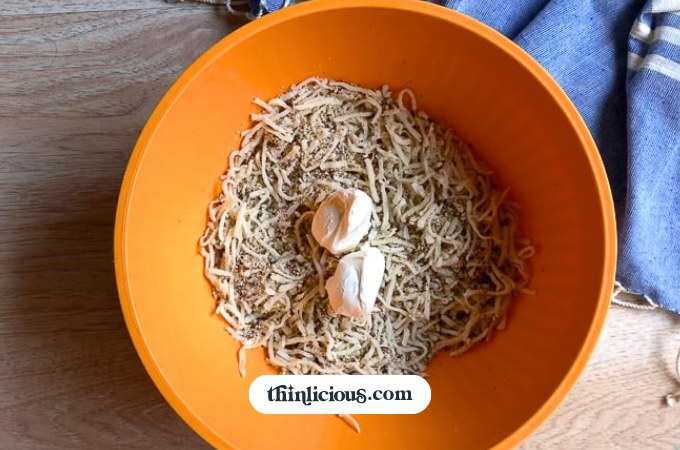 💭 Why vinegar?
Most FatHead dough recipes don't call for vinegar, so I understand why you might question why vinegar is needed. Don't worry, you aren't able to taste the vinegar at all in your keto hamburger buns.
The vinegar is used to activate the baking powder and add more air to the almond flour dough. The added bubbles allow the dough to rise more while baking than a FatHead dough recipe normally would.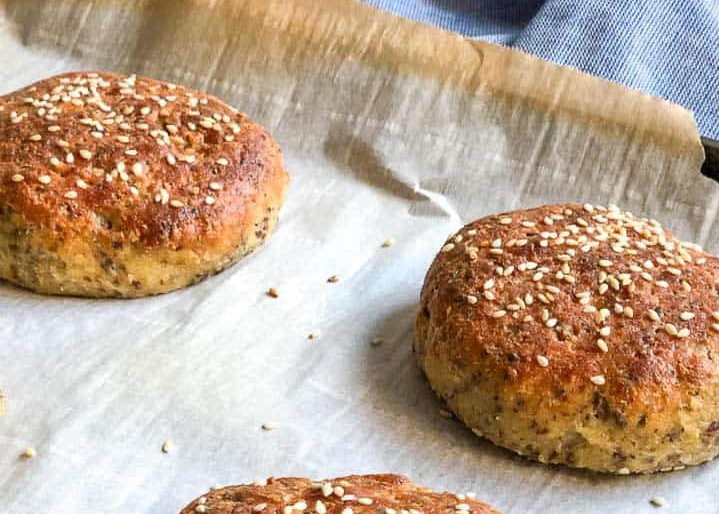 🔪 Instructions
Prepping your ingredients is important when making any type of mozzarella dough because the overall process moves so fast. To begin, preheat your oven and get your pan ready.
I line my baking pan with parchment paper, but it is not necessary.
Next, mix the egg and vinegar together and set it aside. Toss your cheese, almond flour, and ground flaxseed together in a microwave-safe bowl.
Melt in the microwave for 60 seconds (repeat for another 30 seconds if needed) then fold in your baking powder and egg/vinegar mixture.
Once your keto bread dough is complete cut it into 4 equal pieces, roll it into a ball, and press it into a bun shape. Arrange each burger bun on your baking tray, brush with olive oil, and sprinkle with sesame seeds if desired. Now your buns are ready to bake.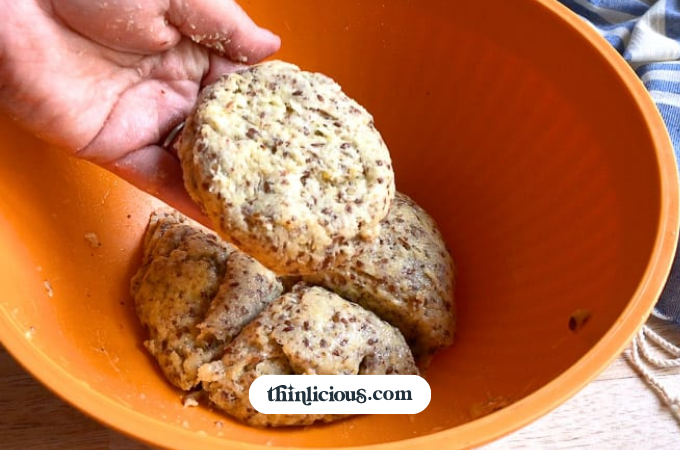 ⏲️ Baking time
To bake your keto hamburger buns, line a baking sheet and pre-heat your oven to 190C/375F. Once the oven is heated the buns should bake on the top rack for 12-15 minutes.
Baking your buns on the top rack will allow the tops to get golden brown without overcooking the bottoms.
Once the keto hamburger buns are cooked let them cool on the counter for 5-10 minutes before slicing and assembling your burger. You may want to place them on a wire rack until they cool completely. Nobody wants a soggy bottom hamburger bun.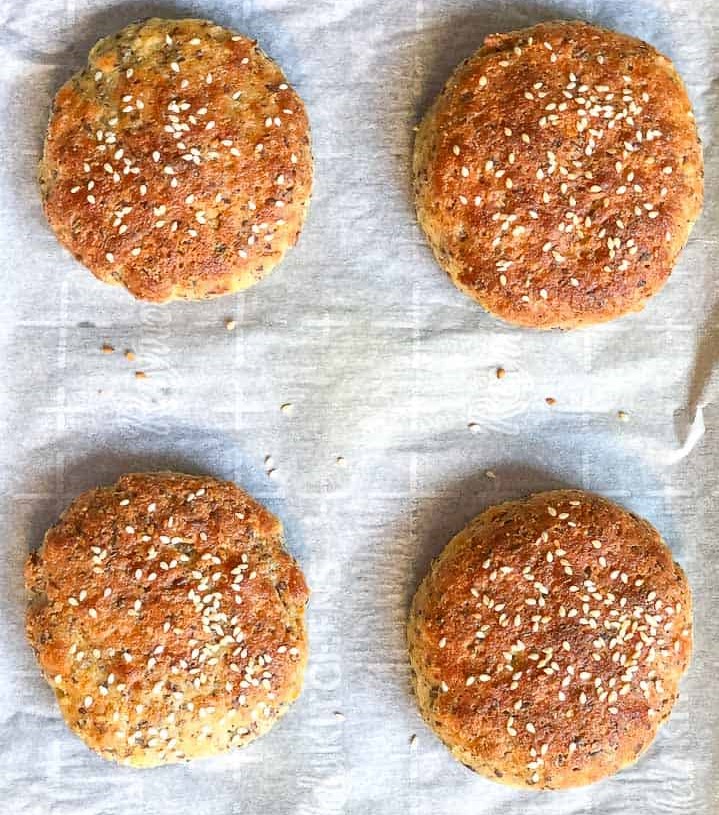 💭 Top tips
You must use high-moisture cheese for this recipe to work because it melts easily and with a smooth texture. I prefer the mild flavor of mozzarella cheese, but other high-moisture mild-tasting cheeses will work as well.
If the dough is sticking to your hands too much while shaping your buns, try wetting your hands before handling the dough. This should help the dough not stick to your hands.
Every oven is different so choose the pan you use to bake your buns according to your experience baking in your oven. I was able to bake these buns on a metal baking sheet with parchment without the burger bun burning. But if you are having issues with the bottoms burning try using a glass baking pan instead.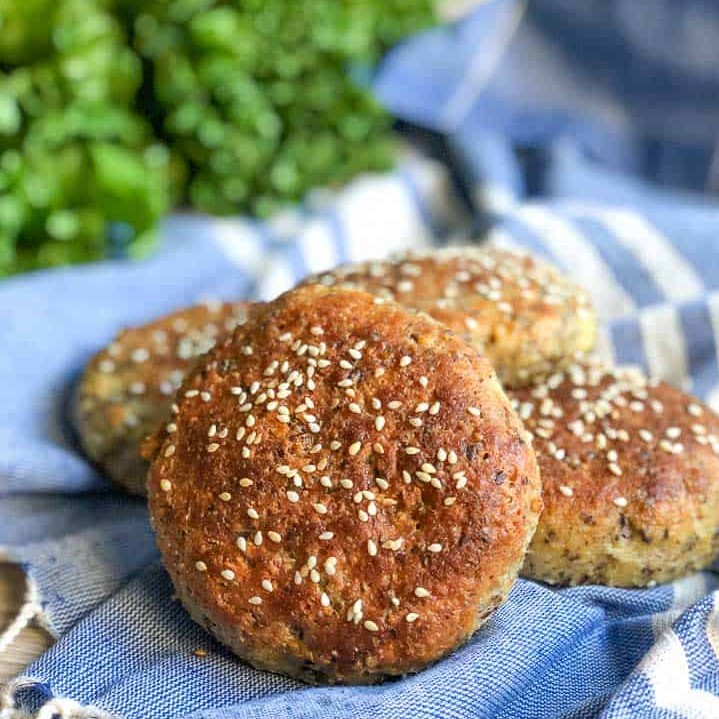 🔪 How to cut the carbs
The easiest way to cut the carbs of your keto hamburger is to be mindful of the toppings you add to your burger.
Toppings like tomatoes and onions can quickly increase the carbs in your burgers. On the other hand, toppings on your burger buns like lettuce, mustard, and pickles won't add a lot of carbs to your meal.
Another way to reduce carbs is to make sliders or mini buns. The recipe makes 6 bread buns but you can easily make 6 mini burger buns or 8 slider buns from this recipe instead.
📖 Substitutions
Most ingredients in this keto hamburger buns recipe are essential to the recipe. I haven't tried making them with egg substitutes so I am not sure how it would turn out. If you try, please share what worked for you.
Remember, you also cannot swap coconut flour for almond flour.
One ingredient that is not essential is the flaxseed. The flaxseed is to mostly give the bread a multigrain look and flavor. If you aren't a fan of flaxseed you can leave it out completely or replace it with whole psyllium husk in equal amounts.
🍽 Equipment
I used a microwave to form the dough before baking them in the oven. However, if you don't have a microwave you can still make the dough on your stovetop.
To form your gluten free dough on the stove you would want to mix the ingredients in a saucepan and melt on medium/low heat while continuously stirring to prevent burning.
Follow the steps written in the recipe and ensure your shredded mozzarella cheese is melted and removed from heat prior to stirring in your egg.
🌡️ Storage
These keto hamburger buns are best when used fresh. Any leftover buns should be stored in the refrigerator in an air-tight container or zipped bag for up to 3 days. The buns can be reheated in the toaster or oven.
Your buns can also be made ahead of time and stored tightly wrapped uncooked in the refrigerator for 1-2 days or in the freezer for up to 30 days.
The uncooked keto buns will need to be thawed and brought to room temperature on the counter before they are ready to bake. Enjoy!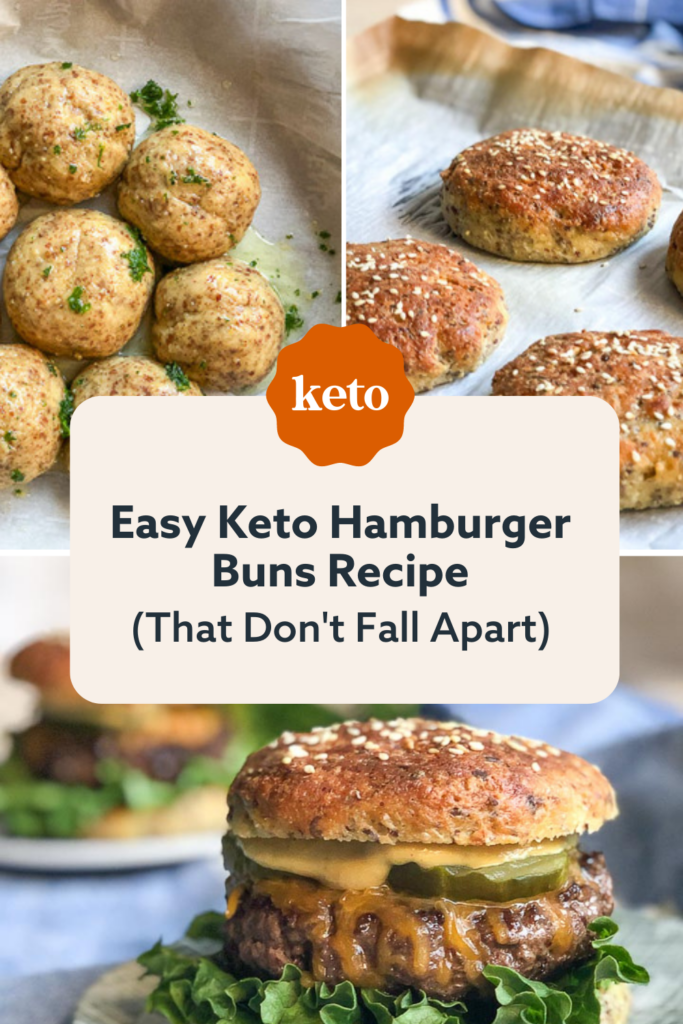 More keto dinner recipes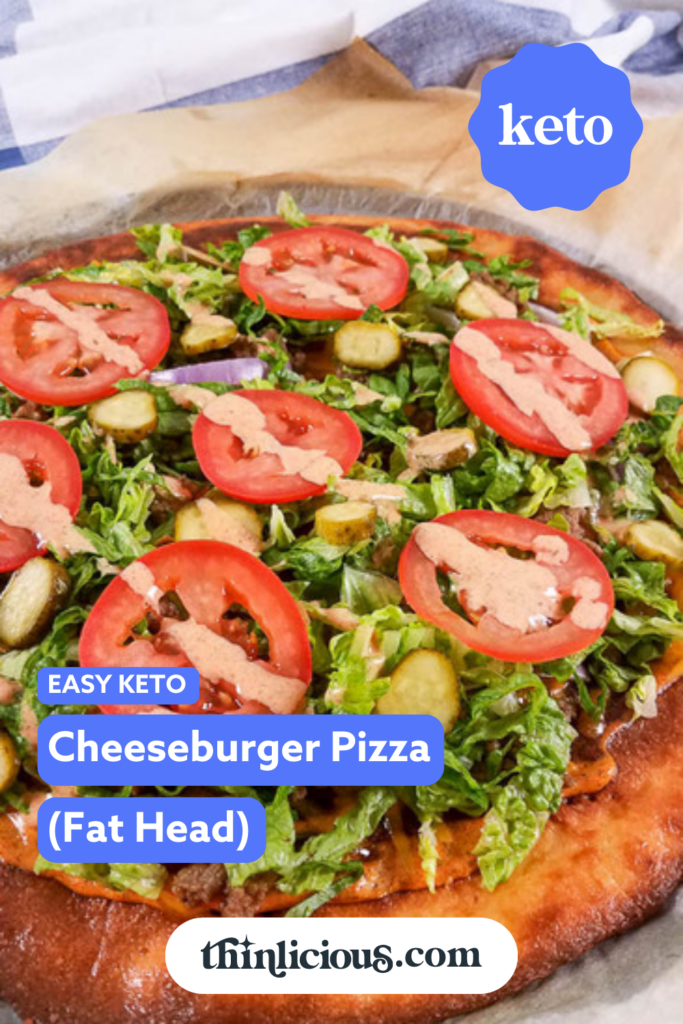 Recipe FAQs
Do I need a microwave?
It's easiest to use a microwave to melt the cheese and almond flour together, however, you can use a saucepan on medium, heat. Be careful to keep stirring so the cheese doesn't stick and burn.
Can I swap almond flour for coconut flour?
No, not for this recipe. Almond flour and coconut flour behave completely differently. I do have a coconut flour bread recipe you may wish to use.
Do I have to use mozzarella cheese?
For best results, mozzarella is best, however, if you have another mild-tasting cheese, that will work (I just cannot guarantees the results as fat and protein will vary in different cheeses).
How do I store the keto burger buns?
Fresh bread is the best. They can be stored in an airtight container in the fridge for up to 3 days, or in the freezer for 30 days.
Can I make dairy-free hamburger buns?
No, this recipe relies heavily on mozzarella cheese and cream cheese. I do have an almond flour bread that is dairy-free.
Why are my keto hamburger buns uncooked in the centre?
You need to make sure they are flat enough to cook right the way through. If you make them too much into a tall or ball shape, it is possible they may burn on the outside before being cooked in the centre.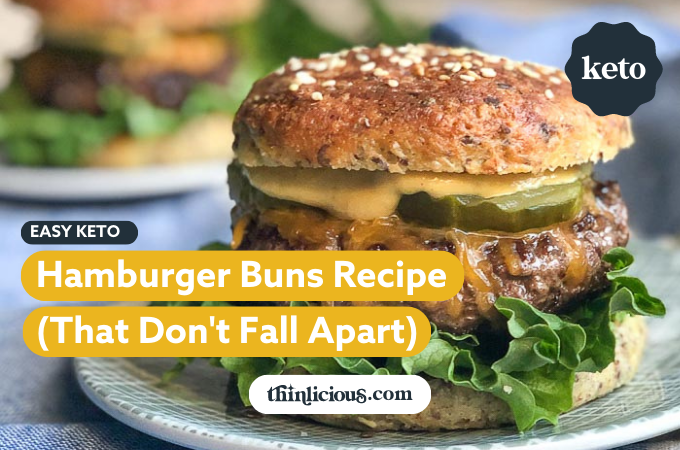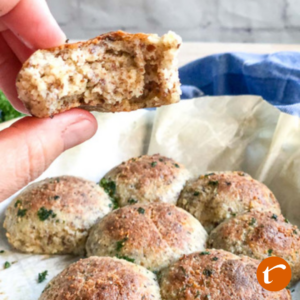 Easy Keto Hamburger Buns Recipe (That Don't Fall Apart)
Bring the bun back to your burger with these easy keto hamburger buns that can bake while you grill.
Print
Pin
Rate
Want to lose weight and get healthy for life—without dieting, drugs, or making yourself miserable?
We can help! Tell me how!
Equipment
Parchment Paper

Measuring cups and spoons

Baking sheets – non stick

Mixing Bowls
Ingredients
1

egg

1

tsp

apple cider vinegar

¼

cup

ground flaxseed/linseed

ground

¾

cup

almond meal/flour

1¾

cup

pre-shredded/grated mozzarella

2

tbsp

cream cheese

1

tsp

baking powder
Toppings
1

tsp

extra virgin olive oil

1

tsp

sesame seeds
Instructions
Preheat your oven to 375°F/190°C. In a small bowl mix together your egg and apple cider vinegar. Set aside until ready to use.

Add your flax seen to a grinder or blender, coarsely grind. Pour the flax seed in a microwave safe bowl. Add the almond flour and shredded mozzarella cheese to the bowl and mix. Then add your cream cheese to the bowl. There is no need to mix the cream cheese in just yet.

Place your bowl with the cheese in the microwave. Melt your cheese for 1 minute, remove the bowl and mix with a silicone spatula. If your cheese is not completely melted yet microwave for 30 more seconds until your cheese is completely melted.

While your mozzarella dough is still hot add your baking powder. Mix and fold together. Add the egg/vinegar mixture to your dough. Fold in with your silicone spatula.

Roll your dough into a ball and cut into 4 equal sections. Roll each section into a ball and then flatten the top and bottom of the ball to shape into a hamburger bun.

Place on a baking sheet lined with baking paper. Brush the olive oil over your buns and sprinkle the tops with sesame seeds. Bake in the oven at 375°F/190°C for 12-15 minutes. Your burger buns will be done when the tops are golden brown and the dough is cooked in the centre.

Remove the buns from the oven and let them cool on a wire rack or towel for 5 minutes before slicing and serving.
Notes
It is important that you remove the buns from the baking pan as they cool otherwise the buns will continue to bake on the hot pan and the bottoms may burn.
Nutrition
Serving:
1
hamburger bun
Calories:
394
kcal
Carbohydrates:
10
g
Protein:
20.1
g
Fat:
32.1
g
Sodium:
368.3
mg
Potassium:
260.7
mg
Fiber:
5.5
g
Sugar:
1.8
g
Vitamin A:
508.2
IU
Vitamin C:
0.1
mg
Calcium:
398.7
mg
Iron:
2.1
mg
Get our FREE guide to finally fix your metabolism!
Losing weight & getting healthy is never easy, but lately you might feel like it's suddenly become impossible.
Our Flip the Switch guide will help you clearly understand what's been going on, as well as exactly what you can do to get your metabolism working again so that you can look and feel your best—it's easier and more simple than you think!