Baked smoked salmon roulade recipe with cream cheese and dill, is the perfect family meal or shared dish to bring to a summer BBQ.
It's light, fluffy, and delicious. And at only 2.4g net carbs per slice, you can enjoy a second helping (or third) and still stay on track with your low-carb diet or keto diet.
This salmon roll was inspired by my smoked salmon quiche and my slow-cooker poached salmon. I have other salmon dishes, but I wanted a show-stopper salmon recipe that you could take to parties and family gatherings.
It pairs well with a leafy green salad with extra virgin olive oil poured liberally all over, or baked cheesy asparagus.
Are you ready to create the ultimate 12-month blueprint for reaching your health & weight loss goals this coming year?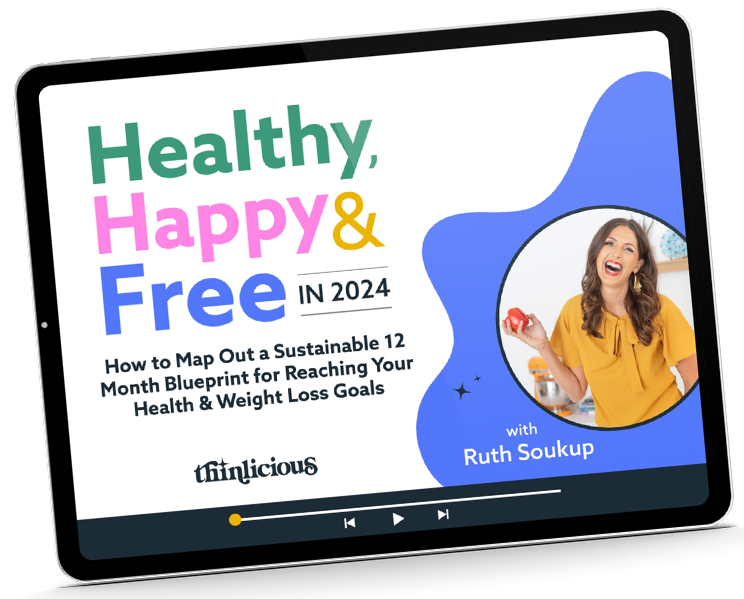 Our free on-demand video training will walk you through how to make 2024 THE year you set health goals…and keep them.
Ingredients & substitutions
Roulade
The roulade only requires eggs with the addition of seasoning and herbs. It is a simple recipe that is soft and fluffy and incredibly versatile.
Eggs – only use whole fresh eggs, not from a carton.
Dill – you may use fresh dill or dried dill.
Salt – I like to use iodised sea salt or pink Himalayan salt.
Filling
The roulade deserves to be filled with a delicious mixture of cream cheese and smoked salmon slices.
Cream cheese – I use full fat cream cheese. If you choose to use another variety, always check the nutrition label for the grams of carbs. Lite or low fat versions are usually higher in carbs.
Smoked salmon – try to buy fresh smoked salmon and avoid the canned salmon if you can. There is a huge difference in taste and texture. You can also use a cooked salmon fillet, crumbled and added to the filling.
Lemon juice – fresh lemon juice is best for this recipe.
Dill – you may use fresh dill or dried dill.
Capers – optional but they add a wonderful zest zing to the roulade stuffing.
Seasoning – you probably won't need much salt or black pepper as the capers as a salty punch already.
Instructions
1: First, you need to make the egg roulade. Separate the whole fresh eggs and place the egg whites into the bowl of your food processor. Whip until soft peaks form.
In a small mixing bowl, mix the egg yolks, seasoning, and fresh dill. Fold the yolk mixture gently into the whipped egg whites.
2: Pour into a prepared baking dish that has been oiled or lined with parchment paper. Alternatively, pour onto a sheet pan (or swiss roll tin) lined with baking parchment.
Hint: Bake only until golden. You want the roulade to remain soft and easy to roll on your work surface. Not crispy and brittle.
3: In a small bowl, mix the cream cheese, fresh lemon juice, dill, salt and pepper, capers, and smoked salmon. Spread gently with a rubber spatula or back of a large spoon, all over the roulade.
Using the baking parchment (or a tea towel, piece of plastic wrap, cling film, baking paper, etc), roll the roulade with the salmon filling, into a long tube shape.
4: Cut large slices with a sharp knife on a cutting board and serve with a lemon wedge or slices of lemon.
Variations
Spinach and salmon roulade – add sliced, cooked and drained spinach to the egg roulade mixture beofe baking.
Kid friendly – use canned salmon or canned tuna if these are the seafood they prefer. This wil please even the pickiest eater at family dinner time. If they really need to, serve with sugar-free BBQ sauce.
Cream cheese – you may swap half of the cream cheese for thickend sour cream, cottage cheese, ricotta cheese or cream fraiche. Thsi makes it easier to spread over the cooked base.
Salmon roulade with spinach and feta – this is a classice and traditional combination, but actually spinach and feta blend beautifully with smoked salmon or salmon steaks. Add cubed pieces of feta to the cream cheese filling. Lay baby spinach leaves across the filling before rolling up.
Serving
Salmon is tender and subtle, so it is best served with a simple side dish or a simple sauce. It is also an elegant dish so don't overdo things with a thousand side dishes. One side dish is enough. Especially for a dinner party.
If you are serving this warm in the winter months, baked cheesy asparagus would turn this delicate meal into a more sturdy winter meal.
Best keto side dishes to serve with salmon
There are so many delicious low-carb and keto side dishes to serve with salmon. Salmon is a versatile family-friendly dinner and so you need to choose quick and easy healthy side dishes the whole family will love.
Here are some of my favorite keto side dishes to serve with salmon.
A crunchy and spicy coleslaw may seem strange but is the perfect side dish for salmon. The crunch is in contrast to the sift and fluffy roulade, and the spicy zesty lime salad dressing doesn't overpower the smoked salmon.
Best sauces for salmon
The most beautiful and delicate sauce that pairs well with salmon is pesto. Its gentle garlic flavor is strong enough to enjoy but won't overtake the subtle salmon flavors.
Dill mayonnaise is another classic sauce perfect for salmon. It's quick and easy to make and goes with side salads too.
Salmon with creamy garlic butter sauce is so delicious! It's the perfect one pan dish.
Storage
The filled roulade is best eaten fresh. Until it is time to serve however it must be stored in an airtight container in the fridge. You can store it this way for up to 3 days.
The unfilled roulade must be cooled then can be used immediately or it can be stored for up to 24 hours, in an airtight container in the fridge.
It is a personal preference as to whether you eat this at room temperature or serve it chilled.
These ingredients don't stand up well to freezing.
The empty roulade or when filled with the salmon cream cheese filling cannot be frozen. Their texture is so light, the air bubbles will collapse, the cream cheese will split and the roulade will be chewy once defrosted.
Top tip
Always make sure you cool the roulade completely BEFORE adding the salmon cheese dill and lemon filling. If you are in a hurry, remove it from the baking dish and place it on a wire cooling rack until completely cold.
More egg recipes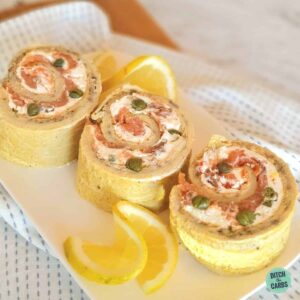 Smoked Salmon and Cream Cheese Roulade (Keto Friendly)
Utterly delicious high protein keto smoked salmon and cream cheese roulade. Serve cold with a large salad at holiday barbecues or sliced as a small appetizer.
Print
Pin
Rate
Want to lose weight and get healthy for life—without dieting, drugs, or making yourself miserable?
We can help! Tell me how!
Equipment
Parchment Paper

Baking sheets – non stick

Electric Hand Mixer
Ingredients
Egg Roulade
6

egg

separated

1

tbsp

fresh dill

finely chopped

¼

tsp

salt

more or less to your taste
Smoked Salmon Filling
8

oz

cream cheese

full fat

1

tsp

lemon juice

1

tbsp

fresh dill

finely chopped

+/- salt and pepper

more or less to your taste

3 ½

oz

smoked salmon

2

tbsp

capers
Instructions
Egg Roulade
Whisk the egg whites until firm peaks form.

In a small jug, mix the egg yolks with chopped dill, salt and pepper.

Gently fold the egg yolks into the egg whites.

Pour into a 20cmx30cm/ 8-inch x 12-inch baking tray lined with baking parchemnt.

Bake at 180F/350F for 10 minutes until cooked and almost golden.
Smoked Salmon Filling
Mix the cream cheese, lemon juice, dill, salt and pepper with a fork until smooth.

Gently spread over the cooled egg roulade.

Evenly place the capers and smoked salmon over the cream cheese.

Using the parchment paper, slowly and tightly roll up the egg roulade with smoked salmon and cream cheese filling. Leave rolled, seam side down and refrigerate for 1 hour to set.

Slice and serve cold with a salad or coleslaw.
Notes
You may add sour cream to the cream cheese mixture if it becomes too difficult to spread over the roulade.
Serve with a leafy side salad, coleslaw and some pesto or homemade dill mayonnaise.
Nutrition
Serving:
1
serve ( serves 5)
Calories:
254.9
kcal
Carbohydrates:
2.5
g
Protein:
13
g
Fat:
21.4
g
Sodium:
584.1
mg
Potassium:
173.8
mg
Fiber:
0.1
g
Sugar:
1.7
g
Vitamin A:
928.6
IU
Vitamin C:
0.7
mg
Calcium:
78
mg
Iron:
1.3
mg
Get our FREE guide to finally fix your metabolism!
Losing weight & getting healthy is never easy, but lately you might feel like it's suddenly become impossible.
Our Flip the Switch guide will help you clearly understand what's been going on, as well as exactly what you can do to get your metabolism working again so that you can look and feel your best—it's easier and more simple than you think!