This easy keto tortilla chips recipe only needs 3 ingredients and can be quickly baked in the air fryer or oven.
Dig into your favorite salsa with the easy-to-make keto tortilla chips.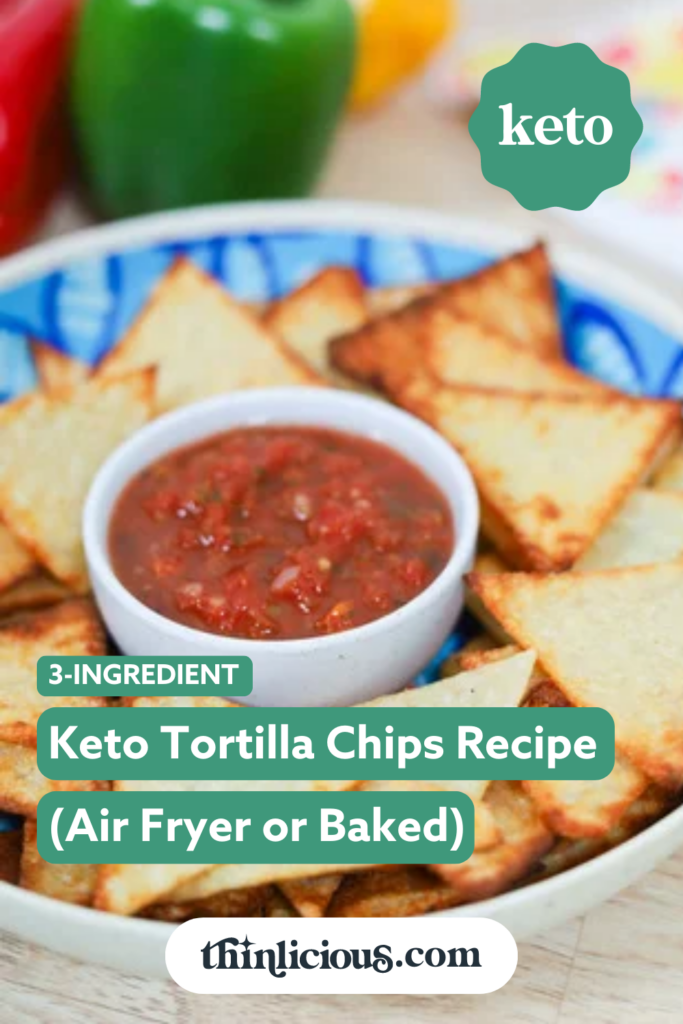 This was inspired by Libby's keto tortillas on this site and is perfect for scooping up some quick keto guacamole or avocado salsa.
Are you ready to create the ultimate 12-month blueprint for reaching your health & weight loss goals this coming year?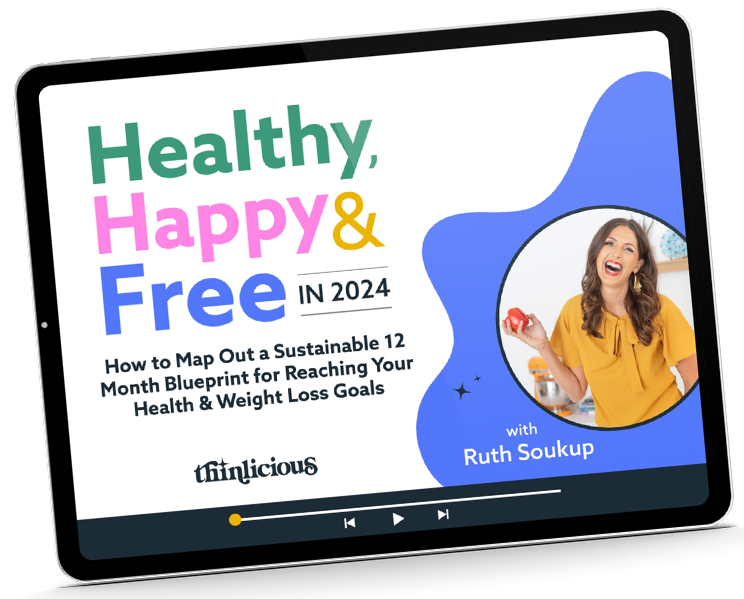 Our free on-demand video training will walk you through how to make 2024 THE year you set health goals…and keep them.
If you love Mexican food, you'll love my low-carb keto Mexican recipe index.
Are tortilla chips keto?
Tortilla chips are usually made by deep frying corn flour or wheat flour tortillas that are cut into triangles. While delicious, regular tortilla chips are not keto-friendly.
However, the good news is that making keto tortilla chips is easy and is a healthy alternative to traditional tortilla chips.
This easy recipe is perfect for game night served with your favorite dips.
Ingredients
You only need 3 simple ingredients to make keto tortilla chips. The entire process is very simple and you can be enjoying tasty homemade tortilla chips in just a few minutes.
shredded mozzarella cheese – always choose low-moisture pre-shredded cheese.
almond flour – almond flour or ground almonds. Almond meal will work but be a coarser texture.
xanthan gum – this is required to make the tortillas bendy.
seasonings – if your cheese has no added salt, you may want to season with sea salt (or any of the 8 flavor variations below).
See the recipe card for exact quantities, full instructions, and nutritional information.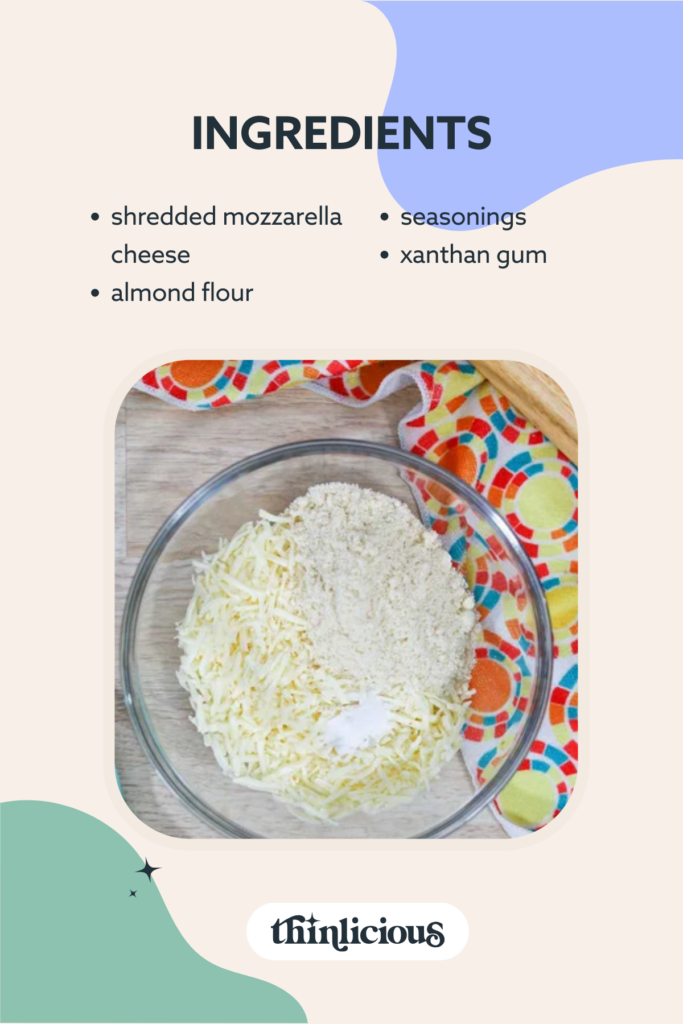 Equipment
Cooking keto chips – Your keto chips can be cooked both in the oven and in an air fryer.
My preferred method is cooking them in the air fryer. I think they turn out beautifully golden brown and crispier that way, but they are delicious either way.
Cutting tortilla triangles – You will also need a rolling pin and parchment paper to roll out the dough. If you don't have a rolling pin you can also use a wine bottle.
Alternatively, you can use a tortilla press and then cut it into triangles with a knife or pizza cutter.
Instructions
These are your step-by-step guide on how you make these gluten-free tortilla chips from scratch. To start you will want to add all your ingredients into a microwave-safe bowl and give it a quick stir.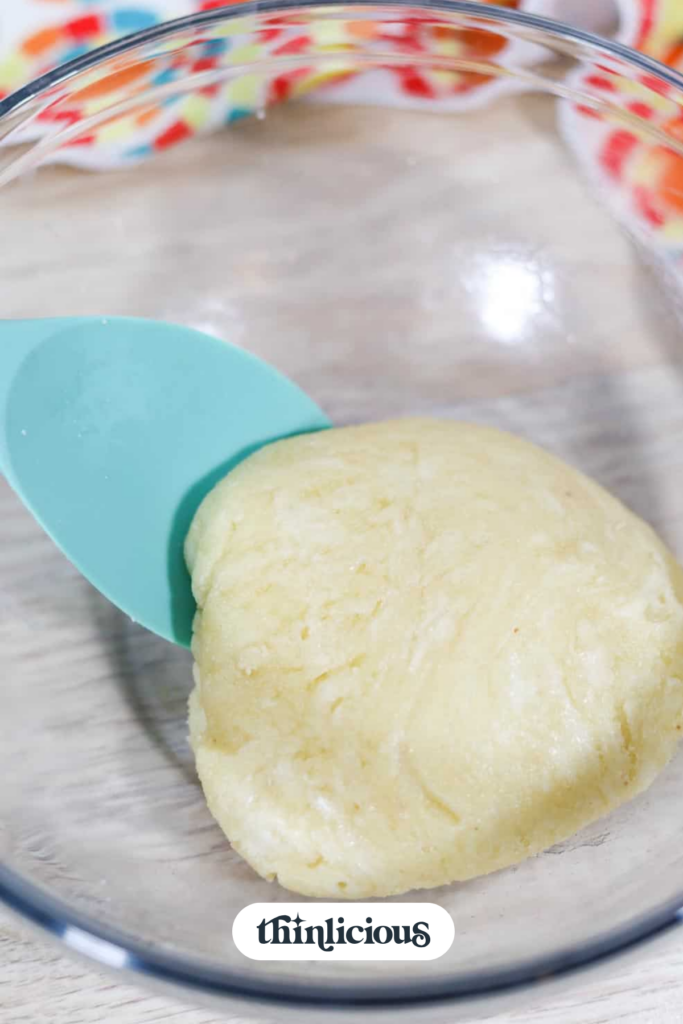 Next, pop your bowl of cheese in the microwave and cook on HIGH for 1 minute. Stir the cheese dough and microwave it again for another minute. Fold the dough while it is hot to make a dough ball.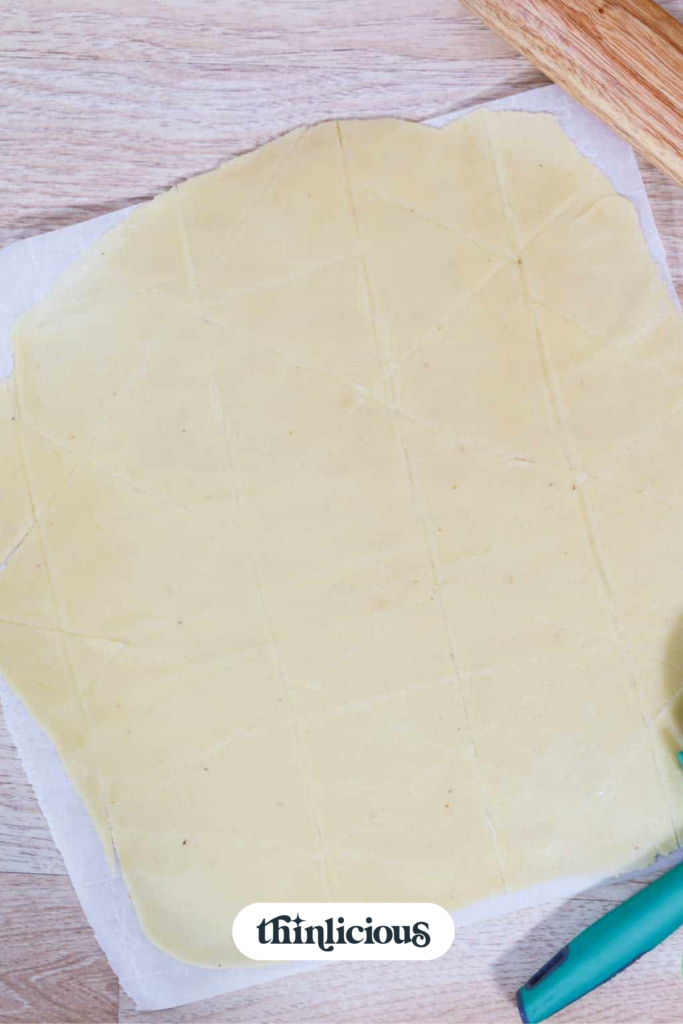 While the dough ball is still hot roll the dough out between two pieces of baking parchment paper until it is at least 1/8th cm thick. Remove the top layer of parchment paper. Use a knife or pizza cutter to cut the dough into triangles.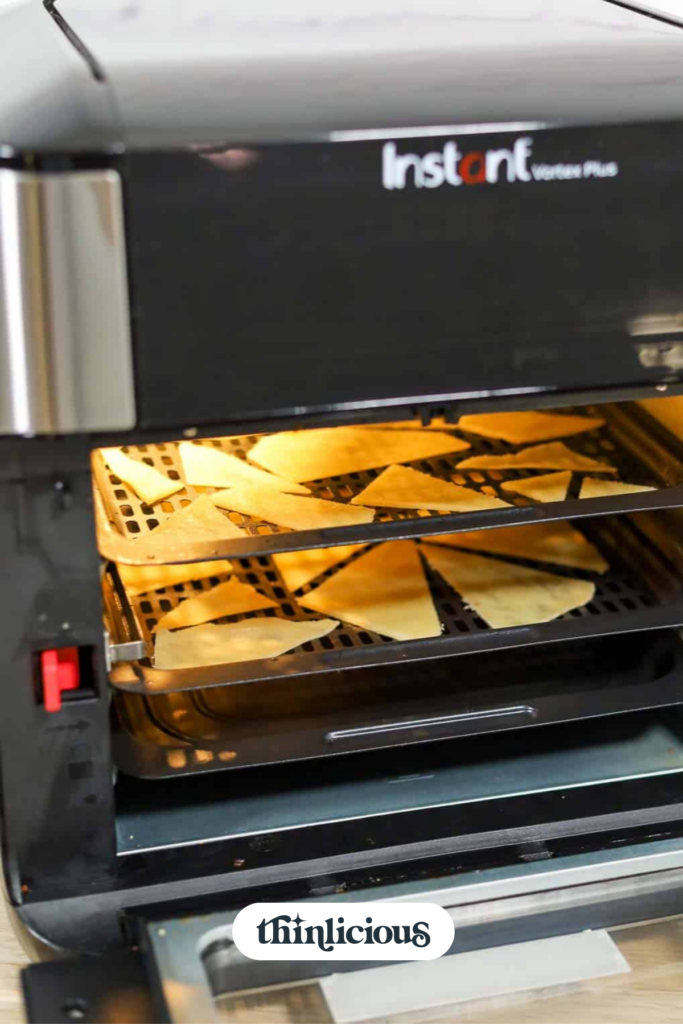 To cook the chips in an air fryer preheat it to 200C/400F. Place the chips in a single layer in the basket or on the trays. Cook for 1-2 minutes on each side.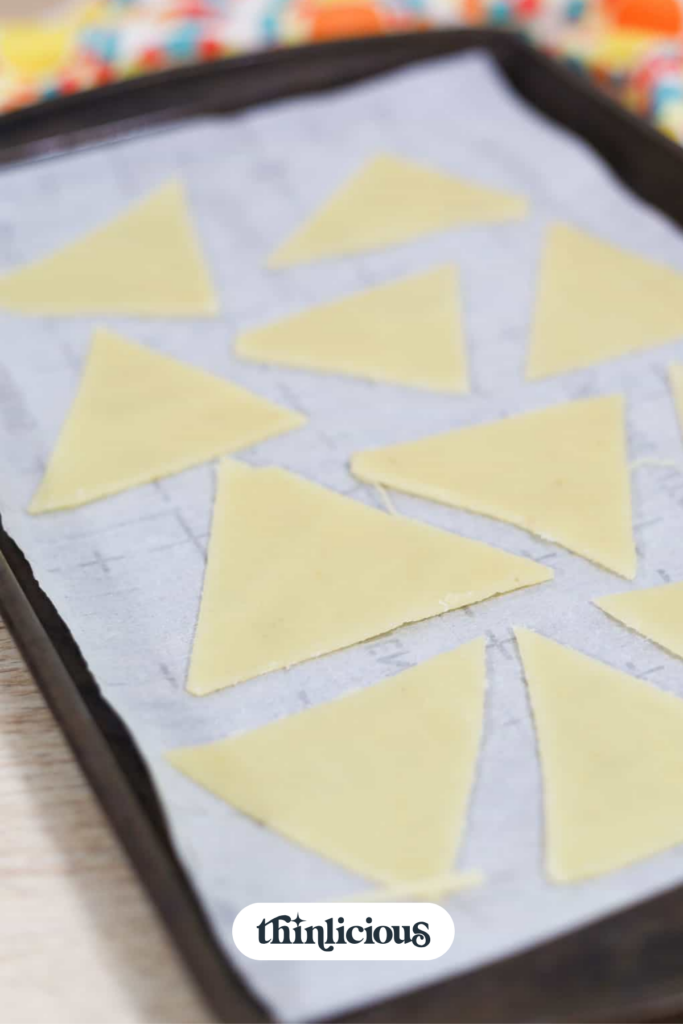 If baking your chips place them on a parchment-lined baking sheet, ensuring they aren't touching. Bake the chips in the oven at 220C/425F for 3-5 minutes on each side.
You may have to cook your tortilla chips in multiple batches unless you are using more than one cookie sheet in the oven. But the chips cook quickly.
Hint: The thinner the dough is rolled out the crispier your chips will be. The chips will also crisp up more as they cool.
Substitutions
Need to make a substitution to meet your or a friend's dietary needs? Check out the list below for recommended substitutions for each ingredient.
Almond flour – a different nut or seed flour can be used in place of almond flour using the same measurements. Coconut flour cannot be substituted for almond flour since the absorbancy is too different between the flours.
Mozzarella cheese – these chips are also fantastic when made with cheddar cheese. However, these chips will have a stronger cheese taste.
Xanthan gum – psyllium husk can be used in place of xanthan gum.
I haven't made these chips using vegan shredded cheese so I am not sure if this technique for making tortilla chips would work. However, if you try vegan cheese be sure to leave a comment and let us know how it turned out.
8 Variations
Depending on the type of dip you are serving you might want to add some different flavors to your tortilla chips. See the list below for some tasty flavor variations.
Lime tortilla chips -squeeze some fresh lime juice over the chips before baking to give them a hint of lime.
Taco seasoning tortilla chips – add 1 tablespoon of taco seasoning to the almond flour cheese dough, then sprinkle a little additional taco seasoning over the keto chips after cooking.
Parmesan tortilla chips – replace some of the mozzarella cheese with shredded parmesan cheese to give it that crispy parmesan cheese flavor.
Seed tortilla chips – mix in some whole chia and/or flax seeds to make your chips seeded and add more fiber.
Garlic tortilla chips – add 1 teaspoon of garlic powder
Onion tortilla chips – add 1 tablespoon of dried onion flakes or onion powder
Chili tortilla chips – add 1/2-1 teaspoon of chili powder
Paprika tortilla chips – add 1 -2 teaspoons of smoked paprika to the cheese dough, then sprinkle a little extra over the baked golden brown low-carb chips for an amazing flavor.
See these Healthy Baked Zucchini Chips on my website if you are looking for a potato chip alternative!
Storage
Leftover low-carb tortilla chips should be stored in an airtight container in the refrigerator. Always allow them to cool and be at room temperature before storing.
To reheat the crunchy keto chips pop them back in the oven or air fryer for a minute or so until they are warm.
Top tip
The ball of dough is extremely easy to roll out while it is still hot. To ensure you are able to move quickly after taking the dough out of the microwave I recommend having your piece of parchment paper already cut and ready to go before microwaving the dough.
Recipe FAQ
Can I eat tortilla chips on keto?
Tortilla chips are usually avoided on the keto diet because they are made with corn tortillas or flour tortillas.
How long do tortilla chips last?
These keto tortilla chips will last in the refrigerator for up to a week. The longer they sit in the refrigerator the softer they will get. To make sure they are crispy chips, always reheat them in the oven, air fryer, or skillet.
Are tortilla chips plant-based?
Traditional tortilla chips are vegan and plant-based. However, these low-carb tortilla chips are not. They are made with cheese instead of flour or corn so they are not plant-based.
What can replace chips on keto?
This keto tortilla chip recipe is quick and easy to make, and perfect for your keto diet, low-carb diet, or gluten-free diet.
How do I stop the dough from sticking to my rolling pin?
Place dough between two sheets of parchment paper. Roll using a rolling pin, coffee mug, or wine bottle.
How can I fix dough that is too wet?
You need to add more dry ingredients so add 1 tablespoon of almond flour at a time until the whole batch is the right consistency. If your dough ball is too wet, you won't get crunchy tortilla chips.
How do I fix dough that is too dry?
The oil in the cheese should keep the dough soft and pliable. If your dough has begun to set, pop it back into the microwave for a few seconds to melt the cheese again.
Can I use coconut flour instead of almond flour?
These low-carb chips have been developed using almond flour only. Coconut flour is completely different and requires an egg and extra moisture so you cannot directly swap almond flour for coconut flour.

If you have a nut allergy, you may want to make these keto nacho chips instead that have a coconut flour conversion in the recipe notes.
What is a keto alternative to potato chips?
The best salty crunchy keto snacks are always pork rinds. They are high-protein and have zero carbs. You can buy pork rinds or make your own homemade pork rinds.
Is this recipe the same as fat head dough?
No. The fat head dough also has an egg and cream cheese. These homemade keto chips only have 3 ingredients and are egg free.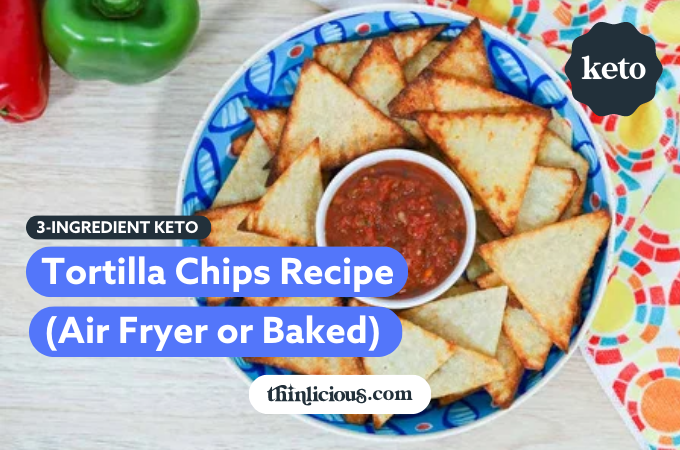 More keto Mexican recipes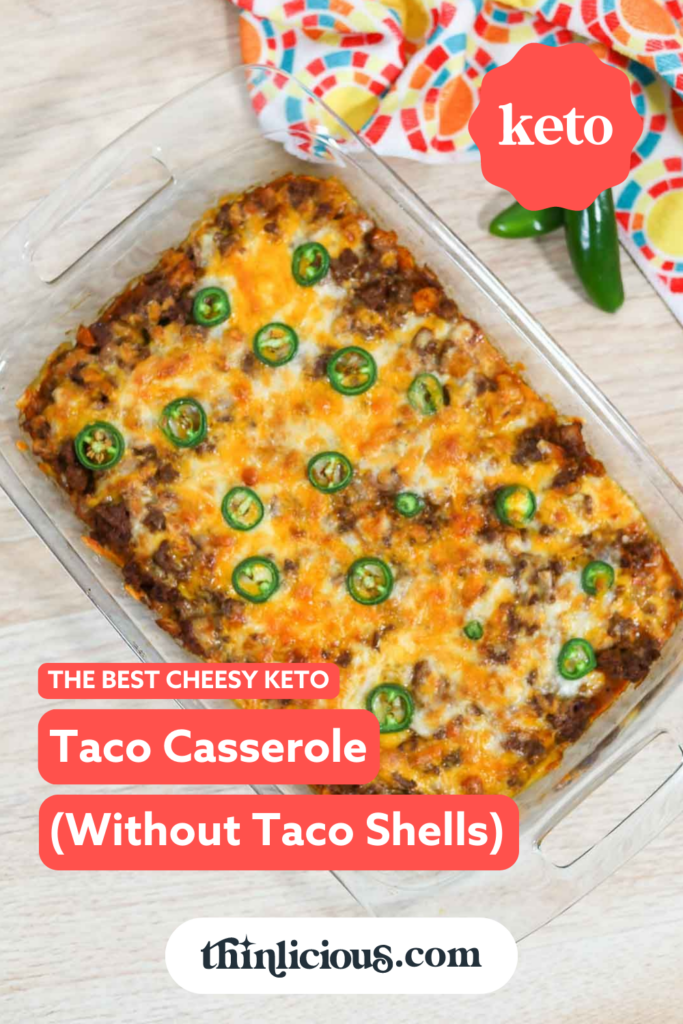 Keto recipes for Mexican food are so easy to make and the whole family will love them. Especially keto nachos.
A keto taco casserole is a quick family dinner that can be made ahead of time and is freezer-friendly. Keto taco shells taste great filled with keto ground beef chili and avocado salsa.
Other recipes that taste good (and have low net carbs) are keto sheet pan fajitas, keto Mexican chicken burgers, and keto taco salad.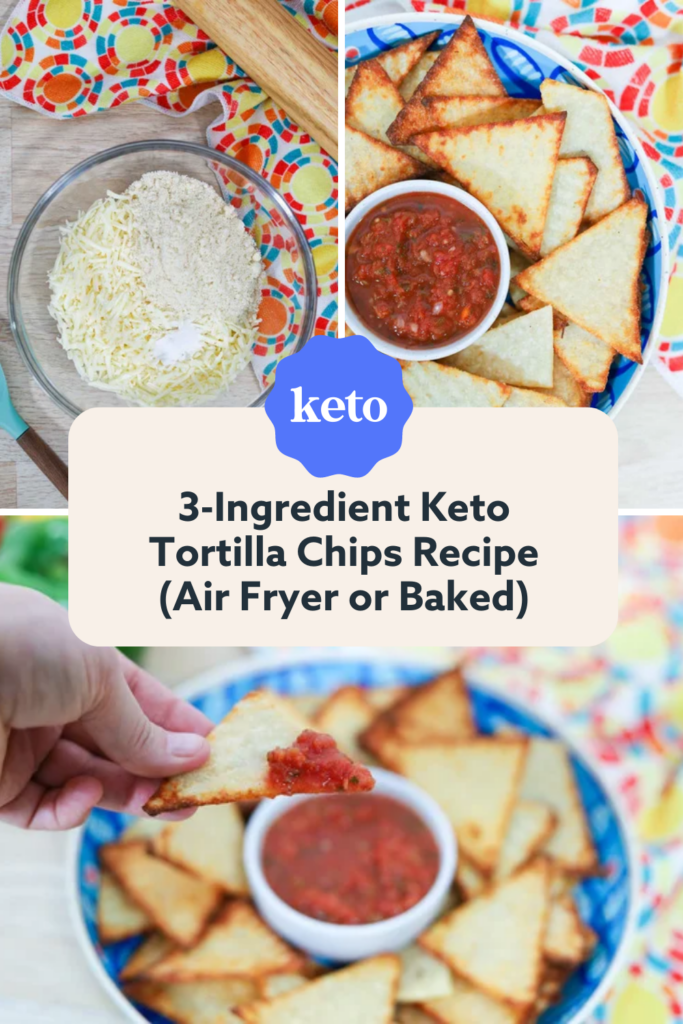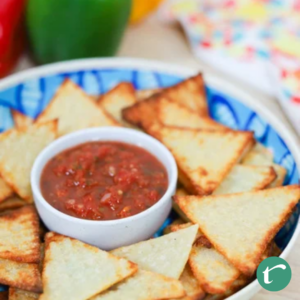 3- Ingredient Keto Tortilla Chips (air fryer or baked)
This easy keto tortilla chips recipe only needs 3 ingredients and can be quickly baked in the air fryer or oven. With 8 delicious flavor variations the whole family will love.
Print
Pin
Rate
Want to lose weight and get healthy for life—without dieting, drugs, or making yourself miserable?
We can help! Tell me how!
Equipment
Microwave

Mixing Bowls

Parchment Paper

Air Fryer
Ingredients
2

cups

pre-shredded/grated mozzarella

low-moisture

1

cup

almond meal/flour

1

tsp

xanthan gum
Instructions
Mix all your ingredients together in a microwave-safe bowl so that the cheese is coated with almond flour and xanthan gum.

Place your bowl of cheese in the microwave on HIGH for 1 minute. Knead the cheese with a spoon to mix the ingredients until it forms a ball of dough. Then microwave your dough for 30 more seconds. Knead the dough with the back of a spoon again.

Place the mozzarella dough between two long sheets of parchment paper. Roll the dough out until it is about 1/8 cm thick. Remove the top layer of parchment paper and cut your dough into chip-sized triangles using a pizza cutter.

Place your keto tortilla chips in a single flat layer on a cookie sheet, or in your air fryer.

Bake in the oven at 220C/425F for 3-5 minutes on each side.

Air Fry at 180C/400F for 1-2 minutes on each side.

Serve warm with your favorite salsa.
Nutrition
Serving:
1
serve ( serves 4)
Calories:
347.6
kcal
Carbohydrates:
9.5
g
Protein:
20.4
g
Fat:
26.8
g
Sodium:
439.3
mg
Potassium:
71.7
mg
Fiber:
3.7
g
Sugar:
2.1
g
Vitamin A:
361.2
IU
Calcium:
475.9
mg
Iron:
1.2
mg
Get our FREE guide to finally fix your metabolism!
Losing weight & getting healthy is never easy, but lately you might feel like it's suddenly become impossible.
Our Flip the Switch guide will help you clearly understand what's been going on, as well as exactly what you can do to get your metabolism working again so that you can look and feel your best—it's easier and more simple than you think!