If you love Mexican food then you will love Fat Head keto nachos. Made with a few simple ingredients and there are so many ways you can serve them.
I will show you exactly how to make your own homemade keto tortilla chips AND the best keto meat sauce too.
Top it all off with melted cheese, guacamole, and sour cream. Are you drooling yet?
If you have been missing nachos because you want to avoid the high carbs, corn, and unhealthy oils that are in regular nachos, then these will be an absolute treat for you.
Ready to lose weight and get healthy for life without dieting, drugs or making yourself miserable?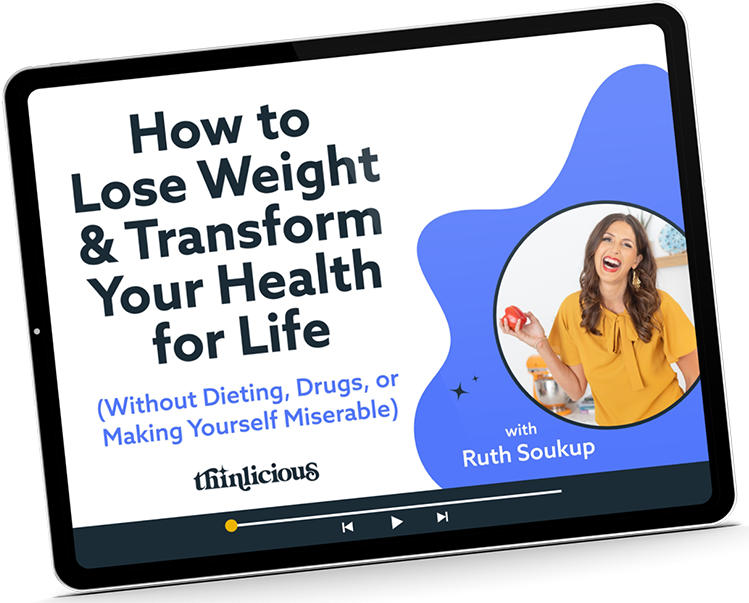 Our free on demand video training will help you understand why it's been so hard and what do to about it.
What is Fat Head dough?
Fat Head dough (also known as mozzarella dough) is a simple keto dough made with 4 ingredients and can be used in a variety of sweet and savoury recipes.
It is low in carbs and naturally gluten-free and can be made with almond flour or coconut flour.
If you have never made mozzarella dough before, you may want to see the supreme guide to making fat head dough even without a microwave. PLUS 16 keto recipes to use it.
Full credit goes to Tom Naughton (comedian and former health writer), and his Fat Head movie. Tom is the original creator of the infamous Fat Head pizza.
Ingredients
All the ingredients, quantities, and full instructions are in the recipe card below.
How to make keto tortillas
To make the Fat Head tortillas, you simply make the Fat Head dough, but instead of adding herbs such as rosemary or other pizza flavours, I added 1 teaspoon of dried coriander/cilantro, 1 teaspoon of cumin powder, and a good pinch of chili to the Fat Head pastry mix.
Roll out mozzarella dough between two sheets of baking parchment/paper as thin as you can. Bake it until one side is golden, then flip it over and bake the other side until golden.
Remove from the oven and with kitchen scissors or a sharp knife, cut the Fat Head pastry into triangle tortilla shapes, then pop them back on the baking tray one last time to really crisp up.
TOP TIP – keep a watchful eye on the tortilla chips as they cook. It will only take a minute or two before they are ready. Make sure they don't burn. It is better to eat a slightly soft tortilla chip than a burnt one.
What's the difference between nachos and tortillas?
Tortillas are chips and a popular snack by themselves. When they are covered with a meat sauce, sour cream, guacamole, and cheese, they are known as nachos.
The best keto nacho toppings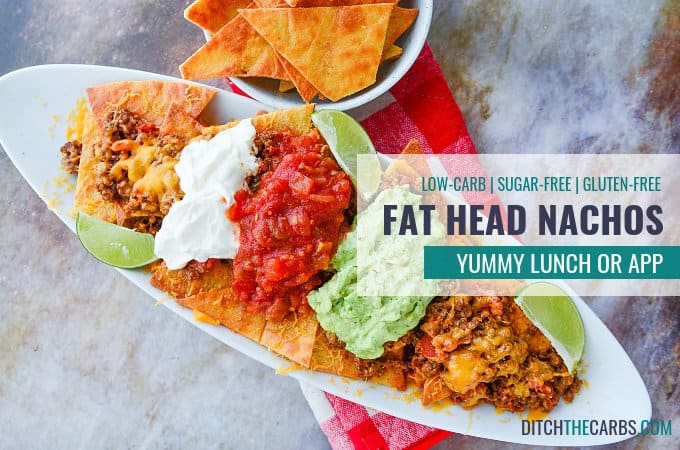 This really is when you can go crazy and add as many variations to the nacho toppings that will fit within your daily carb limit.
The most popular nacho toppings are meat sauce, avocado, salsa, sour cream, and melted cheese. The toppings are really what brings Fat Head nachos to life and adds so much color, texture, and flavor.
Recipe FAQ
How do I make it less spicy?
If you want your meat sauce or your tortilla chips to be mild, just add less chili than suggested in the recipe.
How do I make it spicier?
You can add more chili powder, sliced jalapenos, red hot chili sauce (with no added sugars), and even some chipotle Tobasco too.
How do I cool a spicy meal down?
If you have accidentally added too much chili, serve your meal with extra sour cream, extra cheese, and extra mild guacamole. This will help to dilute the spiciness of your meal.
Why are my tortillas soft?
They need to be cooked on both sides. Make sure they are spaced out evenly on your baking tray or cookie sheet when baking so they all cook to become crispy and golden brown.
What's the best way to cut an avocado?
I split my avocados down the belly, not down the center. The avocado stone will pop straight out and scooping out the avocado flesh is really easy. I have an avocado tree in my backyard and harvest at least 50 avocados each year, so I know this technique is the best (and easiest).
More low-carb Mexican recipes
Get our FREE guide to finally fix your metabolism!
Losing weight & getting healthy is never easy, but lately you might feel like it's suddenly become impossible.
Our Flip the Switch guide will help you clearly understand what's been going on, as well as exactly what you can do to get your metabolism working again so that you can look and feel your best—it's easier and more simple than you think!