These Low-Carb Mini Pizza Chaffles are a favorite in our house. They are easy to make and everyone loves to make their own.
This is the perfect recipe for a quick healthy weekend lunch. Almost ZERO carbs AND a quick 5-minute recipe.
I will teach you everything you need to know to become a chaffle champion!
[convertkit form=2151310]
Ready to lose weight and get healthy for life without dieting, drugs or making yourself miserable?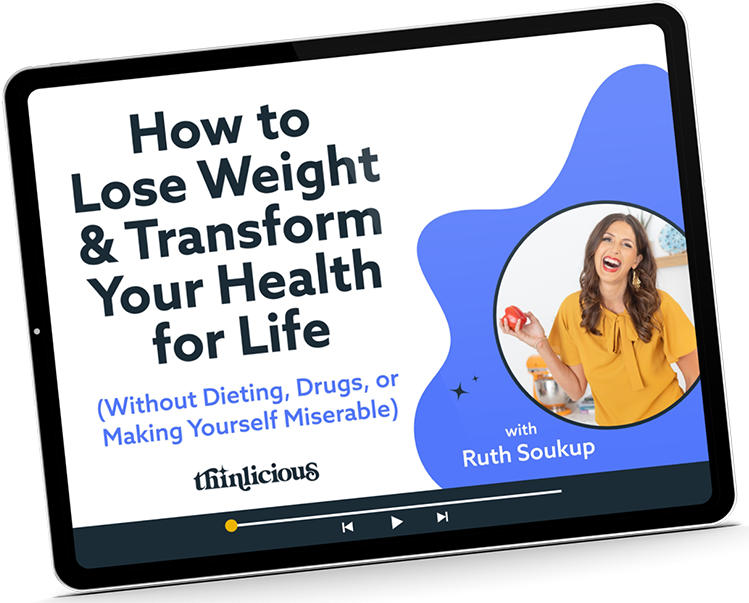 Our free on demand video training will help you understand why it's been so hard and what do to about it.
Chaffles are the most versatile and easy to make keto/low-carb/gluten-free bread substitute, for sandwiches, as a pizza base, and even for desserts and sweet treats.
All the topping ideas are in the cookbook I am giving away this week.
If you LOVE these 4 easy chaffle recipes, today I am giving away 23 Sweet & Savoury Recipes in my Chaffle Handbook as a bonus when you join my FREE email community.
[convertkit form=2151310]
What is a chaffle

?

All chaffles start with simply cheese and an egg, and then additional ingredients are added to really make it pop. In this case, we are making mini personal pizzas that can be customized however you want.

Chaffles are a fun treat to make that are versatile can be used for just about anything (sweet OR savoury options galore).

I have become obsessed with them and are excited to share this quick and simple recipe that your family will love.

Chaffles are a brilliant invention because they are a sugar-free, gluten-free, low-carb, fluffy waffle that is incredibly versatile because it doesn't taste like cheese.

CHAFFLE = Cheese + Waffle
The basic recipe
The base recipe is simply 1 egg PLUS 1/3 cup pre-shredded mozzarella.
Each recipe will make TWO min chaffles or ONE large chaffle.
To see the most popular flavours and varieties of chaffles, take a look at this "how to cook chaffles" post.
[convertkit form=2151310]
Which waffle maker do you need?
I am always trying to find ways to help you save money, well luckily you don't need one of those expensive fancy-dancy waffle makers.
A small mini waffle maker is a perfect size that will allow you to make 2 mini-chaffles.
A larger waffle maker will make one large chaffle per recipe. These are my favourites
Do chaffles taste cheesy or eggy?
For pizza chaffles, we want them to taste cheesy, but if you don't want your chaffles to taste eggy you only need to do two things.
use mild-strong cheese
mix your chaffles well
If in doubt, always add extra flavours or herbs and spices to guarantee that pizza taste.
It's the toppings that will bring these keto chaffles to another level!
[convertkit form=2151310]
Making Low-Carb Mini Pizza Chaffles
To make the batter for the chaffles you will want to mix your pre-shredded mozzarella cheese with an egg in a small bowl or mug. Then add some seasoning and herbs to flavor the dough.
I added garlic powder and dried Italian seasoning to give the batter that pizza flavor. Then I added a little salt and pepper.
I like to add the seasoning to the batter instead of the sauce so that I do not have to dirty any additional dishes or simmer a marinara. You will have enough batter to make two mini-chaffles or 1 large pizza chaffle.
[convertkit form=2151310]
How to cook chaffles
You will need a mini waffle maker to cook the chaffles. You can use a regular-sized waffle maker, but you will only be able to make one chaffle instead of two.
Preheat the waffle maker and then spray the top and bottom with a little olive oil. If you do not have spray olive oil place a little oil on a paper towel or coffee filter and grease the waffle maker BEFORE you turn it on.
Next, pour half the batter into the waffle maker. You may need to use a spoon to spread the batter out a bit. Then close the waffle maker and let the chaffle cook for a few minutes before removing the chaffle and doing it again with the remaining batter.
Toppings
Your personal pizza toppings can be as simple or complicated as you want them. For quick and easy toppings you can use a spoonful or two of tomato paste, a little bit more shredded cheese, and some mini pepperoni slices.
If you really want to get creative can replace the tomato sauce with homemade nut-free pesto. Then sprinkle some mozzarella cheese and top with slices of fresh tomato.
Once the toppings are added you will want to bake or fry the mini pizzas for a few minutes to melt any cheese you sprinkled on top.
More Low-Carb Dinner Recipes …
[convertkit form=2151310]
Now that your mini pizzas are cooked they are ready to serve. The whole process takes only a few minutes and you have two mini pizzas.
If you are making the mini keto pizzas for multiple people the process might take a bit longer, but have fun with it and your pizza your own. If you make pizza chaffles please let us know what pizza toppings are your favorite.
Read more: Keto Cheeseburger Pizza + VIDEO
Freezing
Any chaffle recipe is perfect for making extras to keep in the freezer. Pizza chaffles especially are a SUPERB emergency healthy kid's lunch box filler. Here's how to freeze chaffles:
Allow the chaffles to cool completely
Place layers of low-carb chaffles (with sheets of baking parchment between them) in an airtight container.
Freeze for up to 3 months.
Defrost by toasting, frying or microwaving for 10 seconds. Enjoy.
So yes, you can freeze chaffles, but remember, you can make 2 delicious mini low-carb chocolate chip vanilla chaffles in less than 5 minutes.
Recipe tips
The longer you cook chaffles, the crispier they become
Always mix the egg and cheese well before pouring into your waffle maker
Make sure you spread the chaffle mixture out evenly into your waffle maker
If you don't have a waffle maker, you can use a frying pan
You may substitute any mild cheese you wish to in place of pre-shredded mozzarella.
Always check your pre-shredded mozzarella for additives such as potato or rice starch which is often added to prevent the shredded cheese from clumping. Find a good brand without these additional unnecessary carbs.
More chaffle recipes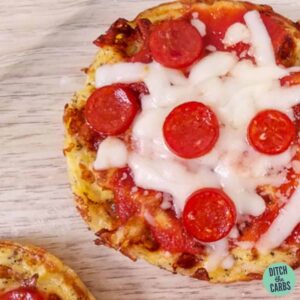 Easy Low-Carb Mini Pizza Chaffles Recipe
Low-carb mini pizza chaffles are the perfect weekend lunch your whole family will love. Make them personalized by adding your own toppings.
Print
Pin
Rate
Servings:
1
(2 mini or 1 large)
Want to lose weight and get healthy for life—without dieting, drugs, or making yourself miserable?
We can help! Tell me how!
Equipment
Mini Waffle Maker

Large waffle maker
Ingredients
1

eggs – medium

1/2

cup

pre-shredded/grated mozzarella

1/4

tsp

garlic powder

1/2

tsp

Italian seasoning

salt and pepper

toppings (tomato sauce, cheese, pepperoni, etc)
Instructions
Combine ALL the ingredients in a bowl. Mix thoroughly.

Preheat your waffle maker. When it is hot, spray with olive oil and pour half the batter into the mini-waffle maker, or all the batter into a large waffle maker. Cook each chaffle for 2-4 minutes.

Add your toppings and either bake or fry the mini pizza until the cheese topping is melted. Serve and enjoy!
Nutrition
Serving:
1
serve
Calories:
208.9
kcal
Carbohydrates:
2.4
g
Protein:
19.4
g
Fat:
13.2
g
Sodium:
412.7
mg
Potassium:
117.1
mg
Fiber:
0.1
g
Sugar:
0.8
g
Vitamin A:
509.4
IU
Vitamin C:
0.1
mg
Calcium:
467.1
mg
Iron:
0.9
mg
More recipes you may like: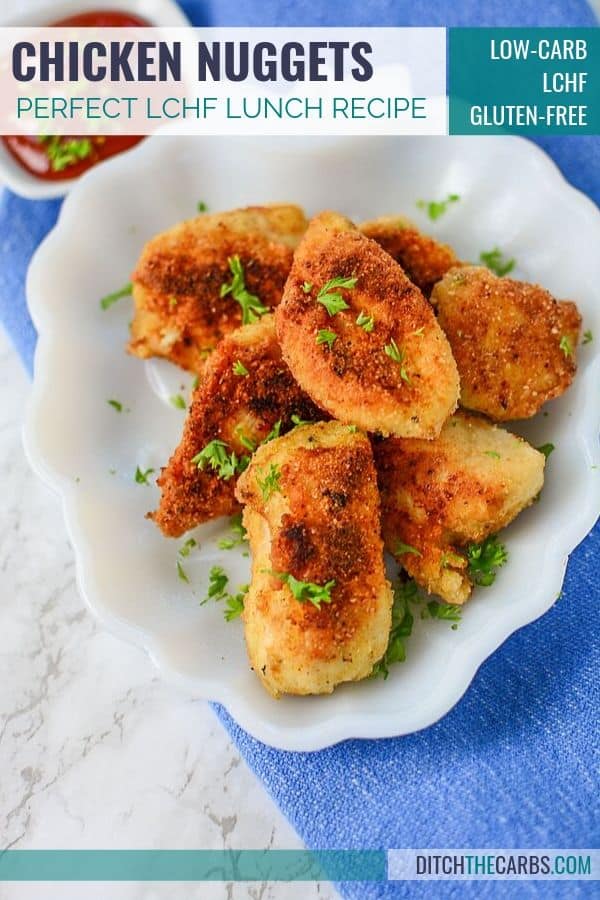 Get our FREE guide to finally fix your metabolism!
Losing weight & getting healthy is never easy, but lately you might feel like it's suddenly become impossible.
Our Flip the Switch guide will help you clearly understand what's been going on, as well as exactly what you can do to get your metabolism working again so that you can look and feel your best—it's easier and more simple than you think!