The BEST sugar-free flavored water recipes. Make a big pitcher to serve at your next BBQ and your family will be hooked.
Infused water with frozen fruit is so refreshing. Not only are these easy recipes, but they help you and your entire family enjoy drinking more water and staying healthy and hydrated.
If you want to stop your addiction to sugary drinks, and want to drink more water, you need some delicious flavored water recipes.
These infused waters are refreshing and you can easily adjust the sweetness.
Are you ready to create the ultimate 12-month blueprint for reaching your health & weight loss goals this coming year?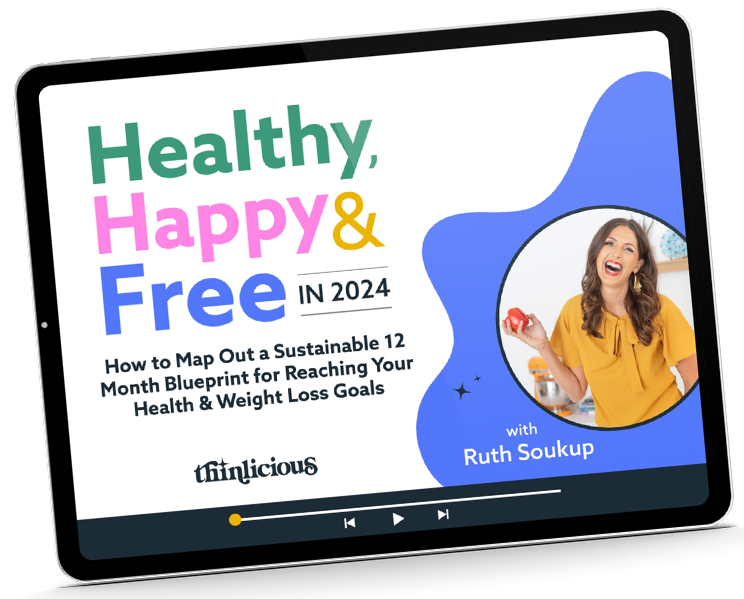 Our free on-demand video training will walk you through how to make 2024 THE year you set health goals…and keep them.
Is flavored water keto?
Yes, when you make infused water, you get all the flavor from the frozen fruit (or other ingredients) without much of the carbs.
Simply add water to a variety of fruits, ice cubes, frozen citrus, and even spices to add extra flavor.
Infused waters are fantastic for your health and palate because you can enjoy the taste of different types of juices or teas with little to no calories or carbs.
Flavored water recipes
On a summer's day, it's nice to sit back with a refreshing drink, but sometimes tap water can be…well, boring.
Flavored water makes it easier to drink, especially for children. It is also a great way to get children off fizzy drinks, sugary soda, or fruit juice until they are ready for plain water.
Say goodbye to bottled water and soft drinks. 90% of the cost of bottled water is to pay for packaging, distribution, shipping, marketing, and then recycling.
These simple flavored water ideas turn plain water into beautiful, refreshing, and naturally colorful drinks.
Is sparkling or still water better?
The benefits are exactly the same. Drinking sparkling water is more attractive to those who don't like regular tap water.
Sparkling water can help some people lose weight because the bubbles in the carbonated water can make you feel full and eat less.
You can buy bottled sparkling water or you can make your own with a Sodastream.
Fun sugar-free drinks for children
When you discover how much sugar is in juice, soda drinks, flavored milk, or rehydration drinks, you'll want to find quick and easy flavored waters instead. No sugar, no waste, no recycling, inexpensive and healthy.
After prepping for these flavored waters, you can leave your children with the chopped-up fruit and herbs, then let them create their own bottles of magic sugar-free drinks. Children love to experiment with creative combinations of ingredients.
Once you discover what each child likes, make a large pitcher and add it to your kids' water bottles at school (or even yours at the gym).
Do you know how much sugar is in a juice? (spoiler alert, it's as much as some sugary sodas!) Enjoy whole fruit, not the juice, to get all the fiber and fresh nutrients. You'd be shocked at how much sugar is in everyday food and drink. It's an eye-opener.
How to make flavored water
There are two main components to flavored water recipes: fruit and herbs or spices. Here's how I like to use each in my water.
If you are on a keto diet you may want to choose very low-sugar fruits and avoid high-carb fruits such as pineapple, mango, and sugar iced-teas.
How to make fruit ice cubes
If you like a bit of sweetness in your infused waters, then freeze a few pieces of low-sugar fruit in water to make a delicious fruit ice cube.
Even coconut cream freezes really well and adds a lovely flavor.
Here's how:
Place a tiny piece of pineapple, watermelon, or a few berries in an ice cube tray.
Add water until the ice cube tray is almost full.
Freeze the ice cube tray until water and fruit are frozen solid.
Then, fill a tumbler or bottle with water and add the ice cubes.
Now, you've got all the flavor from the fruit without all the carbs.
However, if you aren't too worried about the extra carbs from fruit, don't throw the fruit away, you can eat it too. As each ice cube melts, the fruit pieces are released to eat!
Best fruit and herb combinations
Use the chart for flavored water ideas. Choose your fruit, herbs, or ice cubes, then add plain or carbonated water.
These are the best flavored-waters combinations I've made that have proven to be family favorites again and again:
strawberry and lime – if you love citrus, the combination of lime juice and a fresh strawberry is uplifting.
apple and cinnamon – a few small apple slices and a cinnamon stick look beautiful. The cinnamon stick will release some cinnamon taste.
lemon and ginger – add a slice of fresh lemon, a squeeze of lemon juice, and grated fresh ginger for a zingy tangy flavor
blueberry and lemon – you only need a few crushed blueberries or frozen blueberries and a slice of lemon.
cucumber and mint – sliced cucumber is so fresh and mild in a pitcher of flavored waters. The mint leaves in your tumbler or water bottle makes sure the water tastes fresh all day long.
Berry and lime flavored water
Lemon and ginger flavored water
Cucumber and mint flavored water
Apple and cinnamon flavored water
Note: If you use a cinnamon stick in your flavored waters, it is even better if you can be prepared to make this ahead because the longer the stick stays submerged in water, the more the taste will be released into the glass or pitcher.
More flavored waters combinations
Mix then leave each one to chill in a pitcher or water bottle.
lavender and cucumber – the fragrant perfume of lavender works amazingly well with the subtle cucumber
lime and mint – for a fresh zing
strawberry and basil – an incredible combination of flavors
ginger and blueberries – you can also use blackberries, raspberries, honeydew, or a cherry.
lime, cucumber, and berries – any low-sugar berry will work
orange, raspberry, and lime – for citrus lovers
lemon and orange – for a citrus kick
kiwifruit and strawberry – there is just a hint of kiwifruit in this combination
watermelon and mint – cut or sliced watermelon in your flavored water and ice cubes are so thirst-quenching
orange and blackberry – these two strong flavors taste amazing
You can also just add some sage leaves or fresh thyme to a cold glass of water. Or fill a pitcher with water, add your favorite herbs, and keep it in the fridge.
As you can see, the options are practically endless! Play around until you find what flavor works best for you and your family.
Top tips
When you discover your favorite flavor, use it over and over again. The taste of the herbs or fruit will be something you can be sure you'll enjoy.
Keep a record of your favorite recipes. This way, you will be more likely to make them again. The more you like the flavor of your water, the more likely you will be to drink it. This is especially true for children!
Finally, an easy way to make infused water is to use a specific pitcher designed for the task. There are some pitchers with a place for you to put pineapple slices or fresh sprigs of thyme so that they soak in the water.
Infused water FAQs
Here are some questions people often ask about flavored water. If you don't see your question in this list, please leave it in the comments.
How full do you fill a glass with water when adding flavored ice cubes?
Start by filling the cup half full with water and then add the ice cubes. This way, you don't risk the water spilling out the top.
What is the most popular type of infused water?
Most people are familiar with either lemon or cucumber spa water. It has a refreshing flavor and makes drinking more water so much more enjoyable.
What is the difference between infused water and flavored water?
They are basically the same thing. When you drink infused water, you are enjoying the fruit flavors without eating them.
Which herbs and spices are best?
There are so many imaginative herbs and spices you can use to make flavored waters. Choose the ones that you like the taste and flavor, and adjust the quantities to maintain how sweet or tart your drinks are.

Making pretty flavored waters is a healthy way to enjoy herbs in a brand-new way.
What's the difference between sparkling water and mineral water?
Sparkling water is carbonated, and mineral water comes from a spring and contains minerals such as calcium, magnesium, sodium, and zinc.
Is drinking flavored water the same as drinking regular water
Yes, both are just as hydrating. But if flavored waters make you drink more, then flavored water can be more hydrating.
Is flavored water healthy?
Natural flavored waters such as the ones above are healthy and hydrating. You should avoid waters that have added sugar, flavors, and preservatives.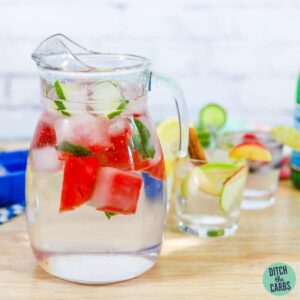 Flavored Water Recipes (Infused Waters)
The BEST sugar-free flavored water recipes. Infused water with frozen fruit is refreshing and helps you stay healthy and hydrated.
Print
Pin
Rate
Want to lose weight and get healthy for life—without dieting, drugs, or making yourself miserable?
We can help! Tell me how!
Ingredients
Low-sugar fruit
berries

lemon slices

orange slices

apple slices

cucumber slices
Herbs and spices
fresh mint

cinnamon stick

ginger minced

lavender
Water
4

cups

still or sparkling water
Instructions
Freeze your chosen selection of fruit as ice cubes.

Add your selection of fruit and herbs into a large pitcher.

Fill the pitcher with still or sparkling water.

Serve with frozen fruti ice cubes.
Notes
Nutrition will vary depending on which fruits you use and how much you consume or throw away after drinking the infused water.
Nutrition information calculations were made using 2 blueberries, fresh mint, and a cinnamon stick per person.
Nutrition
Serving:
1
cup
Calories:
4.1
kcal
Carbohydrates:
1.1
g
Protein:
0.1
g
Fat:
0.03
g
Sodium:
0.2
mg
Potassium:
11.7
mg
Fiber:
0.7
g
Sugar:
0.2
g
Vitamin A:
21.8
IU
Vitamin C:
1
mg
Calcium:
10.5
mg
Iron:
0.1
mg
Get our FREE guide to finally fix your metabolism!
Losing weight & getting healthy is never easy, but lately you might feel like it's suddenly become impossible.
Our Flip the Switch guide will help you clearly understand what's been going on, as well as exactly what you can do to get your metabolism working again so that you can look and feel your best—it's easier and more simple than you think!