Learn how to make delicious and crispy homemade keto fried chicken recipe (copycat keto KFC recipe) with a few simple ingredients and my secret shaker bag method.
Making keto fried chicken at home is so easy and delicious. No wonder it's one of the most popular recipes on the website.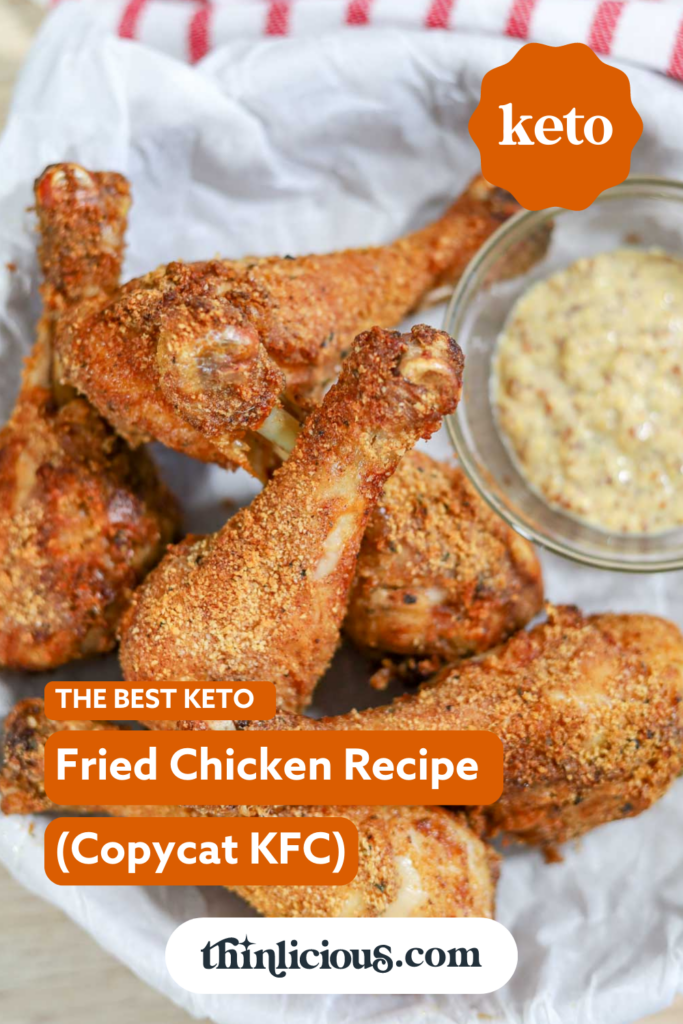 So save your money and your carbs, because this keto fried chicken recipe is grain-free, gluten-free, and guilt-free. This simple and easy homemade copycat recipe will have everyone reaching for keto fried chicken!
Are you ready to create the ultimate 12-month blueprint for reaching your health & weight loss goals this coming year?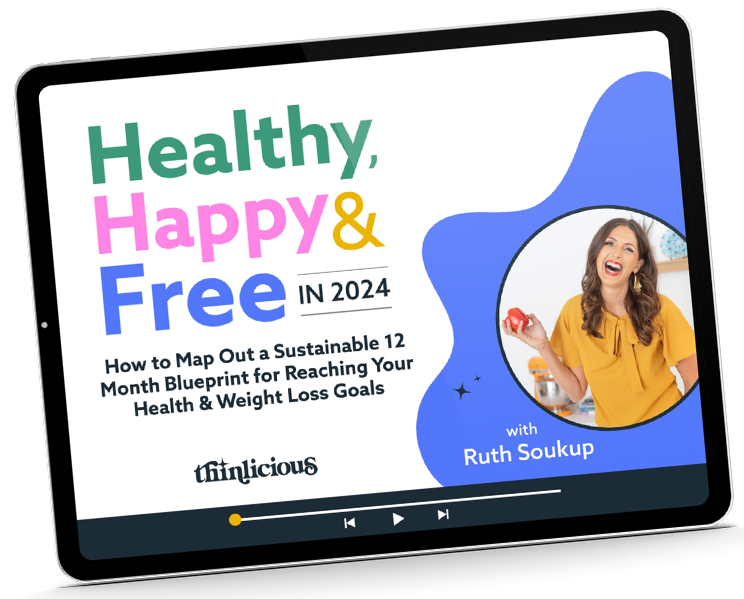 Our free on-demand video training will walk you through how to make 2024 THE year you set health goals…and keep them.
Is fried chicken keto?
No, fried chicken (especially KFC fried chicken) is definitely not keto. Breaded chicken or battered chicken are high-carb because of the crumb coating or batter that is traditionally made with bread crumbs made with wheat flour.
If you want a quick and easy cheat's keto fried chicken, some fast-food restaurants will allow you to order the fried chicken without the crumbs, without batter, or a grilled version which can be the healthier option.
How many carbs are in fried chicken?
There are so many recipes for regular fried chicken that it's truly hard to determine the exact amount of grams of carbs. But, in general, it can range from 7-11 grams of carbs depending on the size of chicken pieces or whether you order chicken "popcorn" which has a higher bread crumb mixture: chicken ratio.
Popcorn Nuggets (KFC) = 24.8g net carbs, 17.9g protein
Chicken Thigh (KFC), Original Recipe (113g) = 7.9g net carbs, 20.4g protein
Chicken Breast (KFC), Grilled (113g) = 0g net carbs, 37.7g proteinKFC, Chicken Drumstick, Original Recipe (2 pieces = 113g) = 7.4g net carbs, 23.9 protein
Homemade keto KFC Drumstick (2 pieces = 113g) = 3g net carbs, 33.8g protein
Nutritional values from cronometer.com
Keto fried chicken
If you love the taste of KFC but don't want the carbs, then low-carb fried chicken (copycat KFC) is a great alternative.
You can eat fried chicken again and it's so easy to make. This fried chicken recipe requires no complicated ingredients and there are no dirty dishes because you prepare the whole recipe in a clean plastic bag!
PLUS this batch of low-carb fried chicken only cost $6.95 for 6 big chicken drumsticks and were really 'meaty'. No more shriveled-up chicken wings with minimal protein.
Ingredients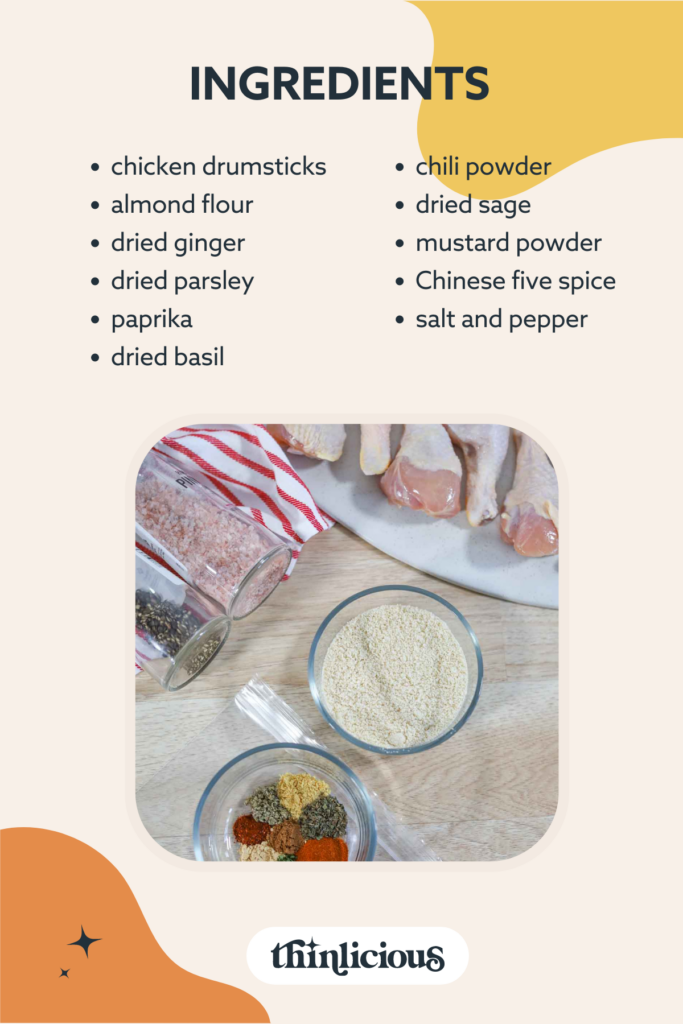 Here's a quick list of all the ingredients you'll need for this recipe. As you can see, putting together a low-carb fried chicken is easy!
chicken drumsticks – you can also use breasts or thighs. Just make sure to get the skin on variety!
almond flour (or almond meal) – while some people use crushed pork rinds to make keto fried chicken, I prefer the flavour and texture of an almond flour mixture. I do not recommend using coconut flour.
dried ginger powder
dried sage
dried basil
salt + pepper to taste
oil for frying or air fryer – I used olive oil but avocado oil would also work well.
Variations
To make delicious breading, you can add these herbs and spices.
Parmesan cheese – add some shredded parmesan cheese to your almond flour for a cheesy chicken coating.
Chili powder – (or cayenne pepper) for spicy fried chicken.
Onion powder – for an extra kick of tangy onion (but without the high carb count).
Garlic – either use garlic powder or fresh garlic.
Smoked paprika – adds an earthy smokey flavor to your fried chicken recipe.
What chicken parts do you use for fried chicken?
To make tender and tasty fried chicken you can use any cut of chicken – chicken drumstick, chicken breasts, chicken thighs,chicken wings, or chicken tenderloins.
You can use the almond flour coating to make crumbed pork chops, chicken breast tenders, and even Southern fried chicken.
Instructions
The full method and quantities are in the recipe card below. Instead of deep frying chicken, there are cooking instructions for using theoven or air fryer.
Place all the low-carb breading ingredients in a bag. Shake to mix.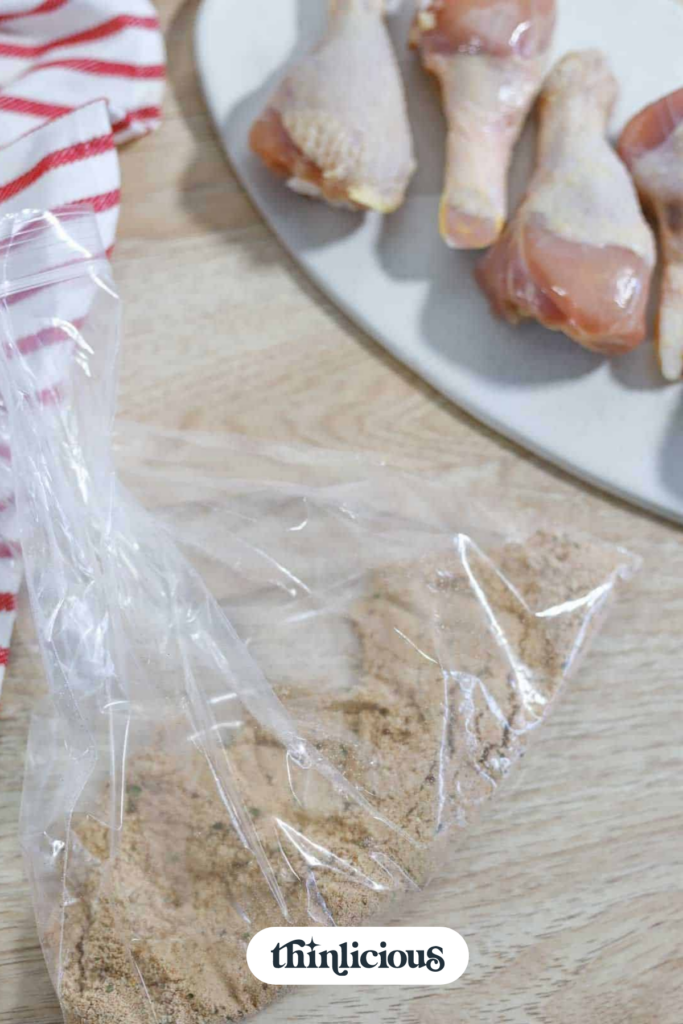 Place the chicken pieces into the bag and seal the top, then shake to coat every part of the chicken with the almond flour (or almond meal) herbed coating.
Top tip: To ensure the low carb keto fried chicken breading doesn't fall off during cooking, massage the almond flour crust into the chicken meat through the bag, or with your hands.
Using kitchen tongs, lift each chicken piece and place it into an oiled baking dish or your air fryer basket.
How to cook fried chicken in the oven
Choose your favorite cooking oil or cooking spray to coat the bottom and sides of your baking dish.
Place each crumbed chicken piece onto the oiled baking dish.
To give each drumstick a fried chicken taste, spray the almond flour coating with cooking oil.
Cook the chicken in a pre-heated oven at 180C/350F for 45 minutes. Make sure to use kitchen tongs to turn the chicken over a few times so each piece gets coated in oil and "fried" evenly.
Bake until golden brown. Cooking times will depend on the thickness of the chicken.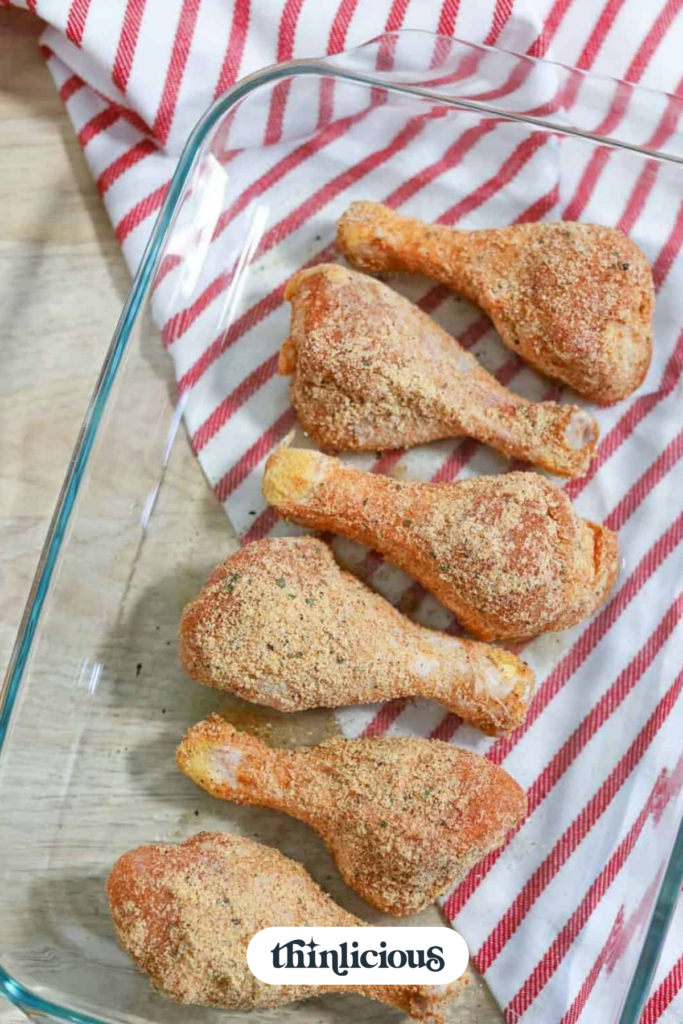 How to cook fried chicken in the air fryer
You can also cook this recipe in the air fryer. This is my preferred method as it produces the best fried chicken without having to even turn the oven on!
Spray the air fryer basket and the chicken herbed coating with cooking oil to make sure you get that traditional crispy chicken crust.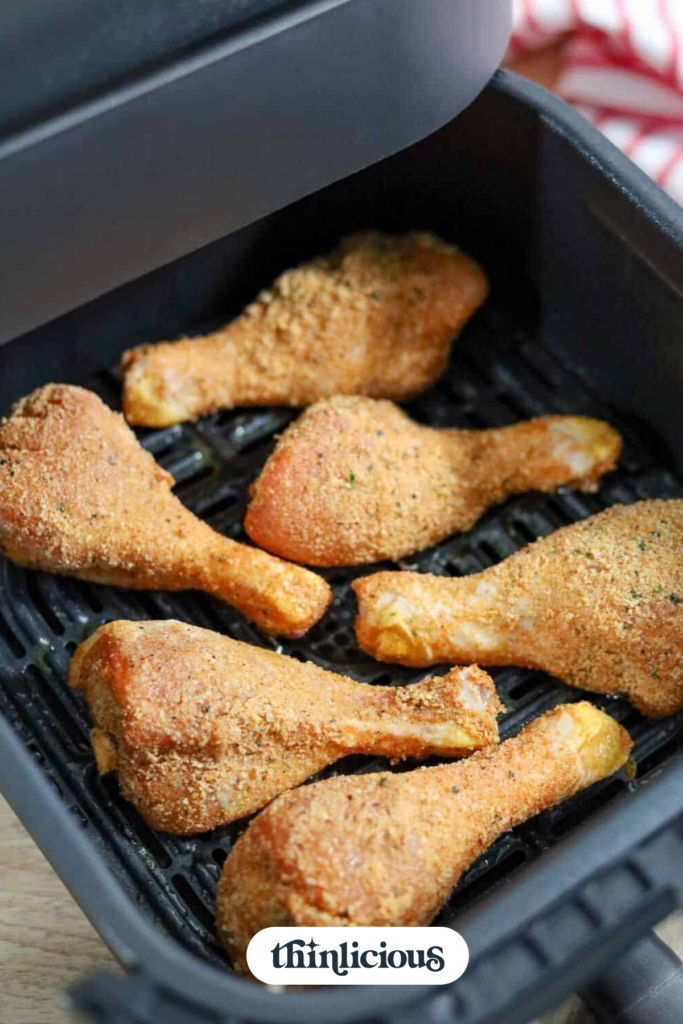 Using an air fryer to cook fried chicken is a quick and easy mid-week dinner.
Preheat to 190C/375F.
Spray the wire basket with cooking oil.
Gently place each chicken piece into the oiled basket. Ensure there is plenty of space between them.
Cook for 15 minutes, open the drawer and turn each piece.
Cook for a further 5-10 minutes, depending on the size of the pieces being cooked. Chicken must be completely cooked into the center of each piece.
If you love using your air fryer, I have 101 keto air fryer recipes for you to choose from (chicken, pork, ground beef, salmon, vegetables, and even desserts). Discover how to use your air fryer plus FREE printable air fryer cooking cheat sheets.
What to serve with fried chicken
There are so many delicious low-carb and keto side dishes to serve with fried chicken. Chicken is a versatile family-friendly dinner and so you need to choose quick and easy healthy side dishes the whole family will love.
Here are some of my favorite keto side dishes to serve with chicken. All your family favorites, only lower carb.
There are so many delicious keto side dishes to serve with chicken. This fried chicken is delicious served with spicy Mexican Coleslaw recipe. It's so refreshing and pair so well.
You could also create the KFC meal copycat using the mashed cauliflower for the full experience.
Other options are to serve with some fresh side salads and homemade mayonnaise.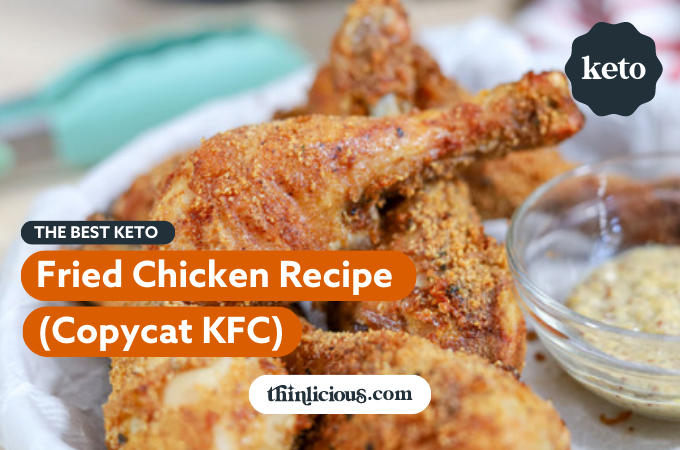 More healthy chicken recipes
As well as these quick and easy healthy chicken recipes, you might like to use the keto breading from my keto fried fish recipe to make chicken wings, chicken nuggets, and even keto fried chicken.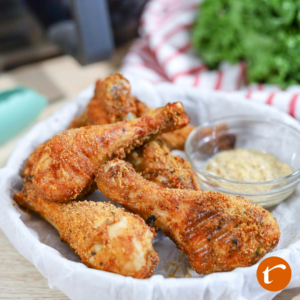 Keto Fried Chicken KFC (Copycat KFC Recipe)
Delicious and crispy homemade keto fried chicken recipe (copycat keto KFC recipe) with a few simple ingredients and my secret shaker bag method. Oven-baked or air fryer fried chicken.
Print
Pin
Rate
Want to lose weight and get healthy for life—without dieting, drugs, or making yourself miserable?
We can help! Tell me how!
Ingredients
6

chicken drumsticks

skin on

100

g

almond meal/flour

1/2

tsp

ground ginger

1/2

tsp

dried parsley

1

tsp

paprika

1/4

tsp

chilli powder

1/2

tsp

dried sage

1/2

tsp

mustard powder

1/4

tsp

Chinese five spice

1/2

tsp

dried basil

+/- salt and pepper
Instructions
Put the ground almonds and all the herbs and spices into a plastic food bag, twist the top and shake to mix.

Add the chicken drumsticks, twist the top, shake and rub the mixture through the bag onto the chicken.

In a baking dish, add enough olive oil to cover the bottom well (1-2mm).

Place the chicken drumsticks on the oil and bake at 180C/350F for 45 minutes.

Turn 2 or 3 times while they are cooking so all the coating gets covered in the olive oil.
Nutrition
Serving:
1
drumstick
Calories:
214.5
kcal
Carbohydrates:
3.5
g
Protein:
16.9
g
Fat:
15.3
g
Sodium:
78.7
mg
Potassium:
168.8
mg
Fiber:
2
g
Sugar:
0.6
g
Vitamin A:
34.8
IU
Calcium:
42.6
mg
Iron:
1.1
mg
Fried chicken FAQ
Can I cook chicken in an air fryer?
The air fryer makes perfectly crispy fried chicken and the air fryer keeps the chicken tender and moist.
What oil is best for frying?
The oil temperature when baking or air frying, is not as high as the hot oil when you deep fry. So it is safe to use a medium-high heat stable oil such as olive oil or coconut oil. Do not use oils such as peanut oil or sesame oil because it will make all the chicken pieces taste nutty.
What to serve with low-carb fried chicken?
Traditionally, you might mashed potatoes or garlic bread, both of which are avoided on the keto diet. To make this a fried chicken keto friendly meal, serve with mashed cauliflower, keto garlic bread, or Mexican coleslaw.
How to make spicy keto fried chicken?
Add chilli powder to the almond flour coating or serve with a hot sauce to bring this keto meal to life.
What can I use instead of almond flour?
Ground pork rinds are a crunchy and high-protein alternative to almond flour in keto fried chicken. Do not use coconut flour because the chicken will end up dry and flakey.
How to store fried chicken?
Fried chicken should be cooked immediately after preparation. The leftovers can be stored in an airtight container for a maximum of three days in the refrigerator. They can be frozen for up to 3 months.
How to reheat fried chicken?
You can reheat fried chicken in the oven for 15 minutes, in the air fryer for 10 minutes, or use the reheat setting on the microwave. Reheating times will depend on the thickness of your keto fried chicken pieces.
Can I make fat-free fried chicken?
You can't make fat-free fried chicken but you can reduce the fat and reduce the calories by removing the chicken skin and removing any visible fat. Once cooked, drain the cooked keto chicken on kitchen paper towels.
Get our FREE guide to finally fix your metabolism!
Losing weight & getting healthy is never easy, but lately you might feel like it's suddenly become impossible.
Our Flip the Switch guide will help you clearly understand what's been going on, as well as exactly what you can do to get your metabolism working again so that you can look and feel your best—it's easier and more simple than you think!