Discover how to make healthy crispy baked zucchini chips that don't require messy preparation with hours of salting and drying. This recipe is so simple! You can even make these vegetable chips in the oven, air fryer, or dehydrator.
You can make these in so many flavors with fresh herbs or your favorite spice blends. I'll even show you some keto garlic sauces and dips for them, too. Such a delicious keto snack for only 1.8 grams of carbs.
Vegetable chips are a fun healthy side dish for beef (especially BBQ meat). The next time you're craving salty potato chips, these low carb easy zucchini chips are just what you need for snack time.
Is zucchini keto?
Fresh zucchini is keto, depending on how much you eat. It is low calorie and low protein with a relatively high vitamin C content.
Are you ready to create the ultimate 12-month blueprint for reaching your health & weight loss goals this coming year?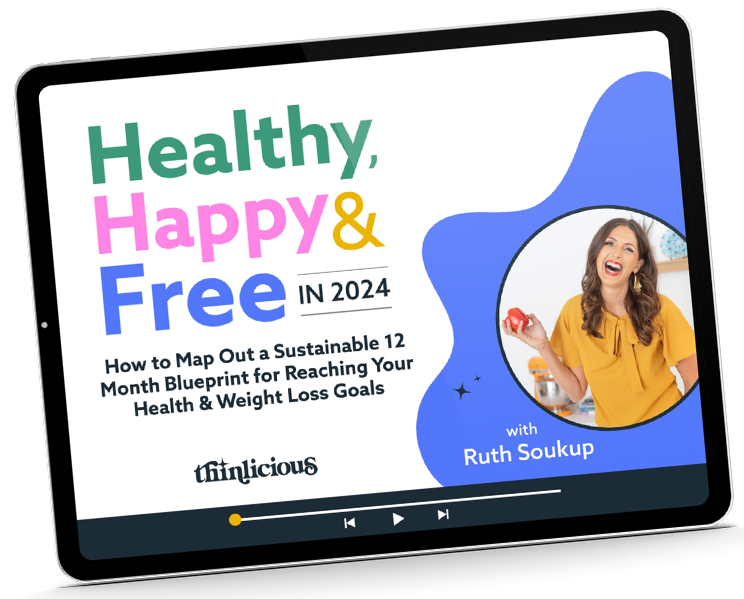 Our free on-demand video training will walk you through how to make 2024 THE year you set health goals…and keep them.
Zucchini nutritional value per 100g/3.5oz is 3.1 g total carbs – 1 g fiber = 2.1 g net carbohydrates. You use a mere 17 calories, 1.2 g of protein, and a whopping 29% of your daily vitamin C needs. Not bad for a medium zucchini!
Nutritional values from cronometer.com
When you follow a keto diet and want stable blood sugars, these healthy zucchini fries are a better alternative than potato chips or other high-carb snacks.
What are the health benefits of zucchini chips?
Unlike processed chips, this healthier alternative is packed with natural (not synthetic) vitamins, fibre and minerals. This is a quick and easy recipe to make.
As a bonus, they help your children increase their vegetable intake if you have picky eaters. They are that good!
Zucchini (and these crispy chips) contains:
Vitamin A
Vitamin C
Copper
Phosphorus
Potassium
Magnesium
Why are zucchini chips healthier than potato chips?
Potato chips are high starch and are fried in processed, inflammatory seed oils. They also contain artificial flavours, colours, preservatives, and a whole host of other ingredients that don't support your health. The high starch content alone will kick you out of your ketosis and spike your blood sugars.
These healthy zucchini chips, however, only contain 3 ingredients. Zucchini, olive oil, and salt. These healthy vegetable chips are packed with fibre, naturally occurring vitamins, minerals, and electrolytes.
🥘 Ingredients
Which Oil to Use for Zucchini Chips
I like to use healthy fats such as olive oil, but you can also use avocado oil or coconut oil.
You want to avoid processed and inflammatory seed oils such as canola, soy, and sunflower oils. These are the ones generally used to prepare potato crisps.
How to Flavour the Chips
1: BASIC CHIP FLAVOUR: Place the thin slices in a large bowl and add the olive oil and salt. Toss and turn to coat each slice. This is the basic chip flavour. If you want a different delicious flavoured chip, you can add the following ingredients to the bowl.
2: SALT AND VINEGAR CHIPS: Add 1 tbsp white vinegar. Serve with fresh herbed mayonnaise.
3: MEXICAN CHIPS: Add ½ tsp smoked paprika and ½ tsp chili powder. Serve with guacamole and salsa.
4: GARLIC CHIPS: Add ½ tsp dried or crushed garlic. Serve with garlic mayonnaise.
5. CHEESY CHIPS: The original recipe for breaded zucchini sticks use bread crumbs. Keto dieters can recreate the flavor, minus the carbs. Use parmesan cheese, onion powder, and/or garlic powder as a tasty alternative seasoning.
🔪 Instructions
How to Cut Zucchini Rounds
You can cut zucchini using a mandolin, a food processor, or if you have the skills of a trained chef, a sharp knife, and very nimble hands.
Be sure to cut them thin enough THAT you get crunchy zucchini chips, but not too thin otherwise, they might fall apart and burn easily.
How to Dry Zucchini Chips Before Baking
Want to know how to make sure your zucchini chips are not soggy? I don't blame you! Nobody wants soft or soggy chips.
The good news is, it's simple to prevent. Make sure you remove as much moisture as possible from the zucchini before baking. Many recipes ask you to salt and draw the excess water out over a few hours. But we skip that step and it saves 1 or 2 hours.
Instead, place the thinly sliced zucchini onto 3 or 4 sheets of kitchen paper towels and gently squeeze to remove as much liquid as you can. We want to make sure there is less moisture in the zucchini thin rounds. Do not squeeze too tightly; otherwise, you will crush them and lose the chip shape.
Another pro tip, leave the crisps in the oven as it cools. This helps the crisps dehydrate further and go even crunchier without burning as the oven drops to a low temperature.
How to Bake Vegetable Chips – Oven, Dehydrator or Air Fryer
No matter which cooking method you choose, your zucchini slices will need to be in a single layer so they continue to dry out and bake to a crisp.
To cook, prepare a baking tray. Get your prepared baking sheets ready by lining with parchment paper. This makes it easy to flip each slice over as they bake.
Your cooking time may have to be adjusted depending on how thick you cut the zucchini slices. The thicker the slice, the more sturdy the chip. However, a thicker cut will take longer to get crispy and crunchy.
Trust me. Nobody wants soft or soggy chips!
⏲️ Baking times
Cooking Chips in the Oven:
Bake at 180C/350F for 15 minutes, then using tongs or a spatula, flip each chip over so it cooks on both sides.
Cooking Chips in the Dehydrator:
Every dehydrator varies, but a common method is to dehydrate at 50C/125F for 8 to 24 hours. The wide range of times depends on the thickness of your vegetable slices and the brand of dehydrator you use.
Cooking Chips in the Air Fryer:
Check your air fryer instructions as the size of each deep fryer varies considerably. But as a starting point, you can bake the chips at 180C/350F for 10 minutes, flipping the chips halfway through cooking.
The downside of using an air fryer is you can only cook a small batch at a time. But if you are cooking for one person or don't want extra snacks tempting you in your kitchen, the air fryer chip method is advantageous.
🌡️ Storage
You need to store baked zucchini fries in an airtight container. Otherwise, they will absorb moisture from the atmosphere and start to turn soggy and soft.
If your chips have lost their crispiness, reheat in the oven on a wire rack for a few minutes to dry out. It's a great way to go crunchy again.
You can store the baked fries in a cool part of your kitchen for up to 1 week. This is assuming you have removed all the moisture from the zucchini. Otherwise, they may start to go moldy. If you think there is still moisture in your chips, only keep them in the air-tight container for up to 3 days.
It is not recommended to freeze vegetable fries because they will create and absorb condensation when defrosting.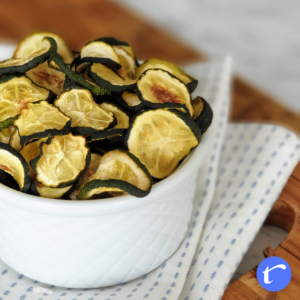 Healthy Baked Zucchini Chips Recipe (4 ways)
Healthy baked zucchini chips that are quick and easy and are low carb and keto friendly. 4 delicious flavours you're family will love.
Print
Pin
Rate
Want to lose weight and get healthy for life—without dieting, drugs, or making yourself miserable?
We can help! Tell me how!
Equipment
Silicone baking sheets

Parchment Paper

Baking sheets – non stick
Ingredients
Basic Baked Zucchini Chip Recipe
2

zucchini/ courgette

large

4

tbsp

extra virgin olive oil

+/- salt and pepper

to your taste
Instructions
Basic Baked Zucchini Chip Recipe
Using a food processor or mandolin, slice each zucchini finely. The thinner the slice, the crispier the chips will be. Place the sliced zucchini on a few sheets of kitchen paper on the kitchen bench. Squeeze out as much moisture as you can. Be careful not to squeeze too firmly otherwise, you will tear the thin "chips".

FLAVOURING STEP: Place the dried zucchini slices in a bowl and toss/turn with the olive oil and salt/pepper to coat each "chip".

Line a baking tray with parchment paper or a silicone baking sheet. Place the zucchini slices across the tray as shown.

Bake at 180C/350F for 15-20 minutes. Turn over to ensure they crisp on both sides.

Serve with garlic mayonnaise or another favorite dipping sauce.
Salt and vinegar chips flavor
Add 1 tbsp white vinegar at the FLAVOURING STEP.

Serve with herbed mayonnaise.
Mexican chips flavor
Add ½ tsp smoked paprika and ½ tsp chili powder at the FLAVOURING STEP.

Serve with guacamole and salsa.
Garlic chips flavor
Add ½ tsp dried or crushed garlic at the FLAVOURING STEP.

Serve with garlic mayonnaise.
Nutrition
Serving:
1
serve ( serves 4)
Calories:
142.2
kcal
Carbohydrates:
3
g
Protein:
1.2
g
Fat:
14.5
g
Sodium:
298.8
mg
Potassium:
256
mg
Fiber:
1.2
g
Sugar:
2.5
g
Vitamin A:
196
IU
Vitamin C:
17.5
mg
Calcium:
16
mg
Iron:
0.4
mg
5 best healthy zucchini recipes
When it's zucchini season and you want some easy and healthy recipes the whole family will enjoy, these are the most popular, quick and easy.
There are so many delicious keto recipes to use zucchini (that kids will actually eat). Zucchini bread, baked bacon egg zucchini casserole, and of course, low-carb spaghetti bolognese with zoodles.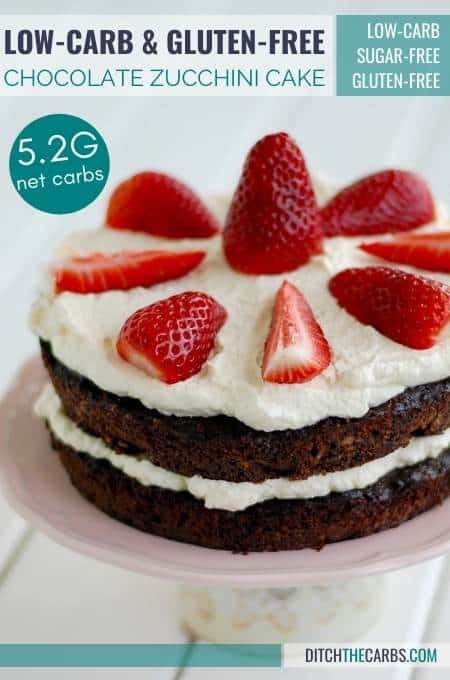 Get our FREE guide to finally fix your metabolism!
Losing weight & getting healthy is never easy, but lately you might feel like it's suddenly become impossible.
Our Flip the Switch guide will help you clearly understand what's been going on, as well as exactly what you can do to get your metabolism working again so that you can look and feel your best—it's easier and more simple than you think!