</p>
These easy keto blueberry pancakes need only 7 simple ingredients, take only 10 minutes to prepare, and are only 3.7g net carbs (with options to reduce carbs even further.
They're a great healthy breakfast that is dairy-free, sugar-free, gluten-free, low-carb, and keto-friendly. PLUS they can be frozen for easy breakfast meal prep.
This easy one-bowl recipe is virtually fail-proof.
Are you ready to create the ultimate 12-month blueprint for reaching your health & weight loss goals this coming year?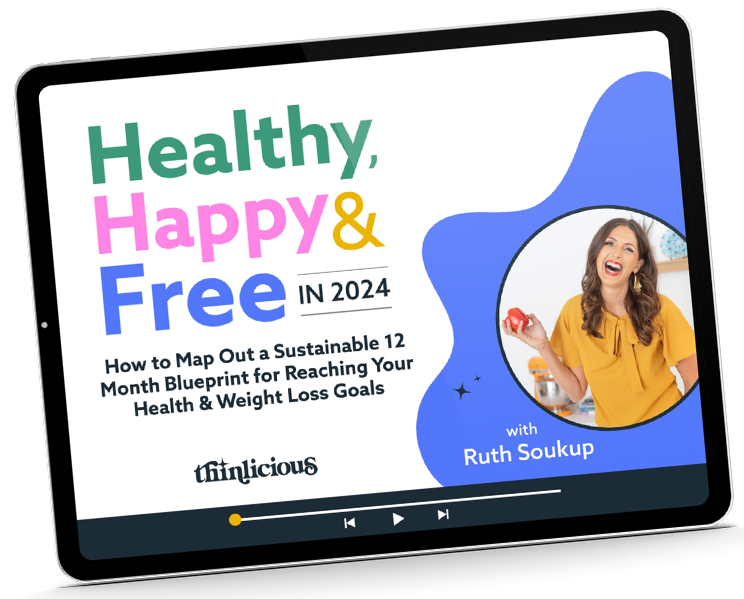 Our free on-demand video training will walk you through how to make 2024 THE year you set health goals…and keep them.
If you want a nut-free keto pancake recipe that's perfect for breakfast meal prep, this is the recipe for you. It's quick and easy and is freezer friendly.
Are pancakes keto?
No. Traditional pancakes made with wheat flour and sugar are not keto and are avoided by those on a low-carb or keto diet.
Regular whole wheat pancakes nutrition facts: 12.5 g net carbs, 3.5 g protein, 4.7 g fat, 108 calories.
Keto blueberry pancakes nutrition facts: 3.7 g net carbs, 3.9 g protein, 11.1 g fat, 134 calories.
Nutritional values from cronometer.com
This keto pancake recipe is made with coconut flour and sweetener and tastes absolutely delicious. They rival regular pancakes that you might order from a restaurant.
Grab a cup of almond milk and a handful of fresh blueberries and be ready for the most delicious breakfast cuisine you have ever made.
Baking 101 (tips & charts)

Ingredients
The secret to these fluffy keto blueberry pancakes is the fresh and whole ingredients. Just like in other keto recipes, the fresher the ingredients, the better they will taste.
eggs – I use medium eggs (but you can use the egg size conversion charts above if you have different sized eggs).
coconut cream – use canned coconut cream, not coconut milk, you need a thick cream for fluffy pancakes.
vanilla extract – either vanilla extract or vanilla essence, but you need a vanilla flavor.
baking powder – (do not be confused with baking soda)
coconut flour – don't try to substitute coconut flour for almond flour…it won't work. You can read the full guide to coconut flour vs almond flour.
granulated sweetener of choice – add more or less sugar-free sweetener according to your taste. The most popular keto sweeteners are erythritol, monk fruit, allulose, or xylitol.
salt – season to taste, but salt does enhance the sweet flavors.
blueberries – juicy fresh blueberries will taste the best. However, you can use frozen blueberries too.
All quantities, ingredients, and instructions are in the recipe card below.
TOP TIP: As with ALL recipes here, ALWAYS taste your batter BEFORE cooking to ensure you have added enough sweetener to suit YOUR tastebuds. Read the Ultimate Guide To Low-Carb Sweeteners.
Instructions
You simply whisk the wet ingredients together, throw all the dry ingredients in then mix the pancake batter until it is smooth. How easy is that?
I like to add some butter to the pan before I fry up the pancakes and cook them until they are golden brown.
STEP 1: Make the coconut flour pancake batter.
Place all the wet ingredients into a medium bowl. Whisk until smooth and a few air bubbles form on the surface.
Using a measuring cup or the kitchen scales, place your coconut flour and other dry ingredients onto the egg mixture.
Whisk for a few minutes until smooth and there are no lumps of flour.
STEP 2: Fry keto blueberry pancakes.
Pre-heat your frying pan or cast iron skillet and melt some coconut oil or butter (but the recipe will no longer be dairy free). Alternatively, you can spray the pan with cooking spray.
Using a large spoon or a measuring cup, pour the keto pancake batter into your hot frying pan.
Press a few juicy blueberries into each of the keto pancakes. You can use frozen blueberries but the batter may take a little longer to cook.
Continue to cook each blueberry pancake until you can see little air bubbles rise to the top.
Once you see the surface beginning to dry, you can flip them over and fry each pancake on the other side. Continue to cook until both sides are golden brown.
Keto pancake toppings
Everyone loves to serve their pancakes with maple syrup and whipped cream, but don't worry, you can still eat deliciously tasty pancakes on the keto diet.
The best way to eat keto pancakes is to serve immediately with sugar-free whipped heavy cream or whipped coconut cream (dairy-free option). Place a few fresh or frozen blueberries on top then drizzle all over with sweet keto syrup.
Homemade keto syrup is quick and easy to make and you know exactly what goes into it.
Sugar-free berry chia jam and a spoonful of cream cheese are another great way to serve low-carb blueberry pancakes.
How to store pancakes
Store these the same way you store traditional pancakes.
Allow each pancake to cool completely on a wire rack to remove any condensation.
Once at room temperature, store them in an airtight container in the refrigerator for up to three days. You can also freeze them in baggies – just squeeze the air out first!
EXPERT TIP: Place small pieces of baking parchment paper between each pancake to stop them from sticking.
Recipe substitutions
Are certain ingredients stopping you from making this keto pancake recipe? Below you will find my recommendations for common substitutions that are perfect for the keto diet.
Coconut flour – you will have to make a few adjustments. Use 2 cups almond flour and add two more eggs. However, I prefer to use my almond flour pancake recipe rather than try to adapt this coconut flour recipe.
Eggs – for each egg, mix one tablespoon of flax seed with three tablespoons of water.
Baking powder – use 1/3 of a teaspoon of baking soda
Coconut Cream – Use the same amount of plain Greek yogurt (but the pancakes will no longer be dairy-free).
The above substitutions are great alternatives to will keep your keto pancakes low-carb and gluten-free.
Variations
Take your keto blueberry pancakes up a notch with these tasty recommendations below. Make your pancakes simple, zesty, with bits of chocolate, or more like crepes!
Zesty – add lemon zest on top of your blueberry pancakes and serve with sugar-free lemon curd.
Chocolate – top with some sugar-free dark chocolate chips and serve with sugar-free "Nutella" (keto chocolate sauce).
Thin – For a light and crispy pancake, add some cream cheese and make cream cheese pancakes. Or add a few teaspoons of almond milk to make a thin batter that is easy to pour.
Equipment needed
It only takes a few simple kitchen tools to make this keto blueberry pancakes recipe. Use a large frying pan, cast iron pan, or griddle. Mix the sugar-free batter in a large mixing bowl. You will also need a flat spatula to flip the pancakes.
Alternatively, you can make the pancake batter in your food processor, use an electric whisk, or use a stick blender.
Visit my Low-Carb Keto Amazon store to browse the new food processors, electric mixers, or stick blenders.
FAQS about the best keto pancakes
Can I use almond flour instead of coconut flour?
It's tough to make the substitution since you have to adjust how many eggs you use when you make almond flour pancakes instead of coconut flour. Follow my almond flour pancakes recipe for exact ingredients.
How do you make fluffy keto blueberry pancakes?
Do not overmix the batter. For the fluffiest pancakes, use fresh blueberries, not frozen blueberries. When you add blueberries, gently fold them into the batter. You should also let the batter rest for a few minutes before heating them over medium heat.
What is the best type of sugar-free syrup?
Regular pancake syrup has too much sugar, but keto maple syrup is perfect on a low-carb diet. Make sure you read the nutrition panel and only choose keto-approved sweeteners. Avoid some sugar alcohols and maltitol. For the keto version, just top with fresh blueberries.
Are pancakes keto friendly?
These blueberry pancakes are keto-friendly. When you cook them in coconut oil, you will add a bit more healthy fats to them too.
How many pancakes can I eat at once to keep the carb count low?
If you are wondering how many servings this recipe makes, just look at the printable recipe card. You can even adjust the servings and it will change the ingredient amounts for you. This is really handy when you track macros on the keto lifestyle.
How many carbs are in a keto pancake?
These keto blueberry pancakes only have 3.7 g net carbs in one pancake. The nutrition serving will change depending on what toppings you add, and how much you add.
How can I reduce the carbs?
The recipe for keto blueberry pancakes uses half a cup of fresh blueberries. To reduce the net carbs, you can reduce how many blueberries you press into each pancake. You could add more to pancakes for your children, and add fewer to yours.
Why did my pancakes not rise?
Always use baking powder that is fresh. If your baking powder has expired, or you use eggs that are too small, your pancakes could become dense and not fluffy at all.
How do you make cream cheese pancakes?
Take a look at my egg fast recipes, there is a cream cheese pancake recipe there for you.
Should you use frozen or thawed blueberries for pancakes?
Fresh juicy blueberries are best, but you can also use frozen berries, but the pancake batter will take a little longer to cook.
Are blueberries still healthy in pancakes?
Blueberries are a low-carb fruit, however, the carbs soon start to add up if you eat too many of them. Blueberries will always be healthier than sugar and chocolate, but for those who have weight to lose or are insulin resistant, you may want to cut back on fruit for a while.
How many carbs are in a small blueberry pancake?
One pancake is 3.7g net carbs, you can make them smaller then you will have to calculate the carbs according to how many you made.
More keto breakfast recipes
If you love blueberry pancakes, you'll love these healthy breakfast recipes too. Each keto recipe is family-friendly and low in net carbs.
For more easy recipes, make sure you have subscribed to my weekly newsletter.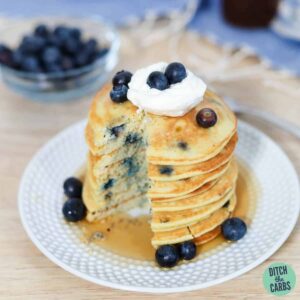 Easy Keto Blueberry Pancakes (gluten-free)
These easy keto blueberry pancakes need only 7 simple ingredients, take only 10 minutes to prepare, and are only 3.7g net carbs PLUS they can be frozen for easy breakfast meal prep. This easy one-bowl recipe is virtually fail-proof.
Print
Pin
Rate
Want to lose weight and get healthy for life—without dieting, drugs, or making yourself miserable?
We can help! Tell me how!
Equipment
Frying pan

Measuring cups and spoons

Whisk
Ingredients
Wet ingredients
4

eggs – medium

250

ml

coconut cream

2

tsp

vanilla extract
Dry ingredients
1

tsp

baking powder

50

g

coconut flour

4

tbsp

granulated sweetener of choice

or more to your taste

salt

to taste

50

g

blueberries fresh or frozen

or berries of choice
Instructions
Mix the eggs, coconut cream, and vanilla extract in a medium mixing bowl. Whisk until smooth.

Add all the dry ingredients (baking powder, coconut flour, sweetener, and salt). Mix until the batter is lump free.

Heat your coconut oil in the frying pan. Place a large spoon of the keto pancake batter into the hot frying pan and press a few blueberries into each pancake.

Fry on medium heat until golden on the underside, and when the top of the pancake starts to show bubbles coming through. Flip each pancake over to cook on the other side.

Optional – Serve with whipped coconut cream and more berries. A sprinkling of chopped nuts is a lovely addition too.
Notes
To lower the carb value in the pancakes, simply omit the berries. You may wish to add walnuts or macadamias instead? Add some cinnamon or ginger for added flavour and sweetness?
Nutrition
Serving:
1
pancake
Calories:
134.6
kcal
Carbohydrates:
5.9
g
Protein:
3.9
g
Fat:
11.1
g
Sodium:
37.1
mg
Potassium:
159.9
mg
Fiber:
2.2
g
Sugar:
1
g
Vitamin A:
95
IU
Vitamin C:
1.2
mg
Calcium:
34.3
mg
Iron:
1
mg
Get our FREE guide to finally fix your metabolism!
Losing weight & getting healthy is never easy, but lately you might feel like it's suddenly become impossible.
Our Flip the Switch guide will help you clearly understand what's been going on, as well as exactly what you can do to get your metabolism working again so that you can look and feel your best—it's easier and more simple than you think!