Can you really lose weight without cooking? What if you hate to cook or are always on the go? Those are exact same questions Anne Urban asked herself before finally discovering a way of eating that could actually work for the way she lives her life. If you find yourself eating out all the time, then this post is a must-read!
Can you really lose weight without cooking?
One of the biggest benefits of going low-carb is that you don't need to count calories. This means you can enjoy the indulgent flavors of your favorite restaurants without having to worry about portion control or being overly restrictive.
Eating out while trying to get healthy can seem like an impossible feat, but it doesn't have to be. With some know-how and these helpful tips, you can stick to your goals and still enjoy dining out. Anne is living proof of this!
Let's dive in because, in today's post, we're taking another deep dive into what transforming your life through adopting a low-carb lifestyle actually looks like by sitting down to chat with another one of our amazing Thinlicious™ customers, Anne.
Ready to lose weight and get healthy for life without dieting, drugs or making yourself miserable?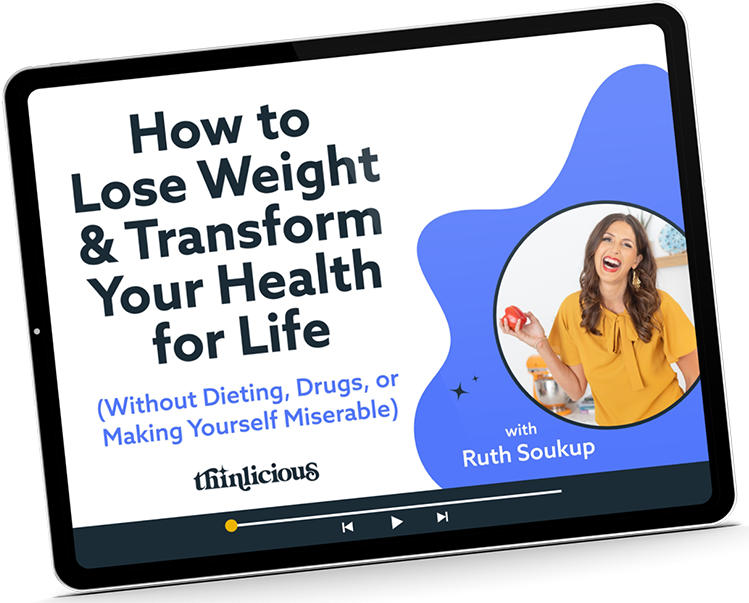 Our free on demand video training will help you understand why it's been so hard and what do to about it.
Her story is a little different from the norm because from day 1, Anne basically refused to try a single one of our recipes or to follow our preset meal plan.
Instead, she familiarized herself with our macro recommendations and program guidelines and got especially comfortable with our suggestions for eating out.
The truth is that she's not really into cooking, and with her busy lifestyle, she eats out all the time. For any program to work for her, it had to be totally flexible.
Lucky, that's exactly what Thinlcious is all about—creating a SUSTAINABLE low-carb lifestyle that actually works for the way you live your life.
Finding the Motivation to Get Healthy
Anne Urban isn't your typical grandmother! While she does have four grandkids, this 63-year-old wife and mother of two is always on the go.
Anne is a busy entrepreneur who owns her own service production company. Typical work weeks are quite long for her as she often works 70-80 hours a week. As you can imagine, that leaves very limited time for cooking.
Her busy schedule finally caught up to her when she hit her 40s. She said that from the time she was 45 until she hit her sixties, she gained 75 pounds and went from a size 6 to a 20.
On top of that, her doctors were beginning to sound the alarm. While she was relatively healthy, she was borderline pre-diabetic, with concerning cholesterol numbers. Her doctors warned her that she needed to make some changes or she may need to be on medication.
Luckily, it was right around then when she heard Ruth discussing the Thinlicous program on a podcast. Anne already loved Ruth's teaching style and knew she was trustworthy, so she decided to dip a toe in the water with the 28 Day Metabolism Reset.
Breaking an Addiction to Carbs
While Anne was motivated, she also admits that she was a major carb addict. She had previously tried to give up carbs and failed, so she decided to start the program by listening to the lessons on mindset and the science behind weight loss.
By studying the science presented, she found the motivation to ditch the carbs and go all in. After all, as Anne said, how can you argue with science?
Just because she had the motivation didn't make it easy, however. Anne said:
"I really, really thought I was that one person, like, no way am I gonna be able to give up sugar and carbs. I had friends saying, "oh, keto's horrible." Some people were trying to sabotage the effort…They don't believe that you're gonna really change. Some of them even tempt you. And I would have to say to them, look, if I were an alcoholic, would you ask me to go out to happy hour with you? You wouldn't, you'd respect the fact. So don't ask me to go out for pizza."
By sticking to her new convictions, she completed the Reset with an incredible weight loss of 15 pounds. But more importantly, Anne felt incredible. So much so that she decided to continue on her journey with the Thin Adapted System.
Finding a Plan That Worked for Her Lifestyle
Anne knew from the get-go that she'd have to find a plan that worked with her lifestyle—and she certainly found it with TAS.
She is incredibly social, and between that and her work, she eats out the majority of her meals. That meant she had to find a livable, workable program that was flexible enough for any cuisine or situation.
Thankfully, she found that both the 28 Day Metabolism Reset and the Thin Adapted System's principles worked for any situation and helped her lose weight without cooking. From navigating vendor meals to deciphering the best menu options at client lunches, Anne made the plan work for her (as everyone is encouraged to do!).
Incredible Weight Loss Results (and More!)
All that hard work certainly paid off! Anne is currently down 36 pounds, and 17.5 inches. But, the most exciting result may have been her doctor's reaction at a recent follow up. She said:
"My cholesterol has gone from 270 to 140. My doctor said to me, 'Wow, you have the blood work of a 35 year old, whatever you're doing, keep doing it.' My AC one had gone from 6 to 4.5, so I'm in great blood work range. Everything, every marker was perfect. And so that's why I knew from a healthy standpoint that I was doing the right thing. That's a motivator to stay on the program for life."
8 Tips for Losing Weight Without Cooking
While Anne doesn't necessarily dislike cooking, it's not something she has tons of time to do. So, she opted to find ways to lose weight without cooking, and she is certainly an authority on this topic!
Here are some of her top tips for getting (and staying!) healthy, no matter what lifestyle you have.
Have portable healthy snacks on hand so you are ready for any situation.
Don't be afraid to create a custom order at restaurants. One example Anne shared was dining at a restaurant that had gnocchi carbonara. She asked the kitchen to put the carbonara sauce over broccoli rather than any gnocchi, and they were happy to oblige!
Practice portion control by taking half of your restaurant meal home. As soon as Anne gets her meal, she puts half of it in a to-go box—before she even takes a bite!
Try a meal planning service. She uses one called Gobble, and makes sure to cut out or substitute the ingredients that are too high in carbs.
Keep moving. It's hard to find time in the day to exercise or get to the gym with her busy lifestyle, so Anne opted for a virtual personal trainer. "We work out every day at 5:30 in the morning via computer. It's a group class, so it's affordable. No one can see me. So I can just, you know, roll outta bed and do what I need to do," she said.
Learn to read labels so you're aware of what's in your food and what works with your body.
Track your macros. Anne uses the LoseIt app to track everything before she eats it.
Consume enough fat. As she tracks macros, she pays special attention to fat content to make sure she is getting enough. An easy way to boost your fat intake is to eat salads with full-fat dressings and cheese or avocado.
Isn't Anne's story inspiring? We love that she's unapologetic about figuring out exactly what works for her! Way to go, Anne!
Next Steps
Ready to lose weight and get healthy for life without dieting, drugs or making yourself miserable? Our brand new (and totally free!) on demand video training will help you understand why it's been so hard and what do to about it.
Get our FREE guide to finally fix your metabolism!
Losing weight & getting healthy is never easy, but lately you might feel like it's suddenly become impossible.
Our Flip the Switch guide will help you clearly understand what's been going on, as well as exactly what you can do to get your metabolism working again so that you can look and feel your best—it's easier and more simple than you think!