Raise your hand if you consider yourself a diet connoisseur! And by that, we mean you've literally tried what feels like every diet under the sun, trying to figure out how to lose 60 pounds (in a healthy way).
If so, you've probably also experienced the frustration and hopelessness that comes when nothing actually seems to work. After all, it can take a lot of trial and error to find the right combination of diet and exercise that works for you.
But if you're serious about losing 60 pounds, you should stick around and listen to Anita Burns and her break-up journey with the endless diet cycle and finally shedding those stubborn pounds—HER way.
You just might find your own way too.
Ready to lose weight and get healthy for life without dieting, drugs or making yourself miserable?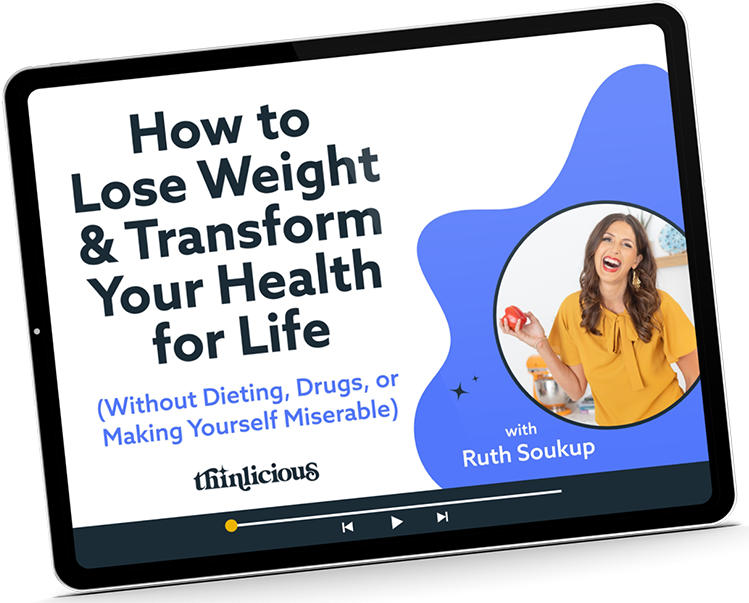 Our free on demand video training will help you understand why it's been so hard and what do to about it.
How to lose 60 pounds in a safe (and sustainable) way
Anita Burns, one of the One Year Anniversary essay winners, is a long-time client and follower of Thinlicous! She is also an inspiration to many when it comes to her break-up journey with yo-yo diets and random 3-day diets.
With a husband and teenage son (who can pretty much eat what he wants and stay a string bean), Anita was struggling to stay on top of her weight loss goals when she joined our program. And even though her family was supportive, they truly didn't understand what she was going through and all of the obstacles she was facing.
The 55-year-old had tried about everything she could think of.
She tried:
Extreme low-calorie deficit
Different name-brand programs that are "popular"
Food replacements (such as protein meal shakes and bars)
Known diets and fads that were swirling around the internet
Sound familiar?
But Anita didn't give up. She enjoyed the challenge of finding a plan that worked for her and that she could stick with long-term. She came across Ruth at a health summit, and it was like a light bulb went off.
She found herself wondering, "Can I do this? I mean—I can at least try. The worst that can happen is that I am out $50."
Well, those $50 changed her life! Everything suddenly made sense, and it just clicked. She followed the 28-Day Metabolism Reset Fall Challenge to a T and realized, "I can do this. I AM doing this."
And you can too!
In this blog post, we'll be exploring what worked for Anita and the steps she took on her journey to lose 60 pounds. We hope these tips inspire you to stay consistent and focused so that you can see results like Anita did!
What is your motivation for losing 60 pounds?
Before taking any major steps in improving your life, it's important to reflect on your true motivation for wanting to lose 60 pounds in the first place.
Maybe it's wanting to run around after your kids. Perhaps you have some blood sugar issues or have an inflamed gut you would like to get under control.
Whatever it is, take the time to think about why you're doing this and what it means for you in the long run!
For Anita, her recent blood work results were one of the key motivators that finally made her take her health and weight seriously.
She shared, "I recently had some blood work done at the doctor, and the results showed that I was on the verge of being diagnosed with diabetes. The doctor told me I was insulin resistant, but when I looked at the actual numbers on the charts, it confirmed my fear that I was pre-diabetic.
This was really scary for me because diabetes runs in my family, and I definitely didn't want to develop it.
Not only was I feeling sluggish, but I also didn't feel like myself anymore. This was the kick in the pants I needed to finally make a change and take some action."
Sometimes, when it comes to our health, there's no better motivation than having the numbers right in front of you!
How to lose 60 pounds (in 6 simple steps)
Finding ways to lose 60 pounds can seem overwhelming, but it's all about taking small steps and staying consistent.
Here are 6 simple steps you can follow to get started:
1) Get off the dieting roller coaster and make a real plan
It can be tough to break out of the dieting cycle. But you can start by getting off the roller coaster and making a real plan that allows for some flexibility while also being disciplined.
This is what Anita did, and she found it to be incredibly helpful! She stopped trying all of these random diets and fads and mapped out a weight loss plan that she felt would be attainable—something she could jump right into.
But also, just because you make a plan doesn't mean you have to stick with it for the rest of your life. You can adjust and change things as needed.
Anita started out by signing up for the 28-Day Metabolism Reset Fall Challenge. It was a great starting point that provided her with an easy-to-follow structure and lots of education.
She then began to slowly adjust her plan as needed so it fits into her lifestyle and the things that triggered her body.
She shares, "One of the things I've discovered is it's not so much WHAT I eat as WHEN I eat it."
The time of day can play a huge factor in your blood sugar levels and hormones. As women, our hormones can also cause our weight to go up and down, sometimes just because of the time of month.
Whether you're premenopausal or postmenopausal, your body is still experiencing hormonal changes that can impact weight loss and cravings. It's a lot to think about, but it's also really smart to take the time to understand what's going on with your body.
And, just a friendly reminder, your weight doesn't go in a straight line like you're constantly gaining. It's totally normal for your body to fluctuate. Just keep to your plan, and you'll continue to see progress.
2) Make changes to your diet
This is a big one—probably one of the most important ones when you are trying to figure out how to lose 60 pounds.
Once you have your goals set and your plan all ready to go, you can begin making changes to your diet. This means cutting out unhealthy, processed, and sugary foods in favor of whole, nutrient-rich foods that are going to help support your weight loss goals.
For example, if you follow our 28-Day Metabolism Reset, you'll get a grocery list of whole foods for each week, meal plans, and low-carb recipes to help make this process easier.
This will help guide you to make better choices when it comes to your eating habits and diet. We even have a whole blog dedicated to easy and simple recipes for you to choose from so that these changes to your overall diet aren't so hard on you.
Anita says her favorite recipe is the low-carb upside-down chili pie!
"One of my other favorite meals is the coconut lime chicken and rice. The cauliflower rice with that is fabulous. Let's see, what else? The taco soup. Love that! The parmesan-crusted pork chops, of course. And the halibut with parmesan butter sauce…
Oh my gosh, there's so many. They're really, really good.
Oh—I almost forgot. The vanilla cheesecake fluff. It's absolutely to die for!"
3) Incorporate exercise into your daily routine
This is an important one! As much as food can play a big part in weight loss, exercise is a key part of losing 60 pounds.
"I really regret not taking people's advice about exercising." Anita shared. "I didn't do much physical activity, and now I notice that some parts of my body are saggy and flabby, which is new for me.
I believe that if I had done more exercise, particularly with weights to tone my muscles, my skin would be tighter. However, I think this is something that will improve with time. So, definitely prioritize exercise!"
Now when people hear exercise, they automatically think of the gym—but that's not always necessary.
Find something that you enjoy doing and make it a part of your daily routine.
It can be something like:
Going for a morning walk
Doing yoga or Pilates
Taking an online exercise or dance class (like Grow With Jo on Youtube – it's free!)
Playing pickleball with your friends
4) Get enough sleep
Lack of sleep can throw off your hormones, and even little disturbances to your circadian rhythm can lead to health issues. It can even affect your weight loss.
By not getting enough sleep, you're not allowing your body to recover and rejuvenate, so it can have an effect on everything else.
Make sure to get 7-9 hours of sleep every night. Turn off all electronic devices at least one hour before bedtime and create a calming environment for yourself—take warm baths, read a book or listen to some relaxing music.
5) Try new activities
A great step to take is to try new activities that you may have never done before. This could be anything from joining a dance class, a kickboxing class, or simply going for walks in the park.
New hobbies can be incredibly helpful when it comes to maintaining motivation and consistency when trying to lose weight.
Anita recently shared her new hobby with us!
"Guess what? I've picked up a new hobby!
My husband and I have taken up ballroom dancing, and let me tell you, it's a blast. We've been at it for about two months now, and it's been such a fun way for us to spend time together. We have to take multiple lessons a week to really get the hang of it, but it's totally worth it.
What's really cool is that I never would have had the courage to try this when I weighed over 200 pounds. But now, I'm like, why not? And you know what? When I go to these dance classes, I see people of all shapes, sizes, and ages. It's inspiring to see that I could have done this all along.
I'm loving this new adventure in my life! It's truly been a game-changer for me."
6) Track your progress
When people say to track your progress, it can sometimes be very triggering and overwhelming. However, you don't need to track every single thing – just focus on tracking whatever metrics work best for you.
Anita, for example, used an app on her phone to keep track of everything!
"I absolutely love the Lose It app! It's been such a game-changer for me. I started off with the free version but eventually upgraded to the paid one because it's totally worth it. The app is incredibly user-friendly and makes tracking my meals a breeze.
I also used Keto Mojo to test my ketones. Keto Mojo is a great tool for tracking your glucose and can help you kick start the process of losing weight."
If an app isn't for you, that's okay. What matters most is that you find a system that works for you so you can track your progress and stay accountable.
You could use:
Tip: If you need help staying accountable, check out our ultra-friendly and helpful Thinlicious Facebook group!
FAQs:
We recently took some time to ask Anita some questions about her 60-pound weight loss journey and going through the 28-Day Reset. We wanted to share them with you in case you were having the same questions yourselves!
Have you noticed a big change in your blood work since you've been on this weight loss journey?
"Yes—I'm thrilled with my progress!
My blood sugar numbers have gone from around 140 to consistently in the 80s. It's amazing! When I had my blood work redone in January, after about four months on the program, my cholesterol and triglycerides were lower than ever before in my adult life.
It's mind-boggling because I'm eating 80% fat. I keep asking myself, how are my triglycerides so low? I couldn't believe it when I saw those numbers.
Thankfully, I had read that blood work numbers might increase in the first month or two, so I'm glad I didn't schedule it right away.
My doctor is curious about what I'm doing!"
If you knew that seven months later, you would've lost close to 60 pounds, would that have been shocking to you?
"I don't think I would've believed it at first! I thought maybe I could lose about 30 pounds if I really worked hard at it. But you know what? It feels like I haven't done much at all.
I simply avoid eating foods that turn into sugar in my body. I'm not really dieting, counting points, or calories. All I do is focus on low-carb foods, which is way easier than counting calories. It's much simpler to keep track of my carb intake, aiming for 35 carbs, rather than obsessing over thousands of calories."
What's your best-kept hack for losing weight and staying on track?
"One thing I've found really helpful is pre-tracking my meals. It helps me stay on track with my carb intake, which is super important to me.
I usually keep my carb count low because I don't indulge in a lot of snack foods or desserts like cookies and bread. I've noticed that when I start eating sugary treats, it's like a never-ending cycle, and I end up overeating.
That's not good for my weight loss goals!
To add a bit more carbs into my diet, I'll often reach for a handful of raspberries or blueberries. And every now and then, I'll treat myself to a small mandarin orange, which is around 10 carbs. Trust me, they're so worth it."
Did you have any hesitation about joining this 28-day challenge?
"I was worried if I could actually stick to it, considering my past experiences with losing weight and gaining it back. I never really completed a program before. Something always happened, and I would lose interest.
For example, I did a low-carb diet before my wedding and lost a lot of weight. But then, on our honeymoon to Italy, it all went out the window. So, I had my doubts about this new program. But honestly, it has been much easier than I expected.
I'm glad I took the leap and gave it a try."
What are your current goals? Where do you see yourself moving forward?
"Since reaching my goal of lowering my blood pressure, my goals have shifted a bit. Now I am determined to continue on my journey of weight loss.
Currently weighing in at 160, I have set my sights on losing an additional 20 pounds.
I believe in listening to my body and will know when I have reached a healthy point. Despite my mother's concerns, I am confident that I can safely lose those 20 pounds and maintain my well-being!"
Next Steps
If you found this post helpful, you'll love the podcast where we interview
Anita. Check out the Ditch the Carbs Podcast here!
And are you eady to lose weight and get healthy for life without dieting, drugs or making yourself miserable? Our brand new (and totally free!) on demand video training will help you understand why it's been so hard and what do to about it.
Get our FREE guide to finally fix your metabolism!
Losing weight & getting healthy is never easy, but lately you might feel like it's suddenly become impossible.
Our Flip the Switch guide will help you clearly understand what's been going on, as well as exactly what you can do to get your metabolism working again so that you can look and feel your best—it's easier and more simple than you think!