Creamy keto cheesy baked asparagus – can be cooked in the oven, BBQ, or air fryer.
Even picky children will love their veggies with the creamy cheese sauce. Your children will come back for seconds!
Baked cheesy asparagus is one of the best keto vegetable side dishes to make.
You may also want to see the best keto side dishes for pork, best keto side dishes for chicken, easy keto side dishes for salmon, and quick keto side dishes for beef.
Are you ready to create the ultimate 12-month blueprint for reaching your health & weight loss goals this coming year?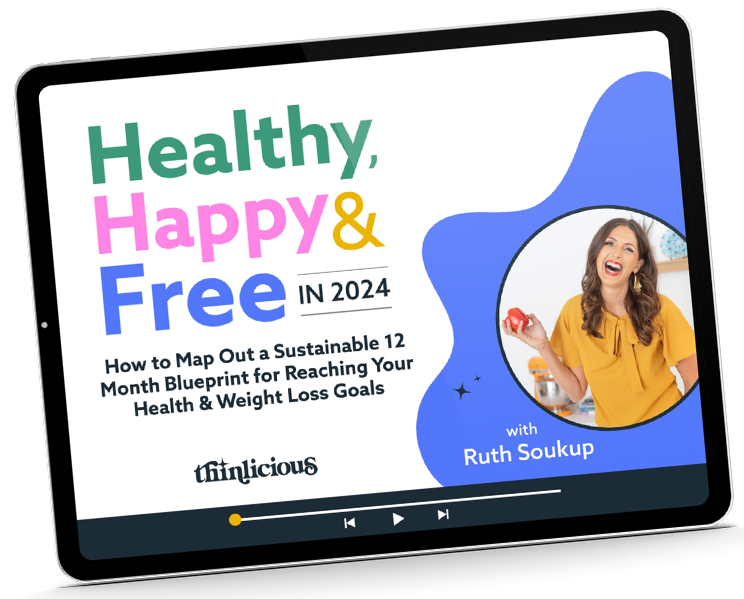 Our free on-demand video training will walk you through how to make 2024 THE year you set health goals…and keep them.
Is asparagus keto?
Yes, asparagus is keto, as long as you don't overdo it. Asparagus is low in net carbs, high in fiber, and is a perfect low carb vegetable for the low-carb diet or keto diet.
Not only is it low in carbs, but it is a good source of fiber, folate, and antioxidants.
Asparagus is adaptable as a side dish, appetizer, main. meal and can be eaten hot or cold.
Asparagus Nutrition values per 100g: 3.9 g total carbs, 2.1 g fiber, 1.8 g net carbs, 2.2 g protein, 0.1 g fat, 20 calories.
Nutritional values from cronometer.com
Which vegetables are low-carb?
The best low-carb vegetables are low starch vegetables that are grown above the ground. The most common vegetables enjoyed on the low-carb diet are spinach, broccoli, cauliflower, Brussels sprouts, creamed Brussels sprouts, and of course, asparagus.
To make these healthy vegetables tastier, you can add a creamy sauce, herbs, spices, seasoning, and delicious melted butter.
Keto cheesy baked asparagus
Some readers mention they find asparagus can have an aftertaste and at times can taste bitter. This keto cheese sauce is the best way to add flavor to your asparagus.
Another way to prevent this bitter aftertaste is to make sure you snap off the ends of your asparagus stalks. Snap each end and discard.
Add plenty of flavors to the keto cheesy sauce and season well. Always make sure you cook baked asparagus until there are no areas that are still crunchy. Raw asparagus will taste slightly bitter.
How to prep asparagus
You can make this keto baked asparagus with any asparagus you are able to pick up at the store. It doesn't matter if your asparagus is thin or thick. The thickness of your asparagus will largely depend on the season in which you are making this dish.
The first step to prepare your asparagus is to rinse it in cold water. Then remove the dry woody ends from each spear. There are two ways you can do this.
1: The first way to remove the ends of the asparagus is to cut the bottom 1-2 inches off with a knife.
2: The second way is to hold a spear of asparagus between your fingers at both ends. Then bend it until the woody end snaps off. Repeat this move with each piece of asparagus.
Keto cheese sauce
Making the keto cheese sauce is quick and easy. To make the sauce mix together some softened cream cheese, shredded mozzarella cheese, shredded parmesan cheese, chicken broth, garlic powder, and Italian seasoning in a bowl.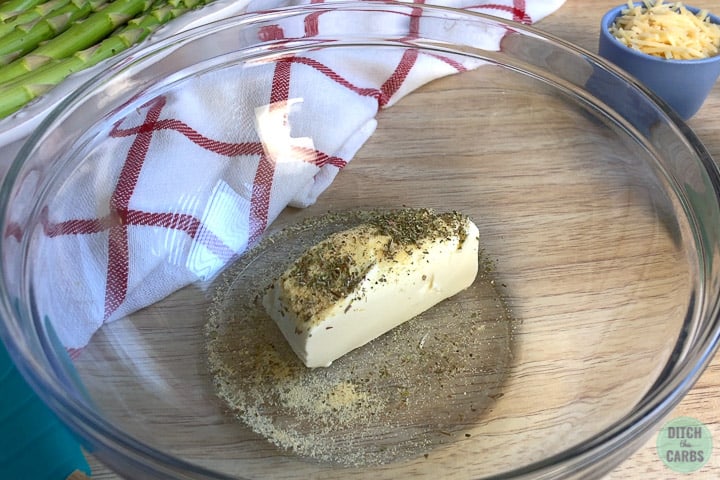 I typically used garlic powder instead of fresh garlic because the flavor is more concentrated.
Feel free to use fresh garlic or herbs in your cheese sauce if you would like.
Since cheese is naturally salty, I only recommend adding salt and pepper to taste if you think it is needed. I usually think it is salty enough on its own.
Prepare
Place your asparagus in an oven safe baking disk. Your pan only needs to be large enough to fit your asparagus.
Then pour your keto cheese sauce over the asparagus and spread it out. When you are ready to cook the asparagus cover the pan with aluminum foil and bake in the oven.
Oven
To bake the asparagus in the oven you will want to preheat your oven to 220C/425F degrees. When the oven is hot place the asparagus in the oven and bake for 10-15 minutes.
How long your asparagus takes to cook will depend on the thickness of the asparagus.
Your asparagus is done cooking when the spears are tender and the cheese is melted and bubbling.
Remove the foil from the pan during the last 2-3 minutes to allow the top to brown. If you forget to remove the foil while cooking the top can also be browned under your oven broiler.
More Low-Carb Vegetable Recipes & Side Dishes …
BBQ
To cook baked asparagus on the BBQ simply follow all the cooking instructions above, cover with foil, and place on a medium heat BBQ, and close the lid. This allows the heat from the BBQ to cook the asparagus and cheese sauce recipe from all sides like an oven would do.
The time will vary depending on how hot your BBQ is. It takes a little longer to cook it on the BBQ but the smokey BBQ aromas add to the delicious dish.
Air fryer
To cook cheesy bake asparagus in the air fryer will make them soft, light and with areas of crispy crust. Asparagus cooks at a slightly lower temperature than most recipes that use an air fryer, but this keeps the asparagus slowly cooking and ensures the cheesy sauce doesn't dry out.
Before you begin, make sure your heatproof baking dish or pie dish is small enough to fit inside your air fryer. There must be at least 1 inch on all sides to allow the heat to circulate evenly.
You may need to halve this recipe to fit into a smaller dish, or make 2 smaller dishes and cook one at a time.
Do not cover the dish with foil. You only need foil for the oven cooking method.
Preheat to 160C/325F.
Gently lower your baking dish onto the wire rack. Ensure there at least 1 inch space between the pie dish and the side of the basket.
Cook for 15-20 minutes, depending on the size of your air fryer and the size of your baking dish.
If you love using your air fryer, I have 101 keto air fryer recipes for you to choose from (chicken, pork, ground beef, salmon, vegetables, and even desserts). Discover how to use your air fryer plus FREE printable air fryer cooking cheat sheets.
Serving
Your keto cheese sauce is the perfect addition to any vegetable. I have used this sauce on baked broccoli and Brussels sprouts and my family loved them.
To use the sauce with other vegetables prepare it how you would the asparagus. You may need to adjust the cooking time and temperature to match the vegetable you are baking.
To use this sauce with steamed, boiled, or raw vegetables you will likely need to melt the sauce together. The sauce can be melted in a saucepan on the stove over low heat. You can then dip or toss the vegetables in the cheese sauce.
Keto cheesy baked asparagus
Keto cheesy baked asparagus is best served warmed, but can also be reheated.
How to reheat baked asparagus
Reheat in the microwave: To reheat your asparagus simply pop a portion in the microwave for 45 seconds to one minute.
Reheat in the oven: The asparagus can also be reheated in the oven at 220C/425F for 5-8 minutes, or until it is warm.
Reheat on the BBQ: Place the heat proof baking dish onto the BBQ and close the lid for 5-10 minutes at a medium heat.
Keto cheesy baked asparagus is the perfect side to pair with this easy slow cooker whole chicken recipe. Enjoy!
More keto side dishes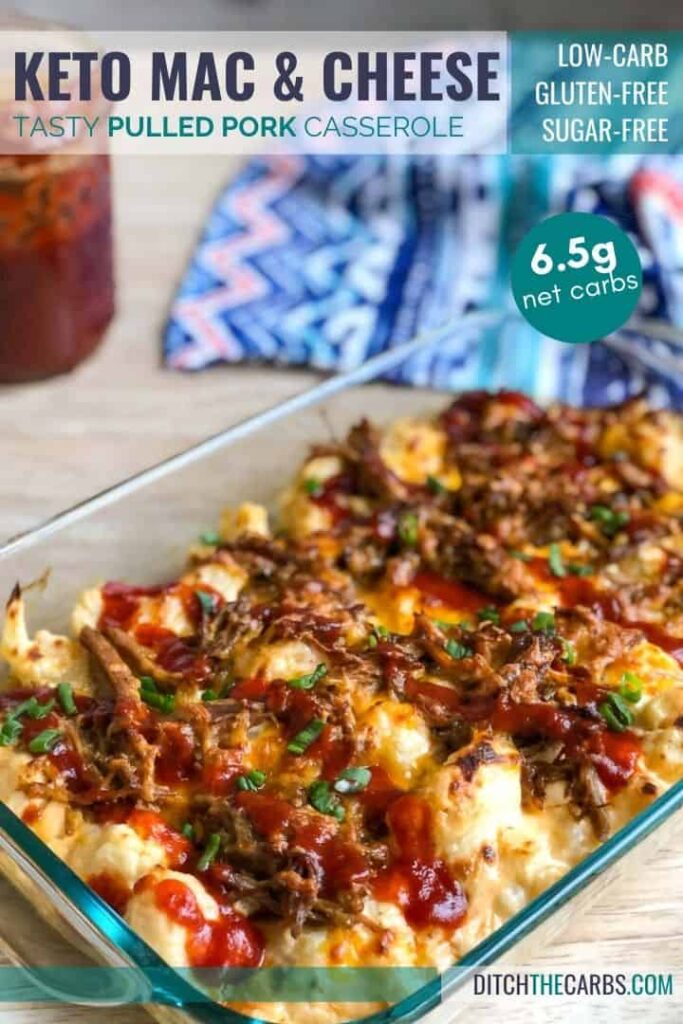 Keto Cheesy Baked Asparagus Recipe
Your whole family will love this keto cheesy baked asparagus. This asparagus is perfect if you are looking for a tasty low-carb side.
Print
Pin
Rate
Want to lose weight and get healthy for life—without dieting, drugs, or making yourself miserable?
We can help! Tell me how!
Ingredients
450

g

asparagus spears

with woody ends removed

4

tbsp

cream cheese

softened

½

cup

pre-shredded/grated mozzarella

pre-shredded

⅓

cup

parmesan cheese

shredded

80

ml

chicken stock or broth

¼

tsp

garlic powder

¼

tsp

Italian seasoning

+/- salt and pepper

optional to taste
Instructions
Preheat your oven to 220°C/425°F.

Wash your asparagus and snap the wooden ends off each spear of asparagus. Then spread your asparagus out in a lightly greased baking pan.

In a bowl mix together the remaining ingredients to make a cheese sauce.

Next, pour cheese sauce over the asparagus. Spread the cheese sauce out with a spoon if needed.

Cover your pan with foil and bake in the oven for 10-15 minutes or until your asparagus is tender and the cheese is bubbling.

Remove the foil from the pan and let the top of the cheese sauce brown in the oven for 2-3 more minutes before removing it from the oven. Let your baked asparagus cool for a few minutes then garnish and serve.
Nutrition
Serving:
1
serve ( serves 4)
Calories:
148.4
kcal
Carbohydrates:
5.8
g
Protein:
9.5
g
Fat:
10.4
g
Sodium:
324
mg
Potassium:
269.6
mg
Fiber:
2.4
g
Sugar:
2.8
g
Vitamin A:
1205
IU
Vitamin C:
7.3
mg
Calcium:
210.6
mg
Iron:
2.6
mg
Get our FREE guide to finally fix your metabolism!
Losing weight & getting healthy is never easy, but lately you might feel like it's suddenly become impossible.
Our Flip the Switch guide will help you clearly understand what's been going on, as well as exactly what you can do to get your metabolism working again so that you can look and feel your best—it's easier and more simple than you think!