Coconut flour bread is an easy all-purpose, low-carb, keto-friendly bread recipe that you will love. Keep reading to see how we make this tasty bread with minimal ingredients.
The best bit? It's only 1.7g net carbs per slice. Gluten-free, wheat-free, keto, low-carb and no sugars.
This is the perfect homemade healthy bread recipe.
Baking 101 (tips & charts)

Ingredients you need
You only need a few simple low-carb baking ingredients to make this low-carb keto bread recipe. All quantities and instructions are in the recipe card.
Are you ready to create the ultimate 12-month blueprint for reaching your health & weight loss goals this coming year?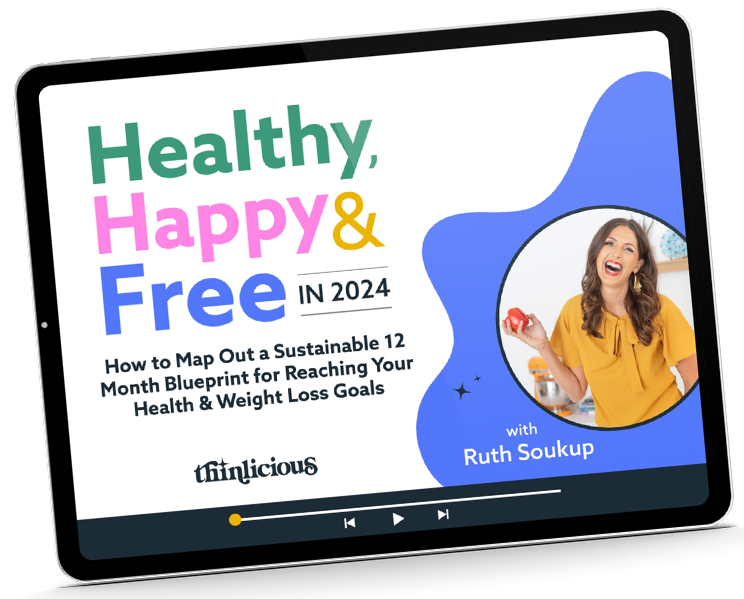 Our free on-demand video training will walk you through how to make 2024 THE year you set health goals…and keep them.
Eggs – medium fresh eggs.
Coconut flour – do not be confused with desiccated coconut.
Baking powder – always check expiry dates to ensure it is still fresh.
Salt – add more or less salt as you like.
Unsalted butter – if using salted butter do not add salt
Water
Is coconut flour gluten-free?
Yes, coconut flour is naturally gluten-free. It is made from the leftover coconut pulp that has been defatted and dehydrated.
It is extremely low on net grams of carbs, is incredibly high in fibre and has a healthy omega 3:6 ratio which most of the nut flours do not.
Is coconut flour low-carb or keto?
Coconut flour is extremely low in net carbs and high in fibre which makes it perfect for those who are on a low-carb diet or keto diet.
Not sure which diet to follow? You can learn how many carbs per day you might need.
Is coconut flour high in protein?
Coconut flour itself is not high in protein, however, the recipes that use coco require a high number of eggs so the resulting recipe will be high protein.
Is coconut flour expensive?
No, coconut flour is a cheaper alternative to expensive gluten-free flours and low-carb flours such as almond flour. You also only require a fraction of coconut flour when compared to a recipe that uses almond flour.
For example, my Fat Head pizza recipe requires 3/4 cup (85g) almond flour but if you wish to use coconut flour instead, it only requires 1/4 cup (4 tablespoons). So that is a huge cost saving.
Why is homemade coconut flour bread so versatile?
Coconut flour is an excellent natural flour for making healthy homemade bread. Coconut flour is low-carb and gluten-free; making it compatible with keto and other low-carb diets.
This bread is versatile and covers a variety of health restrictions. It is sturdy enough for the toaster and to be used for school lunchbox sandwiches.
Since there is no gluten in coconut flour the texture of the bread is a bit denser, similar to a slice of light banana bread, and it won't rise as much as wheat bread so your slices will be smaller.
However, the bread is filling and perfect for eating healthy portions.
Expert cooking tips
There are two tips that are essential for making this bread. Without them, you may end up with a very heavy dense brick of bread.
And nobody wants that!
These tips may seem unimportant because they are so simple, but they are critical to making this healthy homemade bread.
Accuracy
The first tip is ACCURACY! You should either weigh your coconut flour (the gold standard of accuracy) or scoop the coconut flour into your measuring cup with a spoon instead of scooping the flour with your measuring cup.
This is important because when you scoop the flour with your measuring cup you are inadvertently compacting the flour and may accidentally use twice as much flour as needed.
Always whisk your egg whites
The second tip is to separate your egg yolks and whites so that you can whip the whites into stiff peaks.
This will take an extra five minutes or so, but it really makes a difference in the texture of the bread.
If you don't have time to whip the egg whites that's ok, but just understand that your bread will turn out denser than if you had.
How to make keto bread dough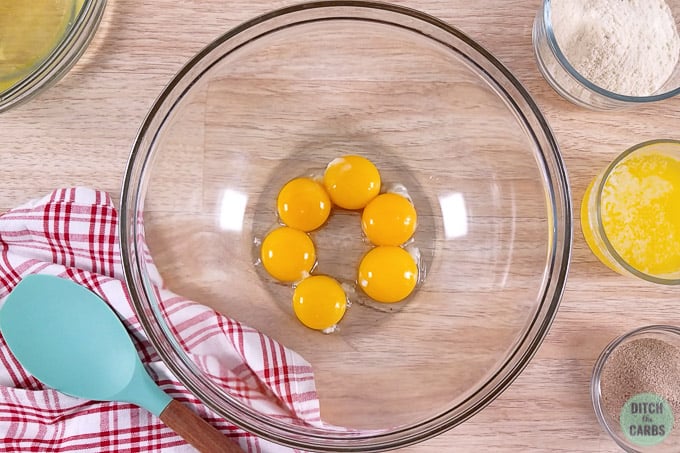 To make your dough you will want to start by separating your egg yolks and whites into two bowls.
When your eggs are separated, mix your coconut flour, baking powder, butter, water, salt, and psyllium husk into the bowl that contains your egg YOLKS.
Set your dough aside while your whip the egg whites to allow the dough to thicken.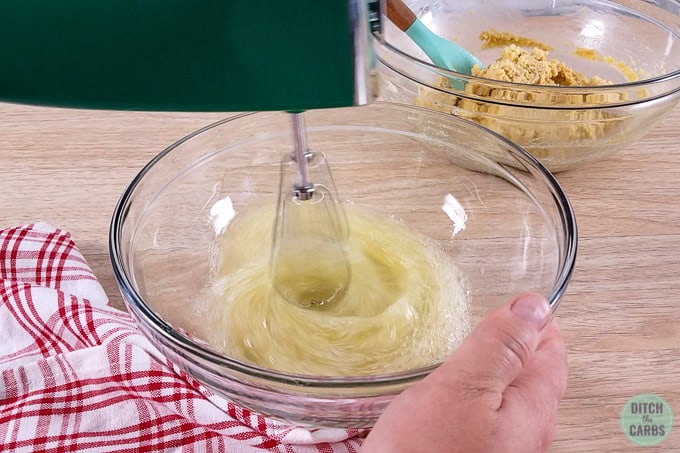 Use your hand blender/electric whisk to whip your egg whites into stiff peaks.
It will look a lot like whipped cream. When they are done you should be able to turn the bowl over without the egg whites sliding out. This will probably take you about 5-8 minutes.
Next, fold your egg whites into your dough until they completely disappear.
Your dough should have thickened a lot as it sat because the coconut flour and psyllium husk will absorb and swell with the liquids.
Psyllium husk can usually be found at the grocery store in the dietary supplement section, be sure to choose unflavored no sugar added psyllium husk.
Baking instructions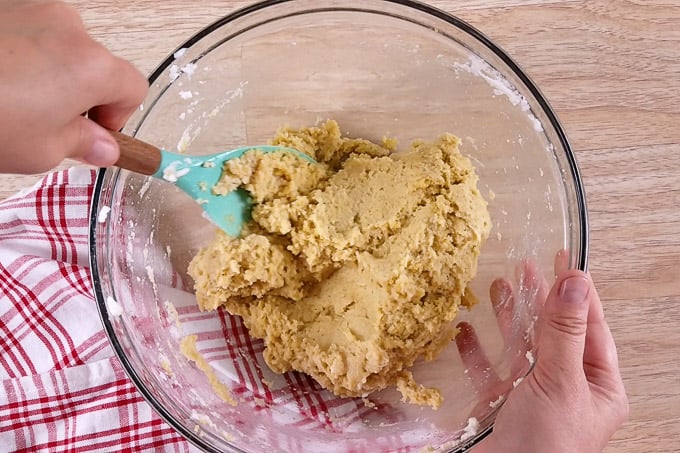 Now that your dough is done your bread is ready to bake. Preheat your oven to 180C/350F and line your bread pan with parchment paper.
Pour the dough into the bread pan and smooth out the top. I like to sprinkle a mixture of flax and chia seeds over the top of my bread but that is completely optional.
Bake the bread for 40-50 minutes in the oven or until the internal temperature is 77C/170F. When the bread is done be sure to let it cool completely before slicing.
What to serve on keto bread
This coconut flour bread surprisingly doesn't taste like coconut which make this bread the perfect all-purpose low-carb bread.
You can toast a slice and serve it with almond butter on top.
It is strong enough to be used as sandwich bread.
I have also used it to make garlic cheese bread by adding butter, garlic, and cheese to the slices and then popping it into the oven to crisp.
The uses for this bread go as far as your imagination will go.
If you're wanting bread for summer BBQ, you might like my Mediterranean focaccia bread. Stuffed with olives, feta, and sundried tomatoes.
Storage
To store your bread wrap it tightly in parchment paper and then place it in an airtight storage container or zipped storage bag. The bread should be stored in the refrigerator or freezer because there are no preservatives or additives (yay) and because it is egg heavy.
How to defrost
Your homemade bread will last 3-5 days in the refrigerator or up to 3 months in the freezer. I highly recommend reheating the bread in the toaster after removing it from the refrigerator or freezer.
That's all!
An easy bread recipe with simple low-carb ingredients. If you don't have psyllium husk, but still want to make this bread go ahead and leave it out.
The psyllium husk helps hold the bread together so that it is not crumbly. The recipe will still work without it, your bread will crumble a little easier though. Enjoy!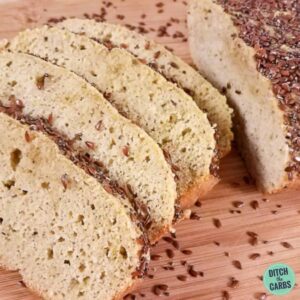 Coconut Flour Bread
This easy coconut flour bread recipe is perfect for making bread for toast, sanwiches, or garlic bread.
Print
Pin
Rate
Want to lose weight and get healthy for life—without dieting, drugs, or making yourself miserable?
We can help! Tell me how!
Equipment
Loaf pan

Mixing bowls

Electric Hand Mixer

Parchment Paper
Ingredients
Coconut Flour Bread
6

eggs – medium

75

g

coconut flour

2

tsp

baking powder

¼

tsp

salt

115

g

butter

if using salted butter do not add salt

2

tbsp

psyllium husk

125

ml

water
Coconut flour bread topping
1

tbsp

seeds of choice to sprinkle on top

optional (flax and chia)
Instructions
Crack your eggs and separate the white from the yolks. Place the yolks in one bowl and the whites in another.

Into the bowl with the EGG YOLKS mix all the remaining ingredients (apart from the seed topping and eggs whites) including the water and melted butter. Mix well until there are no clumps. Set aside to allow the dough to thicken.

75 g coconut flour,

2 tsp baking powder,

¼ tsp salt,

115 g butter,

2 tbsp psyllium husk,

125 ml water

While the dough is thickening use an electric hand mixer to beat your EGG WHITES until stiff peaks form. This will take about 5-8 minutes. You will know your egg whites are done when you are able to turn the bowl over without the egg whites falling out.

Once your eggs white are whipped fold them into your dough.

Line a bread pan with baking parchment paper and fill the pan with your finished dough. Smooth it out and sprinkle the top with the seeds.

1 tbsp seeds of choice to sprinkle on top

Bake the bread in a pre-heated oven at 180C/350F for 40-50 minutes or until the bread is 77C/170 degrees. Remove the bread from the oven and cool completely before slicing and serving.

To store the bread, allow it to cool completely then wrap it tightly and place in an air-tight container or zip bag. Refrigerate for 3-5 days or freeze for up to 3 months.
Notes
Whipping the egg whites really does make this coconut flour bread super light and fluffy.
Nutrition
Serving:
1
slice (makes 10)
Calories:
169.9
kcal
Carbohydrates:
4
g
Protein:
5
g
Fat:
15.4
g
Saturated Fat:
6.9
g
Cholesterol:
122.6
mg
Sodium:
98.2
mg
Potassium:
117.2
mg
Fiber:
2.3
g
Sugar:
0.4
g
Vitamin A:
426.2
IU
Calcium:
73.9
mg
Iron:
0.8
mg
More coconut flour recipes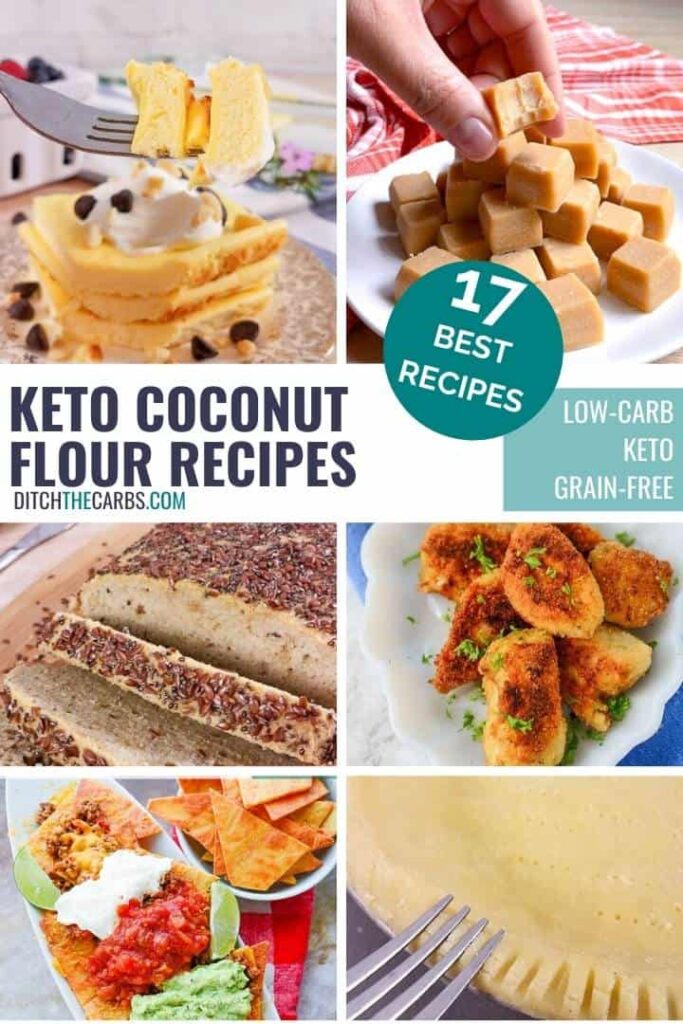 Get our FREE guide to finally fix your metabolism!
Losing weight & getting healthy is never easy, but lately you might feel like it's suddenly become impossible.
Our Flip the Switch guide will help you clearly understand what's been going on, as well as exactly what you can do to get your metabolism working again so that you can look and feel your best—it's easier and more simple than you think!