Learn how to make delicious low-carb chocolate chip vanilla chaffles in less than 5 minutes.
Every child I've met LOVES chocolate chip waffles. So if you have been searching for an easy healthy breakfast the whole family will love, then keep reading to discover the amazing world of chaffles!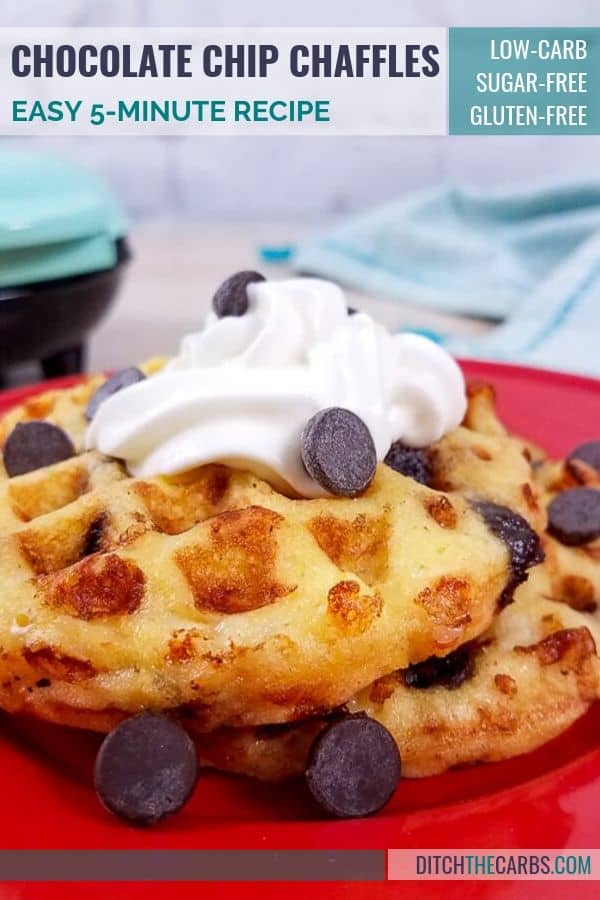 They are keto, low-carb, gluten-free, sugar-free and I haven't met a single person yet who doesn't love chaffles.
What is a chaffle?
You may be thinking "what is a chaffle?" As the name suggests, a chaffle is a cheesy waffle made from cheese and egg. When the cheese and egg cook together, they make a crispy yet light and fluffy waffle that is incredibly versatile because it doesn't taste like cheese.
Are you ready to create the ultimate 12-month blueprint for reaching your health & weight loss goals this coming year?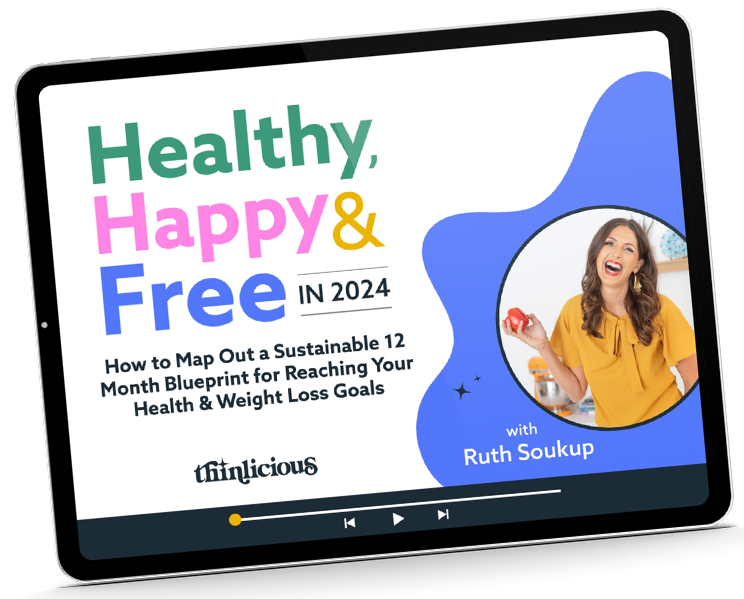 Our free on-demand video training will walk you through how to make 2024 THE year you set health goals…and keep them.
CHAFFLE = Cheese + Waffle
Chaffles are like waffles but are made with egg and cheese instead of flour. The egg and cheese mix together to make a bread-like waffle texture. Since we are going for sweeter chaffles this recipe will use almond flour, sweetener, and vanilla extract to help bring the flavours together.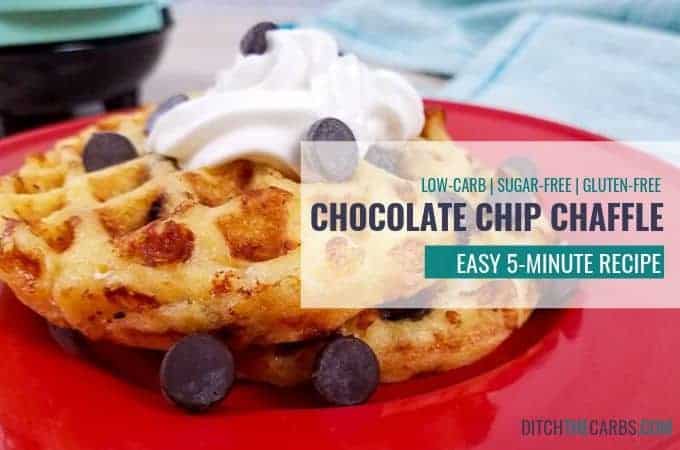 [convertkit form=2151310]
Which waffle maker is best?
Save your money, you don't need one of those expensive fancy waffle makers.
A mini waffle maker is a perfect size and will allow you to make 2 mini-chaffles for each recipe.
A larger waffle maker will make one large waffle per recipe. Any waffle maker will work though.
The basic recipe
The basic recipe is 1 egg PLUS 1/2 cup pre-shredded mozzarella. Then we get fancy and can really play around with flavours.
Each recipe will make two MINI chaffles or 1 LARGE chaffle.
To see the most popular flavours and varieties of chaffles, discover how easy it is to make chaffles.
Do chaffles taste cheesy or eggy?
As long as you use mild cheese, and you flavour your chaffles – then no. They do not taste eggy or cheesy.
If you are sensitive to eggy or cheesy flavours, always add some additional flavours. So maybe some extra sweetener and vanilla for sweet chaffles, and some extra spices for the savoury ones.
[convertkit form=2151310]
Low-carb chocolate chip vanilla chaffles
Now you have discovered the wonderful world of keto chaffles, sugar-free chaffles, gluten-free chaffles, and 2-ingredients chaffles, let's ramp things up a notch and show you how to make chocolate chip vanilla chaffles.
You will be able to make two mini-chaffles with this recipe if you use a mini waffle maker, and one if you use a regular-sized waffle maker.
Instructions
I use shredded mozzarella cheese in this recipe because the flavour is mild, and when mixed together with the other ingredients do not taste cheesy. However, you can easily substitute another cheese in place of mozzarella if you desire. Cream cheese would be an excellent alternative.
To make the batter you will need to mix together your cheese, egg, vanilla, almond flour, sweetener, and chocolate chips in a small bowl or mug. Since you are only making two chaffles, you only need 10-12 sugar-free chocolate chips or cacao nibs.
Cooking
You can be making your batter while you pre-heat your waffle maker. When it is hot you will want to spray the top and bottom of the waffle maker with a little oil. If you do not have spray oil you may also grease the waffle maker with a little oil and a paper towel before you pre-heat it.
Pour half the batter into the waffle maker and spread it around so that the bottom is covered. Then close the waffle maker and let the chaffle cook for 2-4 minutes before removing it. Use the remaining batter to make a second chaffle.
Serving
The chocolate chips, vanilla, and sweetener in the batter give these chaffles plenty of flavor. So when I serve them I usually only place a spoonful of sugar-free sweetened cream on top.
Sometimes I will sprinkle them with a few more chocolate chips or berries. But they can be eaten plain as well.
[convertkit form=2151310]
Chocolate chip chaffles are best served warm so that the chocolate chips are still melted. It's kind of like eating a chocolate chip cookie.
However, they are also delicious cold so something I will wrap them up and send them to school with my children as a tasty snack. The protein, healthy fats, and omegas in the eggs, cheese, and almond flour are great when you need some midday fuel.
These chaffles will last in the refrigerator for 1-2 days without much change to the texture or flavour of the chaffle. Enjoy!
[convertkit form=2151310]
Freezing
Sugar-free keto chaffles are brilliant to make a huge batch of them and throw them in the freezer, they are a SUPERB emergency healthy kid's lunch box filler. Here's how:
Allow the chaffles to cool completely
Place layers of low-carb chaffles in an airtight container with sheets of baking parchment in between.
Seal and freeze for up to 3 months.
Defrost by toasting, frying or microwaving for 10 seconds. Enjoy.
So yes, you can freeze chaffles, but remember, you can make 2 delicious mini low-carb chocolate chip vanilla chaffles in less than 5 minutes.
Recipe tips
Always mix the egg and cheese well before pouring into your waffle maker
Make sure you spread the chaffle mixture out evenly into your waffle maker
If you don't have a waffle maker, you can use a frying pan
The longer you cook chaffles, the crispier they become
You may substitute any mild cheese you wish to in place of pre-shredded mozzarella.
Always check your pre-shredded mozzarella for additives such as potato or rice starch which is often added to prevent the shredded cheese from clumping. Find a good brand without these additional unnecessary carbs.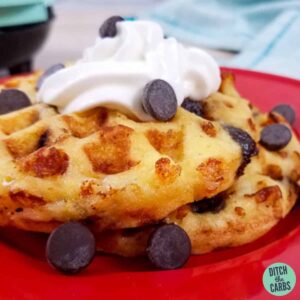 Low-Carb Chocolate Chip Vanilla Chaffles Recipe
Make delicious low-carb chocolate chip vanilla chaffles in less than 5 minutes.
Print
Pin
Rate
Servings:
1
(2 mini or 1 large)
Want to lose weight and get healthy for life—without dieting, drugs, or making yourself miserable?
We can help! Tell me how!
Equipment
Mini Waffle Maker

Large waffle maker
Ingredients
1/2

cup

pre-shredded/grated mozzarella

1

eggs – medium

1

tbsp

granulated sweetener of choice

or more to your taste

1

tsp

vanilla extract

2

tbsp

almond meal/flour

1

tbsp

sugar-free chocolate chips

or cacao nibs
Instructions
Combine the ingredients in a bowl.

Preheat the mini waffle maker. When it is hot spray with olive oil and pour half the batter into the waffle maker. Cook for 2-4 minutes then remove and repeat. You should be able to make 2 mini-chaffles per recipe.
Nutrition
Serving:
1
serve
Calories:
297.6
kcal
Carbohydrates:
5.4
g
Protein:
22.2
g
Fat:
20.1
g
Sodium:
412.6
mg
Potassium:
114.4
mg
Fiber:
1.5
g
Sugar:
1.8
g
Vitamin A:
509.4
IU
Calcium:
496.3
mg
Iron:
1.4
mg
More recipes you may like: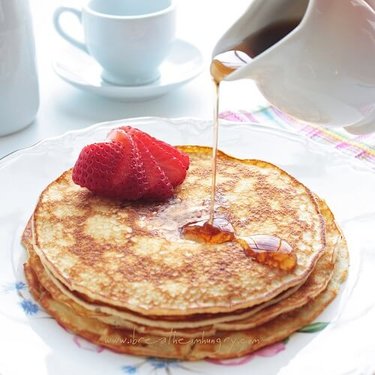 [convertkit form=2151310]
More chaffle recipes you may like: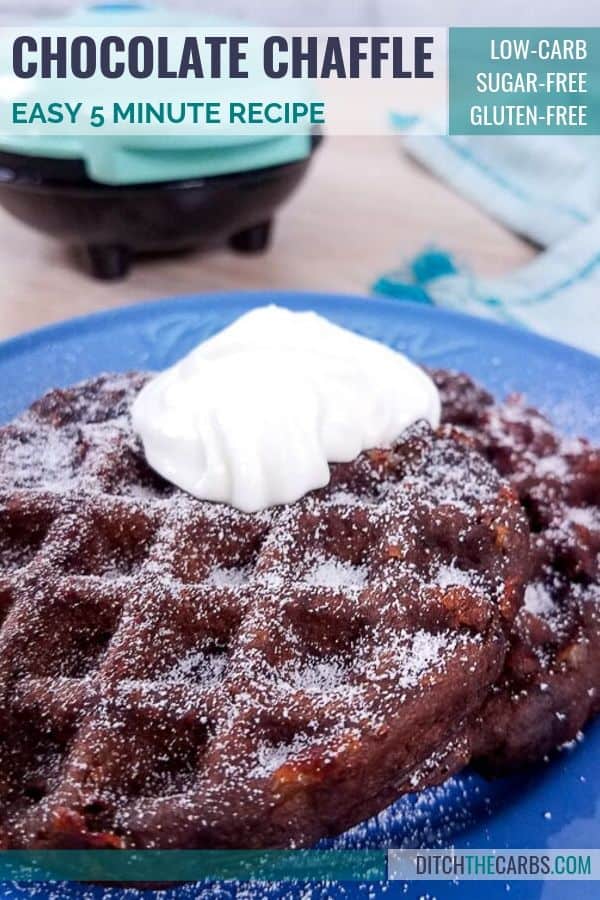 Get our FREE guide to finally fix your metabolism!
Losing weight & getting healthy is never easy, but lately you might feel like it's suddenly become impossible.
Our Flip the Switch guide will help you clearly understand what's been going on, as well as exactly what you can do to get your metabolism working again so that you can look and feel your best—it's easier and more simple than you think!