Who else loves low-carb spring rolls? A family favourite that has a multitude of filling options that everyone will love. Just scroll to the bottom of the post and see all the tasty ideas.
Low-Carb Spring Rolls
Low-carb spring rolls as you can see, are actually quick and easy to make. Gone are the high carb rice papers, rice noodles and the unhealthy oils they are usually fried in, and instead I use wilted cabbage leaves.
Low-carb spring rolls can be made as big or as small as you prefer. If you were to make smaller ones, they could be served as a starter/appetiser or as a party platter. If you make them large, they can be served as a complete family meal.
You can easily vary the fillings, and therefore the carb content. For example, if you want to lower the carbs, omit the carrots and green beans, and add more low carb vegetables. Great vegetables are bok hoy, celery, mushrooms and spring onions. (see below for all the filling options).
You can also vary the meat. If ground/minced chicken isn't your thing, go for beef, lamb, prawns or fish instead.
Low-carb spring rolls - AND a quick cooking video. The perfect family meal. Click to Tweet
NOTE: I occasionally make my low-carb spring rolls using rice papers for my children's lunch box. Some readers complain that this isn't strictly low carb, and I completely agree, but my reasoning is two-fold. Firstly there are between 4g – 10g carbs in a medium rice paper (depending on size and brand) AND secondly, rice papers are a great sturdy way for spring rolls to survive the journey to school in their lunch box. They will no longer be low-carb spring rolls, but are a great option for children who don't need to monitor their carbs as closely as I would.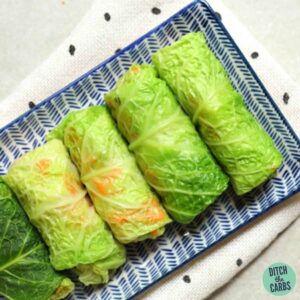 Low-Carb Spring Rolls Recipe (cabbage rolls)
These little low-carb spring rolls are the perfect healthy way to amp up your veggies. A gluten-free healthy nutritious meal for tonight.
Print
Rate
Want to lose weight and get healthy for life—without dieting, drugs, or making yourself miserable?
We can help! Tell me how!
Ingredients
1

red onion

finely sliced

2

cloves

garlic minced

crushed

500

g

ground/minced chicken

or meat of choice, see below

variety of shredded vegetables

cabbage leaves
Instructions
Gently fry the onions, garlic and any other spices in oil until cooked, but not browned.

Add the chicken (or other meat) and stir until thoroughly cooked.

Prepare your vegetables by slicing, grating, shredding or dicing them.

To prepare the cabbage leaves, place each cabbage leaf in a bowl of boiling water using kitchen tongs. Leave each cabbage leaf in the water for 1 minute, or until soft and bendy. Remove from the boiling water.

Place a wilted cabbage leaf on the chopping board. Add your cooked chicken (or other meat), vegetables, herbs and sauces.

Begin by folding the bottom of the cabbage leaf over the fillings, fold in the sides then continue to roll up the entire spring roll.

Place each low-carb spring roll on an oiled baking tray and bake at 180C/350F for 10-15 minutes.
Notes
No nutrition facts can be given as the fillings and vegetables used will vary widely. Each cabbage leaf is 0.5g net carbs, chicken, beef, pork and most other meat will be zero carbs. For the carb values in vegetables, see here.
Nutrition
Calories:
128
kcal
Carbohydrates:
2.1
g
Protein:
14.8
g
Fat:
6.8
g
Sodium:
50.9
mg
Potassium:
461.8
mg
Fiber:
0.3
g
Sugar:
0.8
g
Vitamin C:
1.7
mg
Calcium:
11
mg
Iron:
0.7
mg
Low-Carb Spring Roll Filling Options
Low-carb spring rolls are perfect for dinner, snack, appetiser, and school lunch boxes. Fill them with your favourite protein, sauces and vegetables. Here are just some of my favourite filling options. Please leave a comment and tell me what you would serve inside.
chicken with garlic, ginger, coriander (cilantro), bok choy and sesame seeds
shrimp with beansprouts, ginger, garlic and shredded coconut
beef with shredded cabbage, spring onions, broccoli, sliced peppers
a variety of leftover vegetables with coriander, mint, ginger, chilli, peanut sauce, cashews
salad ingredients such as lettuce, avocado, spring onions and cherry tomatoes (do not bake – serve cold)
pork with shiitake mushrooms, garlic, ginger, finely diced cauliflower with a spicy nut butter sauce
cold roast chicken with mint, beansprouts, ginger and lemon
salmon, mint, lime, broccolini, and shredded red cabbage
tinned/canned tuna, red and yellow peppers, chilli, avocado and cucumber slices (do not bake – serve cold)
Serve with a salad, steamed vegetables, bok choy, dipping sauces, sprinkle with sesame seeds when the spring rolls come out of the oven. If you have time, make a double batch and that is school lunch sorted for tomorrow (and maybe the next day).
Get our FREE guide to finally fix your metabolism!
Losing weight & getting healthy is never easy, but lately you might feel like it's suddenly become impossible.
Our Flip the Switch guide will help you clearly understand what's been going on, as well as exactly what you can do to get your metabolism working again so that you can look and feel your best—it's easier and more simple than you think!