A perfectly simple, healthy recipe, for bacon-wrapped asparagus. It is the perfect dish to entertain guests this holiday season.
This simple and tasty low-carb recipe can be cooked in the oven, in a frying pan, or on the BBQ and is the perfect side dish for chicken, beef, pork, and BBQs.
Do you need to cook the bacon?
No, you don't need to cook the bacon before it is wrapped around the asparagus. The bacon cooks in the oven, frying pan, or BBQ until it is golden brown and crispy.
Instructions
Low-carb bacon-wrapped asparagus can be cooked in the oven, under the grill, or on the barbecue for summer.
Ready to lose weight and get healthy for life without dieting, drugs or making yourself miserable?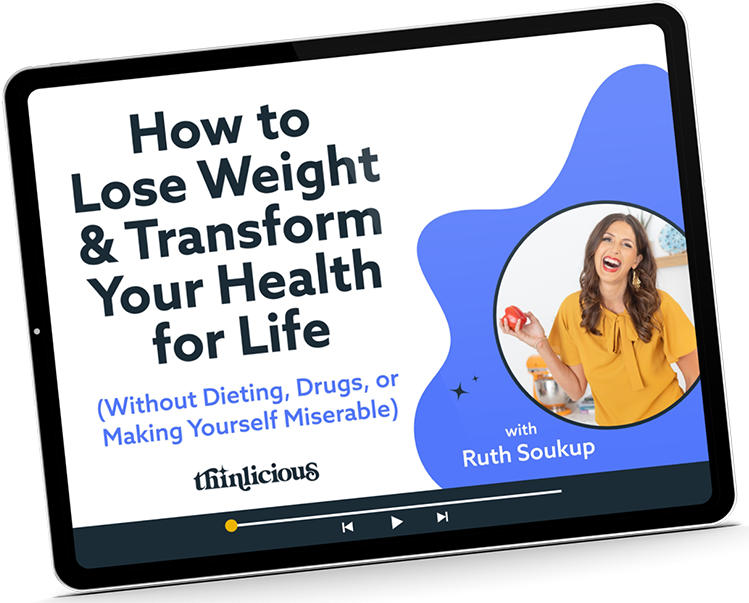 Our free on demand video training will help you understand why it's been so hard and what do to about it.
Many bacon-wrapped asparagus recipes are difficult because you need to get the balance right between crisping the bacon and not overcooking the asparagus.
This baked asparagus recipe is easy because you will part-cook the asparagus first.
Step 1 – Part-cook the asparagus
Snap the end off each asparagus stem. This will prevent the woody part of the asparagus from being eaten.
After preparing the asparagus, partly cook in boiling water for a few minutes until soft, but a little crunch remains in the center.
Step 2 – Wrap the asparagus with bacon
Place two asparagus spears on each bacon slice. Season with salt and pepper. Roll up and place on a prepared baking tray that has been oiled.
Drizzle with extra virgin olive oil (optional).
Step 4 – Cook
The bacon-wrapped asparagus spears can be baked in the oven, fried in a skillet, or grilled on the BBQ in a baking dish covered with aluminum foil.
How to cook bacon wrapped asparagus in the oven
Bake at 180C/350F for 15 minutes, or until golden and the bacon is cooked and crispy. Turn once during cooking to ensure the bacon is crispy on all sides.
How to cook bacon wrapped asparagus in a frying pan
Pour some oil into a large skillet or frying pan. On medium-high heat, cook the asparagus wrapped in bacon for a few minutes on each side until the bacon is crispy and golden brown.
How to cook bacon wrapped asparagus on the BBQ
Preheat the BBQ grill to medium-high heat. Cook the asparagus wrapped in bacon for a few minutes on each side until the bacon is smokey, crispy and golden brown.
This keto side dish will even please the most ardent carb-lover and it's the perfect healthy snack too.
Serving
Serve it as an appetizer, side dish, a light lunch, or finger food with a dipping sauce such as magic 1-minute mayonnaise, creamy mushroom sauce, or avocado lime dip.
Asparagus wrapped in bacon can be served as hors d'oeuvres and a full platter would look beautiful to take to friends. And for a luxurious breakfast, dip asparagus in soft-boiled eggs instead of toasted soldiers.
Recipe FAQ
How do you know when asparagus is cooked?
Remove one asparagus stalk once you can see the color begin to change. Asparagus will be bright green and still firm, but not soft or bendy.

Asparagus doesn't take long to steam/grill/boil/fry. You want the asparagus to remain slightly crunchy, but not raw, in the middle.
Can you prepare bacon-wrapped asparagus in advance?
Yes, all the preparation can be done in advance. The asparagus can be wrapped in bacon and placed in the baking tray, ready to cook once guests arrive. Alternatively, they can be cooked before guests arrive and have a platter ready to go.
Can I cook asparagus in the air fryer?
Asparagus needs to be boiled in water to make them tender, but once they are cooked, they can be wrapped in bacon and then cooked in the air fryer to make the bacon crispy and crunchy.
What other options/variations are there?
Sprinkle onion flakes over the top once baked.
Sprinkle lemon pepper over the asparagus before wrapping them in bacon slices.
Add grated/shredded parmesan cheese onto each slice of bacon to give a cheesy crust.
Get our FREE guide to finally fix your metabolism!
Losing weight & getting healthy is never easy, but lately you might feel like it's suddenly become impossible.
Our Flip the Switch guide will help you clearly understand what's been going on, as well as exactly what you can do to get your metabolism working again so that you can look and feel your best—it's easier and more simple than you think!