Who loves calamari but hates the greasy high carb batter it comes with? Try paleo calamari rings with lemon zest almond flour crust.
They're a refreshing change and a quick and healthy, cheap high protein snack.
What is calamari?
Calamari is Italian for squid. Many people think calamari is made from octopus but it is made from sliced squid, battered and fried.
The calamari ring shape is from the tube of the squid that is sliced then fried.
Ready to lose weight and get healthy for life without dieting, drugs or making yourself miserable?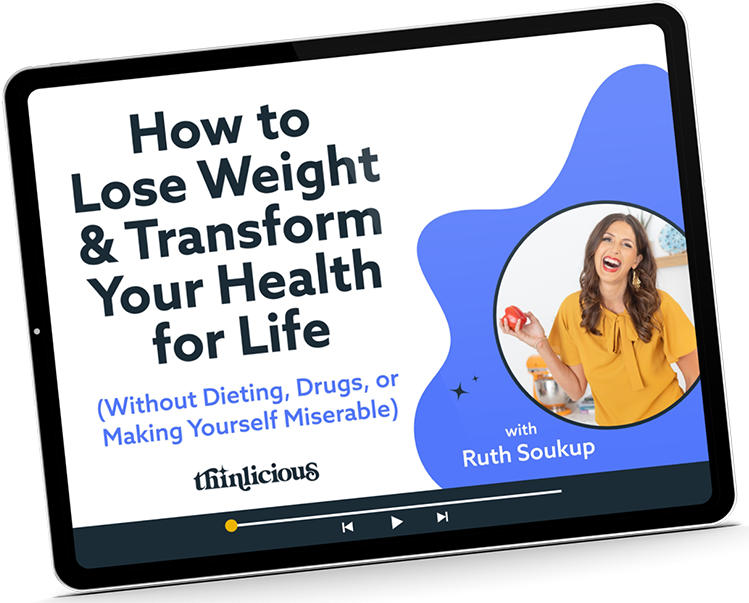 Our free on demand video training will help you understand why it's been so hard and what do to about it.
Are there carbs in calamari?
Squid has zero carbs and is high in protein which makes it absolutely perfect for those who are on a low-carb diet, keto diet, carnivore diet or high protein diet.
Calamari however is most commonly sold fire in batter or breadcrumbs. It's the flour and starch in the batter and breadcrumbs, along with the unhealthy cooking oils that make fried calamari unhealthy and high carb.
Homemade calamari that has been rolled in lemon and almond flour crumbs, however, is low in carbs, tasty, and nutritious.
Is squid high protein?
Yes, squid is high in protein. It has 18 g protein per 100g making it a wonderful high protein appetizer, snack, side dish, or meal.
Instructions
1: Slice squid into rings that are 1/2 inch / 1cm thick.
2: Roll in the lemon almond flour crumbs.
3: Gently fry in coconut oil or olive oil on medium to low heat for a minute on each side. If you are not paleo, calamari rings are delightful gently fried in butter.
How to use an air fryer
Using an air fryer to cook calamari is quick and easy. But you do need to cook them in small batches, so it may not be economical for a whole family. But it's a great way to cook them for a quick and easy high protein snack.
Preheat to 180C/350F.
Spray the wire basket with cooking oil.
Gently place each coated calamari ring into the oiled basket. Ensure there is plenty of space between them.
Cook for 2-5 minutes depending on the size and thickness of your squid rings.
If you love using your air fryer, I have 101 keto air fryer recipes for you to choose from (chicken, pork, ground beef, salmon, vegetables, and even desserts). Discover how to use your air fryer plus FREE printable air fryer cooking cheat sheets.
Serving
Calamari is best served with a squeeze of lemon juice all over.
It can be served as a side dish or as a light meal on a bed of leafy green salad.
You can also serve with a zesty lime coleslaw, zoodles, or steamed veggies. Add plenty of extra virgin olive oil, pesto, or homemade mayonnaise.
Which oil is best for frying?
It's important to understand which are the best cooking oils to use for frying. Use healthy fats and oils which have a high smoke point, and cook at the lowest temperature required.
Most restaurants or fast food joints use highly processed seed oils such as canola, soybean, sunflower, or corn oil which are unstable, easily oxidized and high in pro-inflammatory omega 6.
They reuse the same oil again and again making them rancid, oxidized oils and inflammatory.
Fried food at restaurants and fast-food chains is also fried at much higher temperatures than homemade fried food.
An inflammatory diet high in processed oils, omega 6, and highly processed carbs increase our risk of so many modern diseases.
When we say we eat a high fat diet, that doesn't mean you now have a license to eat fried fatty foods every day, there is a difference. It means eating healthy fats such as olive oil, coconut oil, avocado oil, and butter with each meal.
It means eating healthy fats until full, no more. It means stopping the industrial seed soils. It means stop eating fried food not made at home.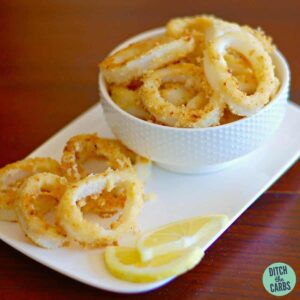 Paleo Calamari Rings Recipe (High Protein)
Who misses calamari? Well now you have found paleo calamari rings, you can snack away to your hearts content and remain grain free and use only healthy oils.
Print
Pin
Rate
Want to lose weight and get healthy for life—without dieting, drugs, or making yourself miserable?
We can help! Tell me how!
Ingredients
4

calamari squid tubes

50

g

almond meal/flour

1

lemon

zest

salt and pepper

to taste
Instructions
Mix the almond flour/meal with the lemon zest and salt/pepper.

Slice the squid tubes into 1/2 inch / 1 cm slices.

Roll the calamari rings in the lemon almond mix.

Heat your oil of choice in a frying pan and fry on a gentle low heat for 1 minute each side until just cooked and the almonds have started to turn golden.

Drizzle with a squeeze of lemon juice and lemon wedges to serve.
Nutrition
Serving:
1
serve ( serves 4)
Calories:
188.9
kcal
Carbohydrates:
6.9
g
Protein:
21.6
g
Fat:
7.9
g
Sodium:
53.3
mg
Potassium:
332.5
mg
Fiber:
2.1
g
Sugar:
1.1
g
Vitamin A:
45.5
IU
Vitamin C:
19.9
mg
Calcium:
71.7
mg
Iron:
1.4
mg
Get our FREE guide to finally fix your metabolism!
Losing weight & getting healthy is never easy, but lately you might feel like it's suddenly become impossible.
Our Flip the Switch guide will help you clearly understand what's been going on, as well as exactly what you can do to get your metabolism working again so that you can look and feel your best—it's easier and more simple than you think!