Fresh and tangy keto lemon bars, drizzled with lemon juice and lemon zest, are only 2g net carbs per serving.
One-bowl keto lemon bars recipe is quick and easy. Serve them sprinkled with powdered sugar-free sweetener.
These keto lemon desserts are made with gluten-free coconut flour, melted butter, eggs, and lemon juice so these sugar-free lemon bars can be enjoyed guilt-free!
My entire family is pretty obsessed with lemon desserts like this one-minute lemon mug cake and my sugar-free no-bake lemon cheesecake.
Are you ready to create the ultimate 12-month blueprint for reaching your health & weight loss goals this coming year?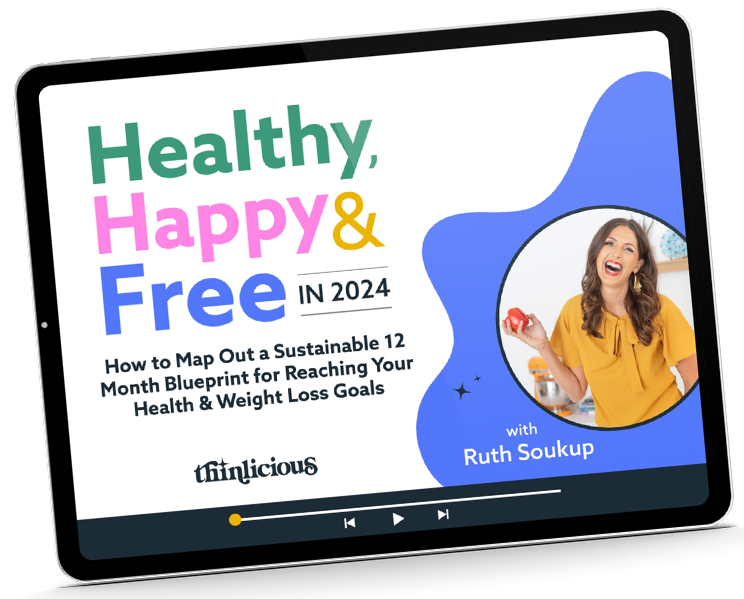 Our free on-demand video training will walk you through how to make 2024 THE year you set health goals…and keep them.
What are keto lemon bars?
Keto lemon bars are wonderfully zingy baked cake bars that are sugar-free, gluten-free, and lower carb.
They're fabulous to pack in school lunch boxes because they are sturdy, yet still soft like regular cake and have that wonderful lemon zest taste.
Top the keto lemon bars with a sugar-free syrup made with lemon juice and powdered sugar-free sweetener.
With only 2g net carbs per bar, these low-carb lemon bars will easily fit into your low-carb diet or keto diet.
Ingredients
Butter – you can use salted butter or unsalted butter (with a pinch of salt). Make your cake batter with softened butter or melted butter.
Granulated and powdered sweeteners of choice – the most popular sugar-free sweeteners are erythritol, stevia, allulose, monk fruit, and xylitol.
Eggs – always use fresh eggs, medium size.
Coconut flour – coconut flour is a naturally gluten-free flour that you can use in many more keto dessert recipes.
Almond flour – almond meal works well too. Almond flour is another naturally gluten-free flour and low-carb flour.
Natural yogurt – look for a full-fat, unsweetened yogurt for this keto lemon bar recipe.
fresh lemon juice – fresh juice is best, but feel free to use bottled lemon juice.
lemon zest – fresh lemon zest is tangy and delicious, but you can use freeze-dried lemon zest instead.
vanilla extract – or vanilla extract.
Get the full instructions and amounts in the keto lemon bars recipe card below. These easy keto lemon bars yield 10 servings.
Instructions
It's so easy to make the best keto lemon bars. In fact, they are so simple that you can add this sugar-free lemon bars recipe to your weekly meal prep.
These lemon bars resemble a cake and have a combination of almond flour and coconut flour that makes them soft and pillowy. Here's how to make them!
So if you want a sweet treat that's sugar-free, this amazing recipe is packed with lemon flavor and is one of those easy keto recipes you will come back to time and time again.
Mix the batter
In a large mixing bowl, cream together the melted butter and sugar-free sweetener until it is pale and fluffy.
Add eggs. It may resemble curdles but don't worry. The next step will bring the batter together.
Fold in the coconut flour and almond flour.
Next, gently add the yogurt, vanilla extract, fresh lemon juice, and lemon zest.
Mix until the keto lemon cake batter is smooth.
Bake the bars
Pour the keto cake batter into a rectangle baking dish that has been oiled and lined with baking parchment paper.
Bake the low-carb lemon bars at 180C/350F for 15-20 minutes, or until baked in the center. They don't need to be golden brown, just baked through.
Make the lemon drizzle
Mix lemon juice (or bottled lemon juice) with the low-carb sweetener in a small mixing bowl until it is completely dissolved. the easiest sweetener to use is powdered erythritol. It tastes just like sugar and dissolves easier.
Add drizzle on top of lemon bars
Add the sweetened lemon juice to the low-carb lemon bars while they are still warm in the baking pan. Pour slowly over the top of the keto lemon cake or drizzle with a large spoon.
To ensure the juice is soaked up by the lemon bars, you can poke holes all over the top with a fork.
Cut the lemon bars into individual pieces (squares or rectangle lemon bars) and serve.
Storage
Remember when I said these were great for meal prep? You can freeze lemon bars and enjoy them six months from now. To do so, let the bars cool completely to room temperature on a wire cooling rack, then place them in an airtight container, and freeze.
Tip: You can add a bit of parchment paper in between each layer of bars so they don't get stuck together.
Substitutions
If you don't have fresh lemon juice, you can use jarred lemon juice or bottled lemon juice. I often have frozen lemon juice I made from fresh lemons from my tree.
Sometimes you can use almond meal instead of almond flour, but in this recipe, I suggest just using almond flour. This is because almond flour has a smoother texture to it.
When you make sugar-free lemon bars with almond flour they will resemble a classic cake.
Variations
These are the best keto lemon bars, but you can also create your own variations on the recipe. Here are a few ideas to try:
Make keto lemon muffins. Instead of low-carb lemon bars, you can place the mixture into a muffin tin and muffins. This recipe is one of my favorite keto lemon desserts because it is so fresh and fillings.
Sprinkle on some "sugar". Sprinkle some powdered sugar substitute on top for a fun topping. You can use granulated sweetener for a crunchy topping or powdered sweetener to look like confectioners sugar.
Adjust the flavor. Make the lemon filling as sweet or as tart as you want by adjusting how much sweetener you used. If you don't like too much lemon, you can omit the lemon zest.
Add a lemon filling. Make some sugar-free lemon curd (keto lemon curd) and spoon some into the center of keto lemon muffins, or spread over the top of a keto lemon cake.
Top tips
How much sweetener to use
Lemons vary considerably in their sweetness, sour taste, and depth of zest. So the amount of sweetener I suggest may need to be adjusted when you make keto dessert recipes. Always add the minimum amount of sweetener then add more for your favorite sugar replacement until you reach the desired sweetness.
Which sweetener is best?
It may take some trial and error to find a low-carb or keto sweetener that you really love to use. If you are a beginner, you need to read the Ultimate Guide to Sweeteners.
Some sweeteners such as stevia need to be added very slowly. This is because stevia has a bitter aftertaste if you use an excessive amount.
Some sugar alcohols give you a slight cooling effect in the mouth.
Whichever sugar replacement you use, check to see if it affects your blood sugars. While most do not have any effect, some, such as maltitol, do raise blood sugar, so stay away from those.
🍋 Recipe FAQs
Here are some questions people often ask about how to make this keto lemon bar recipe. If you don't see your question in this list, please leave it in the comments.
Is lemon keto-friendly?
Yes, lemon is a keto-friendly fruit. There are 3.7 grams of net carbs in one lemon and there is only a small amount of lemon in each portion.
Why are my lemon bars gooey?
They are probably gooey because the lemon filling didn't bake all the way. Keep it in the oven for a little bit longer.
Should I refrigerate lemon bars?
Yes, you should refrigerate the keto lemon bars. They need to be covered if you are going to store them in the fridge to stop them from drying out.
How do I know if my lemon bars are done?
You will know they are done if you stick a toothpick in the middle and it comes out clean.
Are these gluten-free lemon bars?
Yes, these keto lemon bars are made with two low-carb flours – coconut flour and almond flour, making them naturally gluten-free.
What can I use instead of lemon zest?
You could make these keto lemon bars keto orange bars instead. Use fresh orange juice and orange zest instead of lemon zest. The flavor will be subtle but delicate. It's a fantastic recipe if you don;t like too much lemon flavor'
Can I swap almond flour for coconut flour?
No, both these gluten-free flours are required to make keto lemon bars soft and fluffy. Coconut flour and almond flour both have different properties and cannot be easily swapped.
Can I freeze lemon bars?
Yes, pop them (sliced) in the freezer in an airtight container (or a ziplock bag) for up to 3 months. You can defrost each of the keto lemon bars one at a time on the kitchen bench at room temperature for 1-2 hours.
Are lemon keto bars easy to make?
Yes, this lemon bar recipe is the easiest keto lemon dessert recipe. It doesn't need an almond flour shortbread crust, lemon filling, or lemon curd. These low-carb lemon bars are all made in one large mixing bowl then baked.
Can I swap melted butter for melted coconut oil?
No, the butter is what gives these keto lemon bars their amazing buttery and tasty flavor.
Are lemon bars keto?
This recipe is definitely keto with only 2g net carbs per serving.
🍋 More keto lemon dessert recipes
If you love lemon keto desserts then take a look at my low-carb lemon cupcakes (with a keto cream cheese frosting), low-carb lemon meringue pies (single serve), keto lemon meringue pie (family-sized pie), and lemon coconut cake.
I love my lemon dessert recipes to be quite tart and sharp in flavor, but you can easily adjust how much lemon and how much sweetener you use to your taste and your sweet tooth.
If you don't want to bake, then you can quickly whip up a no-bake lemon cheesecake.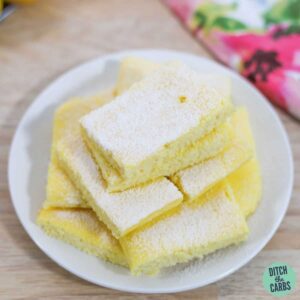 Keto Lemon Bars Recipe (Keto Lemon Cake)
Fresh and tangy keto lemon bars drizzled with lemon juice and lemon zest are only 2g net carbs. One-bowl keto lemon bars recipe is quick and easy. Serve them sprinkled with a powdered sugar-free sweetener.
Print
Pin
Rate
Want to lose weight and get healthy for life—without dieting, drugs, or making yourself miserable?
We can help! Tell me how!
Equipment
Measuring cups and spoons

Mixing bowls

Parchment Paper
Ingredients
Sugar free lemon bars
110

g

butter

softened

4

tbsp

granulated sweetener of choice

or more, to taste

4

eggs – medium

24

g

coconut flour

50

g

almond meal/flour

80

ml

natural unsweetened yoghurt

unsweetened

pinch

salt

to taste

2

tbsp

lemon juice

1

tbsp

lemon zest

1

tsp

vanilla extract
Lemon drizzle
3

tbsp

lemon juice

4

tbsp

powdered sweetener

or more, to taste
Instructions
Sugar free lemon bars
Cream the softened butter and sweetener until pale and fluffy.

Slowly add the eggs one at a time, mixing well before adding the next egg.

Fold in the coconut flour and almond flour/meal.

Fold in the yogurt, vanilla, lemon juice, and lemon zest. Stir gently until thoroughly mixed.

Pour into a greased lined baking dish and bake at 180C/350F for 15-20 minutes, or until baked in the center.

While the keto lemon bars are still warm (but not hot) slowly pour over the fresh lemon drizzle before cutting them into slices or squares.
Lemon drizzle
In a small glass, mix the fresh lemon juice and the sugar-free sweetener until dissolved. It won't dissolve completely, but make sure there are no lumps.

Drizzle/spoon the sweetened lemon juice over the warm sugar-free lemon bars. You can poke the keto lemon cake with a fork to allow the drizzle to really sink into the middle of the cake.

Cut into slices/bars once it is cold and the lemon drizzle has soaked in.
Nutrition
Serving:
1
serve ( serves 10)
Calories:
150.6
kcal
Carbohydrates:
3.5
g
Protein:
4
g
Fat:
13.7
g
Sodium:
104.7
mg
Potassium:
49.2
mg
Fiber:
1.5
g
Sugar:
1.1
g
Vitamin A:
378.9
IU
Vitamin C:
3.8
mg
Calcium:
34.3
mg
Iron:
0.6
mg
If you love keto lemon bars you'll love these keto desserts.
Get our FREE guide to finally fix your metabolism!
Losing weight & getting healthy is never easy, but lately you might feel like it's suddenly become impossible.
Our Flip the Switch guide will help you clearly understand what's been going on, as well as exactly what you can do to get your metabolism working again so that you can look and feel your best—it's easier and more simple than you think!