Have you been too busy to meal prep before leaving the house for the day and wondered what you could buy from the grocery store that would keep you in ketosis?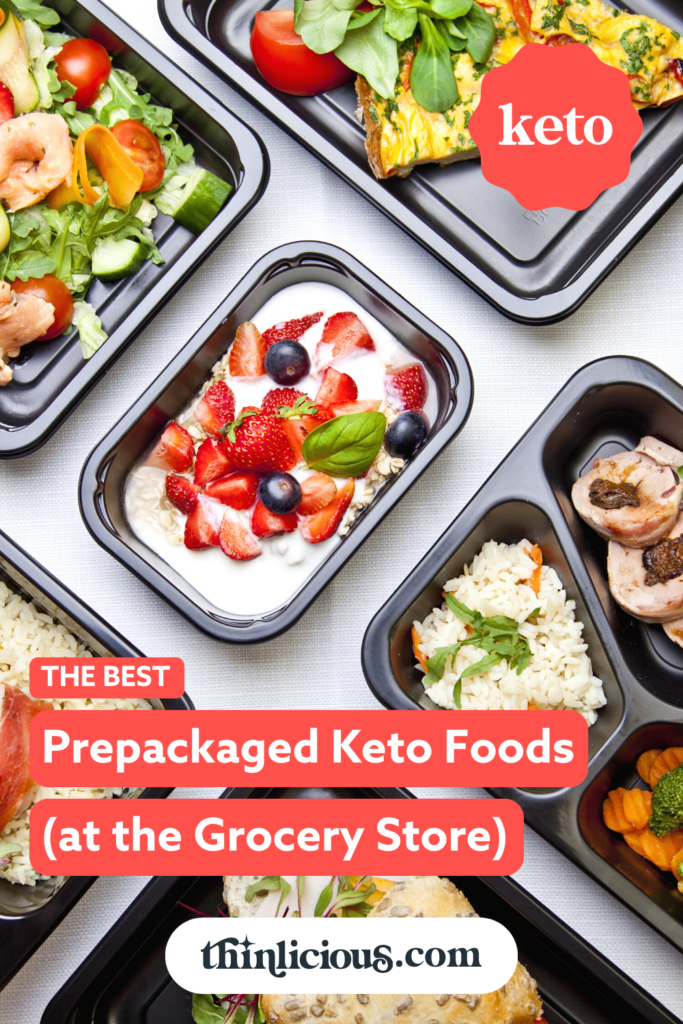 How To Choose Prepackaged Meals (That Are Keto)
While it may prove fairly easy to source a packet of pork rinds and sugar-free protein bars from grocery stores when you are on the go or looking for convenient food, it's not to say that these are always the best option, particularly if it becomes a regular practice.
Shop a little smarter and you'll find more substantial low-carb meal options that are ready-made for ease while ensuring that you stick to your diet.
Ready to lose weight and get healthy for life without dieting, drugs or making yourself miserable?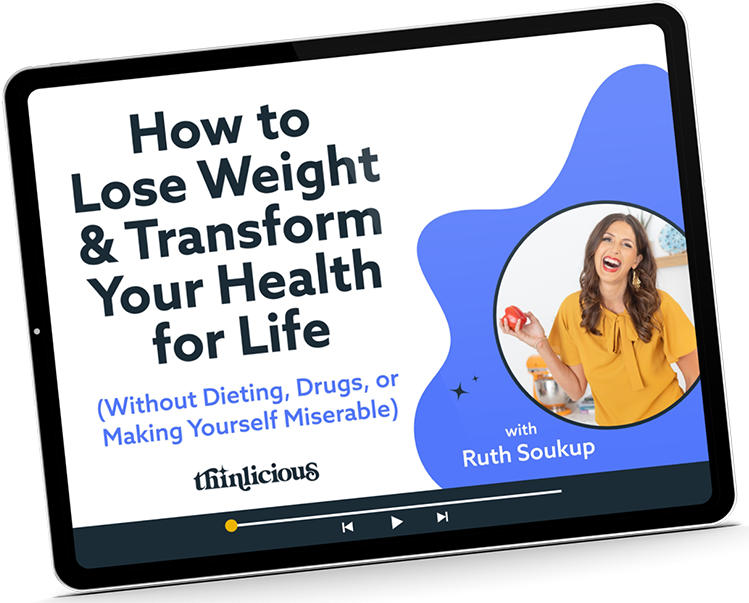 Our free on demand video training will help you understand why it's been so hard and what do to about it.
Knowing what to look for ahead of time is most of the battle won when heading to the grocery store. You want to avoid fast food and stay on track with your ketogenic diet (without spending a fortune).
The following list sets out some great affordable keto and low-carb ready-made food available at most grocery stores to help you stay in ketosis, even during those busy days when you don't have time to meal prep at home.
Prepackaged Keto Breakfast Foods
Due to reduced appetite and increased satiety resulting from most low-carb diets, and in particular the keto diet, many people following a low-carb, high-fat diet often don't feel the need to eat breakfast while still maintaining energy levels and focus.
But, if you are not yet in ketosis, then it's more than likely that you'll benefit from taking note of these ready-made and convenience foods from the grocery store:
Coffee On-The-Go
Many grocery stores now offer coffee on-the-go which means that you can grab a cup of black coffee or ask for a dash of heavy cream to be added as fat for fuel.
While coconut oil, grass-fed butter or MCT oil may not be offered, you could purchase an individual sachets from the grocery store to add to your on-the-go-coffee.
Hard-Boiled Eggs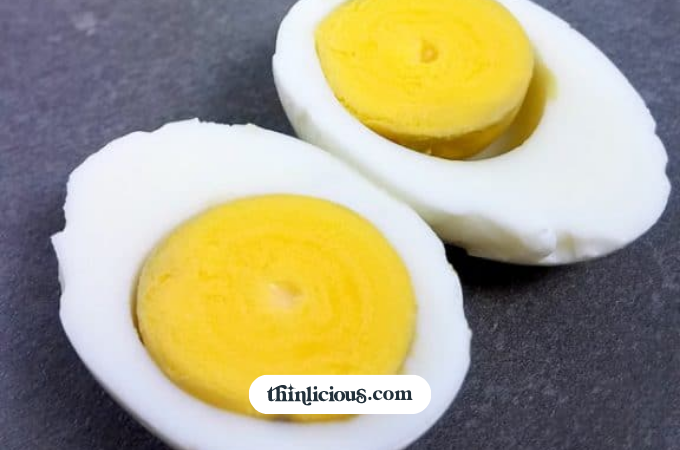 If a cup of coffee isn't your thing or won't sustain you till lunch, consider purchasing hard-boiled eggs from the refrigerated section of the grocery store.
Eggs are considered one of the best low-carb foods comprising 5g fat, 6g protein and zero carbs per egg. Where possible, opt for eggs that are labeled organic, pasture-raised eggs that won't have hormones or antibiotics.
Seeds, Nuts and Nut Butter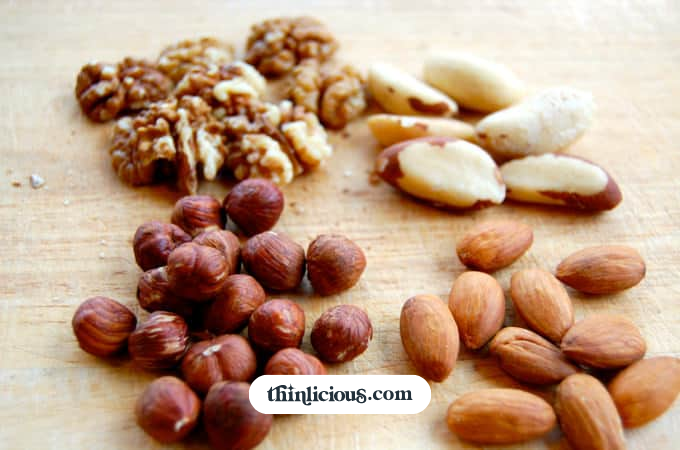 Seeds and nuts are another very convenient prepackaged keto food option that you can include as part of your grab-and-go breakfast. They are a great source of fat, protein and filling fibre.
For seeds, stick to raw or dry roasted which are healthier than those roasted at high temperatures in inflammatory oils. Options include:
Hemp seeds
Pumpkin seeds
Sunflower seeds
For nuts, also stick to raw or dry-roasted and those which are typically lowest in carbs such as:
Macadamia nuts
Pecans
Hazelnuts
Brazil nuts
Walnuts
Almonds
A spoonful of nut butter from the list of nuts above is also a great option, providing an ultra-creamy, healthy low-carb source of fat that will help to sustain you till your next meal.
Avocado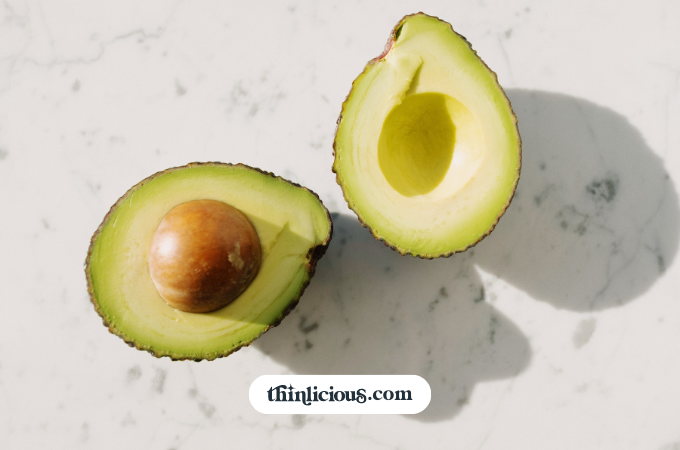 Avocado is high up on the list of what you should eat on a low-carb and keto diet and would be a perfect addition to eat alongside eggs and nuts for your ready-made low-carb breakfast.
You could eat a whole avocado for breakfast or halve it and eat the remaining half at lunch. One avocado contains 21g fat and over 9g of fibre, making this a healthy way to begin your morning with fat.
Ready-Made Lunch and Dinner Foods
Canned Fish: Sardines, Tuna, or Salmon
Although a can of sardines, tuna, or salmon may not sound that appealing as a prepackaged keto lunch or dinner option, these fish-packed cans are high-fat, protein-rich, and zero-carbs! Even better if you opt for a can with olive oil for that extra dose of omegas.
You can enjoy your fish straight out of the tin by sprinkling some salt and pepper over it as a quick and easy meal option that will keep you in ketosis and keep your appetite at bay till your next meal.
Deli Meats and Cheese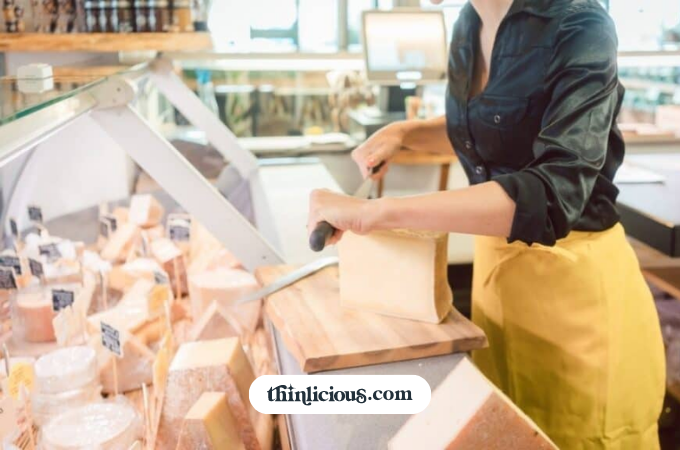 If you enjoy deli meats and cheese then this combo is a great option as a healthy ready-made low-carb lunch or dinner when time is limited to make your own food at home.
Many grocery stores are now stocking deli meat and cheese combo packs in their refrigerated sections that you can easily pick up to ensure that you are getting a healthy dose of protein and fat in your meal.
Meat slices of ham, turkey, and chicken provide between 10g and 15g of protein per serving.
When selecting your meats and cheese, make sure that they are free of added sugars and that the cheese is full-fat as reduced or low-fat cheese contains higher carb and sugar content to help with taste as a means for compensating for the reduced fat.
Ready-Made Salads
You can't go wrong with ready-made salads especially those that include strips of grilled chicken, eggs and avocado. It really doesn't get any more convenient than that when all you need apart from the salad is a disposable fork!
Caution should, however, be applied when it comes to any salad dressings that may already have been added. In this case, be sure to check the carb count of the dressing.
Caesar salads usually contain carb-riddled croutons but you can easily ditch those before enjoying the rest of the salad.
If the pre-made salad options at your grocery store are not that exciting, grab some deli meats and full-fat cheeses to add as optional extras.
If in doubt as to the ingredients of a ready-made salad, check the net carbs on the packaging as additional fruits, sauces and vegetables increase the total carb count and could result in you going over your carb limit for the day if you don't keep track.
Pre-Made Lunch Kits
Pre-made lunch kits are rising in popularity in most grocery stores and usually contain a mix of protein and veggies with the option of low-carb lunch kits specifically for those following a low-carb or keto diet.
Again, get into the habit of reading the ingredients list to ensure that the lunch kit is within your permitted carb range as some advertising of "low-carb" can be misleading and not keto-friendly in reality.
Cooked Chicken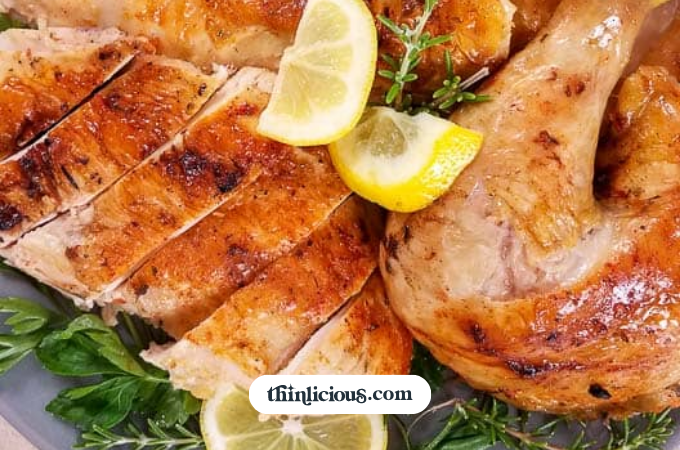 Most grocery stores sell fresh rotisserie chicken which is definitely more than one meal and a very delicious option.
You will also most likely be able to find packaged grilled, skinless chicken strips or nuggets which can easily be paired with a pre-made salad or an avocado.
Prepackaged Keto Snacks
Apart from the three main meals listed above, healthy low-carb and keto snacks can help to keep us fueled through the day or until the next main meal.
Examples of snacks that you can easily purchase at your grocery store for the day ahead include:
Pork rinds
Berries: Strawberries, blueberries, blackberries and raspberries (fruit with a lower carb content)
Baked cheese chips
Beef jerky
Nuts and seeds
Boiled eggs
Cheese slices/sticks
Salami sticks
Dark 95% cacao chocolate
Pickles
Olives
Kale chips
For a more in-depth look at low-carb and keto snacks, have a read of my Top 10 Keto Snacks On The Go.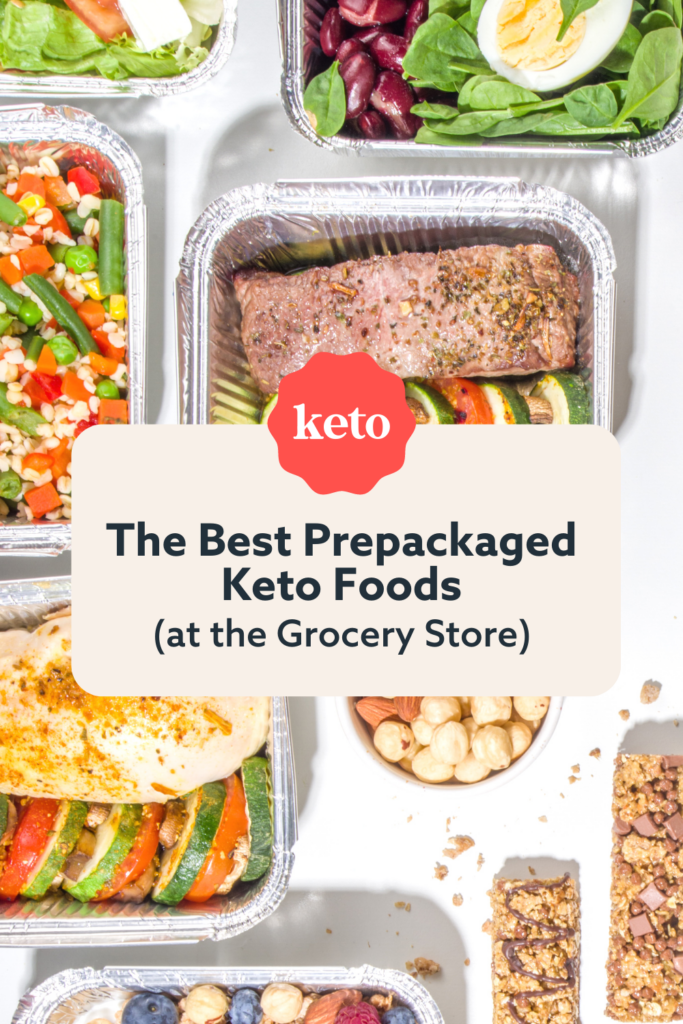 Bottom Line: Can Grocery Store Prepackaged Meals Be Healthy?
It goes without saying that meal prepping low-carb and keto-friendly foods at home is the best and preferred approach when it comes to ensuring that you stay within your carb restrictions and achieve your weight-loss and overall health goals when following a low-carb or keto diet.
There may be times though that meal prepping isn't a possibility and you need to still find an appropriate alternative that will keep you in ketosis. This is where these quick grab-and-go food options from grocery stores are so incredibly helpful.
This list of ready-made grocery store keto meals provided above are nutritious, delicious and offer a lifeline when your schedule is very busy or you need an extra bit of nutritional fuel while on-the-go.
Have you bought ready-made low-carb keto foods from your grocery store that aren't listed here? If so, I'd love to hear what they are!
Have a further read here on how to stay low-carb even when you're busy.
Get our FREE guide to finally fix your metabolism!
Losing weight & getting healthy is never easy, but lately you might feel like it's suddenly become impossible.
Our Flip the Switch guide will help you clearly understand what's been going on, as well as exactly what you can do to get your metabolism working again so that you can look and feel your best—it's easier and more simple than you think!