Who loves lazy keto? How about the ultimate lazy dinner hack?
4 keto rotisserie chicken recipes from 1 chicken are perfect for lazy nights when you don't want to cook!
Grab a rotisserie chicken from the store on your way home tonight, and you can keto meal prep like a keto pro!
If you're not familiar with the term, lazy Keto is a variation of the ketogenic lifestyle that isn't strict on tracking calories, proteins, and fat macros. It's actually more hyper-focused on keeping carbs below 20g per day.
Ready to lose weight and get healthy for life without dieting, drugs or making yourself miserable?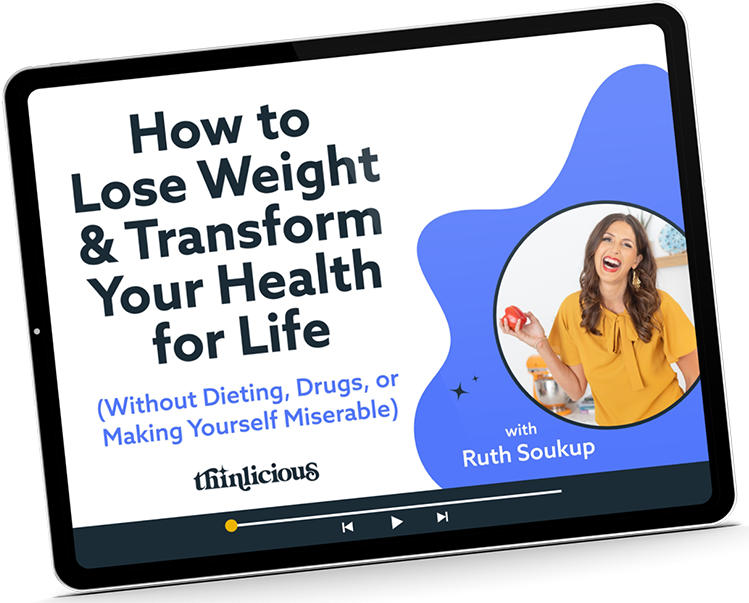 Our free on demand video training will help you understand why it's been so hard and what do to about it.
That being said whether your version of keto is lazy, strict, or somewhere in between…we could ALL use a quick and easy low-carb chicken dinner!
Is rotisserie chicken keto?
Yes, a rotisserie chicken is keto. A whole roast chicken is perfect for the low-carb diet and keto diet and is a great way to prep healthy meals ahead of time.
You can use a store-bought rotisserie chicken or make your own at home. It is however always worth reading the ingredients list and the nutrition label just to make sure doesn't have added sugars.
Chicken meat is very low carb, while also high in protein and flavour. By using the chicken breast meat, legs, thighs, wings, and even the chicken carcass, you can utilise the entire rotisserie chicken for all your keto recipes.
Pop the whole chicken in the fridge and use each part to make the 4 chicken recipes below. They're all inexpensive and absolutely delicious keto recipes! This is one ingredient the entire family will enjoy.
How to make rotisserie chicken at home
If your local grocery store only sells roast chickens with ingredients that are not suitable for your keto diet, it's actually really easy to cook a whole chicken at home.
You can cook a whole chicken in your oven. This traditional method is the easiest. No preparation is required. Just place it in a large roasting pan and bake at 180C/350F for the required time for the weight of chicken you are looking.
Alternatively, you can cook an entire chicken in the slow-cooker or the Instant Pot. These are both great ways to keep the chicken meat moist and tender.
Cooking a whole chicken at home is a cheap recipe for the entire family. Leftovers are used as a quick and easy soup or salad for the next day.
How many carbs are in a rotisserie chicken?
The amount of carbs varies depending on the brand and especially the size of the chicken, but generally speaking, they are very, very low in carbs.
You can expect there to be 0 grams net carbs in the average rotisserie chicken, making it the perfect staple for your keto diet.
Tip: whether you eat the chicken breast, thighs, or legs, make sure to enjoy the skin as well for that added fat!
Nutrition
Chicken is a versatile and filling source of complete protein.
The nutritional values of chicken depend on which part of the chicken you are cooking. Some areas of the meat will have higher fat content and contain chicken skin, dark parts will have higher iron and the chicken breast has the least fat.
Nutritional values from cronometer.com
| | | | | |
| --- | --- | --- | --- | --- |
| Per 100g (3.5oz) | Net Carbs | Protein | Fat | Calories |
| Chicken breast, skinless | 0 | 30.9g | 4.5g | 173 |
| Chicken drumstick, skin eaten | 0 | 27.3g | 10g | 206 |
| Chicken drumstick, skinless | 0 | 24.2g | 5.7g | 155 |
| Chicken skin | 0 | 20.4g | 40.7g | 454 |
| Chicken thigh, skin eaten | 0 | 28.2g | 13.2g | 239 |
| Chicken thigh, skinless | 0 | 27.7g | 6g | 173 |
| Chicken wing, skin eaten | 0 | 23.8g | 16.9g | 354 |
Chicken nutrition per 100g/3.5oz serving
Prep your rotisserie chicken
Now, let's chat about how to make 4 lazy keto chicken meals from ONE roast chicken. This is where you learn how to meal prep like a pro.
Just grab 1 ready-cooked low carb rotisserie chicken on the way home from work, and you can make 4 lazy keto chicken meals from it. And, as you'll see, your prep time is very low.
How to shred a chicken
If you haven't done it before, shredding an entire chicken is pretty simple. All you need to do is use your hand, shredders (meat claws), or two forks, and pull the meat away from the chicken carcass.
Divide the shredded chicken into 4 equal portions – you are now ready to choose any of the 4 lazy keto chicken meals.
You can make all 4 or you can make a few of your favourite keto chicken recipes.
What to do with chicken bones
Now don't throw the bones from the meat carcass away, particularly if they are from an organic chicken! You can use this to make a yummy beneficial bone broth for virtually FREE!! Keto doesn't need to be expensive.
Bone broth is jam-packed with nutrients and collagen. It also requires very little prep time.
Rotisserie chicken food safety
A cooked rotisserie chicken should be handled with clean hands and clean kitchen surfaces. It should be prepared, covered, cooled, and stored according to the various methods and instructions that are shown here.
4 quick and easy rotisserie chicken meals – step by step
Find the exact cooking instructions and recipes for all 4 of these rotisserie chicken meals in the recipe card at the bottom of this post!
1: Easy keto creamy chicken salad
No cooking is required for this dish! This deliciously creamy chicken salad has all the perfect ingredients and macros of a keto meal. This dish has quality protein and plenty of healthy fat. It's also loaded with crunchy low-starch veggies such as celery.
The best part? The creamy sour cream sauce gives it a truly decadent creamy texture.
I often make a double batch of this and save the leftovers to send to school with my kids' low carb lunches. Just portion it out into meal prep containers and pop them in the fridge.
2: Keto chicken Caesar salad
If you have been here for a while, you know my go-to recipe when dining out is a keto chicken Caesar salad with extra bacon. Well, let's crank that up a notch, and add all the goodies in this simple chicken Caesar salad.
This is another low-carb recipe that requires no cooking! It's not much more than grabbing your rotisserie chicken and throwing a few simple ingredients together. Then voila, dinner is served.
In fact, why not make a few of these and meal prep for work lunches for the entire week. Just pack up the chicken Caesar salad, then add the mayonnaise on the day you plan to eat. This will help stop the baby spinach from wilting.
3: Easy keto chicken soup
Who doesn't love good old-fashioned chicken soup? But how about a delicious lazy chicken keto soup? This is comfort food that the entire family will love! I like to prep this one quite a bit during the winter months.
The chicken is already pre-cooked from the rotisserie chicken. Then, add some other basic ingredients such as garlic, salt, pepper, and green onion to the pot. Bring the pot to a boil and simmer for as long as you want to.
Top Tip: The total time here varies, as the longer the soup simmers, the more infused the flavour will be.
4: Keto chicken spicy dip
If you want a snack, a quick lunch, or a party dip, keto chicken spicy dip is the one for you.
Imagine a low-carb medley of rotisserie chicken, mayonnaise, mozzarella, and spicy curry powder. Drooling yet? Be warned, you may just come back for more.
Sides
Each of these chicken recipes is a healthy main meal in itself. But you might want some extra low-carb sides to be served alongside. Steamed low starch or low carb vegetables are a wonderful healthy filling option, or a leafy green salad too.
If you love crunchy crackers or just don't know how to serve these amazing tasty keto chicken dishes, why not try my keto recipes below? All of these are low-carb and delicious!
Storage
Keep leftovers covered and sealed in a sealed container for up to 3 days. Do not freeze any of these chicken meals.
Once you reheat the leftover chicken, or you make a hot dish with leftover chicken, those new leftovers can never be used.
You must also take into account how fresh was the rotisserie chicken when you bought it from the grocery store? You don't want to keep any chicken meat that is past its expiry date.
Also, keep in mind the temperature and season. During a hot summer, I would always prepare the chicken recipes rapidly and keep any chicken immediately back in the fridge. If I served these chicken recipes on our outdoor dining table for a family meal in the sun, I would throw any leftovers away.
What to serve with chicken
You may want to serve with the best side dishes for chicken, some easy keto garlic bread, keto dinner rolls, or keto hamburger buns.
As you can see, a rotisserie chicken is practically a dream ingredient for any keto devotee. Grab a whole chicken the next time you are in the grocery store and meal prep one (or all!) of these low-carb recipes.
Get our FREE guide to finally fix your metabolism!
Losing weight & getting healthy is never easy, but lately you might feel like it's suddenly become impossible.
Our Flip the Switch guide will help you clearly understand what's been going on, as well as exactly what you can do to get your metabolism working again so that you can look and feel your best—it's easier and more simple than you think!