Whether you need a dinner, lunch, or snack idea, these easy keto pork recipes are perfect – plus discover some easy side dishes too!
Pork is a very versatile meat. There are so many ways you can prepare it that you can eat it constantly without feeling like you are eating the same thing all the time.
Pork can be low-fat or high-fat depending on which cut of pork you buy so it can fit in with a keto diet, low-carb diet, low-fat diet, high-protein low-carb diet and is family-friendly too.
Is pork keto?
Yes, you can eat plenty of pork. In fact, it's actually one of the best types of meat that you can eat on the keto diet. It's a quality delicious fatty meat packed with 27g protein, 0g carbs, 14g fat per 100g.
Are you ready to create the ultimate 12-month blueprint for reaching your health & weight loss goals this coming year?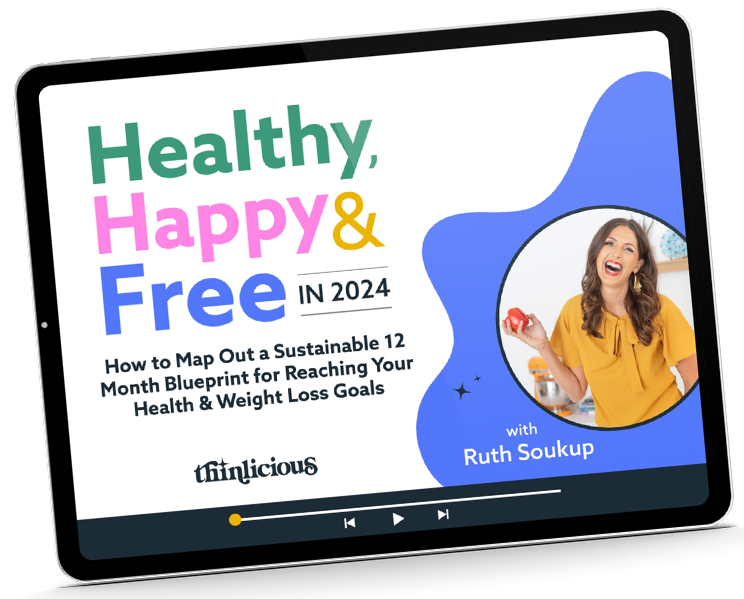 Our free on-demand video training will walk you through how to make 2024 THE year you set health goals…and keep them.
Pork is also a fantastic source of other key minerals and vitamins. One 3-ounce serving contains thiamin, magnesium, selenium, vitamin B-6, B-12, and phosphorus.
For those watching their fat intake, pork tenderloin qualifies as "extra lean" making it as lean as a chicken breast. And for those who are wanting to amp up their dietary fat, pork belly can have up to 54% fat.
The best keto pork recipes (kids will eat)
Now that you know why pork is such a great keto meat choice, let's look at the best and tastiest low-carb pork recipes that you will ever eat. All of them are sugar-free and gluten-free. They will all keep you within your macros and fill your body with the healthy fats and protein it needs to stay in fat-burning mode.
Now, let's look at the best low-carb keto pork recipes!
1: Pork Crackling
Another name for pork rinds is pork crackling, and these are the best low-carb snack, especially if you are craving something salty. Even though pork rinds in the store are low in carbs, it's tough to know exactly what kinds of additives are in them. Plus, some of them do have added sugars that you might miss if you don't read the labels.
This pork crackling recipe is extremely crispy – you won't even miss your potato chips. You basically bake pork crackling in the oven until it is as crispy like a chip. It's so easy!
2: Keto Pork Chops In Butter Garlic Sauce
If you want a low-carb dinner that will make you feel like you are eating a gourmet meal, then you have got to try these pork chops! They taste even better when made in a cast-iron skillet, although that isn't required for a delicious meal.
These pork chops are pan-fried in a flavorful butter garlic sauce and spritzed with fresh lemon juice. The chopped asparagus spears are the ideal low-carb veggie side because they have the light taste that brings out the flavors in the pork chops.
Even people that don't normally enjoy low-carb foods will dig into these pork chops! Put them on your normal rotation for weekday meals.
Keto Pork Chops in Butter Garlic Sauce
Keto pork chops are a tasty one pan meal that your whole family will love. Make your main dish, side dish, and sauce all in the same pan!
Check out this recipe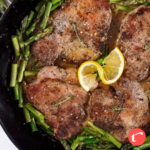 3: Keto Slow Cooker Pulled Pork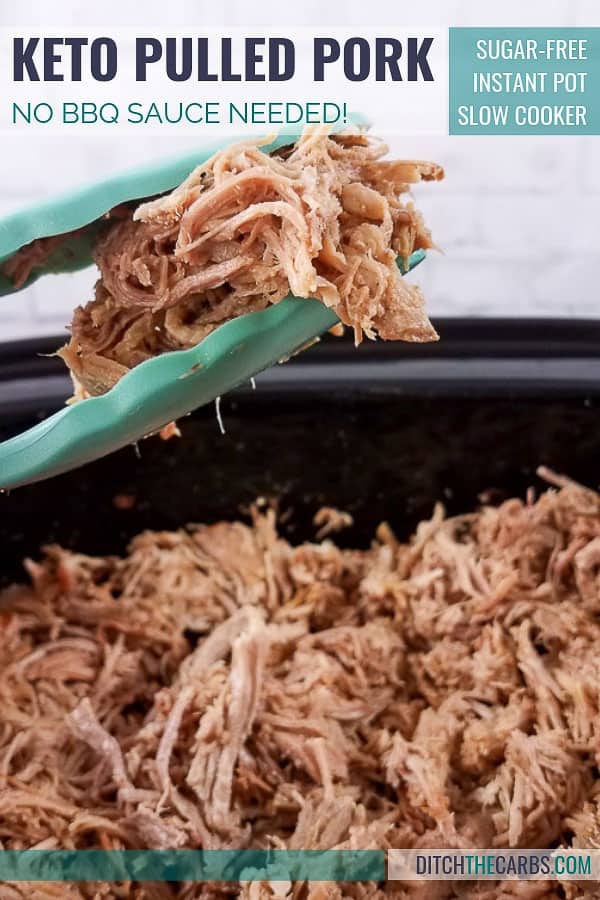 Another fantastic weeknight meal is pulled pork. This slow cooker pulled pork recipe is a show stopper! If you thought the only way to make slow cooker pulled pork is with sugary BBQ sauce, then you need to read this recipe.
Plus, this recipe also includes instructions for making fork-tender pulled pork in the Instant Pot too!
The secret to this recipe is the rub. You see, after you mix all of the seasonings together, they form a paste that slowly soaks deep into the meat, infusing it with flavor. Let it cook all day until it literally falls off your fork without effort. It is lip-smacking good!
Keto Slow Cooker Pulled Pork Recipe
This keto slow cooker pulled pork recipe is an easy prep and forget meal. The best part is no bbq sauce is needed to enjoy the flavours of pulled pork.
Check out this recipe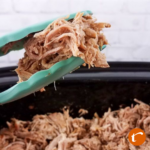 4: Grain-Free Pork Schnitzel
If you have German roots, you know how enjoyable a fried schnitzel is! It's the German version of country fried steak. Traditionally, the extra-thin pork cutlets are breaded in bread crumbs. This keto pork schnitzel tastes just as delicious, but it's grain-free and gluten-free too.
When you cut into this low-carb schnitzel, it is fried to perfection. It's crispy on the outside and nice and juicy on the inside. Instead of bread crumbs, it is breaded with almond flour and sage. Serve this with some mashed turnips or mashed cauliflower for a filling healthy meal without all the carbs.
5: Lemon and Coconut Pork Stir Fry Recipe
This lemon and coconut pork stir fry recipe is extremely colorful and packed to the brim with nutrients (and very few carbs). In fact, it's a versatile dish – you can literally use any of the veggies you have in your refrigerator.
The sauce used to fry it all together is a mixture of beef stock, shredded coconut, and lemon juice. Even though you might be able to use chicken breast for this recipe too, the diced pork just absorbs all the spices so perfectly that it's the best choice for this dish.
If you have any veggies in your refrigerator, use them up in a fun stir-fry. You can even use cauliflower rice! This recipe calls for bok choy, celery, ginger, and broccoli – and it is so delicious.
6: Pulled pork mac and cheese
Keto Pulled Pork Mac And Cheese combines all your favorite comfort foods together without the carbs.
If you're looking for comfort food and an easy family meal, this one-pot dish is a great alternative to your traditional carb-loaded pasta mac and cheese! The perfect family dish to take to your next potluck family dinner.
Keto Pulled Pork Mac and Cheese Recipe
Keto Pulled Pork Mac and Cheese combines all your favorite comfort foods into one with a healthier twist!
Check out this recipe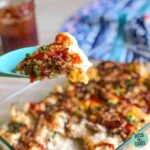 7: Keto Scotch Eggs (Without Breadcrumbs)
Delicious keto Scotch eggs wrapped in ground pork and herbs have almost ZERO carbs. Perfect for a high-protein diet with 28.2g protein and can be frozen.
How to cook pork (FAQ and tips)
Of course, you can always simply grab your favorite cut of pork and create a delicious keto meal on your own. Here are a few FAQs about cooking pork in a keto-friendly way.
Which is the best way to cook pork?
This depends on the cut of pork. Here are my favorite ways to prepare pork based on the cuts.
Pork Chops – Pan fry them or roast them in the oven
Bacon – Wrapped around other meat, or fried on the griddle
Pork Loin – Slow cooker or oven-roasted
Pork Ribs – Grilled, smoked, or oven-baked
Ham – Oven-baked, smoked or keto glazed ham
A lot of people complain about pork that is too dry. This happens when you overcook the pork.
Always use a meat thermometer when you cook it. The centre should be cooked to 145F / 62C. This will give you a juicy bit of pork every time.
Best keto side dishes to serve with pork
Almost any side dish will taste delicious with pork. Pork is generally complemented best with a slightly sweet side dish or one with bold flavors.
Here are some of my favorite keto pork side dishes.
Pork is one of the best meats you can cook with. There are tons of different ways you can prepare it and it makes one of the best meats to use in your meal prep. Try a new recipe and put it into your regular meal rotation, you are going to love it!
Get our FREE guide to finally fix your metabolism!
Losing weight & getting healthy is never easy, but lately you might feel like it's suddenly become impossible.
Our Flip the Switch guide will help you clearly understand what's been going on, as well as exactly what you can do to get your metabolism working again so that you can look and feel your best—it's easier and more simple than you think!