</p>
Quick and easy coconut flour chocolate chip cookies – only 2g net carbs!
These are the best homemade keto cookies. But watch out, make sure you make enough for the whole family to enjoy.
These are the best keto cookies and perfect little treats when a sweet craving strikes. They are a delicious healthy snack for school lunch boxes and work.
Are you ready to create the ultimate 12-month blueprint for reaching your health & weight loss goals this coming year?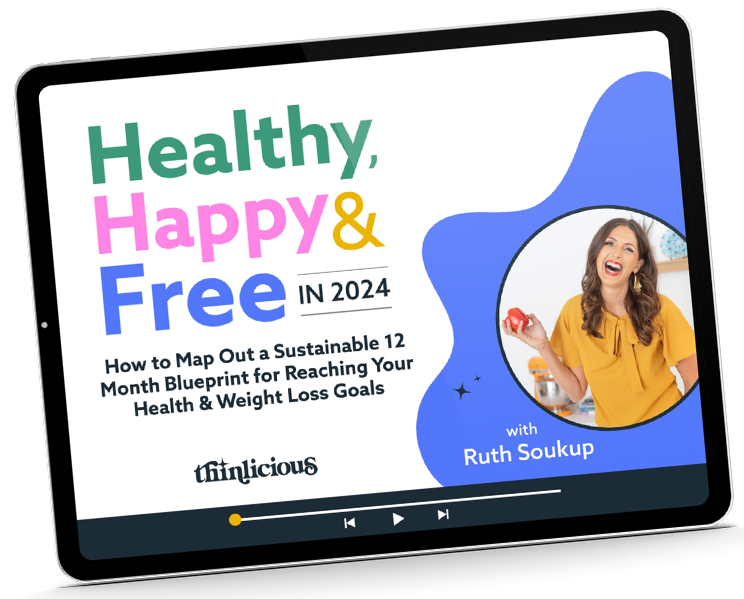 Our free on-demand video training will walk you through how to make 2024 THE year you set health goals…and keep them.
Are chocolate chip cookies keto?
No, regular cookies are not keto. Traditional chocolate chip cookies are high in sugar, flour, gluten, and unhealthy fats. If you want to stay on your keto diet and continue to lose weight, giving in to the temptation of cookies is the downfall of so many.
But if you learn how to make a homemade keto cookie, with low carb and sugar-free ingredients instead, you can stay on track. You can even enjoy your keto cookie with a keto coffee!
Why coconut flour?
For those of you who have a nut allergy or other dietary restrictions, using coconut flour is a wonderful alternative to wheat flour or all-purpose flour.
100g all-purpose white flour = 73.3g net carbs, 1g fat, 10.3g protein
100g coconut flour = 21.4g net carbs, 14.3g fat, 14.3g protein
NOTE: Coconut flour is lower in carbs PLUS you use a much smaller amount. A recipe might only require 1/4 to 1/3 cup of coconut flour.
Nutritional values from cronometer.com
Coconut flour is:
However, this new keto flour can be a little tricky to use. Coconut flour does not behave like any other flour, so let me give you my top tips to using coconut flour to make sure your keto baking is successful. Because no one wants expensive baking mistakes.
How to use coconut flour
If you haven't baked with coconut flour yet, always try using recipes that have been developed using coconut flour already. This new healthy gluten-free flour can be tricky to work with and it behaves completely different from wheat flour and almond flour.
Coconut flour requires much more moisture and generally a lot more eggs. But in a cookie, this is perfect. The cookies are soft, low in carbs, and high in protein.
Can you substitute coconut flour for almond flour?
No. You cannot simply substitute coconut flour for almond flour, wheat flour, all-purpose flour, or regular flour. There are substitution charts available but none of them really explain how many additional wet ingredients you need to add to the dry ingredients.
Coconut flour is the defatted and dehydrated part of the coconut. It swells and absorbs many times its own volume so requires a lot of wet ingredients. It also requires a lot of eggs (which make the baking high protein) to give it structure.
If this is the first time using coconut flour, this is a great recipe, to begin with. It is the perfect combination of simple ingredients to make a healthy cookie.
If you are new here, you may want to read this article where I compare coconut flour vs almond flour.
I have an entire back catalog of coconut flour recipes. All the recipes are either made with coconut flour, or I have written conversions to swap almonds for coconut flour.
Do coconut flour recipes taste of coconut?
A lot of people who are sensitive to the taste of coconut often comment they can taste the coconut.
The trick I use every time I bake with coconut flour is to flavor the recipe heavily to overpower any subtle coconut taste some people find.
For a savory recipe, I would add extra herbs, spices, and cheese, for a sweet recipe I would add extra vanilla and sweetener for example.
Which chocolate and sweetener to use
To make sure your cookies are low carb and sugar-free, you will need to use a sugar-free sweetener. Don't be fooled by recipes that say they are sugar-free but continue to use honey, coconut sugar, brown sugar, or agave. They're all sugar. They will all raise your blood glucose and kick you out of ketosis.
The most commonly used keto sweeteners in sweet recipes are stevia, erythritol, xylitol, and monk fruit.
Remember to avoid maltitol. Many nutritional panels don't add it to the carbohydrate count, but it does raise your blood sugar. It is often found in sugar-free chocolate which is why I prefer to use cacao nibs in my coconut flour chocolate chip cookies. 95% dark chocolate chopped finely also works beautifully.
Cacao nibs give a lovely crunch to the cookies because they don't melt when baked, they add a punch of chocolate flavor and taste like traditional choc chips.
How much sweetener to use?
Regular chocolate chip cookies are incredibly sweet and high sugar. To help transition you away from sugar, remember to adjust the sweetener in all my recipes to YOUR taste buds and YOUR sweet tooth.
We are all on different paths to our sugar-free journey, so one person may require double (or half) the sweetener stated. Add a small amount each time, because you can't take it out and don't want an over-sweetened recipe.
If you are using stevia as your sweetener of choice, too much stevia will actually turn bitter – and no one wants a failed cookie. Each time you make low carb recipes, you will probably require less and less as time goes on.
TOP TIP: As with ALL recipes here, ALWAYS taste your batter BEFORE cooking to ensure you have added enough sweetener to suit YOUR tastebuds. Read the Ultimate Guide To Low-Carb Sweeteners.
How to bake perfect cookies
First, make your cookie dough in one large mixing bowl or a food processor. The recipe calls for softened butter, but I often use melted butter and it works wonderfully. For best results, always allow the cookie dough to sit for a while to absorb all the moisture from the wet ingredients.
Roll small golf ball-sized cookie dough balls and place them evenly on a prepared baking sheet (cookie sheet) lined with baking parchment. You can also use a silicone liner.
Coconut flour keto chocolate chip cookies never go completely crispy because they don't contain sugar or gluten.
To make the cookies bake as crispy and hard as you can, make sure you press the dough balls down with the palm of your hand or a fork, to make them thin and cook until golden brown.
Once the cookies are baked, remove them from the oven and place them on a wire cooling rack so as much of the moisture escapes.
Serving and storage
When I make these, my kids always prefer them warm, out of the oven. Personally, I prefer them once they have sat on the kitchen bench covered in a tea towel for a day.
I think the cookies absorb some moisture from the air and it makes the cookies light, soft and delicate.
I store any uneaten cookies in an airtight container for up to 3 days, or in the freezer for up to 2 months. Simply defrost 1 or 2 cookies at a time at room temperature.
Variations & substitutions
These are easily adaptable to your favorite cookie flavor with these simple variations.
Drizzle with sugar-free chocolate
Dip in chocolate
1 tbsp orange zest
2 tbsp peanut butter
1 tbsp ground ginger
2 tsp ground cinnamon
2 tbsp almond butter
1 tbsp cocoa powder
I am often asked if you can use coconut oil instead of butter to make a dairy-free cookie (paleo chocolate chip cookies), and the answer is, maybe. It's not as simple as just swapping the two oils for one another.
Butter gives a lovely flavor that coconut oil doesn't. You would need to add a pinch of salt to taste that the butter would normally provide. You might also want to double the vanilla extract because coconut oil is flavorless.
Can you use a flax egg or chia seed "egg"? Not in this recipe. You need the egg for protein and structure in the cookie recipe.
Keto cookies
If you still get sugar cravings, it's a good idea to have some keto cookies on hand. Some like to keep a little store in their freezer so they are not tempted to eat them regularly, but only when absolutely necessary.
If you like cinnamon, you'll love keto snickerdoodles, and if chocolate is your favorite, then try my chewy chocolate cookies. You might also like these keto cookies too: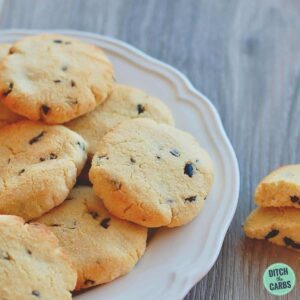 Coconut Flour Chocolate Chip Cookies Recipe
Quick and easy low-carb coconut flour chocolate chip cookies are perfect to enjoy with a cup of coffee, or pop one in your children's school lunch box.
Print
Pin
Rate
Want to lose weight and get healthy for life—without dieting, drugs, or making yourself miserable?
We can help! Tell me how!
Equipment
Baking sheets – non stick

Silicone baking sheets

Measuring cups and spoons
Ingredients
113

g

butter

softened

4

tbsp

granulated sweetener, of choice

or more to taste

65

g

coconut flour

1/2

tsp

baking powder

2

eggs – medium

2

tbsp

cacao nibs

2

tsp

vanilla extract
Instructions
Cream the softened butter and sweetener together until light, pale and fluffy.

Add all the other ingredients and mix well until combined and the mixture begins to thicken.

Squeeze a small handful into a ball, then press into a cookie shape with your fingers.

Place the coconut flour chocolate chip cookies on a lined baking tray and bake at 180C/350F for 10-15 minutes, or until golden brown on the edges.

Allow to cool for a while, then remove and place on a baking wire rack to cool down completely. These cookies are even nicer the next day.
Nutrition
Serving:
1
cookie
Calories:
139
kcal
Carbohydrates:
5.1
g
Protein:
2.6
g
Fat:
12.3
g
Fiber:
3.3
g
Sugar:
0.7
g
Get our FREE guide to finally fix your metabolism!
Losing weight & getting healthy is never easy, but lately you might feel like it's suddenly become impossible.
Our Flip the Switch guide will help you clearly understand what's been going on, as well as exactly what you can do to get your metabolism working again so that you can look and feel your best—it's easier and more simple than you think!