"Isn't this just another fad diet?"
"I've already tried Keto and it doesn't work for me."
"What makes you think Thinlicious™ will work when literally everything else I've tried has failed?"
Trust us–if we had a dollar for every time we've heard each one of those statements since launching Thinlicious and the Thin Adapted System™(TAS), we'd already have a LOT of dollars piled up by now.
Are you ready to create the ultimate 12-month blueprint for reaching your health & weight loss goals this coming year?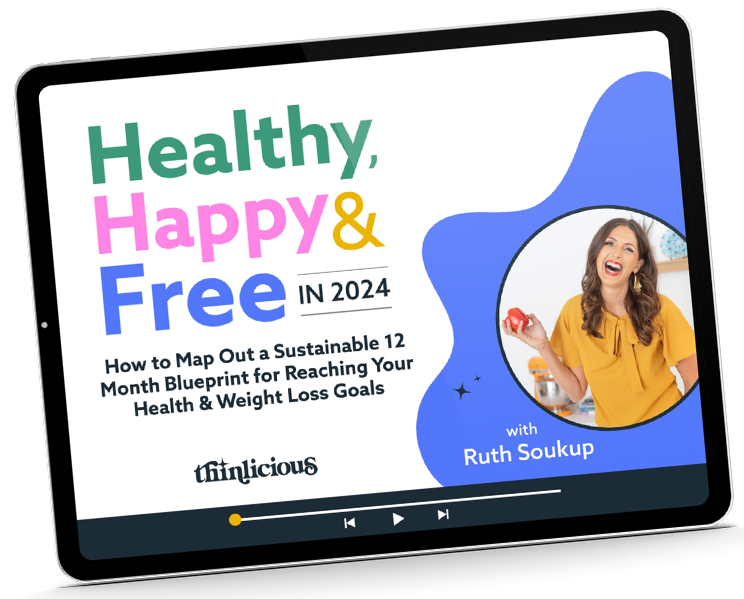 Our free on-demand video training will walk you through how to make 2024 THE year you set health goals…and keep them.
We've heard them all and many more.
And honestly, we don't blame anyone for being skeptical.
The truth is that losing weight is hard, especially for women over 40. Most of us have been on that crazy yo-yo diet cycle for years, gaining and losing the same 10, 15 or 20 pounds. And the older we get, the harder it gets.
It's no wonder most of us have given up or resigned ourselves to the idea that our best years might be behind us. Maybe this is really all we get at this stage of life–clothes that feel too tight, uncomfortable bloating, joints that ache, feeling tired all the time….and the list goes on.
But what if we told you it doesn't have to be that way?
What if we told you there is a better way to live?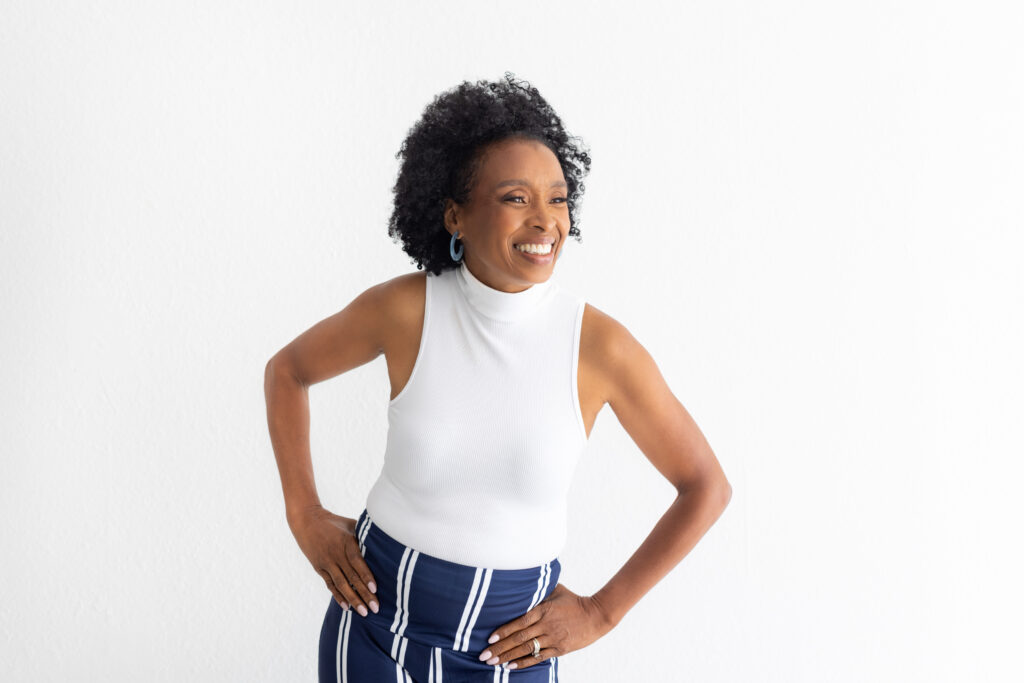 What if we told you there is a way to eat ridiculously delicious, satiating food–as much of it as you want–and still lose weight. And not only that, but in the process also fix your metabolism, reverse insulin resistance and balance your hormones?
Because, at its core, that is exactly what Thinlicious and the Thin Adapted System are all about. It's a program designed to fix the root cause of what made us gain weight in the first place. It's not a diet; it's a whole new way of eating and living. And it works.
But it's not for everyone.
The truth is that some people just aren't ready to commit to changing the way they eat and live for a variety of reasons. That doesn't mean you'll never be ready, but it does mean you should probably think long and hard before you jump into Thinlicious and TAS or any other low-carb, ketogenic eating plan.
So how do you know for sure whether you're ready?
7 questions to ask yourself before committing to a low-carb lifestyle.
If you're wondering, "does keto work for everyone?" then this is the guide for you!
The best way to know whether you're truly ready to make a low-carb diet work for you is to ask yourself some hard questions–then be willing to answer them honestly.
So what are these questions you need to ask yourself? Keep reading to find out.
1. Am I actually ready to make my own health a priority?
It's an all-too-common side effect of marriage or parenthood — take care of everyone else first and put yourself last.
"I'll go on a diet after my babies start school."
"I need to cook for the family. I'll worry about meal prep later."
Self-sacrificing love is beautiful, but your spouse and children need you to be healthy too. Your energy levels will keep dipping, and you won't feel like yourself until you take control of your overall wellness (both what you eat and how active you are).
It's impossible to change your life without putting yourself as the highest priority. Thinlicious isn't a temporary diet that works to shed a few pounds. It's an entire lifestyle shift. You'll discover how to cook food that you like, that nourishes and fuels your body with pure energy — all without starving yourself.
If you think you can just sorta fit this in after you handle everything else that's going on, it won't work. It's never going to be a perfect time.
Now is the time. You deserve to put yourself first so that you can take better care of the people you love.
2. Do I have enough support?
Thinlicious won't work if you try to do it alone. Sugar and carbs are everywhere, and everyone eats them all the time. Celebrations have cake, waking up has sugary lattes and even unwinding and relaxing involves either bar food or cocktails.
If you really want to see lasting results from the Thin Adapted System, get some support around you. Ask your spouse to eat a few of our low-carb recipes with you. Or, do TAS together!
If you don't have anyone in your life who supports this lifestyle change, plug yourself into the Thinlicious Facebook group. It's full of people on the same journey as you are, cheering each other on and giving each other advice when temptations get strong.
Making a lifestyle change is nearly impossible with a support system to build you up when times get tough.
3. Am I really ready to commit to this long term?
If you're looking for a quick fix to lose a few pounds and you don't have a plan to maintain your weight loss in the long term, TAS isn't the plan for you.
TAS isn't just about eating fewer carbs. It's about being intentional about what you eat and caring about your body in a whole new way, for good.
You have to be all-in if you want to see results from TAS. Drink your water. Focus on self-care and reduce stress. Plan your meals and become confident in the kitchen. And make healthy eating a permanent lifestyle choice.
If you have any doubts or still aren't sure if this will work for you, start small with the 28 Day Metabolism Reset. TAS is a larger program that gives you bigger results, but it requires true commitment and dedication. You have to put in the time to see the numbers on the scale drop.
You can transform your health with pure determination and laser focus, and finally feel lighter, happier and healthier.
4. Am I willing to let go of everything I've been told about weight loss and healthy eating?
This is one of the biggest reasons TAS doesn't work — and one of the hardest ones to overcome too.
Things like "fat is bad" or "cut calories to lose weight" are so ingrained in our culture and our brains that it's tough to look at diet and eating habits any other way.
In reality, 80% of our calories need to come from healthy fats in order to stay Thin Adapted and lose weight. In TAS, don't even look at or track calories. (That's a hard habit to break.)
If you keep your old diet mindset, TAS will be hard to stick to, and you could even stall your weight loss. One of the most common mistakes people make on TAS is not eating enough. It's true!
Track your food in an app like LoseIt and you might be surprised at how much more fat and protein you need to eat in order to stay Thin Adapted and burn fat.
There are a lot of things about TAS that are completely different from other diets, and your mindset needs to change if you want to achieve your goals.
5. Am I open to learning new things?
In order to succeed, you need to forget about (almost) everything you think you know about keto or low-carb diets. You'll learn new things about metabolism, fat, protein and insulin to understand how your body responds to it.
Since TAS has a lot in common with other low-carb or keto diets, you might get them confused and stall your weight-loss efforts. In fact, we described how Thinlicious is different from keto — and it surprised a lot of people.
To get the most out of it, watch all the videos and learn about the science behind TAS.
When you understand how your body metabolizes food, you'll naturally make smarter choices when you eat.
6. Do I have any dietary restrictions that will make keto too challenging?
If you have food sensitivities or allergies, then it could make an already-restrictive diet feel impossible.
What do people eat on a keto diet? The main food groups you'll eat on TAS are healthy fats and protein.
The most common healthy fats people eat on keto are:
Nuts or nut flours
Fatty fish (like salmon)
Avocado
Full-fat dairy
The most popular sources of protein on keto are:
Beef
Pork
Chicken
Seafood
Eggs
If you have allergies or sensitivities to any of the items listed above, you'll have to spend extra time researching recipes that use replacement ingredients.
Vegans and vegetarians will have an especially difficult time following TAS. There are so many benefits to animal protein, especially when you are trying to reduce insulin resistance and lose weight.
Having dietary restrictions doesn't mean you can't do TAS; it just means you need to be even more dedicated and focused.
7. Do I have any health conditions that will make it unsafe?
This last point is probably the most important one of all. If you have any health conditions at all, please speak with your physician before changing how you eat. A few conditions could be very dangerous on a low-carb diet:
Type 1 Diabetes – puts you at higher risk for ketoacidosis
Pancreatitis, liver failure, kidney disorder – these are fat metabolism disorders and could be dangerous if you eat high levels of fat
Disordered eating – starting a restrictive eating plan like TAS could exacerbate an unhealthy relationship with food
You also need to speak with your doctor if you are on any medications. Ask how changing your diet could affect or interact with them.
Will Keto Work For Me?
So, does keto work for everyone? No.
Can it work for you? It could!
It's possible for you to lose weight and feel more energetic — without feeling hungry.
It's important to ask those seven questions above before you jump in. This big life choice could help you feel much better, but it takes focus and dedication.
Are you ready for it?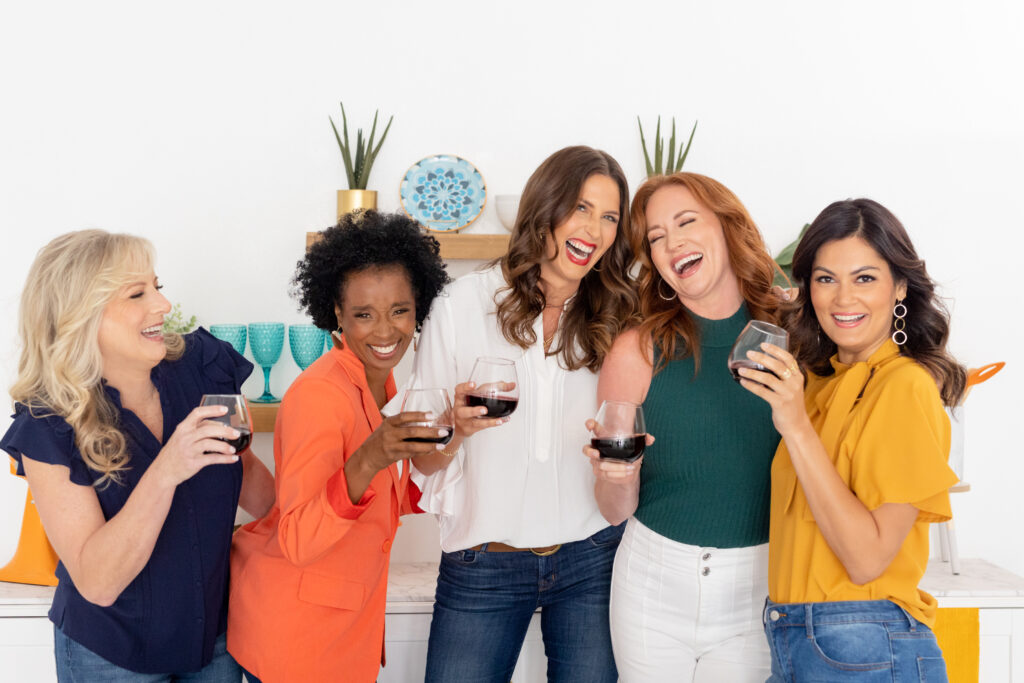 Start Now
Here's the hard truth.
You deserve to be healthy and happy. And you deserve it right now.
Start with the Thinlicious™ 28 Day Metabolism Reset. It introduces you to the Thin Adapted System and helps you retrain the way your body burns fuel in just four weeks. It's the quick win you need! Get it HERE.
PIN FOR LATER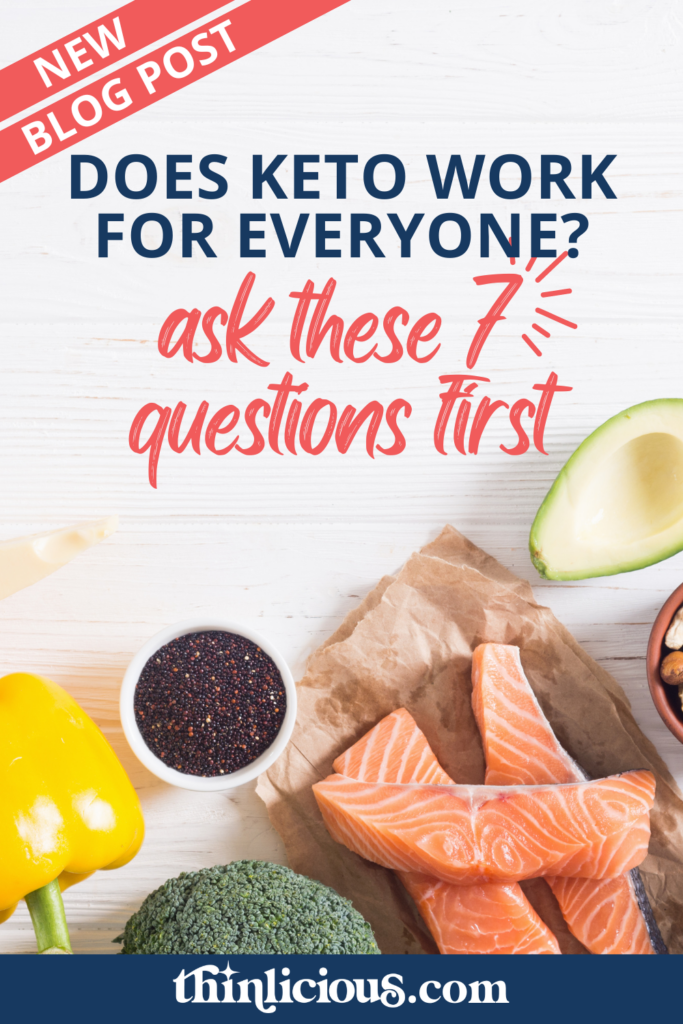 Get our FREE guide to finally fix your metabolism!
Losing weight & getting healthy is never easy, but lately you might feel like it's suddenly become impossible.
Our Flip the Switch guide will help you clearly understand what's been going on, as well as exactly what you can do to get your metabolism working again so that you can look and feel your best—it's easier and more simple than you think!