Most can be bought or can be made in under 5-minutes.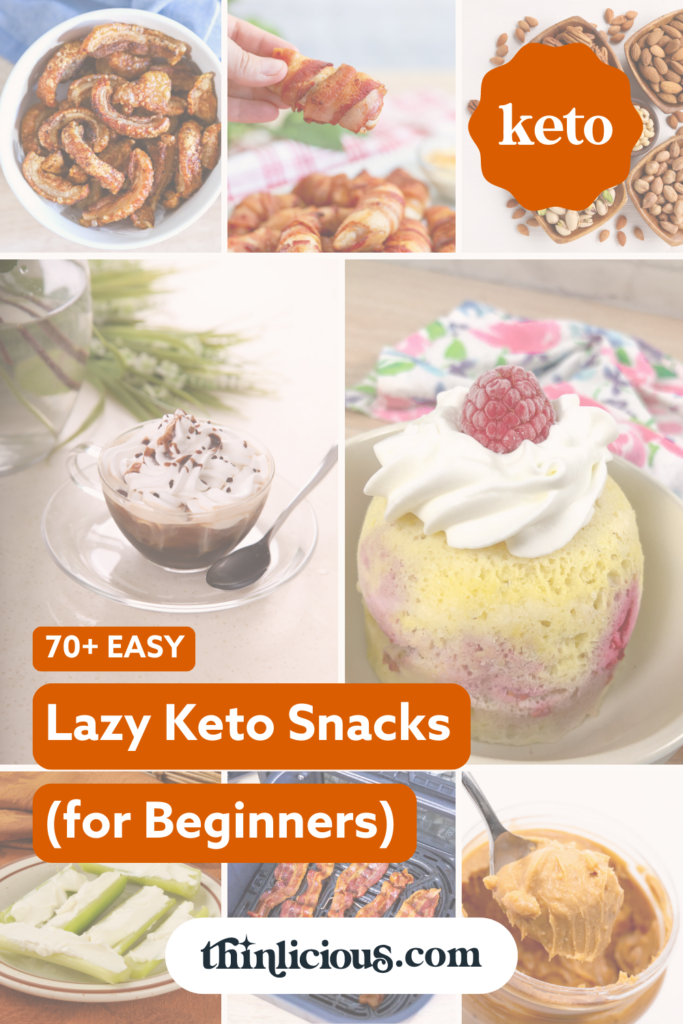 What is a lazy keto diet?
The lazy keto diet lets you eat any keto food or junk food as long as you are under 20 grams of net carbohydrates per day.
The lazy diet is often called a cheat's version of the ketogenic diet where the only thing you track is carbs.
You don't count any other macros – not fat, not fiber, and not protein. Just the carbs.
Ready to lose weight and get healthy for life without dieting, drugs or making yourself miserable?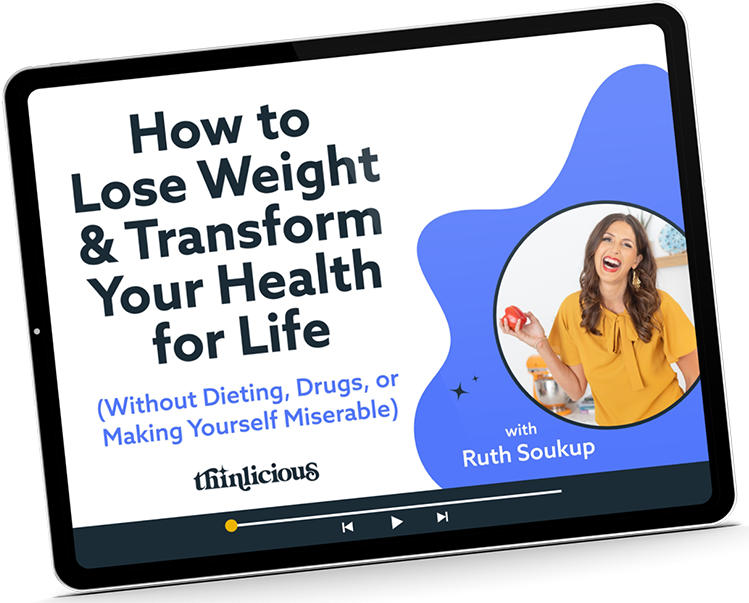 Our free on demand video training will help you understand why it's been so hard and what do to about it.
What are lazy keto meals?
Simple lazy meals are made with a few simple ingredients and require little or no cooking.
Many people think lazy keto is eating keto bars and drinking keto shakes, but that is generally known as "dirty keto".
What are lazy keto snacks?
Lazy keto snacks are quick and easy keto snacks that must be low-carb but it doesn't matter what the source of the carbs is.
A lazy keto snack requires minimal preparation or can be bought at the grocery store, it can be processed food, junk food, or a take-out. As long as the carbs are low.
Lazy keto snacks you can buy
What store-bought snacks are keto-friendly? These are the best keto snack ideas that you can buy from your local grocery store and even fast food joint.
Low-carb snacks at fast food joints
Burger patties with cheese slices
Fried chicken (remove the breaded coating)
Fried chicken wings (remove the breaded coating)
Meatballs (with cheese or tomato sauce with no added sugars)
Low-carb snacks at the deli
Deli meat – roast beef, roast lamb, turkey breast, chicken breast, ham
Hard-boiled eggs – or deviled eggs
Hot roast meats
Rotisserie chicken (remove any skin that has a sweet sauce)
Cooked pork belly
Salami – or pepperoni with unnecessary carbs, wheat fillers, or starches
Low-carb snacks in the chiller
Cheese slices – cheddar cheese, American cheese, Colby cheese, mozzarella cheese, and Swiss cheese slices for a meat and cheese rollup
String cheese
Guacamole
Cream cheese – spread over celery sticks or sliced pepperoni
Sugar-free jelly/sugar-free jello
Low-carb snacks in the grocery aisles
Olives – green olives, black olives, olives with garlic and herbs
Beef jerky – check the nutrition label for added sugars
Nuts such as macadamias, almonds, walnuts, pecans, and hazelnuts
Pickles – in vinegar, not syrup
Low-carb nuts – almonds, macadamia nuts, pecans, and walnuts
Peanut butter – or almond butter
Pork rinds – delicious, salty, crunchy snack
Dark chocolate
Sugar-free chocolate
Unsweetened coconut chips – salted or sweetened are great keto snacks
Dill pickles – wrap in deli meat
Canned tuna – canned sardines
Low-carb snacks in the produce section
Avocado – sprinkle with salt and pepper and eat with a spoon
Berries – only buy low-carb berries
Celery sticks – spread with cream cheese or dip in guacamole
Cucumber sticks – scoop out the core and fill with meat and cheese for a quick snack
Bell peppers – fill with cream cheese, ham, and pickles
Lettuce – fill with ham and cheese for a simple lettuce wrap
Lazy keto snacks on Amazon
The most popular keto snack ideas that you can buy on Amazon, or from iHerb.
Keto protein bars
The classic lazy keto snack has to be a keto protein bar. Just check if they have keto-approved sweeteners and sugar alcohols.
Sugar-free chocolate bars
If you don't like dark chocolate, sugar-free chocolate bars are the answer.
Dark chocolate bars
Low-carb dark chocolate bars have low enough net carbs to be included in this keto snacks list.
Moon cheese
Moon cheese is a crunchy keto snack that everyone loves.
Quest protein chips
Quest protein chips are high-protein low-carb snacks that you can carry with you.
Beef jerky
Always check beef jerky or venison jerky (dried meat) for added sugars. You only want to eat jerky that is low carb or below 1 net carb.
Pork rinds
The best keto snack has to be pork rinds. Especially if you have a salt craving.
Macadamia nuts
A bag of macadamia nuts is a high-fat keto snack that helps you get into ketosis. They are high in calories so watch out if your weight loss has stalled.
No cook lazy keto snacks
The best keto recipes are those that don't need any cooking and can be made fast.
The easiest ideas for snacks are those that you can eat in a flash and will have in your pantry.
Mix cream cheese with sugar-free jelly for a cheat's keto cheesecake
Mix avocado with sour cream and hot sauce for a dip with cheese chips or celery
Use any leftover meats for roll-ups
Lazy keto snack recipes
The best low-carb snack ideas can be made in under 5-minutes with minimal prep work. Most need no cooking or very little cooking.
Lazy sweet keto snacks
Sweet snacks are excellent for satisfying sugar cravings Make these keto-friendly snacks ahead of time and always have them on hand.
Low-carb berries with whipped cream or high-protein yoghurt
Keto coffee with heavy cream or bulletproof coffee
Stop your cravings fast with a 1-minute keto mug cake. It's perfect for your sweet tooth, but without the sugar.
Quick and easy keto chaffles are the ultimate lazy keto snack. You can make sweet or savory chaffles (keto cheesy waffles) and there is even a FREE chaffle cookbook for you too.
How to Make Chaffles 4 Ways
Delicious, easy, and fun chaffle recipes your whole family will love. Breakfast, double chocolate, chocolate chip, and pizza.
Check out this recipe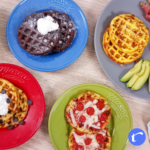 The perfect gluten-free mug cake filled with sugar-free chocolate spread.
Keto Nutella Mug Cheesecake
Delicious egg-free and sugar-free nutella flavored cheesecake that you can cook in a mug or ramekin using your microwave!
Check out this recipe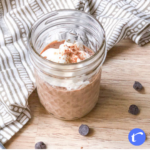 Healthy recipes don't have to take long. This low-carb snack is ready in a few minutes.
Keto Strawberry Mug Cheesecake Recipe
Delicious egg-free strawberry cheesecake that you can cook in a mug or ramekin using your microwave!
Check out this recipe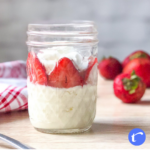 If you love peanut butter and dark chocolate, you'll love this easy keto smoothie.
Keto Chocolate Peanut Butter Smoothie Recipe
All the flavors of a peanut butter cup milkshake but sugar-free, low-carb, and keto friendly.
Check out this recipe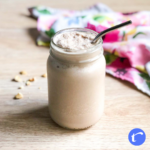 If you've just started keto, this is one of those healthy recipes the whole family will love.
An easy low-carb breakfast or a low-carb snack, this berry smoothie is delicious.
Easy Keto Berry Smoothie Recipe (Dairy Free)
Easy keto mixed berry smoothie is the perfect simple dairy-free smoothie to add to your meal plan for breakfast, a snack, or a keto meal replacement.
Check out this recipe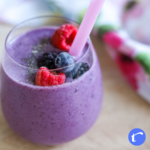 Lazy savory keto snacks
Savory keto snacks filled with protein and healthy fats make for a quick hunger buster.
Any cold meat
Celery filled with cream cheese
Cold roast beef slices
Cheese crisps
Deli meats
Mix avocado with cream cheese for a quick dip
Parmesan cheese chips – cooked in the microwave
You can buy these healthy snacks in the supermarket, or you can make your own easy keto snacks with these quick recipes.
Buy a bag of pork rinds, pork scratchings, or pork crackling or you can make your own delicious crunchy pork skins in the oven or air fryer.
Buy your favorite deli meat and make keto roll-ups with cheese, pickles, avocado, or cream cheese.
Bread Free Ham Wraps (Meat Roll Ups)
What can be easier for party food or school lunch boxes than a cold meat wrap secured with a toothpick?
Check out this recipe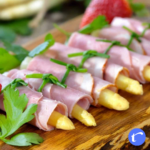 If you're craving nuggets, throw some chicken wrapped in bacon in your air fryer, or buy cooked chicken and cooked chicken from the deli. Dipping these in hot sauce is my favorite keto snack.
Keto Bacon-Wrapped Chicken Nuggets Recipe
This healthy bacon-wrapped chicken nugget recipe only needs 2 ingredients and can be cooked in the oven frying pan, or air fryer. PLUS there's a simple 2 ingredient creamy sauce too. They're kid-friendly and keto-friendly.
Check out this recipe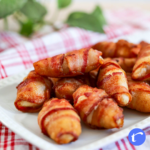 The best keto microwave bread recipe is ready in under 1 minute. Can be made sweet or savory and served with sugar-free keto jam, savory cream cheese, or make a quick keto sandwich with cheese and deli meats.
This easy gluten-free bread is under 2g net carbs.
You can buy hard-boiled eggs from the deli, or you can throw a dozen eggs in your Instant Pot and cook them in a few minutes. You'll have the easiest high-protein keto snack for less than 1 net carb.
Stuffed baby peppers with a cream cheese filling is a delicious crunchy keto snack that can be bought, or made.
Stuffed Baby Peppers Recipe
Stuffed baby peppers can be varied by adding flavours to the cream cheese such as – pepperoni pieces, chilli flakes, sliced celery, jalapeños, sun dried tomatoes …
Check out this recipe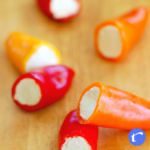 With only a few minutes of prep time, these curried deviled eggs will delight your taste buds.
Mix hard-boiled eggs with mayonnaise for delicious keto snacks with almost zero net carbs. You can make your own or you can buy everything from the chiller cabinet.
Air fryer keto snacks
Air fryer recipes are quick and easy. They are all keto-friendly and you can make your own great keto snack in just a few minutes for the entire week.
For quick snack meal prep, cook plenty of bacon in your air fryer every few days. No more oil splatters over you and your kitchen and no messy frying pan to clean up.
Store cooked bacon on kitchen paper in an airtight container for up to 3 days in the fridge.
How to Cook Bacon in the Air Fryer
Perfectly cooked air fryer bacon everytime with no splatter and easy clean up!
Check out this recipe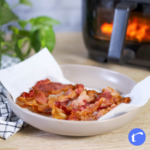 Cook a few chicken wings in your air fryer for an easy keto meal or keto snack.
How To Cook Air Fryer Chicken Wings (Keto Chicken)
Cook tender and crispy chicken wings in the air fryer easily. Make with a dry rub, buffalo sauce, or keto BBQ sauce.
Check out this recipe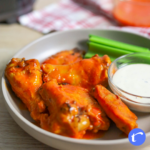 How to Cook Pork Chops in the Air Fryer
Easily cook a tasty and crispy bone-in pork or boneless pork chops in the air fryer with an easy homemade spice rub. Crispy on the outside and juicy and tender on the inside.
Check out this recipe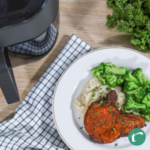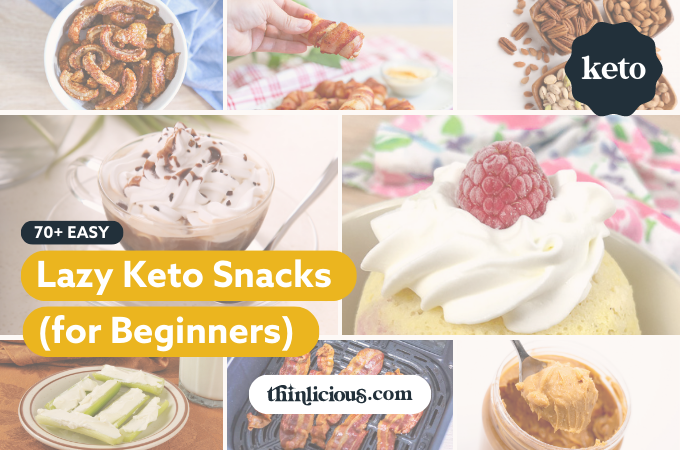 Lazy keto FAQ
What is allowed on lazy keto?
Anything as long as it is low in net carbs. The lazy keto diet doesn't worry about calories or worry about the source of the food.
Can you stay on the lazy keto diet forever?
Many people start on the lazy keto diet, especially those who hate to cook, but then switch to a cleaner traditional keto diet or low-carb diet once they discover how amazing they feel. Long term it's better to stay on the traditional keto diet with food such as ground beef, non-starchy vegetables, extra virgin olive oil, nuts, seeds, and low-carb fruits. You can find some delicious keto diner recipes in the dinner recipe finder.
What snacks have no carbs?
The most popular zero carbs snacks are pork rinds, beef jerky, canned tuna, and boiled eggs.
What are keto fat bombs?
Fat bombs are high-fat keto snacks that will stop any cravings and stop hunger but without any carbs. Fat bombs can be sweet or savory and are usually made with cream cheese or coconut oil.
Can I eat popcorn on keto?
Popcorn is made from sweetcorn and is high in net carbs. 1 cup of popcorn has 6g of net carbs. Large popcorn at the movies has 880 calories and 85g of net carbs so popcorn is definitely not keto friendly.
What foods will throw you out of ketosis?
The best way to stay in ketosis is to lower your carbs below 20 grams of carbs. Any food will know you out of ketosis if you eat too many low-carb snacks, too many carbs or even too many keto snacks will soon add up.
What is the keto flu?
When you start a strict keto diet you may experience flu-like symptoms such as tiredness, lethargy, muscle cramps, and headaches.
How can I prevent the keto flu?
Ensure you are drinking enough liquids and taking enough electrolytes or salt.
What is the dirty keto diet?
Dirty keto and lazy keto are often used interchangeably. The main difference is they are both seen as the cheat's version of the regular keto diet. These diets do not focus on the quality of food, only on the carb intake. A clean keto diet encourages eating only whole foods and clean foods for the best health benefits.
Can I eat keto night snacks?
Keto beginners might want to snack at night, but as your body burns fat, the good news is that you will no longer be hungry and will stop snacking altogether.
What are the best night keto snacks?
A good snack is something that is below 1g net carbs, not too much fat, and with some protein intake so you can maintain muscle mass while burning fat. The best snacks that take little effort are beef jerky, boiled eggs, canned tuna, pork rinds, and meat roll-ups.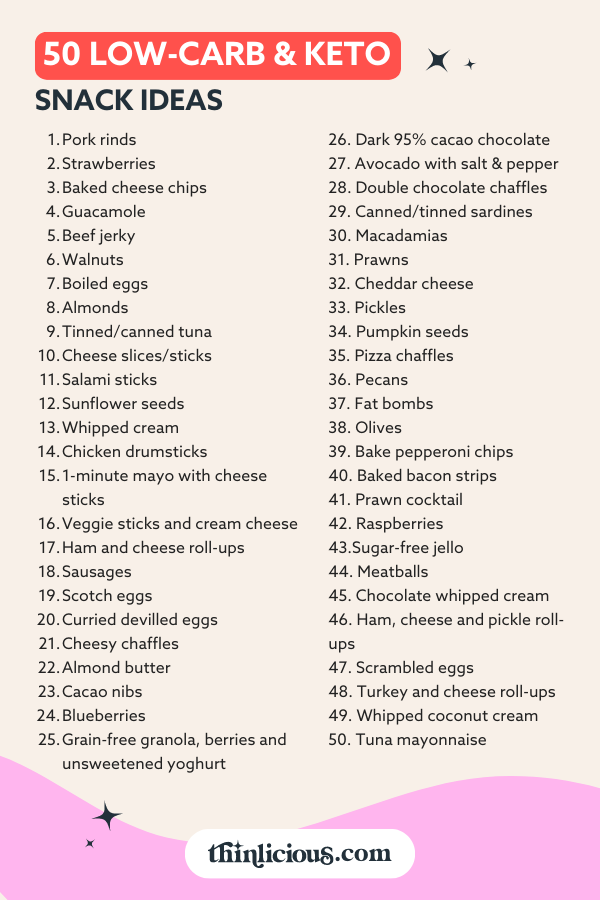 Get our FREE guide to finally fix your metabolism!
Losing weight & getting healthy is never easy, but lately you might feel like it's suddenly become impossible.
Our Flip the Switch guide will help you clearly understand what's been going on, as well as exactly what you can do to get your metabolism working again so that you can look and feel your best—it's easier and more simple than you think!