It's no secret that the price of food has gone up dramatically over the past 18 months. Inflation is at record highs, and with it, the cost of groceries. Just in the past year, according to MarketWatch, the cost of eggs has gone up 40%, the cost of chicken has gone up 17%, and the cost of dairy products is up 25%.
It's enough to make you think twice about filling your grocery cart full of healthy whole foods and low-carb options, especially when it seems like all those processed, high-carbohydrate foods are so much more affordable.
Please don't be fooled.
Because the truth is that while it might feel like you are saving money in the short term, the costs of eating a chemical-laden, highly-processed, carbohydrate-heavy diet will inevitably catch up with you in the form of weight gain, lower energy, insulin resistance, decreased immune function, and a whole host of other health-related issues.
Ready to lose weight and get healthy for life without dieting, drugs or making yourself miserable?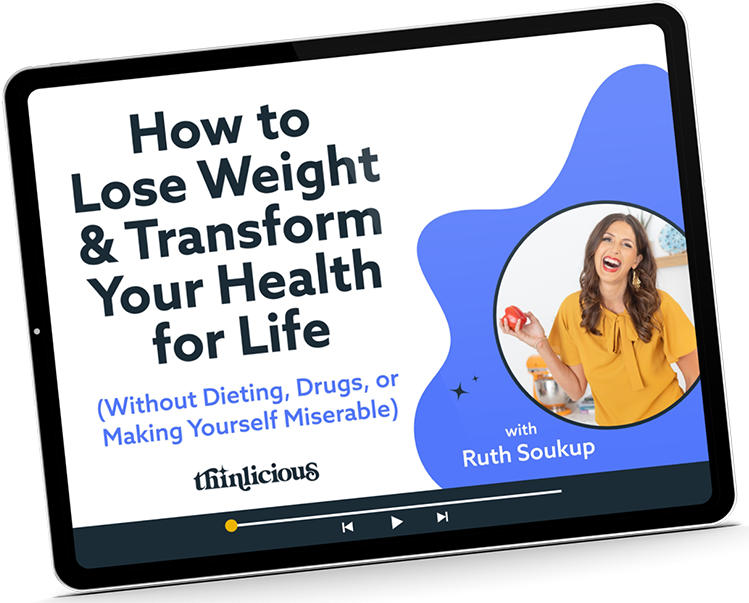 Our free on demand video training will help you understand why it's been so hard and what do to about it.
It's not worth it.
As our Thinlicious™ Physician Advisor, Dr. Edie Wadsworth, likes to say, "you can either pay the farmer now or pay the doctor later."
Your health should never be at the mercy of your grocery bill.
You deserve to feel good, and that means buying food that supports your immune system and gives you more energy than ever. At Thinlicious, we know that nothing will help you reset your metabolism and improve your health faster or more dramatically than a low-carb, ketogenic-based way of eating. It's the basis for our 28 Day Metabolism Reset, and our life-changing Thin Adapted System weight loss program.
But we also know that the cost of eating healthy and stocking up on low-carb staples can feel prohibitively expensive when you're just getting started. That's why today we wanted to share some practical tips for buying healthy, nourishing, low-carb food without breaking your budget.
So read on—your wallet (and your waistline) will thank you!
How To Save On Low-Carb Food
The secret to saving money on keto-friendly food is to plan ahead and then shop strategically when the food you need goes on sale. Investing a short amount of time into a bit of planning will pay off in big ways!
Buy Food When It Goes On Sale
We're going to let you in on a little secret that grocery stores & food manufacturers don't really want you to know: everything goes on sale. The better the sale, the bigger the savings, so one of the most important things you can do to save money on your grocery bill is to SHOP THE SALES.
Do your best to buy everything when it is on sale or at its rock-bottom price. Compare the store sale ads in your area to find out which stores have the best sale prices, and keep an ongoing price list so that you KNOW when something is a good price.
This does NOT mean that you should buy food just because it is on sale, but instead, be on the lookout for sale prices on the food your family normally buys, whether it be all whole foods, organic, or keto. Yes, even those foods go on sale.
Don't assume you know which store has the best deals until you've actually checked—you may be surprised at what you find. Here in Florida, for example, many people assume Publix is the "expensive" store, but when you compare sale ads, you will find that Publix consistently has the best sales week after week. Many people also automatically assume that Walmart has the best prices, but most sale prices at a traditional grocery store will beat Walmart's "everyday low price."
In the end, it doesn't actually matter where you shop—it is all about the price you pay.
Thus, your goal from now on is only EVER to buy an item when it is at its lowest price. Period. After you have your meal plan and grocery list, go to your favorite grocery store's website. Then, mark on your grocery list which food is on sale.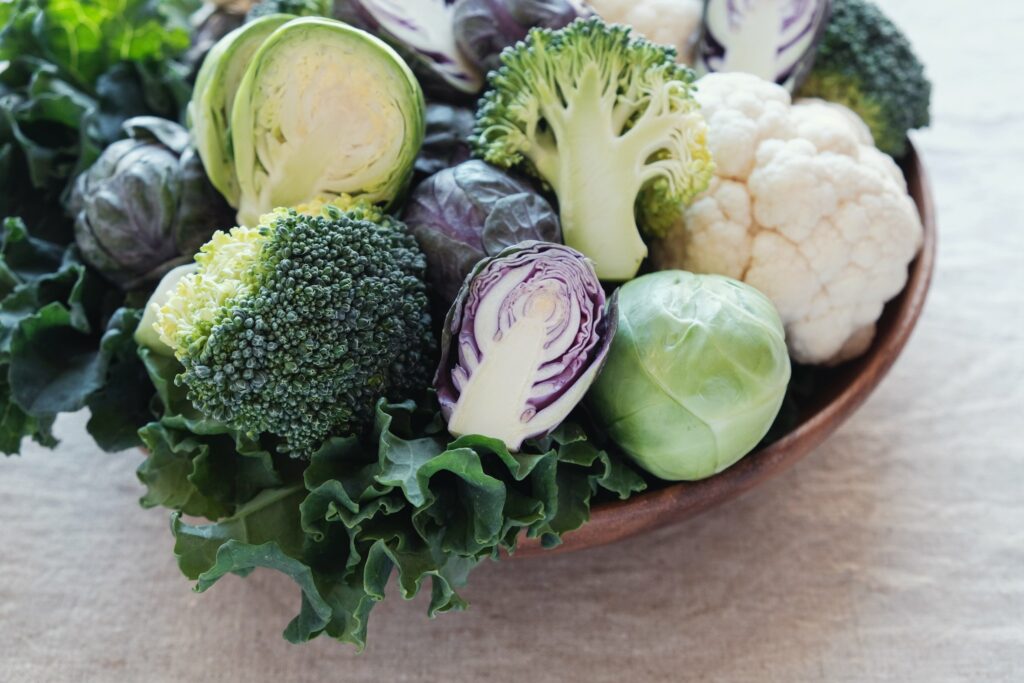 Stock up!
It's important to understand that buying items on sale is only half of the equation. Because, you see, in order to only ever buy an item at its lowest price, you must buy enough of it while it is on sale to last until it goes on sale again. This is key.
Most items go on sale every 6-8 weeks, which means you need to buy enough to last your family that long. If you buy only a week's worth, you will be forced to pay more the next time you need it because you didn't buy enough.
Let me make it more clear with an example. Say your family eats 2 pounds of butter every week. (Mmmmmmmm….butter.) The regular price for butter is $6.00 a pound, but when you go to the store this week, you see it is on sale for only $2.99 a pound–more than 50% off the regular price! Instead of buying only 2 pounds like you normally would for your weekly shopping trip, you buy 12 pounds—enough to last your family for the next 6 weeks at less than half the price you would normally pay.
At first, it may seem counterintuitive to be buying more than you normally would instead of less. However, because you are shopping the sales each week, you will be buying a larger quantity of a smaller variety of items, which means your overall grocery bill will still go down. The goal is to build up your own mini low-carb grocery store in your freezer & pantry, which you can then use to plan your family's meals.
And please be assured that you do NOT need to accumulate a whole year's worth of food. Sale cycles generally run about 6-8 weeks, which means your stockpile should contain about 6-8 weeks' worth of a nice variety of food. It also means that it will take about 6-8 weeks before you've built up a nice varied stockpile and will start to see the most dramatic savings in your grocery bill.
Furthermore, stockpiling does not mean your family has to only eat a diet of processed food. There are plenty of healthy, low-carb options for stockpiling, including eggs, bacon, meat, almond flour, sweeteners, & other low-carb baking essentials, frozen vegetables, cheese & other dairy products, canned tomatoes, & so much more.
Make A Plan
If you normally wing it when it comes to meal planning, running to the store several times a week for last-minute dinner items, this step won't be as painful as you might think, especially once you've gotten the hang of stocking up on staples when they go on sale. Instead of running to the store for your dinner supplies, you'll be able to run to that ready-made grocery store right in your own home. You may even find that maintaining a nice, varied pantry by shopping the sales once a week saves you a whole lot of time, in addition to saving you from expensive impulse and last-minute buys.
On the other hand, if you normally plan your meals and then make your shopping list based on that plan, this adjustment may be a little harder. However, you can still make it work if you get into the habit of planning your meals around what's on sale and around what items you already have on hand in your pantry.
By minimizing the number of non-sale items, you need to buy each week, you will find that you can plan your meals in advance and still cut your grocery bill in half.
Do your best to adjust your meal plan so that you're buying as much discounted food as you can. If you notice something is for sale at a really deep discount, pivot and make that for your dinner this week instead.
And if life is so busy, you barely have time to cook, let alone plan out your meals, that's exactly why we included an entire meal plan—even recipes—in our 28 Day Metabolism Reset. In this 4-week program, you'll retrain how your body burns fuel, and we have everything you need in it, including the grocery list.
Keep Meals Simple
Complicated recipes aren't just a time-suck—they cost more money too! As a general rule, the more ingredients a recipe contains, the more it will cost you to make. Along those same lines, the more variety you add to your meal plan—cooking something different for every single meal versus eating the same thing twice—the more you'll end up spending.
Our advice is to look for 30-minute meals with just a few ingredients. Even better, make recipes that use pantry ingredients you already have! You can make a delicious dinner that won't break the bank simply by mixing together some canned tomatoes, ground beef, spices & veggies. Or mix up eggs with bacon and vegetables for a quick breakfast or brunch.
Our Thinlicious recipes only use simple ingredients that are affordable and easy to find. They taste gourmet without the price tag.
Buy Once Cook Twice
Another way to save money on low-carb food is to plan meals that you can rework and use in different ways throughout the week.
For example, one night, you might make beer can chicken. Save some of that chicken and use it again to make buffalo chicken dip. The best thing about these two ideas is that whole chickens usually cost less than buying boneless chicken breast.
Cutting down on food waste is the best thing you can do to save money on low-carb groceries. So look for ways to use leftovers and only buy what you need—no more!
Shop Online for Specialty Items
When it comes to keto, a few specialty items are best bought online rather than in the grocery store simply because they are so much cheaper. Both Thrive Market and Amazon have a TON of low-carb food options available, usually at better prices than you can find anywhere else.
Just be sure to do your research and compare prices before you buy so that you're getting the best deal possible. And if there's something available on sale at your local grocery store, always opt for that instead of buying it online—you want to save money wherever you can!
So use the internet to your advantage! Shop around for the best deals and stock up on keto staples when they go on sale
Use Coupons
It is not by accident that using coupons is the last item on this list and not the first. Coupons can and do save you a ton of money on your grocery bill, but only if you follow these other steps first. When and if you make these changes in the way you shop—getting into the habit of shopping for only what's on sale, buying enough to last your family 6-8 weeks, and planning your meals around what you have on hand and what's on sale—you will see a dramatic drop in your grocery bill, even without clipping a single coupon.
When you begin to match coupons to the things that are already on sale, you will see even more dramatic savings—50 to 60% off your grocery bill or more! Doing this consistently, week after week, you can literally cut your grocery bill in half. In this post on how to save with coupons, you'll learn how to stack coupons on top of sale prices.
And while admittedly, a lot of coupons are for unhealthy processed, high-carb foods. rest assured that there ARE coupons available for healthier food options too. There are almost always coupons available for things like cheese, almond milk, frozen vegetables, coffee & tea, and basic pantry staples such as almond flour, sweeteners, spices, and canned goods. Plenty of coupons are available for non-food items such as shampoo, toilet paper, paper towels, cleaning supplies, and over-the-counter medicine.
The important thing to remember is that coupons come last, not first. Don't buy something just because you have a coupon—manufacturers count on that! Wait for the sale, then use the coupon.
Changing old patterns and shopping habits is never easy, but with these simple changes, you really can cut your grocery bill in half.
Keep Going
Go ahead and take care of yourself – without breaking the bank! Start with the 28-Day Metabolism Reset. It will introduce you to an entirely new way of low-carb eating that keeps you feeling full and retrains your body to burn fat for fuel.
We included an entire meal plan and shopping list in the 28-Day Metabolism Reset. You'll have everything you need to start losing weight, feeling better, and saving money at the same time! Go snag it today—you can't afford not to!
PIN FOR LATER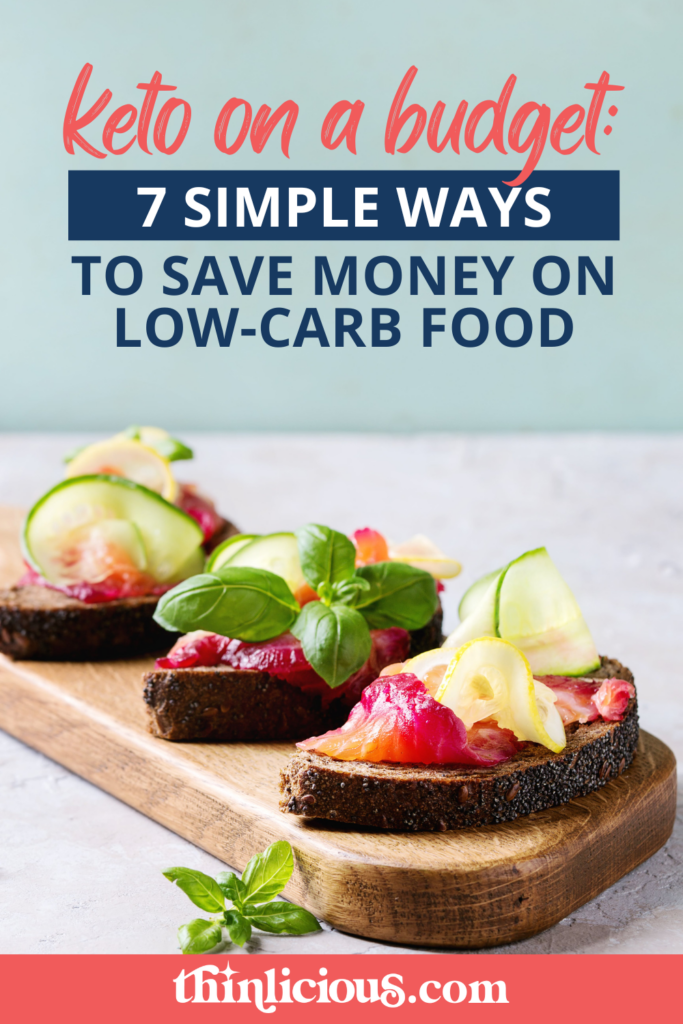 Get our FREE guide to finally fix your metabolism!
Losing weight & getting healthy is never easy, but lately you might feel like it's suddenly become impossible.
Our Flip the Switch guide will help you clearly understand what's been going on, as well as exactly what you can do to get your metabolism working again so that you can look and feel your best—it's easier and more simple than you think!