Keto Hamburger Salad (known as a Big Mac Salad) lets you enjoy all the flavors of a ground beef cheeseburger from McDonald's while keeping your low carb diet in check.
This healthy family cheeseburger meal can be quickly thrown together or made ahead for easy keto meal prep.
At only 2.2 grams of NET carbs per serving this healthy salad is perfect for lunch or dinner.
So, what's on the menu? How about a crisp keto hamburger salad packed with ground beef burger patties, cheese, onions, tomatoes and Big Mac thousand island style dressing. Yum! It will become your new favorite burger bowl and easy dinner.
Are you ready to create the ultimate 12-month blueprint for reaching your health & weight loss goals this coming year?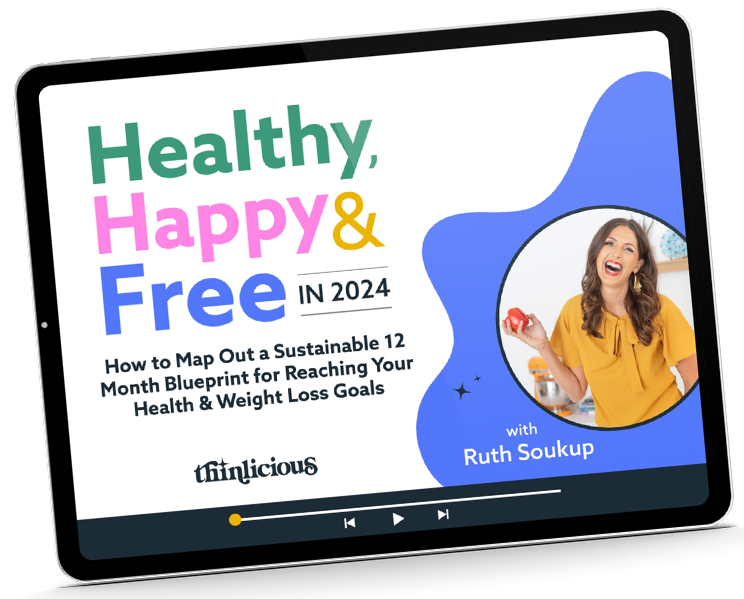 Our free on-demand video training will walk you through how to make 2024 THE year you set health goals…and keep them.
Is hamburger salad keto?
A crisp hamburger salad is a low-carb alternative to a cheeseburger. However, not all hamburger salads are keto friendly. I made several tweaks to the creamy dressing and salad to ensure that this simple recipe is keto friendly and filling.
Plus, I offer several tips below to help you reduce the carb even further if desired. So next time you're craving a Big Mac or a juicy cheeseburger, make this hamburger salad instead.
What's in a Big Mac?
A Big Mac hamburger has a sesame seed bun, beef patties, cheese slices, salad, pickles, mustard, ketchup and finely sliced onion. Then there is the Big Mac Sauce®. The secret sauce.
Most of these ingredients in this famed condiment are those we choose to avoid whilst on the keto diet. Can you spot all the added sugars? I can spot sugar, high fructose corn syrup, and corn syrup to name a few.
If you choose to eat fast food and want to stay within your daily carb allowance, then you might want to only eat the burger patties, salad and cheese. But if you want the same McDonald's taste, but not that carbs, then you can make the Big Mac cheeseburger salad recipe instead.
Salad ingredients
For this delicious salad, I used both green leaf crisp lettuce and romaine lettuce mixed in a large bowl. Green leaf lettuce is generally lower in carbs than romaine, but romaine lettuce packs more fiber. I found that a combination of both is best for allowing us to reach the desired carbohydrates to keep this salad keto.
The toppings are standard hamburger toppings with a few variations that you can read about below that help to make this keto Big Mac salad recipe.
You can use any pre shredded cheese, just check the ingredients to ensure there are no anti clumping agents or added starches such as potato flour, rice flour or wheat.
The dressing ingredients used for this salad is a combination of mayonnaise, mustard, paprika, Italian seasoning, apple cider vinegar, and water. This dressing is tangy, but this can be reduced by using less vinegar if desired. If you are looking for a spicier dressing a pinch of cayenne pepper can be added to heat things up.
More salad recipes:
Salads are such a filling meal and you can add as much protein and healthy fats as you like. These are my favourite low carb salad recipes the whole family will love.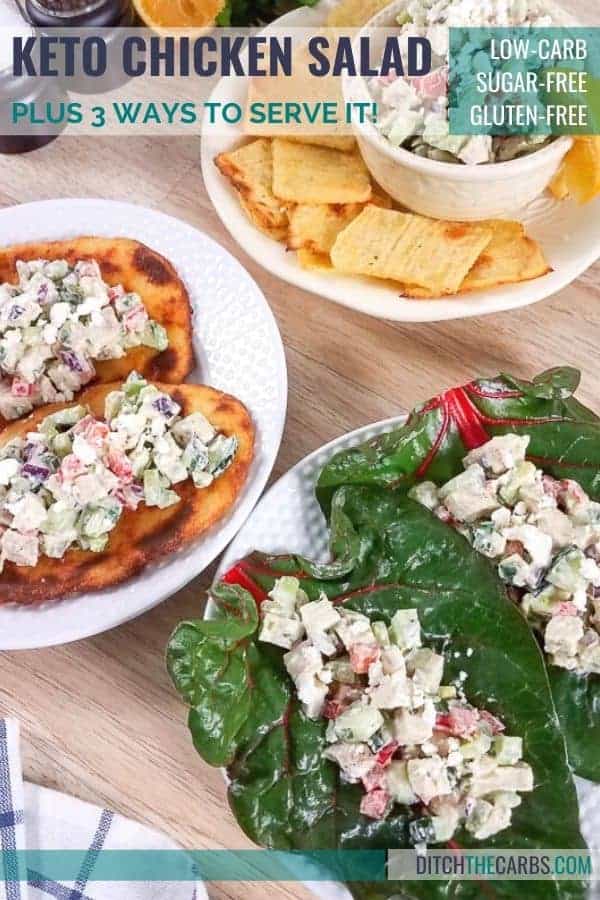 What's in the dressing?
The dressing for keto hamburger salad is so easy to make and full of big mac flavor. It tastes like a hamburger spread that you would like get on a Big Mac. The dressing is tangy from the apple cider vinegar, but still creamy from the mayonnaise.
To make the dressing combine all the simple ingredients together in a glass jar or mason jar. Add the lid and shake for one minute until it is completely mixed. Chill the dressing in the refrigerator until you are ready to use.
Be sure to read our top tips sections for our recommendations for making a fool proof dressing.
Top Tips for Perfect Salad Dressing
Salad dressing is one of those things where everyone prefers their dressing at a different consistency. To give you more control over the consistency of your delicious dressing add the water to your dressing one spoonful at a time.
This will give you the chance to test the consistency before adding more water. You can always add more water, but you can't remove it.
Cooking hamburger meat
Top tips:
Use lean ground beef so less moisture and fat are rendered out.
You may also wish to use other ground meats such as ground turkey or ground chicken.
I wanted large chunks of hamburgers for my keto hamburger salad. To cook your ground beef into large chunks you will want to heat some olive oil in a pan on the stove. When the oil is hot, add the ground beef to the pan without breaking it up. Continue to cook on medium heat.
Using a spatula press flatten the ground beef and spread it out so that it is thinner but still not broken into pieces. Let the beef cook for 3-5 minutes then flip it and repeat on the other side. Add salt and pepper to season if desired.
After the beef is done cooking, break it into large bite sized pieces with your spatula. All the liquid should have evaporated out of the pan leaving just perfectly sized hamburger pieces for your salad.
How to reduce carbs further
Most of the toppings used for keto hamburger salad are minimal in carbs such as cheddar cheese, dill pickles, bacon, and sesame seeds. However, toppings like onions and tomatoes can increase the carbs in your salad quite a bit.
I didn't want to cut the tomatoes and onions out completely so I decided to use spring onions (green onions) in place of regular white or red onions. The spring onions allows your to have the flavor of onions with fewer carbs.
For the tomatoes I decided to use cherry tomatoes sliced into quarters. Slicing the juicy tomatoes gives the salad the appearance of having more tomatoes, even though it truly only has 1 cherry tomato per serving.
Need inspiration? Visit the low-carb and keto LOW-CARB & KETO RECIPE INDEX
The carbs for this salad are already very low, but there are a few ways to cut the carbs even further if you need to. The easiest way to leave off the cherry tomatoes and green onions. Instead, you can replace them with extra meat.
Limit the amount of dressing you use to 2 Tbsp. per serving. Try shaking your salad up in a container with a lid to make the dressing evenly dispersed while you are eating.
Make your salad using less lettuce and more meat. Only use a cup of lettuce for your salad, but add more meat so that you are still able to enjoy it as a meal without being hungry 10 minutes later.
Meal prepping
Keto hamburger salad is an excellent salad to meal prep for lunch throughout the week. You can make the 3 parts of the low carb cheeseburger salad in advance.
Cook and store the ground beef
Shake and store the cheeseburger style thousand island dressing
Wash and prepare all the salad ingredients
When I meal prep this salad I always pack the toppings to the side of the lettuce and the dressing in a small separate container to keep the lettuce from wilting throughout the week.
Storage
To keep the lettuce fresh store the lettuce in the refrigerator with a damp paper towel draped over the top of the lettuce. This will help keep the lettuce crisp a few days longer.
Cooked ground beef can stay fresh in an airtight container for up to 3 days in the frdige.
The creamy bacon cheeseburger salad special sauce can be stored for up to 3 days in the fridge. Do not freeze.
Meal or side dish?
Because of all the toppings and protein, a keto hamburger salad can really pass as a meal or a side. When serving this tasty salad as a meal it can easily serve up to six people. I recommend letting each person add the toppings themselves to give each person more control of their portion size.
If you are serving this salad as a side dish for 4-6 people I would recommend cutting the recipe in half. However, if you are serving this salad as a side dish for a small crowd the recipe is the perfect amount as written.
And if your family or guest at a holiday barbecue require a different protein, such as a vegetarian option, that's easy to do too.
Are there keto hamburger buns?
Yes, I have a recipe for homemade keto hamburger buns. They're quick and easy to make, they look like real hamburger buns and best of all, they taste like real hamburger buns.
In fact, I would say they taste even better than the high carb wheat bread buns. Low carb burger buns are full of cheese, almond flour, and covered in sesame seeds.
More ground beef recipes you may like: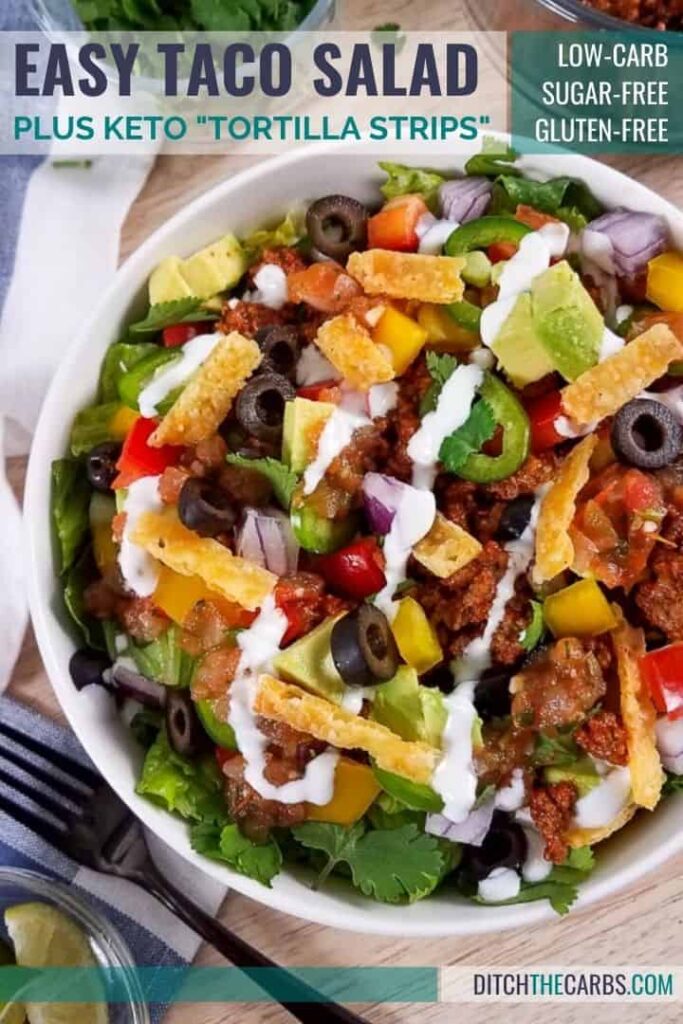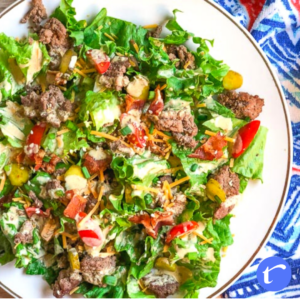 Keto Hamburger Salad Recipe (Big Mac salad)
This keto hamburger salad lets you enjoy all the flavors of a McDonald's Big Mac without the carbs or added sugar.
Print
Pin
Rate
Want to lose weight and get healthy for life—without dieting, drugs, or making yourself miserable?
We can help! Tell me how!
Equipment
Skillet

Measuring cups and spoons

Jar with lid
Ingredients
1

lb

ground/minced beef

½

tbsp

extra virgin olive oil

½

head

green leaf lettuce

chopped

⅓

head

Romaine lettuce

chopped

4

tbsp

cheddar cheese

shredded

2

dill gherkin pickles

sliced

1

green onions

chopped

⅓

cup

cherry tomatoes

sliced in quarters

2

slices

cooked bacon pieces

crumbled into bits

½

tsp

sesame seeds

salt and pepper
Dressing
½

cups

mayonnaise

2

tbsp

mustard

1

tsp

paprika

1

tsp

Italian seasoning

1½

tbsp

apple cider vinegar

2

tbsp

water

salt and pepper

to taste
Instructions
First, make your dressing by combining all the dressing ingredients together in a jar. Screw the lid on and shake for 1 minute or until all the ingredients are combined. Chill in the refrigerator until ready to use.

For a thicker dressing add spoonful's of water one at a time, shake, and taste. Continue to add water until you reach the desired consistency.

Next, add the olive to a skillet on the stove over high heat. Once the oil is hot add the ground beef to the pan. Do not break or crumble the beef before adding it to the pan. Use a spatula to press the ground beef flat into the pan to make it thinner. Sprinkle with salt and pepper.

Cook the ground beef for 3-5 minutes on high heat, then flip the beef over and cook another 3-5 minutes. When the beef is done cooking use the spatula to break the been into bite-sized pieces for your salad.

While the beef is cooking wash and chop your vegetables so they are ready to add to your salad. Add your bacon to the oven (or a small frying pan) to cook if it is not already cooked.

Finally, assemble your salad either in individual salads or one big salad. Spread the cooked beef over the lettuce. Sprinkle with cheese, tomatoes, pickles, bacon, green onions, and sesame seeds. Drizzle with the dressing and enjoy!
Notes
A serving size of dressing is 2 Tbsp.
Nutrition
Serving:
1
serving (serves 6)
Calories:
412.3
kcal
Carbohydrates:
4.1
g
Protein:
18
g
Fat:
35.9
g
Sodium:
545.1
mg
Potassium:
442.6
mg
Fiber:
1.9
g
Sugar:
1.7
g
Vitamin A:
5644.4
IU
Vitamin C:
6.8
mg
Calcium:
133.6
mg
Iron:
2.7
mg
Get our FREE guide to finally fix your metabolism!
Losing weight & getting healthy is never easy, but lately you might feel like it's suddenly become impossible.
Our Flip the Switch guide will help you clearly understand what's been going on, as well as exactly what you can do to get your metabolism working again so that you can look and feel your best—it's easier and more simple than you think!