It is so easy to make homemade grain-free granola in a sheet pan.
You can make your own homemade granola from ingredients that are probably sitting in your pantry right now.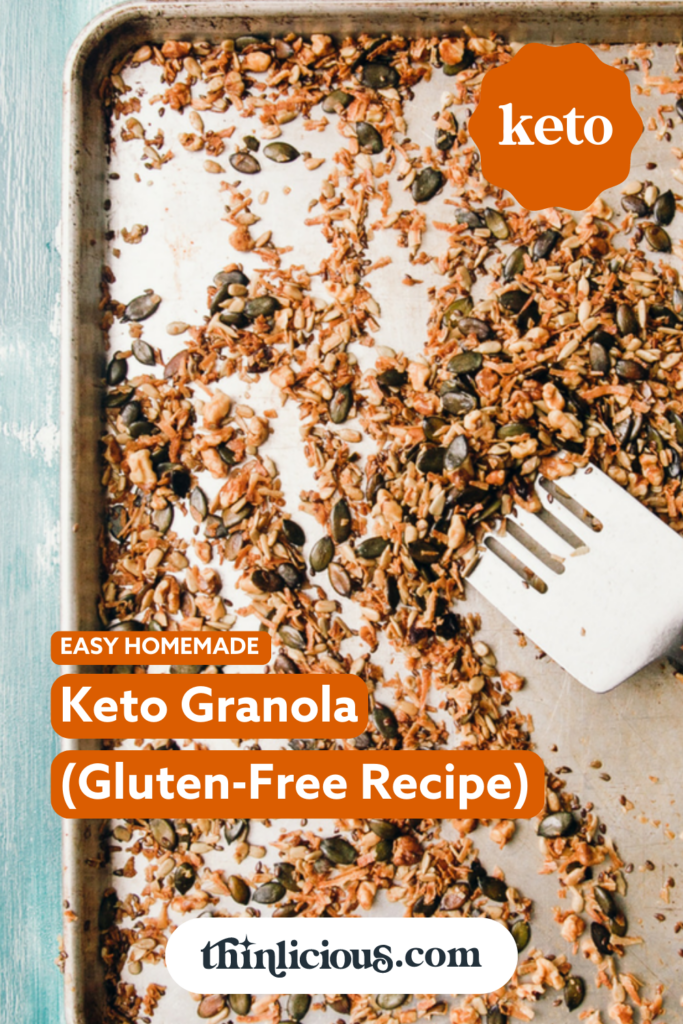 Think traditional granola is healthy? Think again. It's time to understand what to enjoy (and what to avoid).
Is granola healthy?
Granola can be healthy, it depends on the ingredients and if it has added sugar, honey, agave, high fructose corn syrup, or maple syrup.
Ready to lose weight and get healthy for life without dieting, drugs or making yourself miserable?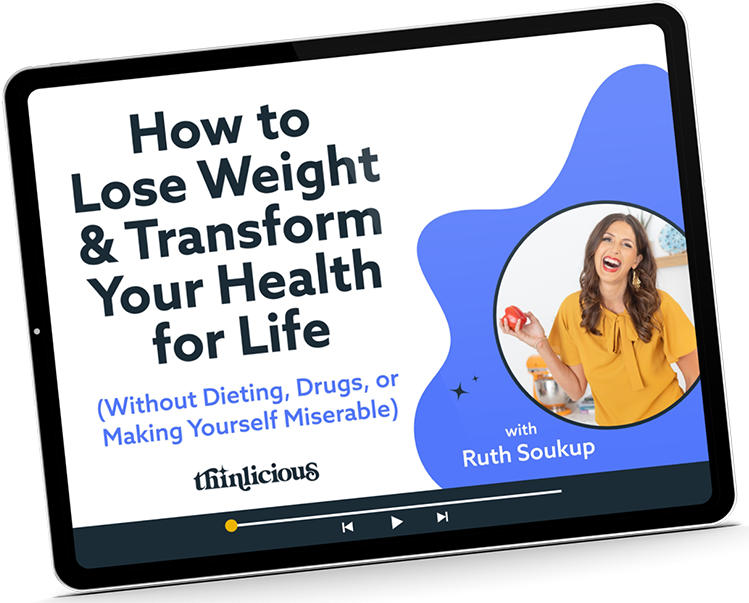 Our free on demand video training will help you understand why it's been so hard and what do to about it.
Most granola, muesli, and cereals are made with high starch grains such as oats, wheat, and barley. When you understand how they raise your blood sugar, you may want to stop or reduce them in your diet.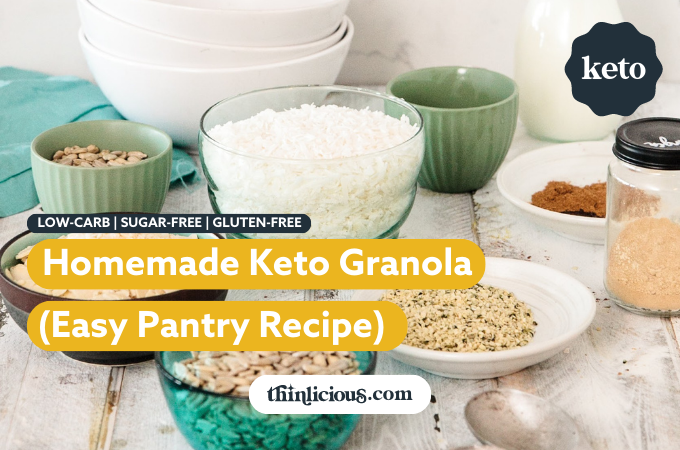 What is wrong with regular boxed cereal/granola?
You think your cereal, granola, or muesli is "healthy". It's full of whole grains, contains some daily vitamins, and is part of a balanced day. It starts you off well and keeps you full. It's organic and so must be healthy? Sadly, these are all myths.
The invention of breakfast cereal is one of the first convenience foods. They are cheap to make and are seen as an easy answer to the morning schedule. They have become nothing more than a bowl of sugar, corn, or wheat, with milk and vitamins added. Breakfast has become dessert.
If you can understand what is wrong with breakfast cereals you will understand what is wrong with modern food production, marketing, whole grains, the Heart Foundation tick, why low fat is misleading (and can actually increase your risk of heart disease), and how sugar has found its way into everything we eat.
Granola and cereals are packaged in bright, vibrant, exciting packages aiming mainly at children. Or the "healthy cereals" usually have fields and nature on the front, and typically in brown recycled paper boxes, to somehow give it "sustainable and healthy" credentials.
And if you think it's only children's cereal that contains high amounts of sugar, think again. Watch the video below to see how much sugar (natural or not) is hidden in even "healthy" cereals.
UPDATE – One reader sent me his stable blood glucose readings after enjoying my grain-free granola with berries and unsweetened yoghurt.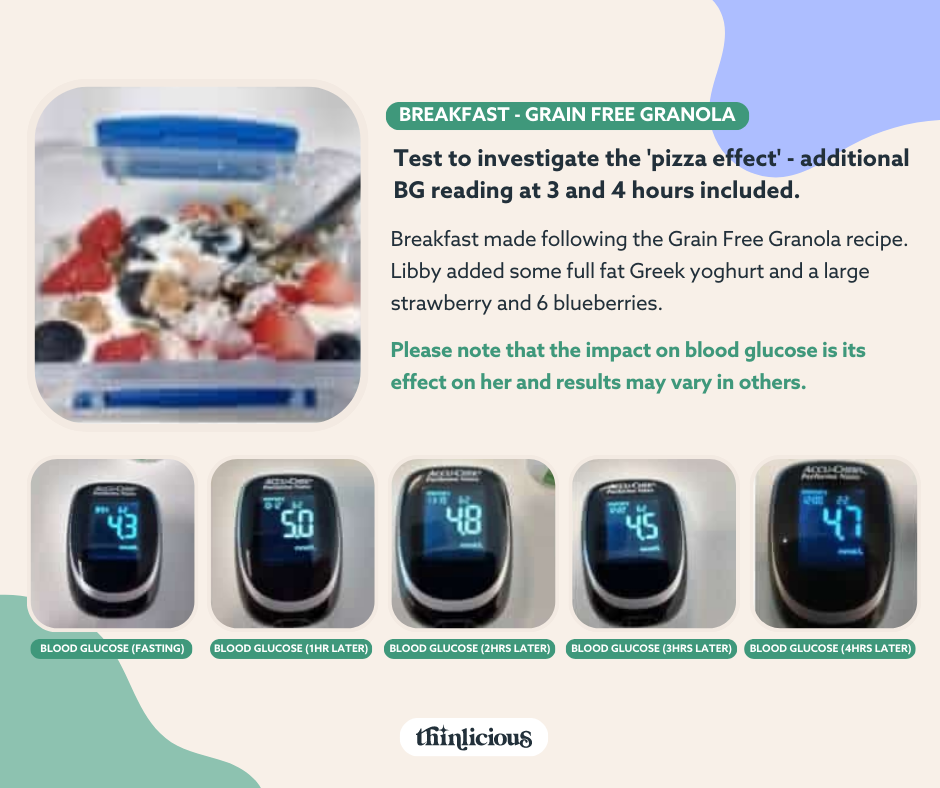 Most people also start their day by drinking a glass of "natural, healthy" fruit juice, but now you've gone over your limit of sugar for the day. But trying to get people to understand why a wholegrain cereal and a glass of juice is so bad, is pretty much like hitting your head against a brick wall. That is the power of the food advertising and marketing industry.
"And if you understand how cereal is marketed, produced, manufactured, sold, you will understand modern food production. This is a wonderful documentary about the propaganda, marketing and industry behind breakfast cereals and how cereals have become synonymous with a healthy breakfast."
Fast forward to 7 minutes, and see how cereals all stem from one place, 2 brothers and Battle Creek! This is fascinating. See how the Kellogg brothers split and how sugar added to cereal began. How they bought cheap grain for 75c and make $12 of cereal!
Top granola health myths
Myth 1: Whole Grains Are Good For You
Whole grains are high in carbs, raises blood sugars dramatically, causes insulin spikes, increases appetite, causes leaky gut, malabsorption of vitamins, full of gluten, gliadin, and amylopectin A. Modern wheat (which is NOT the same as wheat eaten by our ancestors for centuries) may be a trigger for autoimmune disease such as type 1 diabetes, dementia, multiple sclerosis, rheumatoid arthritis, psoriasis to name a few.
Take home message – Wheat is a rapidly absorbed carbohydrate with a high GI full of reactive proteins causing a leaky gut.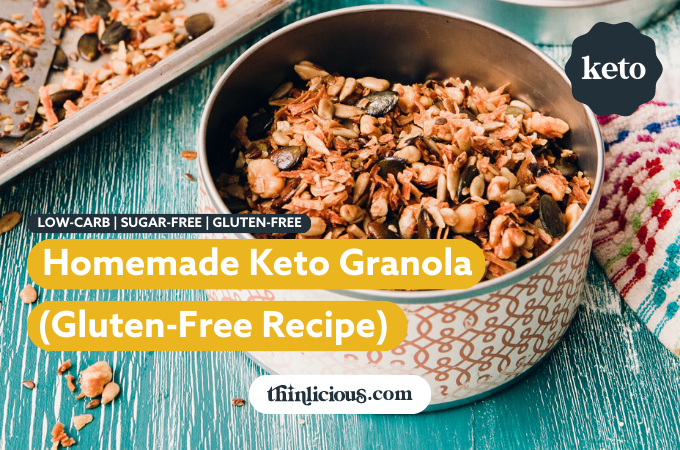 Myth 2: Cereals Are Packed With Vitamins
Another myth fed to you by the cereal industry. This is because they are fortified with synthetic vitamins and minerals. Cereals are stripped of their nutrients during processing and they are fortified, they become socially acceptable processed grains. Why do you think they show a bowl of cereal with milk and berries? To give you the idea you are eating a balanced breakfast. The cereal itself is almost incidental to the vitamin intake from the fortification or the added fruit and dairy. By adding vitamins and minerals, cereal manufacturers can make health claims and increase sales.
In fact, many kinds of cereal only receive health star ratings due to the addition of dairy to the serving.
To produce corn flakes, they take the kernel and remove the outer husk, to allow the sugar, malt, and salt to penetrate. They remove the inner germ which contains oil because the oil goes rancid and would shorten the long shelf life and reduce profit. It gets cooked, dried, rolled out, toasted, They turn cheap grain into premium products by way of marketing, advertising, fortifying and processing.
Take home message – cereals are not packed with naturally occurring vitamins, they are fortified and ultra-processed.
Myth 3: It's Organic So Must Be Healthy
Yes, organic products are great and don't have the pesticides and residues of other cereals, but this doesn't change their carb/fat/protein content. Sugar and carbs will raise your insulin no matter whether they are organic, natural, or highly processed. Sugar, honey, Medjool dates, dried fruit ALL are seen by the body as sugar and raise insulin, increase appetite, stop fat burning, and promote fat storage.
Take home message – organic cereals can be just as high carb/sugar as the non-organic products.
Myth 4: Low-Fat Cereals Are Better
Low-fat merely means they have reduced the original fat content. But what was the fat replaced with? You guessed it, sugar. Next time you are in the supermarket, compare 2 products that are regular and reduced-fat (or lite).
Look at their carb content and sugar content. I'm guessing you'll find the reduced fat cereal (or any reduced-fat product for that matter) is higher in carbs. Why? Because when you remove something, you have to replace it with something else, and sugar adds flavour and acceptability.
Take home message – low-fat products have the fat removed, and have sugar added to give it flavour and substance.
Myth 5: It Has A Heart Foundation Tick So Must Be Good For My Heart?
Again this is marketing. Firstly there are major calls for the Heart Foundation to totally reassess their recommendations on fats and sugar, and secondly, companies essentially re-formulate their products to fit the criteria to receive the Heart Foundation Tick.
Study after study has repeatedly shown that low-fat diets do not stop heart disease, but may actually increase your risk. The fact that cereals containing 27% sugar can be awarded the tick, is pretty outrageous.
This Milo cereal pretty much sums up all of the above myths.
1. Contains whole grains, wheat and corn (remember, cheap grains are processed into high priced, socially acceptable cereals). And by containing these grains milo cereal contains a whopping 72% carbs (64.4% net) and 27.3% sugar. What??? And they still get the heart foundation tick?
2. Packed with vitamins – the ingredient list shows added calcium, magnesium, iron, zinc, vitamins A, C, B1, B2, B6, and folate.
3. It's not organic, so at least they can't claim this health benefit.
4. Low in fat – Low fat, but look at the 72% cabs. Low fat, so we are hungry in an hour. Low fat, and so low in vitamins A, D, E, and K. We don't want low fat. Fat is good, it makes us fuller for longer, fat is packed with our fat-soluble vitamins.
5. Heart Foundation Tick – so a cereal can contain 64.4% carbs and 27.3% sugar and still get a Heart Foundation tick!
Sugar-free breakfast recipes
I know your morning is busy, but here is what we have for breakfast every day. My children make their own, or it takes a minute or 2 to make a cooked breakfast in the microwave.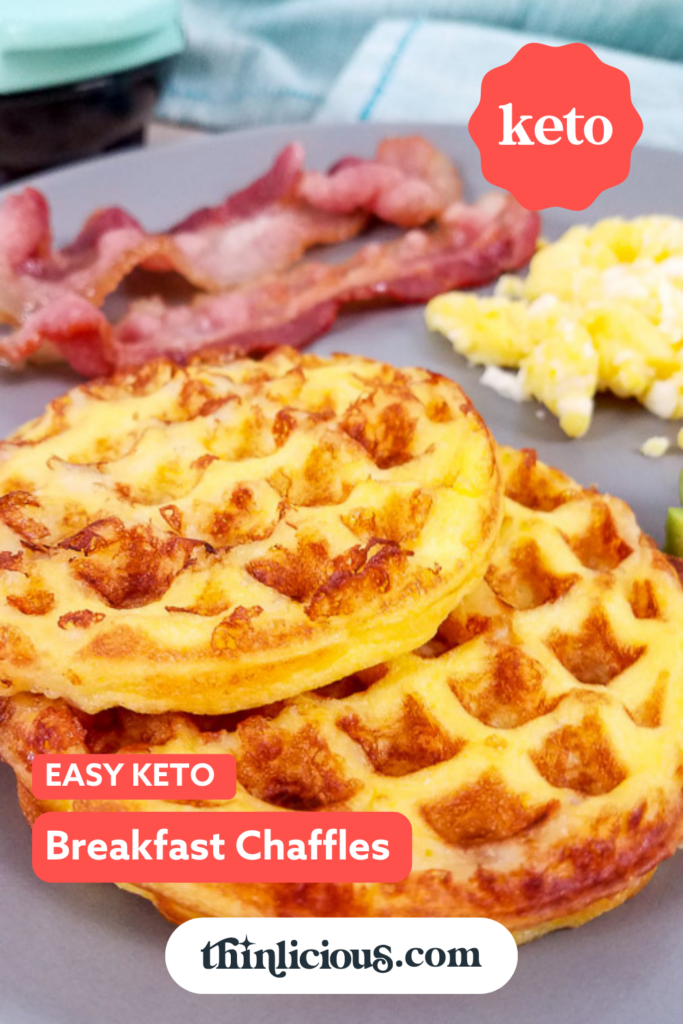 Instructions
This is the easiest recipe that I always ask my new Ditch The Carbs PRO members to make before they begin their 4-week QuickStart.
a) It's such an adaptable pantry recipe. You can easily swap in/out different nuts and seeds to what you have available and the flavour can easily be changed to chocolate, fennel, cinnamon, etc.
b) The grain-free granola can be kept for a few weeks, and even frozen for months.
c) By always having a large supply of sugar-free and grain-free granola in your cupboard, means breakfast is quick, easy, healthy, nutritious PLUS it will keep you on track.
Place all the coconuts, seeds, and nuts in a large roasting or baking dish with high sides. This recipe below includes cinnamon and ginger, but any favourite breakfast flavour will do.
Once you learn how to make the basic grain-free granola, you can experiment with all the flavours you currently love. I have already made cinnamon grain-free granola, fennel and ginger grain-free granola, and chocolate grain-free granola.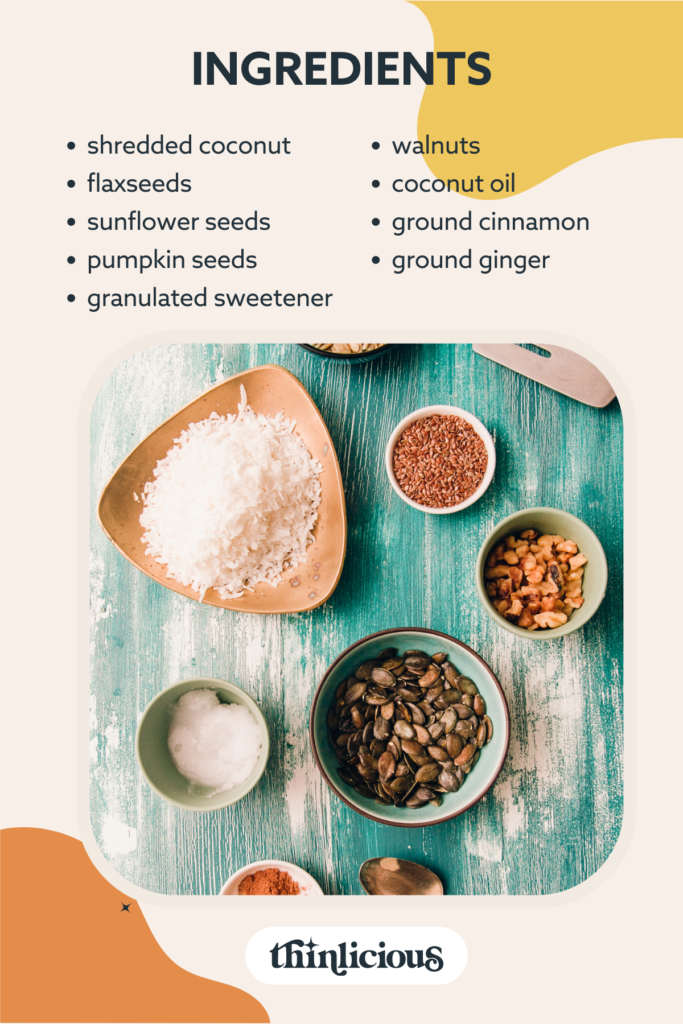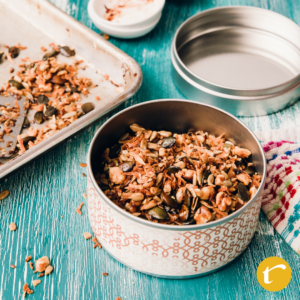 Easy Homemade Keto Granola (Gluten-Free Recipe)
Make a big batch of sugar-free grain-free granola to keep your family stocked for a couple of weeks. The perfect easy healthy pantry recipe.
Print
Pin
Rate
Want to lose weight and get healthy for life—without dieting, drugs, or making yourself miserable?
We can help! Tell me how!
Equipment
Measuring cups and spoons

Silicone baking sheets
Ingredients
250

g

desiccated/shredded coconut

chips/flakes

60

g

ground flaxseed/linseed

100

g

sunflower seeds

100

g

pumpkin seeds

70

g

walnut halves/pieces

chopped

50

g

coconut oil

melted

1

tsp

ground cinnamon

1

tsp

ground ginger

2-4

tbsp

granulated sweetener of choice

or more to your taste (optional)
Instructions
Place all the coconuts, seeds and nuts in a large roasting or baking dish with high sides.

Melt the coconut oil and add the cinnamon and ginger. Add sweetener if required. This is completely optional and may be a useful addition for beginners.

Pour over the grain-free granola mix and mix thoroughly with a large spoon or spatula. Make sure everything has a fine coating of the oil and spices.

Bake at 180C / 350F for 20 minutes.

The mixture can burn very easily so I turn the mixture with the large spoon

every 3 minutes.

Allow to cool thoroughly and place in airtight containers.
Notes
Add any other spices or flavourings you may enjoy such as orange zest, cardamom, cocoa powder.
Serving size is 1/2 cup approx 42g. = 4.1g net carbs
Nutrition
Serving:
42
g (1/2cup)
Calories:
317
kcal
Carbohydrates:
9.4
g
Protein:
6.2
g
Fat:
29.1
g
Fiber:
5.3
g
Sugar:
1.9
g
More granola recipes you may like: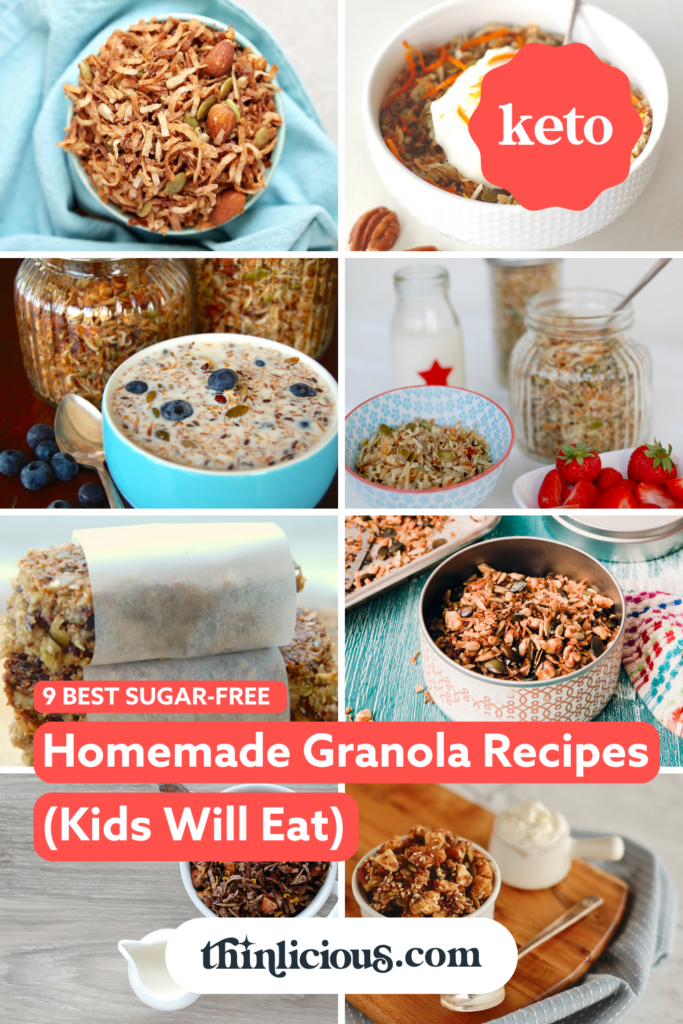 Get our FREE guide to finally fix your metabolism!
Losing weight & getting healthy is never easy, but lately you might feel like it's suddenly become impossible.
Our Flip the Switch guide will help you clearly understand what's been going on, as well as exactly what you can do to get your metabolism working again so that you can look and feel your best—it's easier and more simple than you think!