</p>
This pumpkin soup with coconut milk is the perfect vegan keto comfort food! Pumpkin puree, coconut milk, and vegetable broth are stewed together along with spices for the best pumpkin soup recipe you've ever tried!
Even better? You don't have to watch it simmer and cook on the stovetop. Instead, simply add all your ingredients to a slow cooker and let your machine do the work for you!
This is the perfect fall dish for those who love to cook healthy recipes at home. But you don't have to be on a diet or even vegetarian or vegan to enjoy this recipe — everyone will come back for seconds!
Are you ready to create the ultimate 12-month blueprint for reaching your health & weight loss goals this coming year?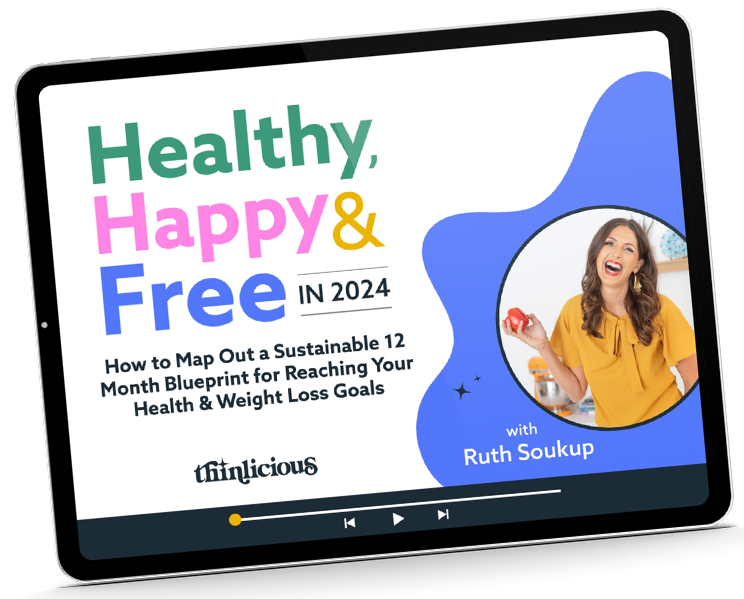 Our free on-demand video training will walk you through how to make 2024 THE year you set health goals…and keep them.
Trust me, one spoonful of this pumpkin soup and you'll be in food heaven! This recipe will get 5 stars from all the kiddos too. The whole family will love this one.
Is pumpkin keto?
Yes, pumpkin is keto because it is a non-starchy vegetable and has only 6g net carbohydrates per 100g. Pumpkin is such a versatile vegetable to give you variety on your low-carb or ketogenic diet.
You can use pumpkin to make pumpkin pies, pumpkin fudge, and even your own homemade pumpkin spice latte or egg-free pumpkin mug cheesecake.
The nutrition values for low-carb pumpkin and coconut soup calculate at just under 10grams of net carbs.
Pumpkin is low carb, low calorie, low fiber, low protein, and contains vitamin A, vitamin C, and iron.
Pumpkin nutrition per 100g (raw): 6.5 g total carbs, 0.5 g fiber, 6 g net carbs, 1 g protein, 0.1 g fat, 26 calories.
Nutritional values from cronometer.com
How can you make it even lower carb?
There are a few ways to reduce carbs further. Only use fresh pumpkin and avoid the store-bought tinned/canned varieties. These may be up to 29g carbs per 250ml serving size.
You can also swap out some of the pumpkin for lower-carb vegetables such as cauliflower. The low-carb soup can also be diluted with the addition of extra vegetable stock, water, or coconut milk/cream.
The soup is incredibly thick and creamy, so with most low-carb dishes, you won't be wanting much before you start to feel full.
Ingredients
All quantities, ingredients, and instructions are in the recipe card below.
Here are a few of the star ingredients in this pumpkin soup with coconut milk.
Pumpkin chunks – yes, we use real pumpkin from a sugar pumpkin or other fresh pumpkin in this recipe! You can also make this with a can of pumpkin purée—just make the ingredients are nothing but 100% pumpkin.
Coconut milk – coconut milk adds a lovely rich texture to this pumpkin soup recipe. You can use coconut cream if full fat coconut milk isn't available. Light coconut milk won't give you the lovely rich texture that full fat coconut milk does and the light version often has added sugar and carbs.
Vegetable broth – to keep this recipe vegan, I made it with vegetable broth. However, you can easily sub that out for chicken broth if you prefer.
What's the difference between coconut milk and coconut cream?
They are both made with coconut pulp and water, but coconut cream has a much higher fat content than coconut cream. Coconut milk also is available as full-fat coconut milk or lite coconut milk.
Creamed coconut is available as a solid block or a small can of concentrated coconut cream. Creamed coconut is generally used in curries and stir-fries when a large volume of liquid is not required.
🽠Equipment
If I had to give you my number one tip, of all time, to be successful in living low carb, I would advise you to learn to love your slow cooker.
You can prepare all your chopped ingredients in the morning, throw them all together and turn it on. When you walk in the door, your delicious healthy dinner will be waiting for you.
If you are really organized, you can even prepare any slow cooker recipe the night before, directly into the slow cooker dish. Keep the dish in the fridge covered, then just pop it into the slow cooker and turn it on.
Heck, you could even prepare any vegetables too and leave them in saucepans covered, ready to cook.
You only need these 2 simple kitchen items to make this delicious homemade soup.
Slow cooker – If you don't have a slow cooker, I have cooking instructions below to make this on the stovetop or in your Instant Pot too.
Blender – I prefer to use my stick blender (immersion blender) with the blade attachment or you may wish to use a heatproof blender.
🔪 Method
This really is a one-dish dinner. Place all the ingredients into the bowl of your slow cooker. Stir and cover with the lid. Cook until tender.
You can puree your homemade pumpkin soup directly in the slow cooker dish or saucepan using a stick blender with the blade attachment.
Alternatively, pour the cooked pumpkin soup into your food processor that has a heat-proof bowl. Process until smooth.
Serve with a drizzle of coconut cream and garnish with some fresh herbs and spices such as dried chili flakes or ground nutmeg.
â²ï¸ Cooking time
How long you cook this pumpkin soup with coconut milk depends on which method you are using.
Slow cooker – Cook on HIGH for 4-6 hours OR Cook on LOW for 6-8 hours.
Instant Pot – Cook for 20 minutes with natural pressure release.
Saucepan – Gently simmer and cook for 40 minutes over medium heat, stirring occasionally. You can also cook it longer over medium low heat if you prefer.
🧂 Seasoning and variations
I like to season my pumpkin soup quite liberally with salt and pepper. I highly recommend trying freshly cracked black pepper – it makes all the difference!
The recipe also calls for ginger and fresh garlic, which complement this pumpkin soup perfectly.
You may want to add (or garnish) with nutmeg. This earthy spice really adds a punch of flavor.
Want a bit of spice? Turn this into pumpkin curry soup! Add curry powder to the recipe.
Why not try a Thai pumpkin soup Another option is to add Thai red curry paste to the soup, which balances out the creamy coconut milk nicely. I absolutely love the Thai flavors that come out in this version.
Lastly, try serving this pumpkin soup with a scoop of sour cream, drizzled in olive oil with roasted pumpkin seeds on top! Delicious.
🞠What to serve with pumpkin soup
First of all, let me say that this pumpkin soup with coconut milk is perfectly delicious on its own. You don't need a side dish.
But, sometimes it is nice to have something to dip into your soup recipe!
Traditionally you would serve this warm comforting pumpkin soup with bread. But, to stay on track with your weight loss and health goals you'll want to avoid the high carb side dish and make some low-carb and keto bread recipes instead. Here are some delicious keto breads perfect to serve with soup on your low-carb diet or keto diet.
1) Almond flour bread
Simple 2-step low-carb almond flour bread is the most popular and easiest bread recipe to make, especially if you are new here. You've probably got all the ingredients you need in your pantry right now.
Serve with plenty of butter, and for our vegan readers, avocado or almond butter on toast is a delicious nutritious side dish.
2) Keto garlic bread
If you really want to impress your guest, then make keto garlic bread instead. Super buttery, super garlicky and no one will know it's keto.
It may seem like an odd combination, but it works with this pumpkin soup perfectly!
3) Keto cheese loaf (almond flour recipe)
Delicious cheesy keto cheese bread loaf (keto almond flour bread with cheese) is the perfect recipe for dipping in a hot soup on a cold night.
It only takes 5 minutes to prepare and is an easy yeast-free dough with a filling of garlic and green onions with cheesy flavor in every bite.
Pumpkin soup FAQs
Can I use canned pumpkin?
Yes. If you want to make this pumpkin soup even more simple, make it with pumpkin puree from the can! Make sure to double-check the labels that there isn't any added sugar or ingredients, and definitely do not get it confused with canned pie filling.
What can I use instead of pumpkin?
If you don't like pumpkin, you can also make this recipe with butternut squash. It will adjust your carb count slightly but has a lovely flavor.
What does coconut milk do for soup?
It adds a lovely rich texture and mild coconut flavor. Coconut milk (or coconut cream) also helps to naturally thicken a soup and make it comforting.
What can I use instead of coconut milk in soup?
You can use diluted coconut cream, diluted creamed coconut, or even heavy cream (if you can tolerate dairy and are not vegan).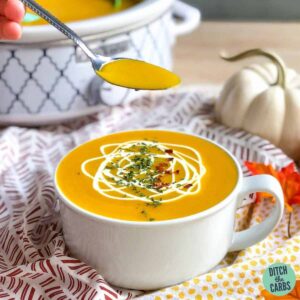 Slow cooker low-carb pumpkin soup (vegan-friendly)
The perfect healthy comfort food. Homemade low-carb pumpkin soup with coconut milk in this crockpot recipe. Vegan-friendly. Dairy-free. Freeze extra in muffin tins and pop into ziplock bags for individual portions to thaw and re-heat.
Print
Pin
Rate
Want to lose weight and get healthy for life—without dieting, drugs, or making yourself miserable?
We can help! Tell me how!
Equipment
Slow cooker

Stick Blender

Blender
Ingredients
1

medium

onion

diced

1

tsp

ground ginger

crushed

1

tsp

garlic minced

crushed

3

tbsp

coconut oil

(or butter if not vegan)

1

lb

pumpkin

chunks

2

cups

vegetable stock

2

cups

hot water

2 ⅔

cups

coconut milk

salt and pepper

to taste
Instructions
Place all the ingredients into the slow cooker dish. Mix.

Cook on HIGH for 4-6 hours OR

Cook on LOW for 6-8 hours.

Puree until smooth. You can use a stick/immersion blender with the blade attachment or a heat-proof blender. Keep warm until ready to serve.

Garnish with coconut cream.
Notes
The recipe makes a large, heavy, thick soup.
To make this lower carb, you can add more liquid to dilute the soup, add more low carb vegetables such as cauliflower, or serve as a side dish.
I love throwing everything in the slow cooker when I know I won't be home until late and I need dinner ready and waiting.
Nutrition
Serving:
1
serve (serves 8)
Calories:
226.8
kcal
Carbohydrates:
8.2
g
Protein:
2.4
g
Fat:
22.4
g
Sodium:
259.9
mg
Potassium:
390.6
mg
Fiber:
0.5
g
Sugar:
2.7
g
Vitamin A:
4959.3
IU
Vitamin C:
7
mg
Calcium:
30.1
mg
Iron:
3.1
mg
More low-carb slow-cooker recipes
Get our FREE guide to finally fix your metabolism!
Losing weight & getting healthy is never easy, but lately you might feel like it's suddenly become impossible.
Our Flip the Switch guide will help you clearly understand what's been going on, as well as exactly what you can do to get your metabolism working again so that you can look and feel your best—it's easier and more simple than you think!