</p>
Delicious and soft vanilla berry keto cheesecake bars (without pastry) are fruity, flavorful, and only 2.1g net carbs per bar.
This quick and easy low-carb cheesecake recipe needs only 7 ingredients and is made in one bowl using a stick blender!
The soft and creamy cheesecake filling is sugar-free, gluten-free, and the perfect keto dessert that doesn't need almond flour or coconut flour.
Are you ready to create the ultimate 12-month blueprint for reaching your health & weight loss goals this coming year?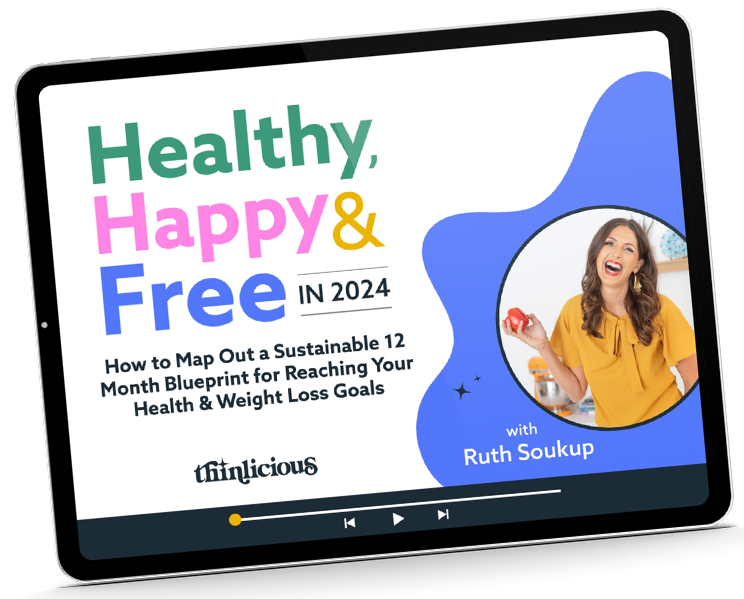 Our free on-demand video training will walk you through how to make 2024 THE year you set health goals…and keep them.
Following the success of my keto chocolate cheesecake brownies, I developed this recipe for keto blueberry cheesecake squares (with vanilla extract). This is the magic one-bowl recipe that's so quick to make. They're the perfect keto cheesecake bars the whole family will love and taste like the real thing.
What is a keto cheesecake?
Regular cheesecake is made with cream cheese, eggs, sugar, and wheat flour. Traditional cheesecakes are avoided on the keto diet, low-carb diet, sugar-free diet, and diabetic diet.
A keto cheesecake is made with cream cheese, sugar-free keto sweeteners, eggs, and low-carb flour such as almond flour or coconut flour. So you can eat cheesecake on your keto diet, just choose a keto-friendly great recipe.
These cheesecake bars are even lower in net carbs and are completely gluten-free because they are made without any crust.
Regular cheesecake factory, original cheesecake (nutrition per slice): 38 g net carbs, 6g protein, 24g fat, 400 calories.
Keto cheesecake bars (nutrition per square): 2.1 g net carbs, 4.7g protein, 20.9g fat, 214 calories.
What are cheesecake bars?
You can pour the cheesecake batter into a square dish and then once baked cut it into square keto cheesecake bars, or you can pour the cheesecake filling into a round cake pan and cut it into regular cheesecake slices.
Cheesecake bars ingredients
If you have ever made keto cheesecake batter before, then you are familiar with the ingredients already. Here is a quick overview of the ingredients you need for this delicious keto dessert.
butter – use salted melted butter (or unsalted with a pinch of salt) for the creamiest cheesecake recipe.
eggs – fresh medium eggs are best.
cream cheese – make sure to grab full-fat, plain cream cheese. Do not buy fat-free, lite, or spreadable cream cheese.
vanilla extract – or vanilla essence.
granulated sweetener of choice – the most popular sugar substitutes are granulated erythritol, powdered erythritol, monk fruit sweetener, allulose, or xylitol. Try to avoid pure stevia extract because it can make your cheesecake filling taste bitter.
baking powder – do not get confused with baking soda.
blueberries – you can use either fresh or frozen blueberries for this recipe.
See the keto cheesecake bars recipe card below for quantities, recipe instructions, and full nutritional information.
Instructions
The cheesecake bars are made with a large mixing bowl and a stick blender, but you can also use your food processor, blender, stand mixer, or even smoothie maker too.
Step 1: Make the cheesecake batter
First, place all the ingredients, except for the blueberries, in a large mixing bowl.
Remember to add a sugar-free sweetener of your choice, and to your taste. And just like all my other recipes, taste before baking. Your sweet tooth will be different from everyone else depending on how long you have been sugar-free.
If you are new here, you may have to add double the amount of sweetener that the recipe below suggests.
EXPERT TIP: Use room temperature softened cream cheese and melted butter because it is easier to mix together. Cold cream cheese will make a lumpy cheesecake.
Making keto cheesecake bars is so easy using a stick blender or electric mixer.
Mix on medium speed until all the ingredients are well combined and there are no visible lumps of cream cheese.
EXPERT TIP: The eggs and cream cheese MUST be emulsified together. I mention this in the recipe card, but it needs mentioning again because this is the most important aspect of this recipe. The cheesecake ingredients will split if not emulsified.
Lightly oil or brush your cake pan with melted coconut oil, butter, or use a cooking spray. Line the dish with parchment paper as shown.
Pour the cheesecake layer into a lined square baking pan.
Lightly drop the blueberries into the cheesecake mixture.
Step 2: Bake the cheesecake bars
Bake the cheesecake in the middle rack of a preheated oven.
Cook until it is cooked in the middle. Test by pressing a clean fork into the center.
Make sure the top is golden brown, this will become the cooled crust when served upside down.
Step 3: Cool and slice the cheesecake bars
Place the baking dish on a wire cooling rack and let the cheesecake cool completely to room temperature before cutting it into cheesecake bars.
You can even bake the cheesecake bars ahead of when you want them, store them in the fridge where they set nicely, then slice them just before you want to serve them.
What to serve with keto cheesecake bars
You can eat these delicious cheesecake bars as they come, or you can serve them with a variety of sugar-free toppings to make extra special keto desserts for a special occasion.
Strawberry sauce or blueberry sauce – puree fresh or frozen strawberries, or fresh or frozen blueberries, with a squeeze of lemon juice and sweetener.
Whipped cream – whip heavy cream with your favorite powdered sweetener then pip on the top of each cheesecake bar, and top with one fresh berry.
Sliced nuts – sprinkle some sliced almonds or chopped macadamias over the top of your whipped cream for an extra crunchy topping.
Keto syrup – make your own homemade keto maple syrup or keto caramel syrup and drizzle it all over the top.
Cheesecake substitutions
Are certain ingredients stopping you from making these easy keto cheesecake bars? Below you will find our recommendations for common substitutions.
butter – use ghee (clarified butter) or coconut oil instead of butter. If you use coconut oil, you will need additional flavors such as vanilla, salt, and sweetener.
baking powder – mix 1/4 teaspoon of baking soda with 1/2 teaspoon of cream of tartar
eggs – you cannot use egg replacers (egg substitutes) in this cheesecake because the recipe relies heavily on the eggs to bake and set the cheesecake.
blueberries – if you can't find fresh blueberries, you can use frozen ones. Otherwise, you can use other low-sugar berries such as strawberries or raspberries.
The above substitutions are great alternatives to will keep your sweet treat keto, low-carb, and gluten-free.
Keto cheesecake bars variations
Take your keto cheesecake bars to a whole new level with these tasty recommendations below. Make your low-carb cheesecake bars salty, rich, or nutty!
Tangy – add a bit of sour cream to the cream cheese to make the cheesecake bars a bit tangy.
Salty – if you enjoy sweet and salty flavors together, sprinkle some sea salt on top of the cheesecake bars.
Rich – add some sugar-free chocolate chips to the cheesecake or drizzle some chocolate syrup on top.
Nutty – replace the blueberries with chopped pecans or walnuts, or add a sprinkle in alongside the berries.
Other berries – feel free to experiment and swap out berries in this recipe. Some raspberries or chopped strawberries would also be lovely. Just keep an eye on the carbs!
Remember, when you bake desserts on the keto diet, always use ingredients that are sugar-free.
Equipment you need
This is one of my favorite low-carb dessert recipes because it doesn't take a lot of fancy equipment.
It is all made in one large bowl, using a stick blender. If you don't have a stick blender, use an electric mixer.
You will also need parchment paper to line the baking pan and a square 8-inch/ 20cm dish.
After you make this low-carb treat, you will agree that it is the best keto dessert of all time!
How to store cheesecake bars
Just like other cheesecake keto recipes, you need to store cheesecake bars in an airtight container in the refrigerator for up to three days.
You can prevent the bars from sticking to each other by placing a sheet of parchment paper in between the layers of low-carb cheesecake bars.
Store unused blueberries in a container with a splash of lemon juice on top. This will keep them fresh for longer.
How to freeze cheesecake slices
As always, cool the cheesecake to room temperature before slicing then wrap each cheesecake bar in plastic wrap and then aluminum foil. Place the wrapped slices of cheesecake in a large airtight container for up to 3 months.
To defrost a single serving, place one slice on the kitchen worktop at room temperature for 1 hour.
Freezing individual portions are a great way to portion control your favorite desserts.
FAQs about keto cheesecake bars
Are these cheesecake bars safe for people with food allergies?
So many readers are asking me for nut-free recipes due to allergies, or restrictions on school lunch boxes. This keto blueberry cheesecake square is nut-free, grain-free, gluten-free, wheat-free, with no added sugar (the only sugar is from the berries and cream cheese), and incredibly low carb.
Are these low-carb cheesecake bars crustless?
When I bake the cheesecake, it browns on the top, which I don't think looks attractive. So, to serve it, I turn it upside down. Hence, the picture looks like there is a base to this recipe, but in fact, it is the browned cooked top of the cheesecake.

If you want to add a keto version of a graham cracker crust, make one with almond flour. This almond flour crust recipe is perfect!
Why did my cheesecake filling turn blue?
You probably added the blueberries in with the rest of your ingredients.

Add frozen berries just before baking, if you mix them in with the recipe, your cheesecake will turn blue/purple. Simply drop the blueberries in one by one after you have poured the cheesecake mixture into the prepared baking dish. They will sink to the bottom which is brilliant as you serve the keto blueberry cheesecake upside down.
Will keto cheesecake affect my blood sugar?
These bars have an incredibly low net carb count, but with all digestible carbs, they affect each of us differently. How much they affect your blood glucose will depend on whether you have a blood glucose control problem such as Type 2 diabetes, T1 diabetes, insulin resistance, or another health condition.
Which keto sweetener is best?
Choose a sugar replacement that does not raise blood sugars and that you like the taste of. The most commonly bought sweeteners are erythritol, xylitol, monk fruit, and other sugar alcohols such as xylitol.

You can even buy sugar-free brown sweeteners to replace brown sugar in any recipe.
Why did my sweetener sink to the bottom?
If you can taste crunchy sweetener at the bottom of your keto cheesecake bars, you may not have mixed your cheesecake filling enough using your blender.
Can I use powdered sweetener?
Yes, powdered sweetener makes cheesecakes with an extra creamy texture. If you can't buy powdered, then you can put the granulated sweetener into your clean coffee grinder and pulse until powdered.
More keto cheesecake recipes
These are some of the most popular perfect dessert recipes that are all low-carb and keto-friendly. The best part, they are all healthy sugar-free recipes that are diabetic-friendly too.
Most of these keto desserts can be baked in a square pan and then cut into keto cheesecake bar squares.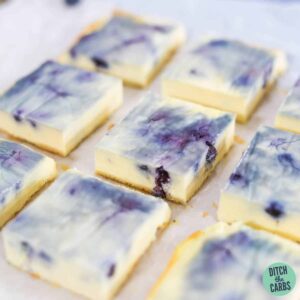 Keto Blueberry Cheesecake Squares (Without Pastry)
Delicious and soft vanilla berry keto cheesecake bars (without pastry). Only 2.1g net carbs. The quick recipe is made in one bowl using a stick blender! The perfect keto dessert for the whole family.
Print
Pin
Rate
Want to lose weight and get healthy for life—without dieting, drugs, or making yourself miserable?
We can help! Tell me how!
Equipment
Stick Blender

Mixing bowls

Measuring cups and spoons
Ingredients
Keto cheesecake batter
150

g

butter

melted

6

eggs – medium

120

g

cream cheese

cut into cubes

2

tsp

vanilla extract

4

tbsp

granulated sweetener of choice

or more, to your taste

½

tsp

baking powder
Berries
50

g

blueberries fresh or frozen
Instructions
Place all the ingredients in a large mixing bowl.

Mix together using a stick blender (or food processor) with the blade attachment until smooth.

Pour into a lined square 8-inch/ 20cm baking dish.

Gently drop the frozen blueberries evenly throughout the cheesecake batter. They will sink to the bottom as it cooks.

Bake at 160C/320F for 20-30 minutes until cooked in the center.

Allow the cheesecake to cool completely then cut into 9 squares. Serve each square upside down.
Notes
Remember to add sweetener to YOUR taste and the level of sweetness YOU like. The longer we eliminate sugar, the less sweet taste we require which is why sweetness is so personal and I give a measurement as a guide only.
To guarantee this doesn't taste 'eggy' add plenty of vanilla.
Nutrition
Serving:
1
square
Calories:
214.1
kcal
Carbohydrates:
2.2
g
Protein:
4.7
g
Fat:
20.9
g
Sodium:
191
mg
Potassium:
90.5
mg
Fiber:
0.1
g
Sugar:
1.3
g
Vitamin A:
757
IU
Vitamin C:
0.5
mg
Calcium:
43.6
mg
Iron:
0.6
mg
Get our FREE guide to finally fix your metabolism!
Losing weight & getting healthy is never easy, but lately you might feel like it's suddenly become impossible.
Our Flip the Switch guide will help you clearly understand what's been going on, as well as exactly what you can do to get your metabolism working again so that you can look and feel your best—it's easier and more simple than you think!