They take less than 10 minutes to make and are only 1.5g net carbs, so perfect for your keto diet.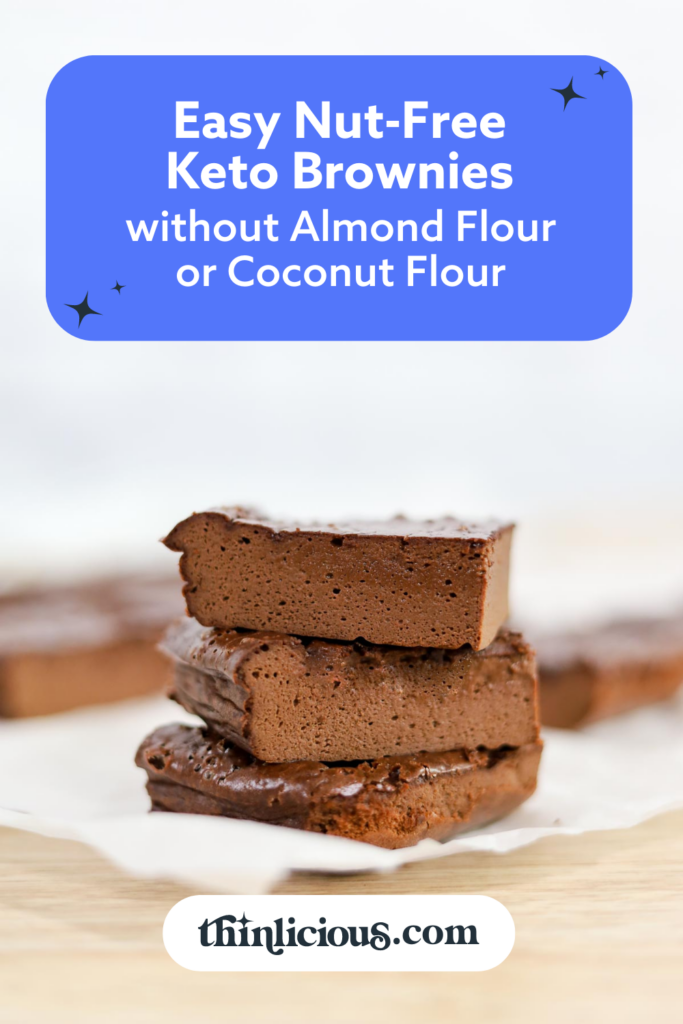 These flourless and nut-free keto brownies also have no added sugar, no coconut flours or shredded coconut, and are gluten-free and low carb.
If you love delicious keto desserts these are the 34 best keto desserts made with cream cheese (you have to try).
Ready to lose weight and get healthy for life without dieting, drugs or making yourself miserable?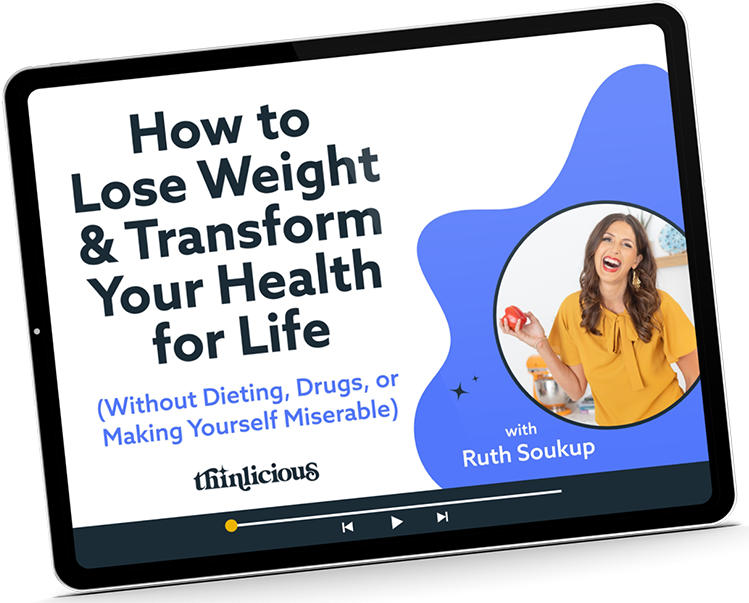 Our free on demand video training will help you understand why it's been so hard and what do to about it.
What are keto brownies?
Keto brownies are low-carb baked brownies with unsweetened cocoa powder, cream cheese, sugar-free sweeteners, and (sometimes) low-carb flours such as almond flour and coconut flour.
They have fewer net carbs than a regular brownie (made with refined flour and sugar) and are very filling to stop your chocolate cravings.
How many carbs are in keto brownies?
This keto brownie consists of very small net carbs. One brownie gives only 1.5 g of net carbs without any added sugar. The brownie has 175 calories, so this is an enormous serving!
How to make fudgy keto brownies
This keto brownie recipe doesn't contain any almond flour or flour of any kind. The result is fudgy brownies that are basically the best keto brownies you have ever made.
As your teeth sink into each bite, you'll be overwhelmed in the best way possible with rich chocolate flavor!
Here's how to make keto brownies the easy way. Once you do, you'll agree that they are the best fudgy keto brownies you have ever tasted.
Ingredients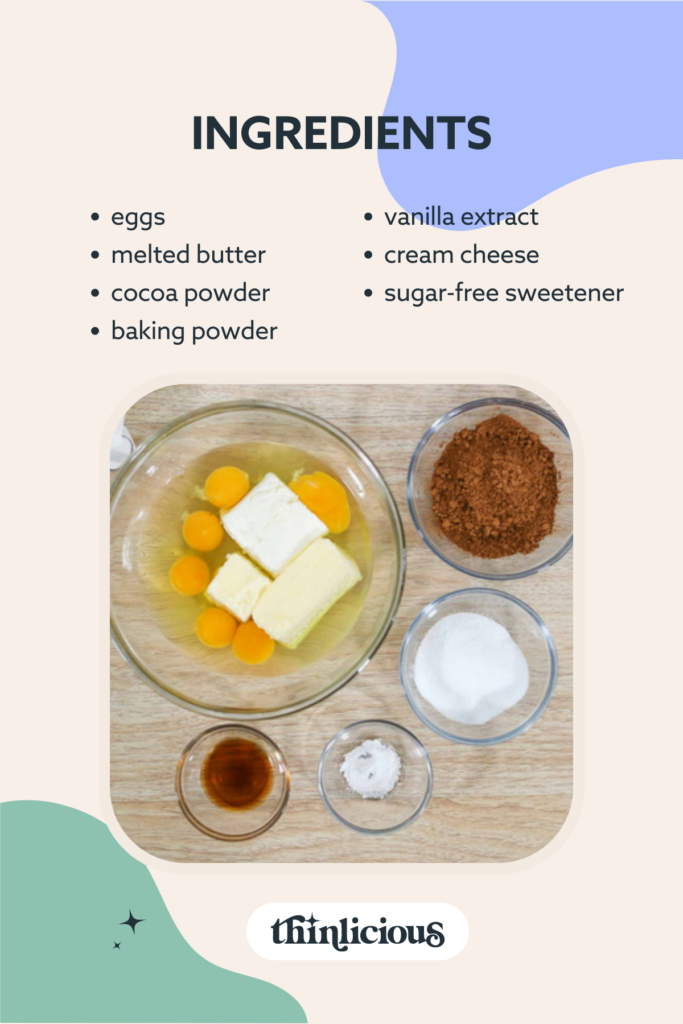 These chocolate keto brownies are made without almond flour because so many newsletter subscribers are asking me for nut-free recipes.
No one wants recipes with a long list of ingredients, hard-to-find ingredients, or complicated instructions. This amazing recipe is the easiest keto brownies recipe you'll ever make and absolutely delicious.
See the full list of ingredients and instructions in the keto brownies recipe card at the bottom of this post.
eggs – medium eggs but you can use the egg conversions chart if you have smaller or larger eggs.
melted butter – I always recommend getting salted. It tastes better! But you can use unsalted butter and add a pinch of salt.
cocoa powder – you'll need unsweetened cocoa powder. I recommend getting the best quality you can afford! If you dislike the "eggy" flavor many low-carb desserts have, I'd recommend using dark cocoa powder to mask the taste even further.
baking powder – do not confuse baking powder with baking soda.
vanilla extract – or vanilla essence.
cream cheese – look for cream cheese without additives or unnecessary ingredients. Plain, full-fat cream cheese is best for this keto brownie recipe (and pretty much any other recipe on this site!)
Sugar-free sweetener of choice – the most popular sweeteners are erythritol, xylitol, monk fruit, and allulose.
If you want to know which is the best keto sweetener, you can read the guide to the best sugar-free sweeteners.
Equipment to make smooth brownie batter
It's easy to get a smooth brownie when using a stick blender with the blade attachment. Alternatively you can put the ingredients into a blender, smoothie maker, or food processor too.
How to make rich keto brownie batter
To make smooth fudgy keto brownies, put the melted butter, cream cheese, and eggs into a large mixing bowl. Blend with your stick blender until smooth and bubbly.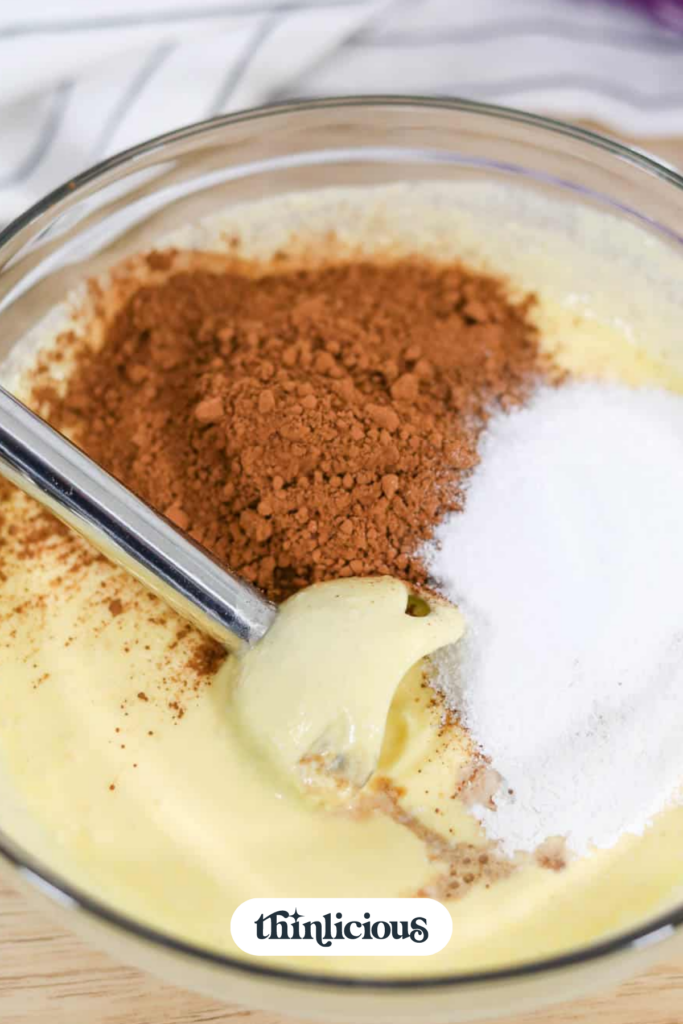 Now add all the other ingredients and using the stick blender continue to blend until your batter for the low-carb brownies is smooth.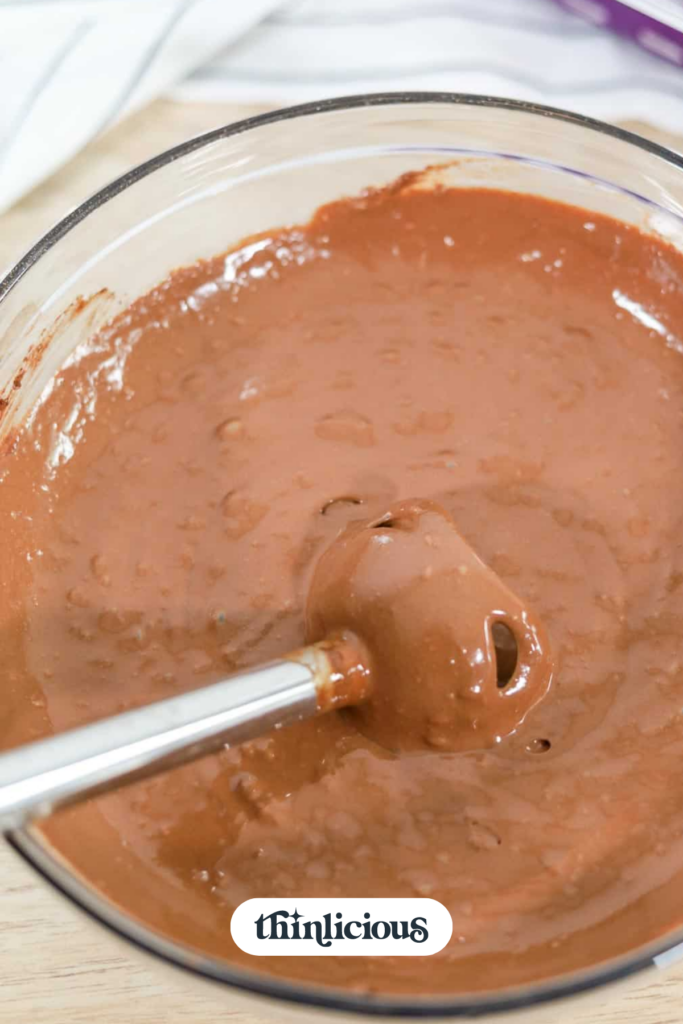 Pour the keto brownie batter into a square baking dish (21cm/8.5 inch) that has been lined with baking parchment paper.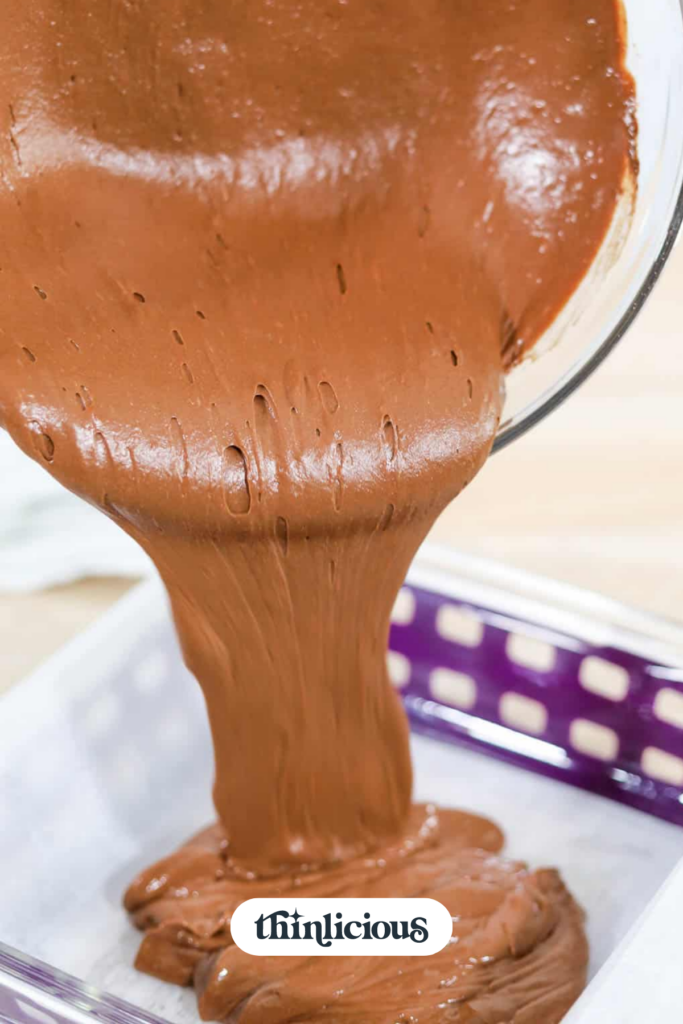 Smooth the top of the keto brownie recipe until smooth and there are no trapped air bubbles.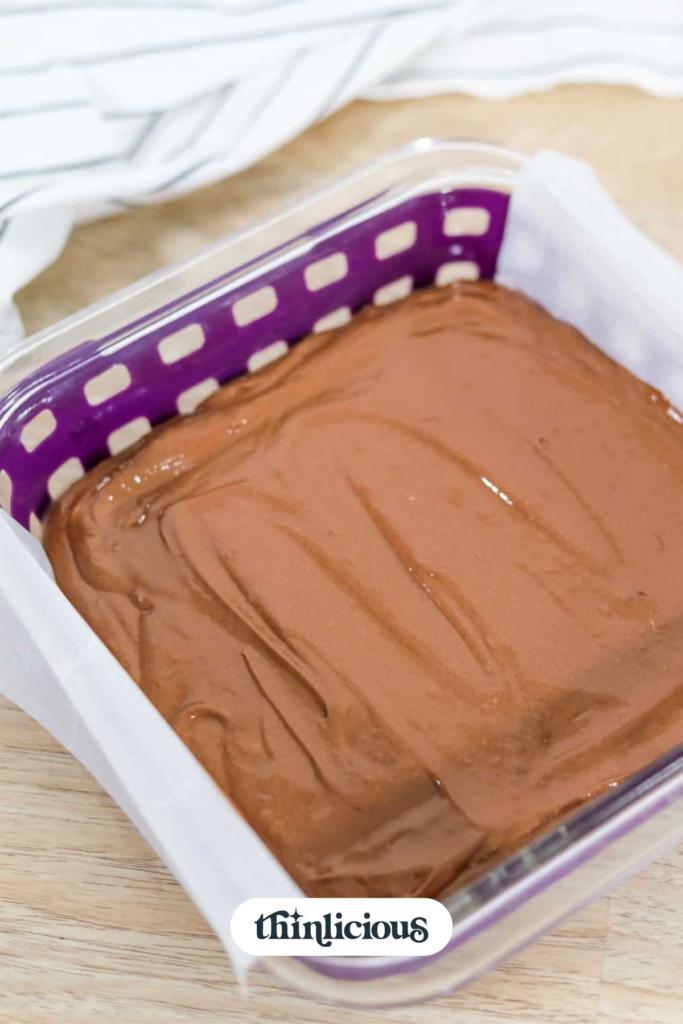 Bake in a preheated oven on the middle rack at 180C/350F for 20-25 minutes until cooked in the center. The cooking time will vary depending on your oven.
Remove from the oven and allow to cool completely on a wire rack then slice into squares, rectangle bars, or triangle wedges.
Substitutions
For optimum success, please adjust how much sweetener the recipe requires for YOUR sweet tooth. I use the minimum and have been sugar-free for many years, so if you are just starting out, you may require double what the recipe states.
As time goes on, the amount of sweetener you require will become less and less.
I used a granulated sweetener but you can use monk fruit sweetener in this low-carb brownie recipe.
TOP TIP: As with ALL recipes here, ALWAYS taste your batter BEFORE cooking to ensure you have added enough sweetener to suit YOUR tastebuds. Read the Ultimate Guide To Low-Carb Sweeteners.
There isn't a 1:1 substitute for baking powder. You'd have to use 1/3 less baking soda if that is what you have on hand.
Instead of melted butter, you can use melted ghee in this brownie recipe.
Variations
There are a lot of different ways you can make this easy keto brownie recipe.
Make it even more chocolatey. Add some sugar-free chocolate chips to the batter. You can use regular chocolate chips or dark chocolate chips. You won't need to add very many because the unsweetened cocoa powder will give it enough of a chocolate flavor.
Change up the extract. I added two teaspoons of vanilla extract, but you can add a sprinkle of peppermint extract as well if you want to give it a different flavor.
Best way to serve brownies
Keto brownies are best served with whipped cream and fresh berries for a tasty low-carb dessert the entire family will love.
Alternatively, serve with keto vanilla frosting or keto chocolate frosting.
Sprinkle with sugar-free chocolate chips, or drizzle with melted sugar-free dark chocolate.
Top tips
This is one of my favorite keto brownie recipes because it has such a rich flavor and it doesn't require any almond flour or coconut flour.
Nut-free keto brownie has the texture and flavor of a baked cheesecake (remember it is heavily based on eggs and cream cheese), although I call them fudgy keto brownies.
There are many flourless keto brownies out there, but very few are flourless and nut-free keto brownies without almond flour or coconut flour.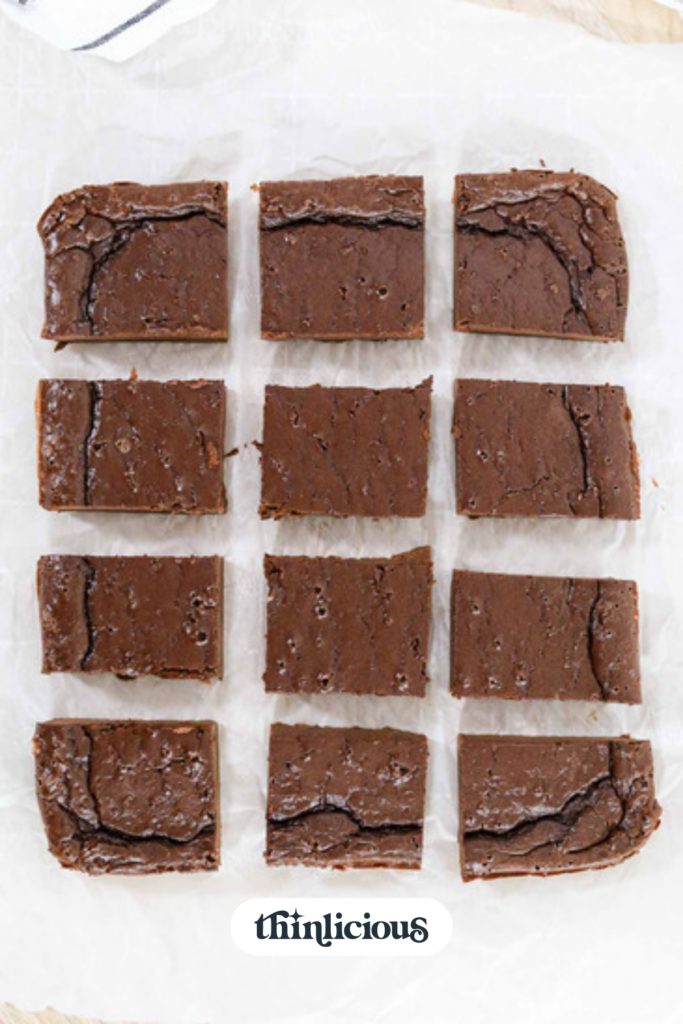 The best way to store brownies
Many readers also tell me they prefer the keto brownies after they have sat in the fridge overnight. They take on a fudgy dense texture.
It's best to store keto brownies in an airtight container in the refrigerator. They will stay fresh this way for up to five days.
You can also freeze these fudgy keto brownies. Just be aware that when you thaw them, the texture will change slightly.
FAQs
Here are some questions people often ask about how to make keto brownies without almond flour. If you don't see your question in this list, please leave it in the comments.
What type of cocoa powder is best for keto brownies?
Always use unsweetened cocoa powder when you make keto brownies. You can also use dark cocoa powder as long as it is unsweetened. If you are sensitive to the u0022eggyu0022 taste some low-carb desserts have, dark cocoa powder is a great option.
Are chocolate chips keto?
Chocolate chips are only keto-friendly if they are sugar-free. Read the ingredients label before you use them. Avoid maltitol.
Can I use coconut oil instead of butter in this keto brownies recipe?
Technically coconut oil could be used instead of butter in this keto brownie recipe, but it will change the flavor a lot so I don't recommend it.
How do you serve the best keto brownies?
It can be enjoyed as a slice and cut into squares, rectangles slices, or baked in a round cake tin as a lower carb alternative to my Keto Chocolate Heaven Cake. The texture is more akin to a baked cheesecake, or torte than a brownie, but delicious nonetheless.
What is another way to serve these fudgy brownies?
Why not use the nut-free keto brownie as a base and make a berry cream cheese frosting for a superb topping? Pop some berries on top for decoration and it will be sure to please even the die-hard sugar lovers out there.
Why do my keto brownies puff up?
The flourless brownie comes out from the oven all puffed up because of the eggs. But don't worry, it then collapses into a firm, nut-free, keto brownie.
Can I add almond flour to the brownie batter?
No, these keto brownies are made without almond flour but you can make my keto chocolate fudge cake that uses almond flour.
How thick should the brownie batter be?
Brownie batter should be as thick as custard, maybe even a little thicker. If it is too runny, add a little extra unsweetened cocoa powder.
How can I melt chocolate chips?
The best way to melt sugar-free chocolate chips is either in a medium glass bowl in the microwave, heating for 30 seconds at a time and stirring between each extra 30 seconds. Or you can melt chocolate in a double boiler.
What is the best way to stop chocolate cravings on a keto diet?
You can enjoy keto chocolate, sugar-free chocolate chips, dark chocolate, or make a keto chocolate cake. Slowly reduce how often you enjoy these keto treats until they are only for special occasions.
Can I eat brownies on a Keto diet?
Yes, you can enjoy brownies that are keto-friendly. Avoid the brownies in a supermarket or bakery that contains high-carb flour and high sugar. They have too many carbs for a keto diet! This is the best fudgy keto brownie recipe that will make your favorite brownies in less than 30 minutes.
What are keto brownies made of?
Keto brownies are often made with unsweetened cocoa powder, cream cheese, sugar-free sweeteners, and various low-carb flours such as almond flour and coconut flour.
How to make brownies without eggs.
It can be tricky to find a good swap for eggs in keto brownies but this egg chart gives you the top 6 egg substitutes and egg conversion charts.
Can I double the recipe?
Yes, you can. On the recipe card below you will see 1X, 2X, and 3X. Click those buttons and the quantities for each ingredient magically recalculates for you.
Can I use a different size baking pan?
Yes, you can use any size baking pan that you prefer, but you may have to adjust the cooking times according to what size baking pan you use. Thicker brownies will take longer to cook than thin brownies. You can see my baking size conversion charts here.
How can I tell when my keto brownies are cooked?
For the best k brownies, this recipe is designed to be cooked through to the center, but not overcooked. It's nice to remove your brownie tray from the oven as soon as the center is no longer liquid. Set your timer and test with a sharp knife or a clean toothpick into the center. If the knife or toothpick comes out clean, your brownie batter is cooked.
Are keto brownies healthy?
If you're craving brownies then keto brownies are healthy because it stops your chocolate craving and sugar cravings without the sugar and flour that go into regular brownies. When you make your own sugar-free brownies with cocoa powder, monk fruit sweetener, vanilla extract, and sugar-free chocolate chips, you will make keto brownies again and again.
Does almond flour kick you out of ketosis?
Almond flour is the most commonly used low-carb flour. It is low-carb and high-fiber. However, almond flour is used in so many recipes that are absolutely delicious, that you may find yourself eating too much so your daily carbs creep up above the limit you set on your ketogenic diet.
Does coconut flour kick you out of ketosis?
Coconut flour is another common low-carb flour that is naturally gluten-free flour and incredibly high in fiber, and extremely low-carb. Making it perfect for your low-carb diet and keto diet.
Can I swap almond flour for coconut flour?
No. Coconut flour cannot replace almond flour because they behave in completely different ways. Coconut flour requires more liquid and more eggs because it is so absorbent.
Is coconut sugar keto?
No, coconut sugar is natural sugar so avoided in the ketogenic diet.
Which sugar-free chocolate chips are best for fudgy keto brownies?
The best sugar-free chocolate chips are those made with sugar alcohols such as erythritol or stevia. Avoid chocolate chips that are made with maltitol or coconut sugar. These will raise your blood sugar and kick you out of ketosis. You can stir them into your brownie batter before baking, or sprinkle them on top as it comes you the oven.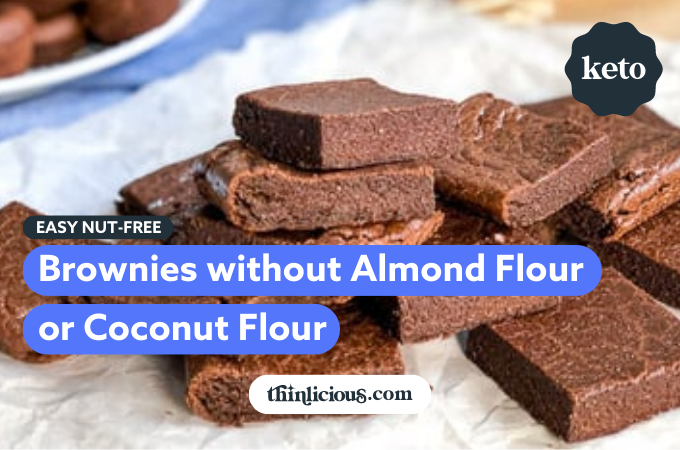 More keto brownie recipes
If you enjoyed fudgy keto brownies and chocolate keto desserts, here are some more fudgy brownies you should make next. These amazing recipes are all low-carb keto and give that rich chocolate taste (without sugar).
If you want coconut flour recipes instead of almond flour recipes, you can search my coconut flour recipe index.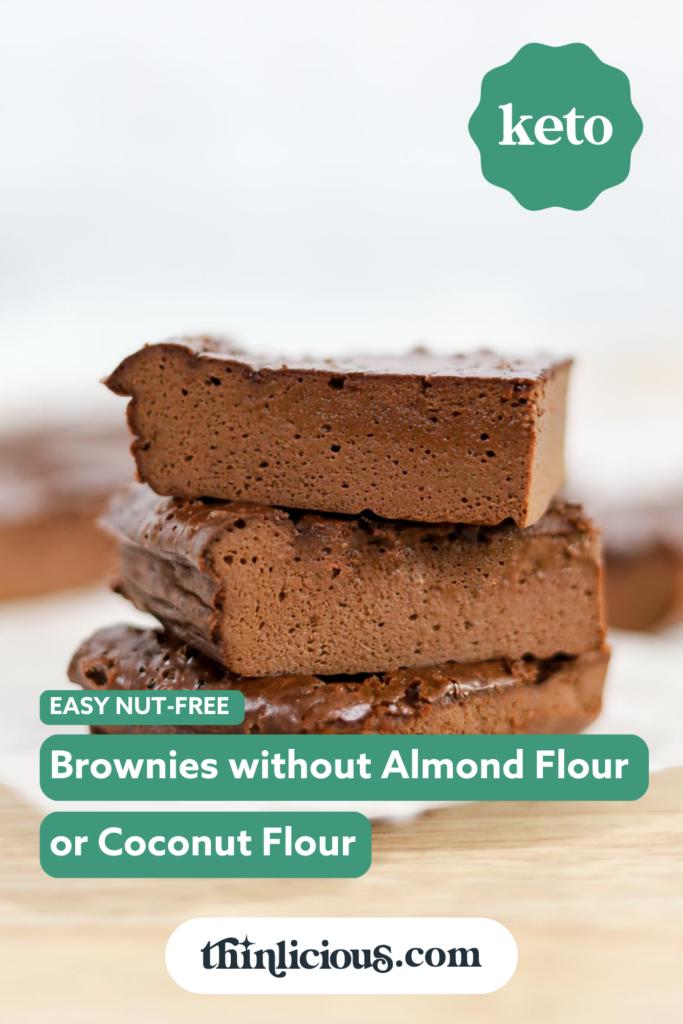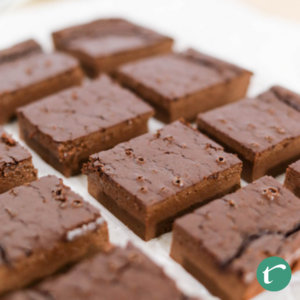 Nut-Free Keto Brownies Recipe (Without Almond Flour)
The BEST flourless fudgy keto brownies are made with a stick blender in under 10 minutes, and only 1.5g net carbs. Sugar-free brownies, gluten-free brownies, fudgy keto brownies without almond flour or coconut flour.
Print
Pin
Rate
Want to lose weight and get healthy for life—without dieting, drugs, or making yourself miserable?
We can help! Tell me how!
Equipment
Stick Blender

Mixing Bowls

Measuring cups and spoons
Ingredients
160

g

butter

melted

120

g

cream cheese

softened

6

eggs – medium

60

g

cocoa powder (unsweetened)

unsweetened

½

tsp

baking powder

2

tsp

vanilla extract

4

tbsp

granulated sweetener of choice

or more, to your taste
Instructions
Put the melted butter, cream cheese, and eggs into a large mixing bowl. Blend with your stick blender until smooth and bubbly.

Place all the other ingredients in the mixing bowl and blend until smooth.

Pour into a lined square baking dish (21cm/8.5 inch).

Bake at 180C/350F for 20-25 minutes until cooked in the center.

Slice into squares, rectangle bars, or triangle wedges.
Notes
To make sure this doesn't taste 'eggy', you must use a really good dark unsweetened cacao powder and mix/emulsify well.
You can buy [eafl id="35774″ name="Sugar-free chocolate chips" text="sugar-free chocolate chips"] here.
Nutrition
Calories:
175.6
kcal
Carbohydrates:
3.6
g
Protein:
4.5
g
Fat:
17
g
Sodium:
149.6
mg
Potassium:
140.8
mg
Fiber:
2.1
g
Sugar:
0.6
g
Vitamin A:
586.3
IU
Calcium:
39
mg
Iron:
1.1
mg
Get our FREE guide to finally fix your metabolism!
Losing weight & getting healthy is never easy, but lately you might feel like it's suddenly become impossible.
Our Flip the Switch guide will help you clearly understand what's been going on, as well as exactly what you can do to get your metabolism working again so that you can look and feel your best—it's easier and more simple than you think!