4 easy layers include a whipped cream cheese layer, a vanilla cheesecake layer, a sugar-free chocolate pudding, and a no-bake cookie crust.
Believe it or not…you get all of this for only 4.5g net grams of carbs.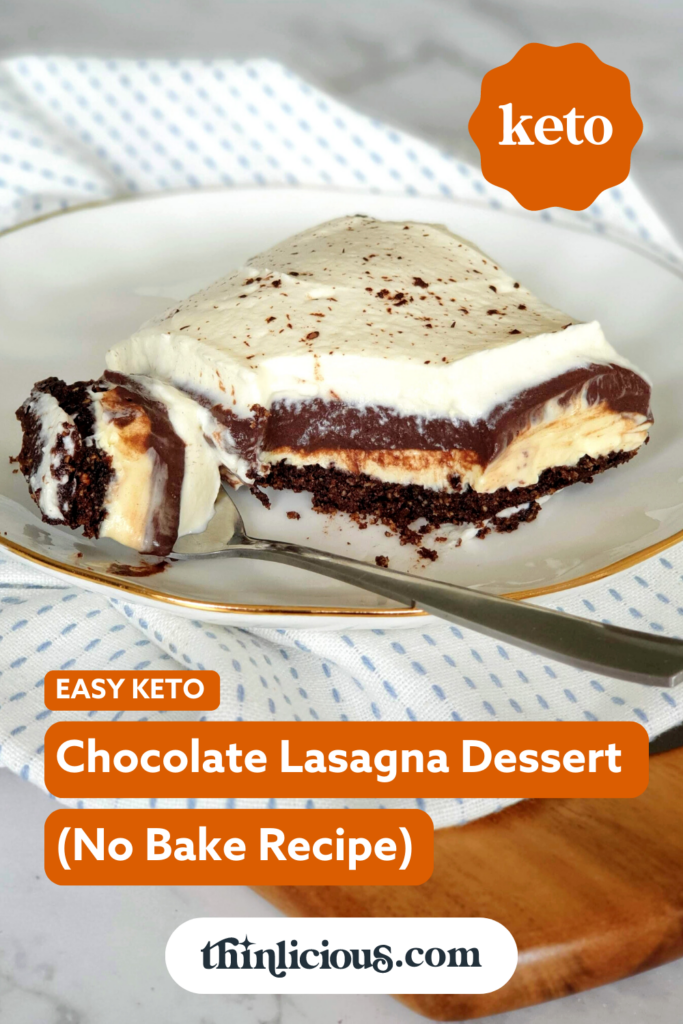 If you love chocolate desserts, you'll also love my baked keto New York cheesecake (with a sugar-free chocolate ganache). It's sugar-free, gluten-free, and a keto-friendly recipe the whole family will love.
What is in the original chocolate lasagna?
The original version of the chocolate lasagna recipe is a layered dessert recipe that requires Oreo cookies, instant pudding, cool whip, chocolate chips, and even more added sugar. The entire thing is an absolute sugar bomb. Just one serving will make your blood sugar skyrocket out of control and leave you to end up craving more.
Are you ready to create the ultimate 12-month blueprint for reaching your health & weight loss goals this coming year?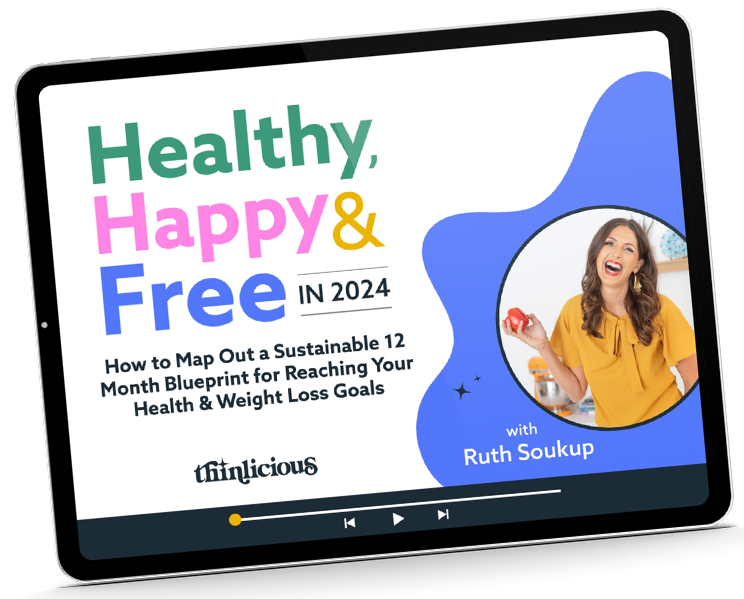 Our free on-demand video training will walk you through how to make 2024 THE year you set health goals…and keep them.
It's other (more controversial name) is "sex in a pan". I think I'll stick with chocolate layered dessert (or low-carb chocolate lasagna).
What is cool whip?
The traditional version uses cool whip as the final topping, but what is it? Cool whip is imitation (fake) whipped cream made with hydrogenated vegetable oils, high fructose corn syrup (aka, sugar), corn syrup (more sugar), sodium caseinate, flavors, xanthan gum, guar gum, polysorbate 60, sodium monostearate, and some more lovely chemicals. Plus, it costs 50% more per ounce than regular heavy cream.
Keto cool whip
So instead, this recipe calls for a guilt-free, keto-friendly homemade "cool whip". To make the cool whip keto, you use whipping cream (double cream) whipped with some added sweetener.
Nutritional information:
1 cup of cool whip = 17.2 grams of net carbs
1 cup heavy cream whipped = 3.3 grams of net carbs
Nutritional values from cronometer.com
How do you make keto Oreos?
Instead of regular Oreos, this no-bake simple recipe makes a chocolate crust with almond flour, melted butter, unsweetened cocoa powder, and a keto-friendly sweetener.
It's such a great recipe and the perfect dessert to take to a special occasion because even the most ardent sugar-loving family members, love the Oreo taste (just don't tell them it's a low-carb dessert). It's the perfect treat and is always a big hit.
How to make a homemade instant chocolate pudding?
You will make a quick and easy chocolate custard, by simmering the ingredients together on low medium heat. It's a delicious way to get sugar-free custard without the corn starch or arrowroot powder.
Remember to print the recipe because this keto custard is a great sugar-free chocolate dessert to keep on hand.
How to make the no-bake chocolate lasagna recipe
This creamy keto chocolate delight is 4 layers made from scratch with simple ingredients that are probably in your fridge and pantry right now. It starts with a chocolate cookie base and layers all the way up to a whipped cream topping sprinkled with sugar-free chocolate shavings.
The amazing dessert looks difficult but in fact, is super easy. The entire recipe takes only 30 minutes to make.
You can prepare each of the layers and place them one on top of another in your favorite baking dish.
Start by pressing the crust layer into the dessert pan
Then add the creamy layers of chocolate pudding
Next is the layer of cheesecake filling
Add whipped cream
Finally, sprinkle with sugar-free chocolate or cocoa powder to reduce the carbs even further
Be sure to give yourself enough time for each layer to set into one another. This is one of my favorite desserts to make ahead. It's a great way to be prepared and will be a huge hit.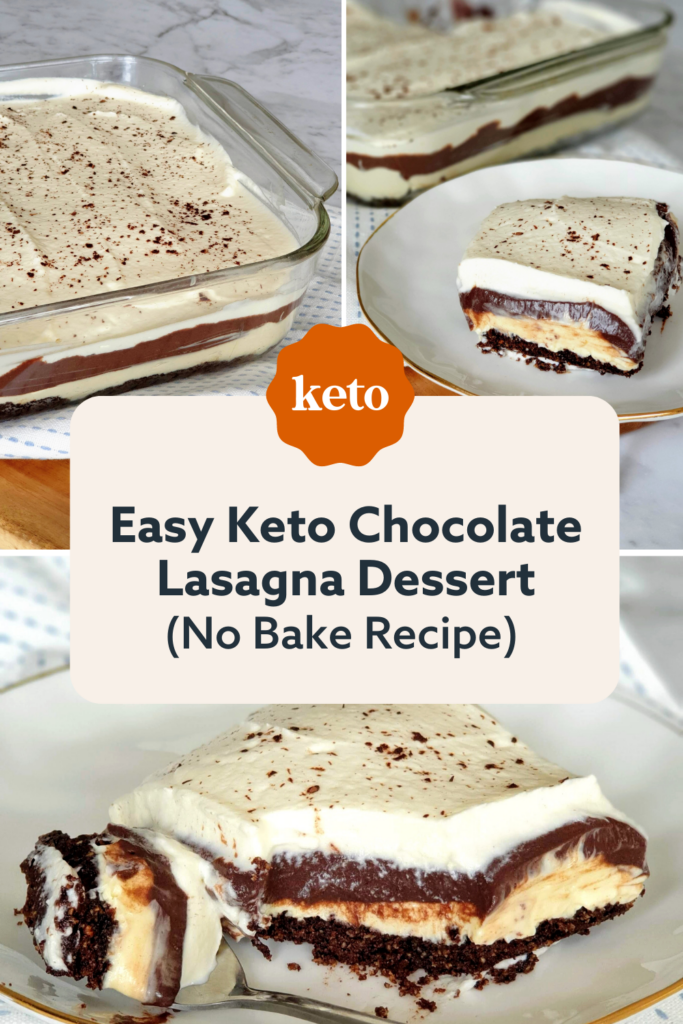 What ingredients do you need?
You've probably got all the simple ingredients in your pantry and fridge right now.
butter
almond flour
cream cheese
heavy cream
cocoa powder
xanthan gum
eggs
vanilla
sweetener
What equipment do you need?
You only need 4 kitchen things.
A medium bowl for the cookie crust
A hand mixer (or a mini food processor) to whip the cream and to make a smooth cheesecake layer
A small saucepan to make the chocolate pudding
Your favorite serving dish.
What are the 4 different layers?
There are 4 distinct layers, this is what is in each one, from the top layer all the way to the bottom cookie crust.
Whipped cream layer – delicious whipped cream and vanilla
Cream cheese layer – this cheesecake layer with vanilla mixture tastes just like regular cheesecake filling
Creamy chocolate pudding layer – a simple keto chocolate custard
Chocolate cookie crust – a crunchy almond flour crust
Can you make flavor variations to the original chocolate dessert?
Yes, there are easy substitutions you can make to adapt this basic chocolate lasagna recipe to almost (?) any flavor you like.
Mint – add peppermint extract to the chocolate layer and cookie layer (to make chocolate mint Oreos).
Tiramisu – add some instant coffee powder to your chocolate almond flour crust. Sprinkle as much brandy as you like over the no-bake crust, but not too. You want the crust to remain crunchy, not soggy. Also, add a shot of espresso to your vanilla pudding layer to make a mocha cream cheese mix.
Peanut butter – simply stir as much peanut butter as you like through the chocolate layer and into the almond flour crust. You can choose smooth peanut butter or crunchy peanut butter. Just check the ingredient list to ensure there is no added sugar
Berry – add a few tablespoons of my berry chia jam into the cream cheese mixture. You can even press some whole berries into the cream cheese layer too.
Lemon – omit the cocoa powder from the base and add 1 tbsp lemon zest and 2 tbsp additional almond flour/meal instead. Stir 1/4 cup of sugar-free lemon curd into the cream cheese mix. Omit the cocoa powder from the chocolate pudding mixture and add 2 tbsp lemon zest instead to create a lemon custard-like filling. Serve with tiny pieces of lemon zest and lemon slices to decorate.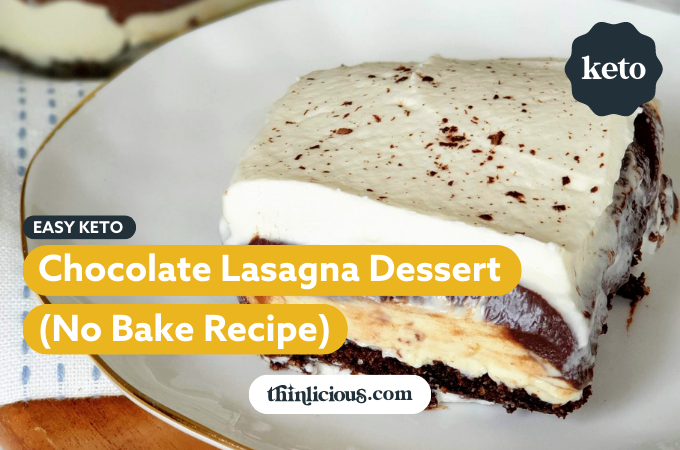 More sugar-free chocolate desserts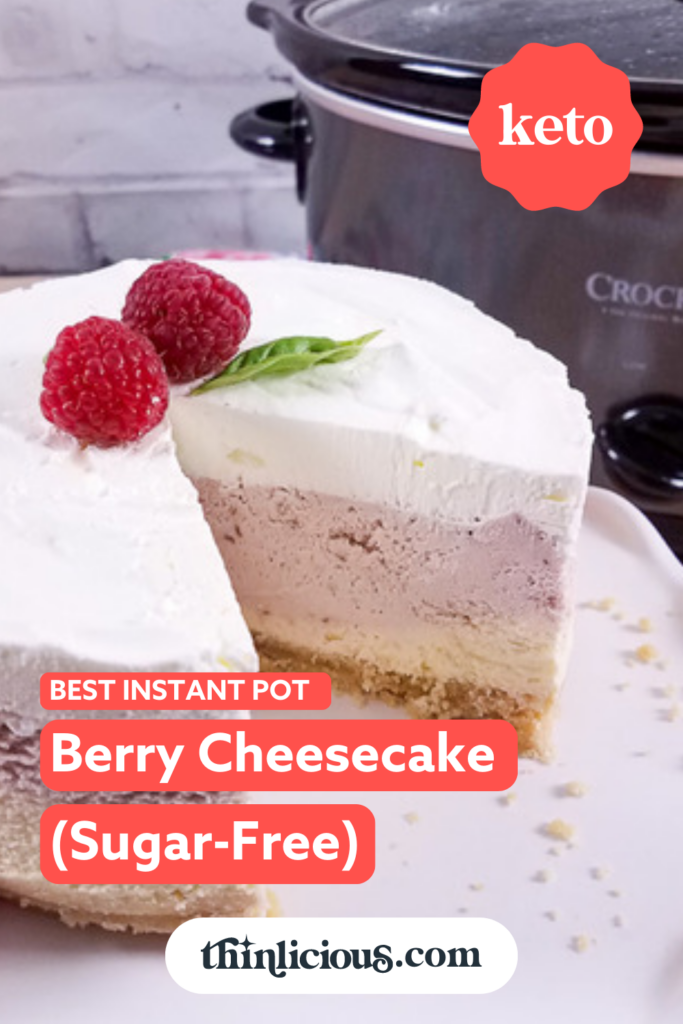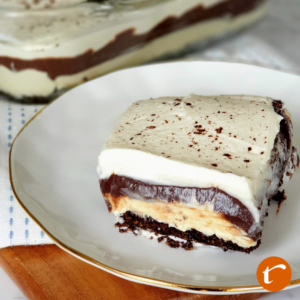 Keto Chocolate Lasagna Dessert Recipe (no-bake)
A super easy keto chocolate lasagna dessert (no-bake recipe) that the whole family will love. Made with 4 easy layers and is creamy and delcious.
Print
Pin
Rate
Want to lose weight and get healthy for life—without dieting, drugs, or making yourself miserable?
We can help! Tell me how!
Equipment
Mixing Bowls

Food Processor

Saucepan
Ingredients
Chocolate cookie crust
1 ½

cups

almond meal/flour

¼

cup

cocoa powder (unsweetened)

unsweetened

2

tbsp

granulated sweetener, of choice

or more, to your taste

2

oz

butter

melted
Vanilla cheesecake layer
8

oz

cream cheese

full fat, softened

¼

cup

heavy whipping cream

4

tbsp

granulated sweetener, of choice

or more, to your taste

½

tsp

vanilla extract

or more, to your taste
Chocolate custard layer
2

oz

butter

2

cups

heavy whipping cream

4

tbsp

granulated sweetener, of choice

or more, to your taste

⅓

cup

cocoa powder (unsweetened)

unsweetened

1

tsp

vanilla extract

or more, to your taste

4

egg yolks

½

tsp

xanthan gum
Whipped topping
1

cup

heavy whipping cream

2

tbsp

granulated sweetener, of choice

or more, to your taste

1

tsp

vanilla extract

or more, to your taste
Instructions
Chocolate cookie crust
Grease your favourite serving dish with butter then line with parchment paper.

Mix all the ingredients for the cookie crust in a small mixing bowl then press firmly into the lined serving dish. The firmer you press, the stronger the cookie crust will hold together when serving. Place it in the fridge while you make the next layer.
Vanilla cheesecake layer
Place all the vanilla cheesecake ingredients in the food processor and blend until smooth. Taste and adjust if you need more sweetener.

Gently spread the cheesecake layer on top of the cooled cookie crust. Place back in the fridge to set.
Chocolate custard layer
In a medium saucepan, gently mix the butter, cream, sweetener, cocoa, and vanilla together. Warm slowly until the cream mixture is hot, but NOT boiling or bubbling.

In a heatproof jug, whisk the egg yolks and add ¼ cup of warm cream mixture. Slowly add this yolk/cream mixture back into the saucepan with the rest of the warm cream mixture. Continue to heat and mix until the chocolate custard thickens.

Once the chocolate custard has thickened, remove it from the heat and allow it to cool for a few minutes. Sprinkle the xanthan gum over the surface and whisk vigorously until the custard is thick and continue to whisk until almost cool and set.

Pour the custard over the cooled cheesecake layer. Place back in the fridge to continue setting.
Whipped topping
Whip all the cream topping ingredients together until light and fluffy. Spread gently over the chocolate custard layer.

Place the finished dessert back in the fridge to set, for at least 2 hours, but the layered lasagna tastes even better if left covered in the fridge overnight.
Decorate and serve
When it's time to serve your chocolate lasagna, sprinkle the top with cocoa powder or drizzle with melted sugar-free chocolate.
Nutrition
Serving:
1
serve (serves 15)
Calories:
386.3
kcal
Carbohydrates:
7
g
Protein:
6
g
Fat:
39.1
g
Sodium:
129.2
mg
Potassium:
123.8
mg
Fiber:
2.5
g
Sugar:
1.1
g
Vitamin A:
1262.2
IU
Vitamin C:
0.3
mg
Calcium:
87.7
mg
Iron:
1.1
mg
Get our FREE guide to finally fix your metabolism!
Losing weight & getting healthy is never easy, but lately you might feel like it's suddenly become impossible.
Our Flip the Switch guide will help you clearly understand what's been going on, as well as exactly what you can do to get your metabolism working again so that you can look and feel your best—it's easier and more simple than you think!