</p>
This perfect rich, sugar-free keto coconut ice cream recipe is made with only a few simple ingredients.
This coconut milk treat is such a refreshing and wonderful dessert in the summer. You don't even need an ice cream maker!
If you are sugar-free or low carb, most ice creams are out of bounds…until now! This keto coconut milk ice cream recipe has just a few simple ingredients and are all probably in your pantry right now.
Are you ready to create the ultimate 12-month blueprint for reaching your health & weight loss goals this coming year?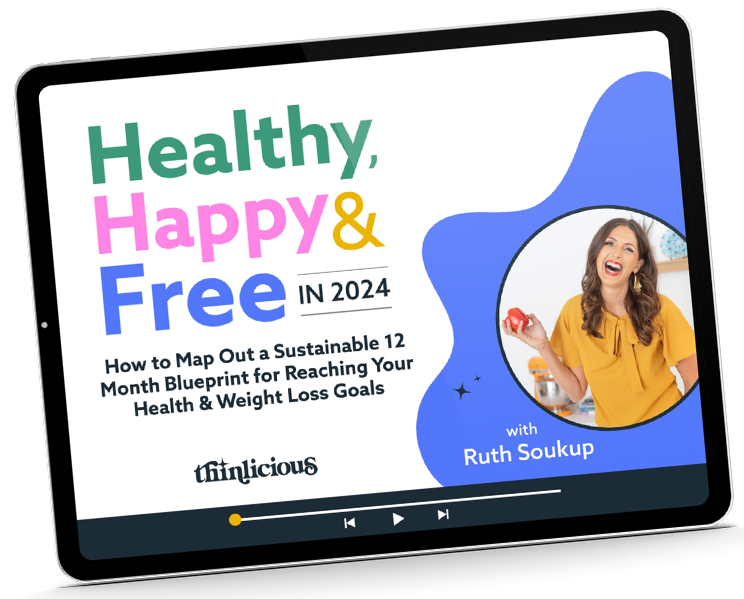 Our free on-demand video training will walk you through how to make 2024 THE year you set health goals…and keep them.
My kids go absolutely nuts for this keto ice cream recipe. It's our go-to in those warm months—and often even in the cooler ones too. If you've ever been intimidated by homemade ice cream, give this creamy version a try.
Is coconut keto?
Coconut is a low-carb high-fiber ingredient that is used in many low-carb and keto recipes. it is versatile and can be used in sweet recipes such as keto coconut ice cream, or savory such as coconut curries.
Nutrition of unsweetened shredded coconut per 100g: 7.3 g net carbs, 6.9 g protein, 64.5 g fat, 660 calories.
Sugar-free keto coconut ice cream
Many homemade coconut cream ice cream recipes will contain coconut sugar, maple syrup, or bananas in the misbelief that it makes them sugar-free. If you are new here, you may want to read the Ultimate Guide To Sweeteners and the 50 names of sugar.
It can be difficult to find a sugar-free ice cream recipe that doesn't contain frozen bananas because frozen bananas give a creamy texture, but if you're watching your carbs and blood sugars, you'll want to try and avoid bananas and other high-carb fruit for a while.
When any recipe is based on bananas, they are still incredibly high in sugar and carbs. A medium banana contains on average 27g of carbs which can be an entire day of carbohydrates for many keto dieters! So in this recipe, we'll steer clear of ALL added sugars and still make yummy ice cream.
Ingredients
This keto coconut ice cream has just a few ingredients. To whip up this creamy ice cream, you'll need:
For exact quantities, see the keto coconut ice cream recipe card below.
Instructions
Making this coconut milk ice cream couldn't be more simple. Who knew homemade ice cream could be so easy to put together?
STEP 1 – WHISK
First, whisk your egg yolks together in a large mixing bowl. Set it aside for now.
STEP 2 – HEAT
Then, grab a medium saucepan. Add the coconut cream, heavy whipping cream, and your choice of sweetener. Heat over medium-low and stir to dissolve the sweetener.
Do not allow it to boil but just until you see steam rising and the edges begin to form little bubbles.
STEP 3 – THICKEN
Now, grab that bowl of egg yolks. This is what will make your custard-based ice cream thick, creamy and delicious.
Slowly add the coconut ice cream mixture from the saucepan to the egg yolk mixture. Pour the mixture back into the saucepan and stir to heat gently until it is the thickness of a traditional custard and stocks to the back of the spoon.
STEP 4 – COOL
Once your sugar-free coconut ice cream has thickened, remove it from the heat and stir occasionally as it cools. Once it is at room temperature, pour your keto coconut ice cream into a lined baking dish and set in the freezer overnight.
Variations
This easy sugar-free coconut ice cream recipe can be adapted to make many flavors. There are so many possibilities. Ice cream keto style is so versatile! What flavor would you turn this coconut keto ice cream into?
chocolate keto ice cream – to turn this keto ice cream into a chocolate lover's dream, simply add some cocoa powder.
chocolate chip coconut ice cream – add a handful of your favorite sugar-free chocolate chips to this frosty treat once it has cooled down a bit in the freezer.
almond coconut ice cream – switch out the vanilla ice cream for almond extract for an even more tropical flavor.
Equipment
Many readers think making ice cream is tricky and you need an ice cream maker, but I'll show you neither is the case.
An ice cream maker does make whipping up homemade ice cream easier and lighter, but you can easily make this keto coconut ice cream then freeze it in a large container or lined baking dish. All you do is simply stir the ice cream each hour to break up any ice crystals which may form.
The pictures I have shown for this recipe I made without an ice cream maker. We were away on holiday and our apartment only had basic cooking equipment, yet it still turned out brilliantly.
In short…no ice cream maker? No worries! You can still enjoy creamy ice cream.
Recipe FAQ
Is coconut keto?
Yes, coconut is low-carb and high-fiber and is used n many low-carb and keto recipes. It can be used in sweet desserts and savory curries so is a versatile keto ingredient.
What is coconut milk?
Coconut milk and coconut cream differ in their fat content. Usually coconut cream has 20-25% fat whereas canned coconut milk may only have 2-4% fat. Even full-fat coconut milk has 4-5% fat. Each brand will vary so remember to read the nutrition labels carefully.
How can I stop ice crystals in my ice cream?
Mix the keto ice cream each hour to break up any ice crystals that form, alternatively you can add 1 or 2 tablespoons of alcohol such as vodka which prevents the ice cream from freezing solid (alcohol does not freeze).
Can I make this dairy-free?
You can omit the heavy cream and substitute more coconut cream, but the coconut custard ice cream may not thicken as expected.
What is the fastest keto dessert to make?
My favorite frozen dessert has to be sugar-free berry popsicles. This keto-friendly ice cream is made with fresh berries, yogurt, coconut cream, and a high-speed blender.
More sugar-free ice cream recipes
If you love keto coconut ice cream, you'll love my other no-churn ice cream recipes. You don't even need an ice cream maker or ice cream machine for any of these ice cream recipes.
The most popular keto ice cream recipes (without an ice cream maker).
25 best low-carb sugar-free ice cream recipes
Sugar-free berry popsicles – drizzled in sugar-free chocolate
Sugar-free mint ice cream with a sugar-free chocolate magic shell (that actually works)
Cheesecake berry layered popsicles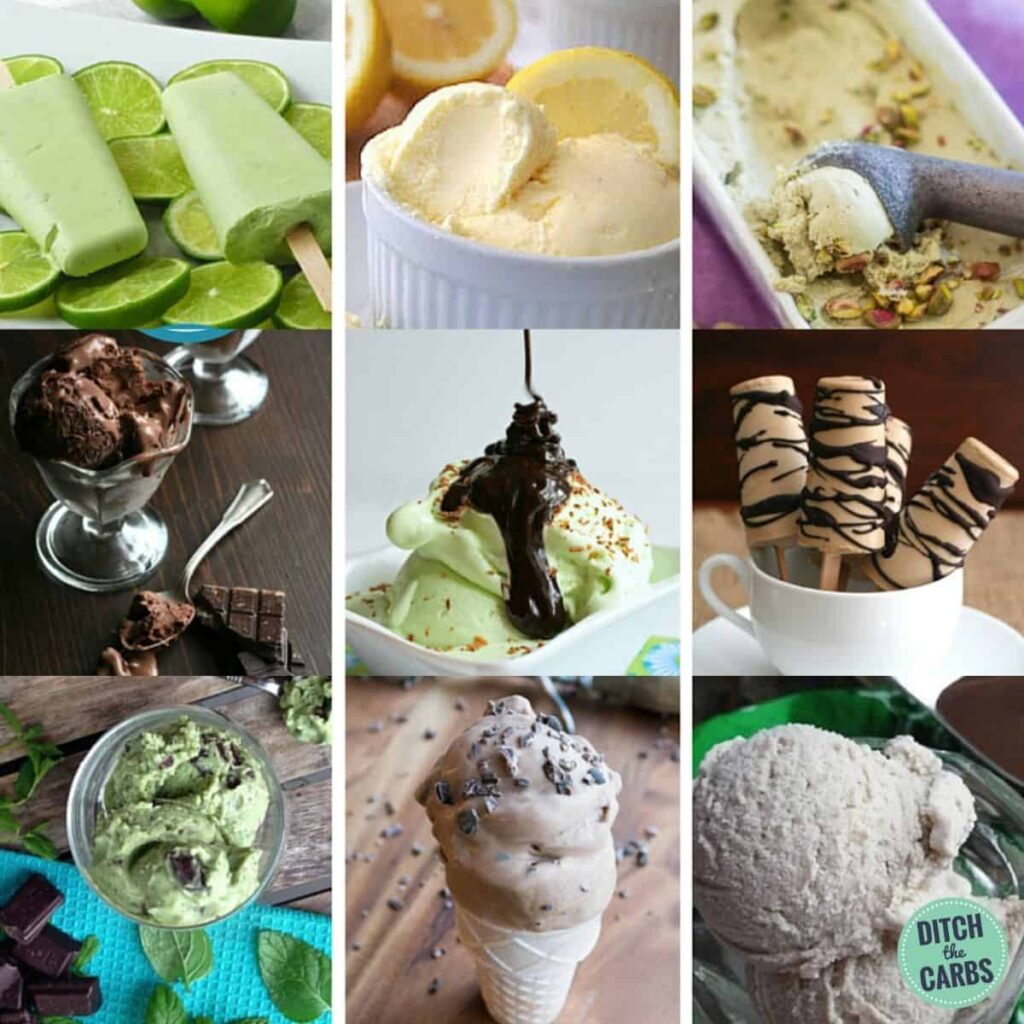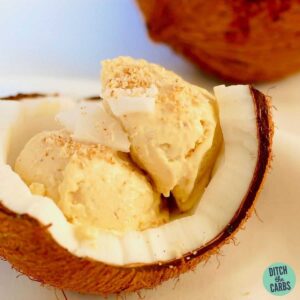 Sugar Free Keto Coconut Ice Cream Recipe
This perfect rich, sugar-free keto coconut ice cream recipe is made with only a few simple ingredients. It's an easy no-churn ice-cream recipe and low-carb keto friendly.
Print
Pin
Rate
Want to lose weight and get healthy for life—without dieting, drugs, or making yourself miserable?
We can help! Tell me how!
Equipment
Saucepan

Baking dish

Measuring cups and spoons
Ingredients
5

egg yolks

500

ml

coconut cream

full fat

250

ml

heavy whipping cream

4

tbsp

powdered sweetener

or more, to your taste

25

g

desiccated/shredded coconut

unsweetened toasted (optional)

1

tsp

vanilla extract
Instructions
Whisk the egg yolks in a large heatproof bowl. Set aside.

In a saucepan, add the coconut cream, cream, and sweetener. Gently heat on the stovetop stirring constantly to dissolve the sweetener. Remove from the heat as soon as you notice it is bubbling around the edges.

Start gently whisking the egg yolks again, and very gradually add a spoon at a time of the warm cream to the egg yolks. Continue until all the cream has been incorporated.

Stir in the vanilla then pour back into the saucepan and heat again whilst stirring, to thicken to a custard consistency.

Remove from the heat and allow to cool completely. Stir through the toasted coconut (optional), reserving 2 tablespoons to garnish the finished ice cream when serving.
Using an ice cream maker (optional).
Cool the ice cream mixture in the fridge then use your ice cream maker as per the manufacturer's instructions. Store in the freezer once made.
Without an ice cream maker.
Once cooled, pour in a shallow large dish and pop in the freezer. Stir through each hour to break up any ice crystals until it is completely frozen.
Notes
The nutrition panel is a guide only. For complete accuracy, calculate using the brand of coconut cream you use as they vary incredibly.
The sugar in the nutrition notes (3g) is from the cream and the desiccated/shredded coconut. To lower the carbs further the desiccated/shredded coconut may be omitted.
Nutrition
Serving:
1
serve
Calories:
593.3
kcal
Carbohydrates:
8
g
Protein:
8.3
g
Fat:
60.7
g
Sodium:
28.1
mg
Potassium:
420.5
mg
Fiber:
3
g
Sugar:
2
g
Vitamin A:
994.6
IU
Vitamin C:
3.2
mg
Calcium:
68.6
mg
Iron:
3
mg
Get our FREE guide to finally fix your metabolism!
Losing weight & getting healthy is never easy, but lately you might feel like it's suddenly become impossible.
Our Flip the Switch guide will help you clearly understand what's been going on, as well as exactly what you can do to get your metabolism working again so that you can look and feel your best—it's easier and more simple than you think!