This popular keto sponge cake (keto Victoria sponge) is soft and delicious, sprinkled with sugar-free sweetener, and served with whipped cream or yogurt.
You only need 7 healthy ingredients to make this vanilla keto cake, it only takes 10 minutes to make and is 2.2g net carbs per slice.
An easy flourless cake that's a nut-free recipe. A quick sugar-free cake that's diabetic-friendly.
If you're on a low-carb diet and have a nut allergy, it can be difficult to find sugar-free recipes and keto recipes that don't use almond flour.
Ready to lose weight and get healthy for life without dieting, drugs or making yourself miserable?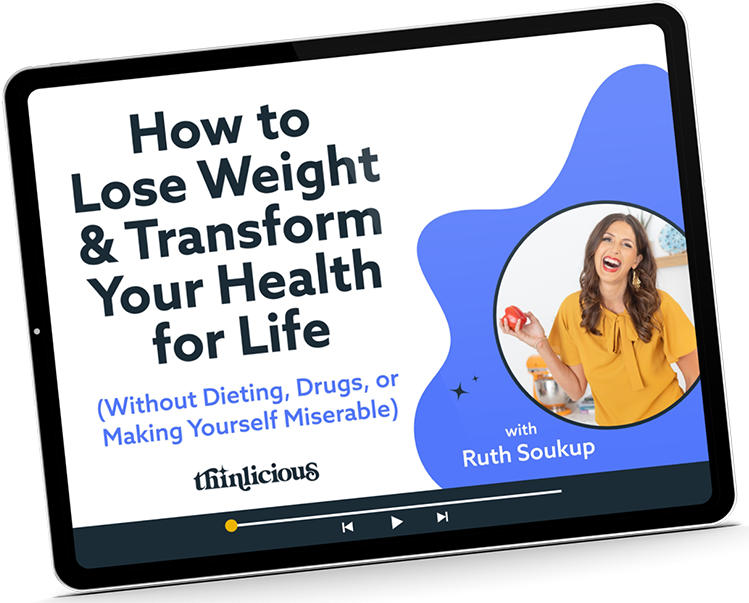 Our free on demand video training will help you understand why it's been so hard and what do to about it.
Coconut flour recipes like this keto vanilla cake, are nut-free, sugar-free, grain-free, and naturally gluten-free. And of course, the keto sponge cake is low carb – there are just 2.2 grams net carbs in one slice.
What is keto sponge cake?
A keto sponge cake is a gluten-free vanilla cake with fresh berries (or frozen berries) pressed into the top. This recipe can be baked as one large cake or baked in a square dish to make keto bars.
This is a light and fluffy cake that will soon become your favorite dessert cuisine to make for parties.
Using coconut flour and sugar-free sweetener makes this low-carb sponge cake keto.
It has a really light texture that goes with any dessert or drink that you make.
It is my favorite sugar-free cake recipe. When you prepare keto recipes that taste just like their carb-filled counterparts, it is easier to stay within your macros on the keto diet.
Ingredients
To make this low carb sponge cake, you'll just need a few simple ingredients such as:
melted butter – you can use salted butter or salted butter with a pinch of salt.
coconut flour – this sponge is light and airy thanks to the qualities of coconut flour. Coconut flour is a naturally gluten-free low-carb flour.
granulated sweetener of choice – find my top picks in this article featuring the ultimate guide to sweeteners. Granulated sweetener works well such as erythritol, monk fruit, allulose, or xylitol.
vanilla extract – or vanilla essence.
baking powder – do not use baking soda, make sure it is baking powder.
eggs –
frozen berries – I prefer raspberries, but you can use a different type if you'd like! Just keep in mind the berry carb count.
For exact quantities, see the sponge cake recipe card at the bottom of this post.
Instructions
It's really easy to make your own sugar-free vanilla cake with berries. And the end result is absolutely worth the small amount of effort it takes to bake this cake!
This simple keto recipe is all made in one large mixing bowl – so there's no need to mix dry ingredients with wet ingredients, there's no need to use a stand mixer or to beat egg whites to stiff peaks.
STEP 1: Gently fold the melted butter, coconut flour, sugar-free sweetener, vanilla extract, and baking powder until it is smooth.
STEP 2: Slowly add your eggs, stirring really well in between each one.
Make sure you don't over-mix the cake batter.
STEP 3: Pour the low-carb sponge cake batter into a prepared baking dish.
Press frozen berries evenly into the top of the cake.
To make sure the cake layer doesn't stick to your pan, place some parchment paper on the bottom of your dish first.
Preheat oven and bake the keto cake until it is completely cooked in the middle.
TOP TIP: When I add frozen berries to a cake, I wait until the mixture is in the baking dish, then press the frozen berries in the batter so they are evenly distributed and won't color the cake batter.
Serving
Allow the low-carb cake to cool completely before decorating with powdered sweetener (swerve confectioners are a good option).
Serve with whipped cream (heavy cream), natural unsweetened yogurt, or whipped coconut cream on the side.
Vanilla cream cheese frosting is a little heavy to serve on top, but is nice served on the side.
Substitutions
This is a simple recipe for a low-carb cake, so there aren't many substitutions you can make. If you don't have butter, you can use ghee or even some melted coconut oil. Overall, however, I suggest you stick with the recipe for best results!
Variations
The fun thing about this keto cake is that it's almost a blank slate! You can change the flavor in so many fun ways. Here are a few ideas to make this one of your favorite recipes:
Swap the berries – The keto sponge recipe calls for raspberries but you can easily adapt the recipe using your favorite berry, or whatever is in season at the time. Frozen berries are an economical and easy option. I always have a few bags in the freezer.
Flavor the sponge – add lemon juice and lemon zest to your cake batter.
Swap the toppings – You can also top this keto sponge cake with some sugar-free whipped cream. Or make your own meringue topping with egg whites. Just whip your egg whites until stiff peaks form. Top the whipped cream with some lemon zest for a fresh-tasting low-carb sponge cake.
Use any type of baking dish that you have; you will just have to adjust the baking time. Pour batter into muffin tins or a bundt cake pan for a different take.
Storage
Store this sugar-free vanilla cake covered at cool room temperature for up to three days.
You can also store this coconut flour cake in the freezer. Wrap it up in a plastic wrap and place it in a resealable food storage bag or airtight container in the freezer for up to six months.
FAQs about keto sponge cake
Is coconut a nut?
The FDA lists coconut as a tree nut but it's actually not one. Instead, coconut is a seed of a group of fruits known as drupaceous, which also includes cherries, dates, and apricots.

The bottom line is that while most people who are allergic to tree nuts can safely eat coconut, it's important to speak to your doctor and follow their advice on this topic! Some people are allergic to both.
Does coconut flour taste like coconut?
Coconut flour is a common low-carb flour that is light, incredibly absorbent, and easily flavored. Most readers tell me that coconut flour does not taste like coconut.

However, if you are sensitive to the coconut flavor, you can add a bit more vanilla extract to the flourless berry sponge recipe to help cover and hide the mild coconut taste.
How do you make this cake recipe dairy-free?
If you cannot tolerate dairy, you may wish to use coconut oil instead of butter, but add a pinch of salt and some extra flavoring as the butter does add a rich buttery taste to the flourless sponge recipe.
Are almond flour and coconut flour 1:1 substitutes for each other?
Even though people use both almond flour and coconut flour in dessert recipes for the low-carb diet, they are not exactly the same. They affect moisture content in the dessert in different ways, so it is important for you to follow the recipe.

I wrote an entire article about why you can't swap almond flour and coconut flour if you'd like to learn more.
Does the keto cake have to be vanilla?
You can add any flavor you like to the low-carb keto cake. My favorite is to add lemon zest and lemon juice combined with the berries is incredible.
Do I need to use organic eggs?
Which eggs you use is up to you, and your budget.
Why do some keto-friendly cakes use protein powder?
Protein powder is often used in keto cakes and low-carb cakes to replace gluten that is found in wheat flour.
Do I need to beat egg whites and
Many cake recipes require you to whisk egg whites until stiff peaks form with an electric whisk. This is such a great recipe because none of that is needed.
More Sugar-Free Keto Recipes
If you enjoyed this low-carb sponge cake, here are some more sugar-free recipes you should make next. They taste just as delicious as this cake recipe.
Baking 101 (tips & charts)

Get our FREE guide to finally fix your metabolism!
Losing weight & getting healthy is never easy, but lately you might feel like it's suddenly become impossible.
Our Flip the Switch guide will help you clearly understand what's been going on, as well as exactly what you can do to get your metabolism working again so that you can look and feel your best—it's easier and more simple than you think!